A Good Long Weekend In Hell
Cocktails! Dog pictures! Music! BBQ recommendations! OPEN FOR ALL THIS AND MORE.
Good morning! I don't know about you, but it's been a long week here, struggling through with the promise of a three-day weekend distant on the horizon. There were definitely times where it seemed like we'd never get there.
But we made it, and there's beautiful things on the horizon. A long holiday weekend, with cookouts, relaxation and one last trip to the swimming pool. A full slate of college football games for the first time in nine months. Hopefully you can set aside the workweek worries, tell yourself that there's no way the Hell Season Predictions we concocted with Pat Forde of Yahoo Sports will come through for your team, and enjoy some great weather.
It's A Good Day In Hell.
Seven circles back out to the weekend.
(7) What should you cook this weekend?
Labor Day weekend brings with it the promise of cookouts, and there's plenty you can do — burgers, dogs, pulled pork, etc. Why not switch things up, though, and smoke some wings? As we covered a few weeks ago, even a modest charcoal grill can be turned into a serviceable smoker. Handing the mic over to our resident barbecue chef Joe, let's hear what it takes:
Smoked wings are the best wings if you don't own a deep fryer. The key to great smoked wings is dry rub. Everyone who BBQs should make their own rub — and it should be a source of pride and bragging rights amongst friends. I won't give you the exact measurements, but here are the ingredients in mine: paprika (that's your base), garlic powder, onion powder, brown sugar, cayenne, seasoned salt. Play around with your rub, and smoke them on indirect heat 250° for about 6 hours. You'll know when they're "done". If you don't want to fool with making a rub and spending that much time cooking them you can always put wings in a ziplock, pour honey and red pepper flakes or cayenne powder in, and the grill directly.
Joe won't tell you what's in his BBQ rub, but I'm not a professional, and mine is linked here.
Also, here's a picture of some wings that I smoked using this method, because the picture Joe took and sent me was either taken on a Nokia brick phone from 2003 or possibly a typewriter.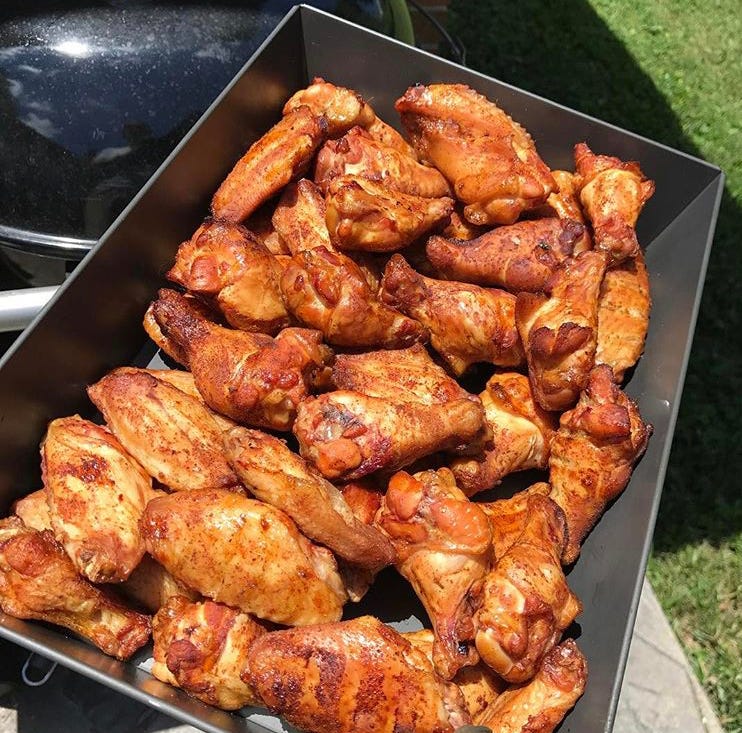 (6) Hey, I'm nervous about food safety (or I'm serving food to someone who is), and I'm not sure I'm confident in that "you'll know when they're done" statement. Any tips?
I cannot stress enough what getting an instant-read thermometer has done for my cooking. It's the single best kitchen item I've bought in years, and the one I like is $26. I can confidently pull burgers/chicken/anything off the grill or out of the oven right where I want them, without having to overcook to be sure. (Or, if my incredibly food-paranoid mom is visiting, I can show her "LOOK, IT'S DONE").
It reads within seconds. It's got a magnet on the back so you can keep it handy on the stove or fridge.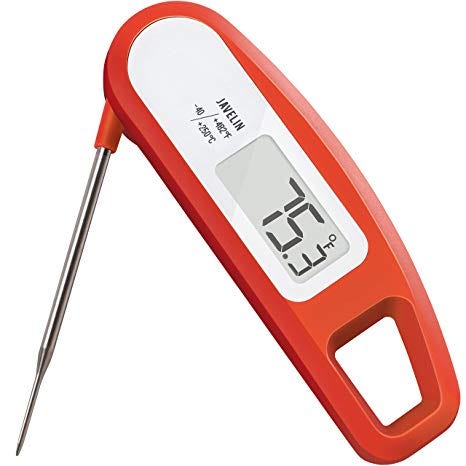 THIS IS NOT A SPONSORED LINK. This is just a product that I absolutely love.
(5) Got any good cocktails for the weekend?
As a Kentucky-based media empire, both myself and Joe will normally tend towards bourbon recommendations, but the end of summer calls for something bright and fresh. It calls for The Gin Rocket. This cocktail combines the floral notes of gin with lime juice, peppery arugula, and the licorice-y flavor of grated fennel. It takes a while to make, but it's a real show-off move for a crowd. To wit: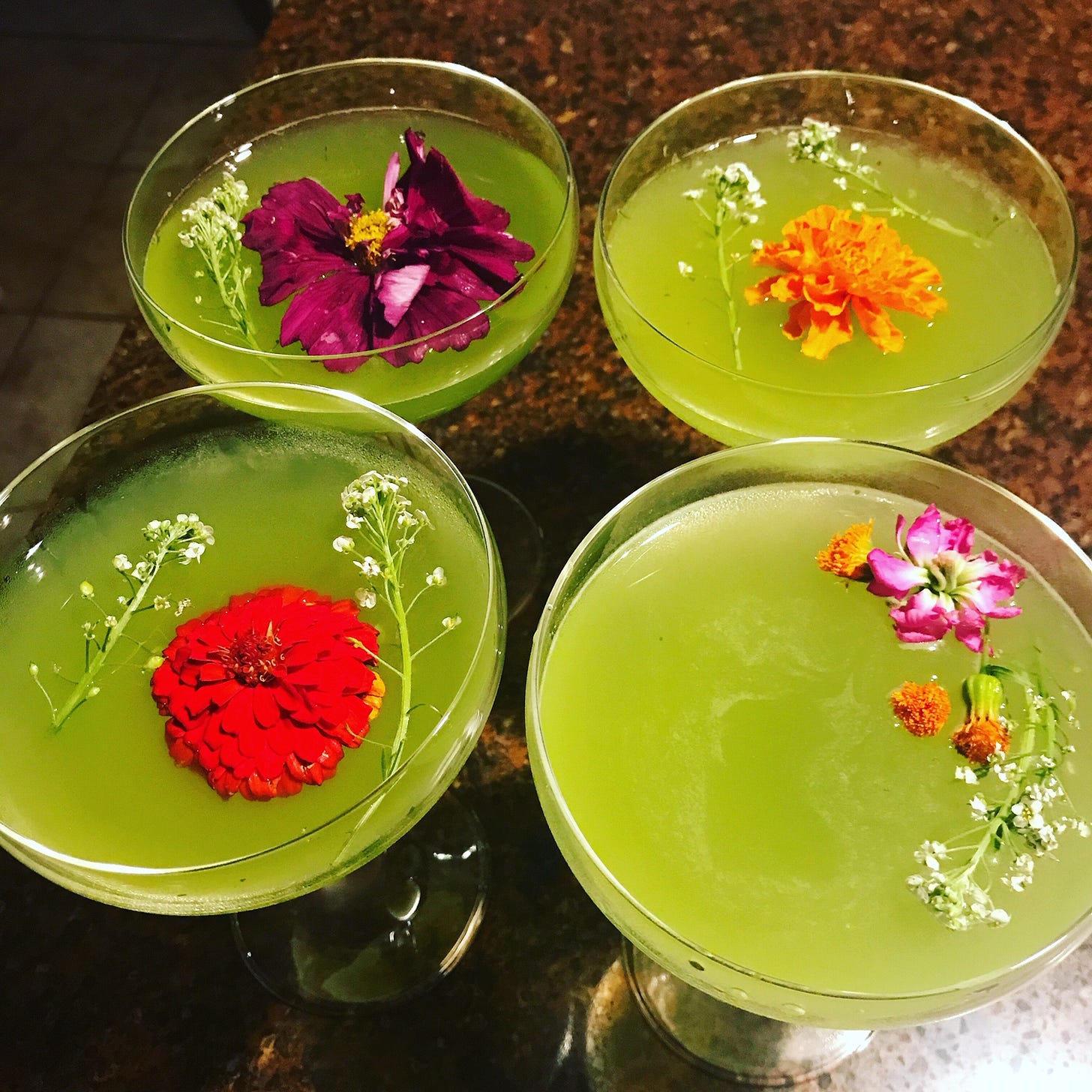 I did not make these, but a good friend made them for me, and I took a picture, and now I'm sharing it with you. See? Show-off move.
(4) I want to read something this weekend. What do you have that's both good, but not so heavy I can't read it on the beach?
I really enjoyed Kristin Hannah's The Great Alone. It's a long saga following a girl who moves with her family to the Alaskan bush in the 1970s, and dealing with a volatile, abusive father who's changed after returning home from Vietnam. That does not sound beach-read-y! But it's a good story that moves fast and I finished it in a couple of days.
(3) I need some tunes for my BBQ or beach jaunt.
When I asked Joe for music recommendations, he clued me into a group I wish I'd been familiar with all along — indie North Carolina rap duo Little Brother, who reunited for their first album after a nine-year hiatus this month. Within a day I'd listened through it four times, and laughed out loud during "Sittin' Alone":
Listen for yourself:
Joe, who's followed them since the beginning:
This album is a great intro to an established but disbanded band. It was everything old fans wanted in terms of closing the chapter on that story, but also welcomed new listeners to the party. This album is basically what the Deadwood movie was supposed to be. I'm intrigued by the eventual response from new heads when they listen to older tracks, and connect the jokes on skits that have been ongoing for 15 years now. "Diary of an angry black daddy" remains undefeated and I was glad to hear it revisited. You really should get familiar with all their recordings but definitely check "Good Clothes" for a laugh and "Life Of The Party" for a reality check.
(2) A Labor Day hero
Labor Day isn't just about BBQs, beaches and a three-day weekend, it's about appreciating the gains workers have fought and sacrificed for over the years. In sports, a truly underappreciated figure is former baseball player Curt Flood.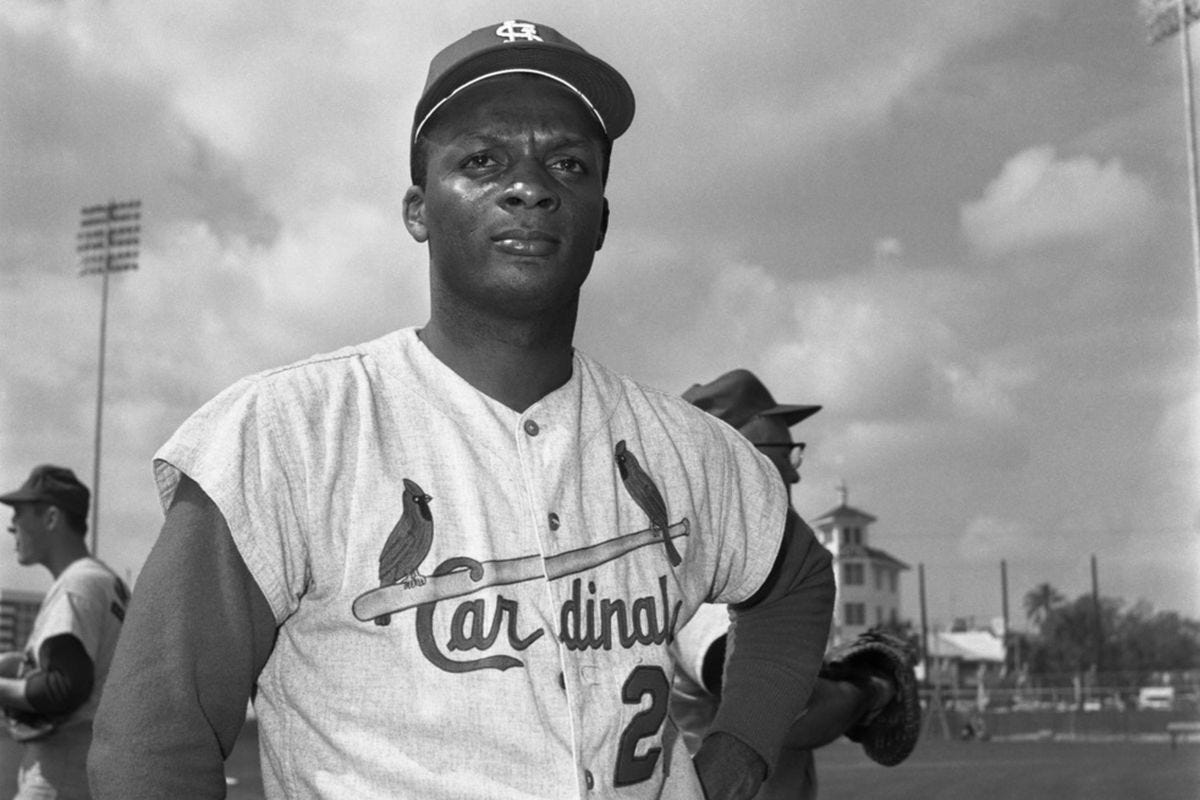 In 1969, Flood — then a fourteen-year veteran with three All-Star appearances and seven Gold Gloves to his credit — resisted an unwanted trade from St. Louis to Philadelphia and launched a legal challenge to baseball's reserve clause, which bound players to clubs indefinitely. He suffered greatly for his challenge — missing an entire season, being deluged with hate mail, and essentially being blackballed by Major League Baseball. His legal challenge went all the way to the Supreme Court, where in Flood v. Kuhn, the high court ruled in favor of the owners. It would be another five years until the reserve clause was abolished by an arbitrator in the Seitz decision, setting the groundwork for modern free agency — and modern professional sports.
Flood suffered greatly and saw no personal gain, but history shows his legacy as among the most important in American sports.
(1) Whew, that was heavy. Show me a dog.
Reader Colby W. writes:
This is Linus. Despite having his stomach cut open due to a digestive issue when he was less than a year old and recurring back issues due to a penchant for leaping from high places, he has remained An Extremely Good Boy for six years.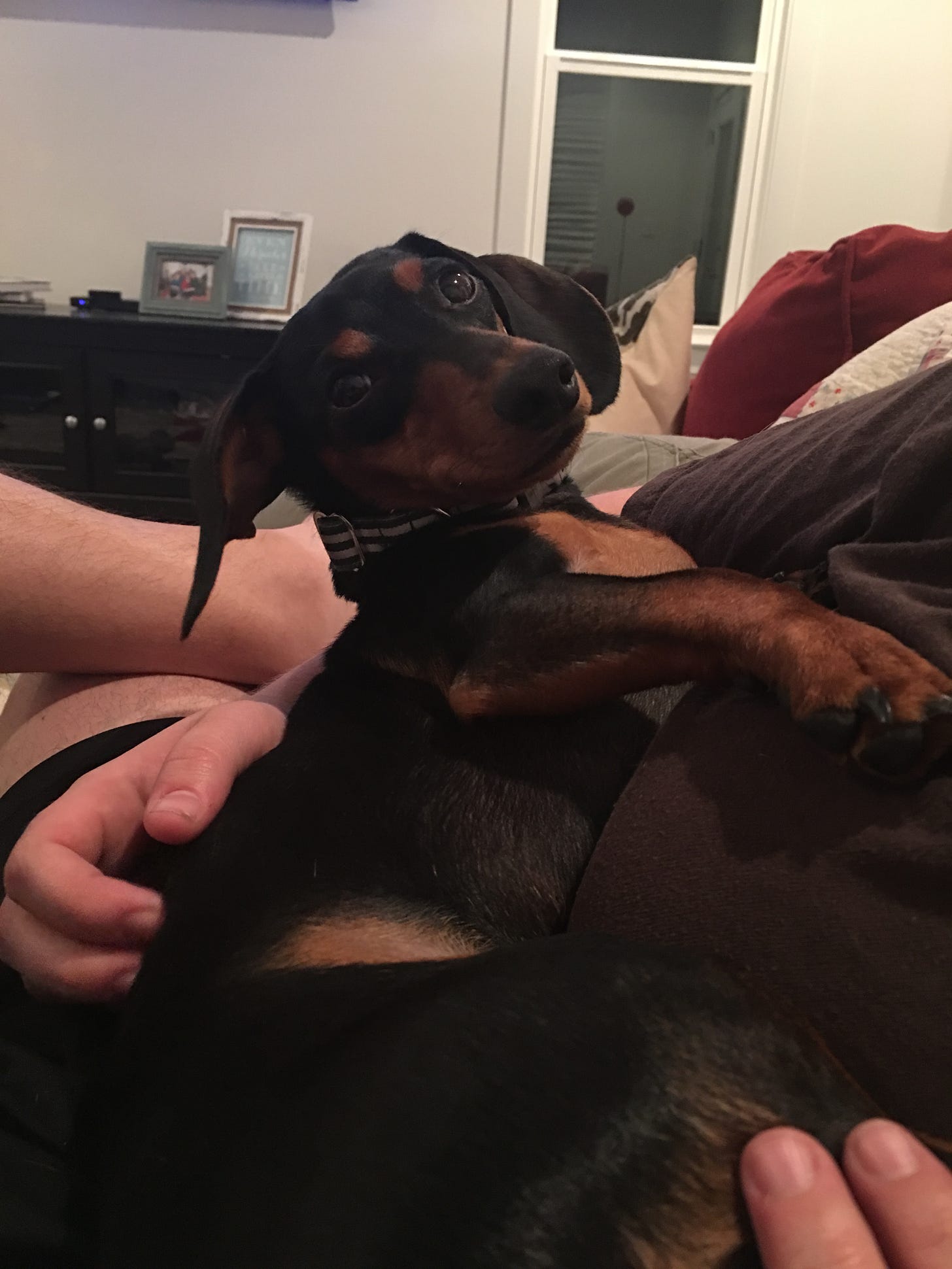 WHAT A GOOD BOY.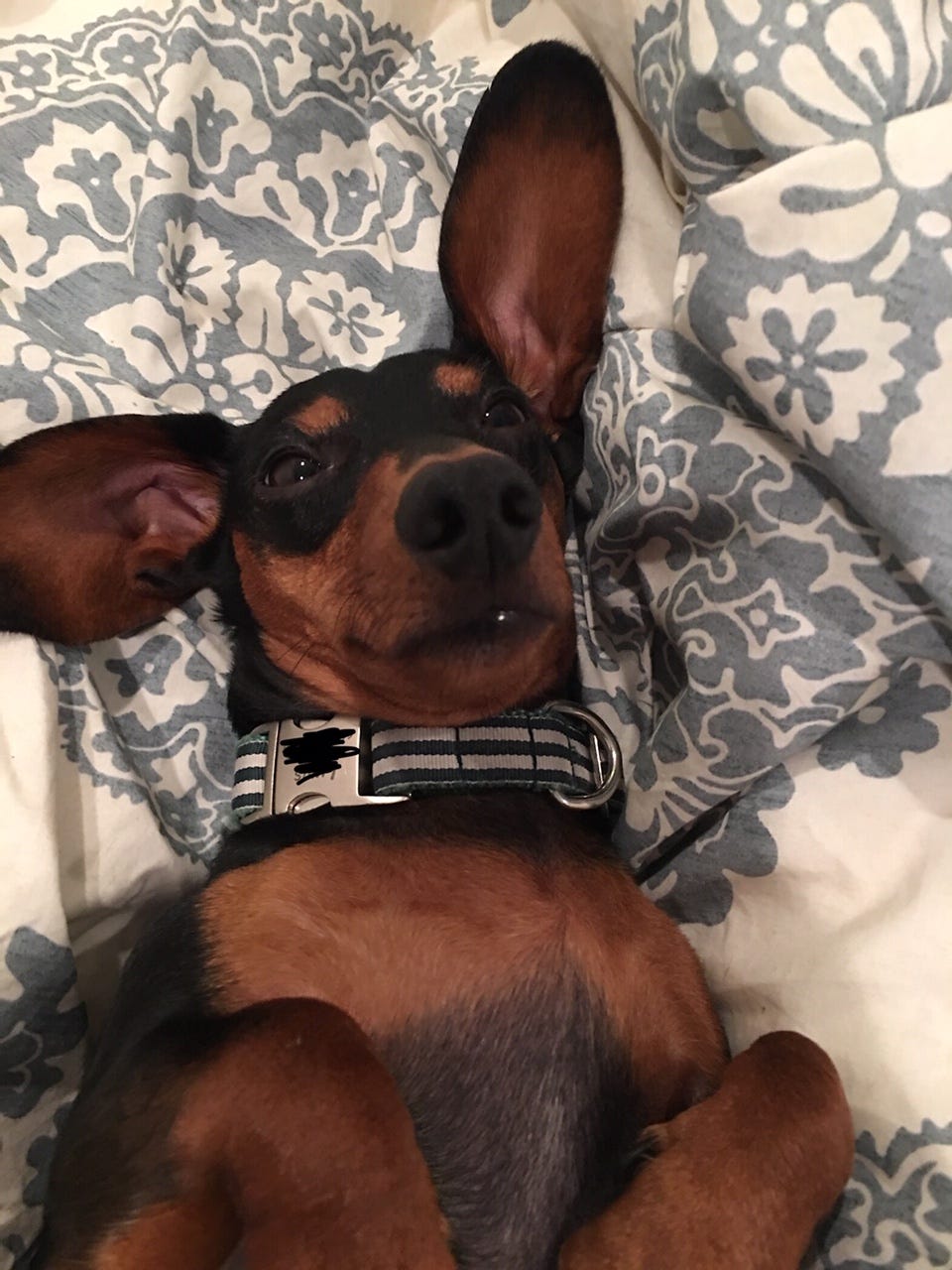 LOOK AT THOSE EARS.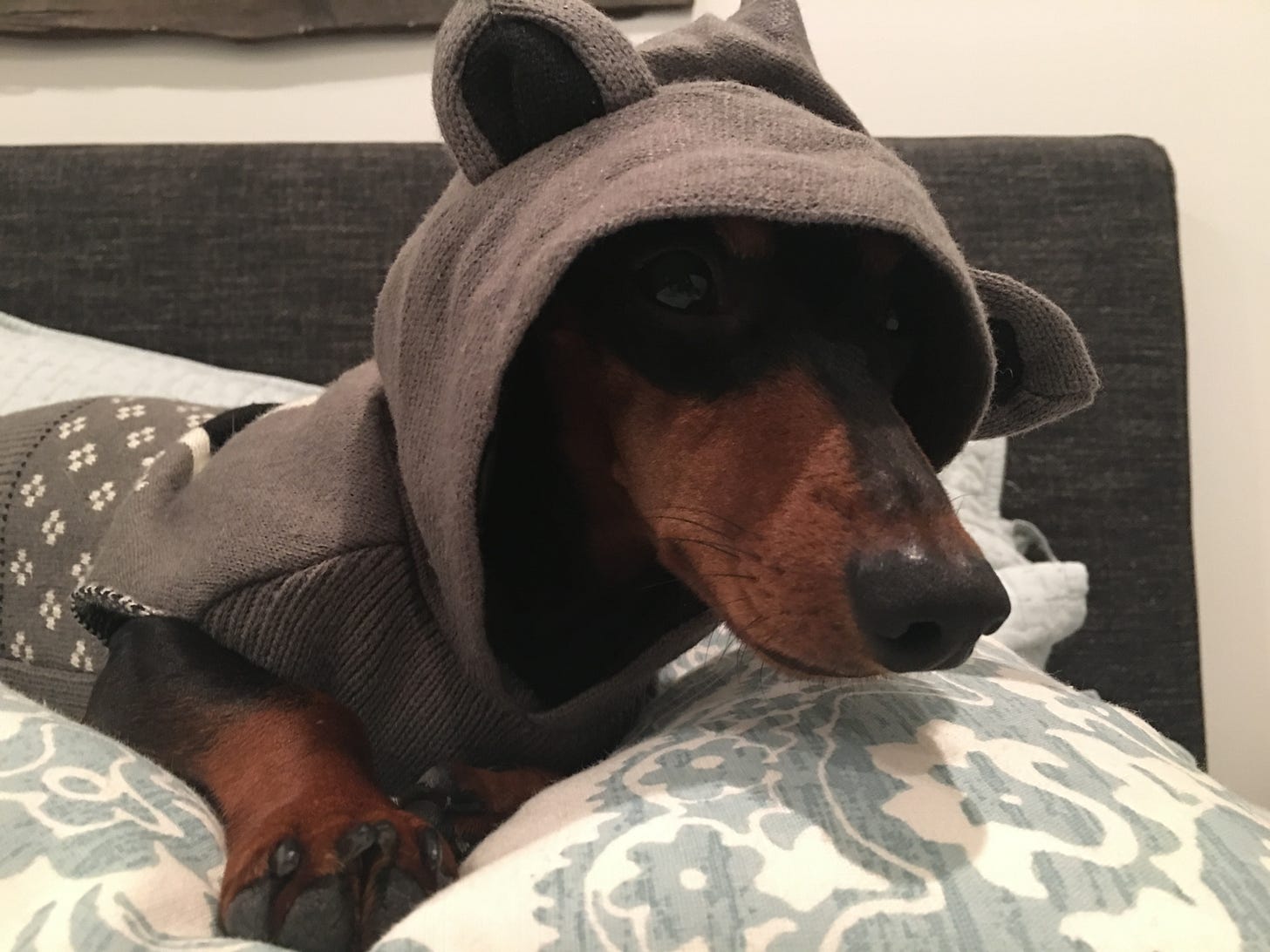 HE'S SO FASHIONABLE.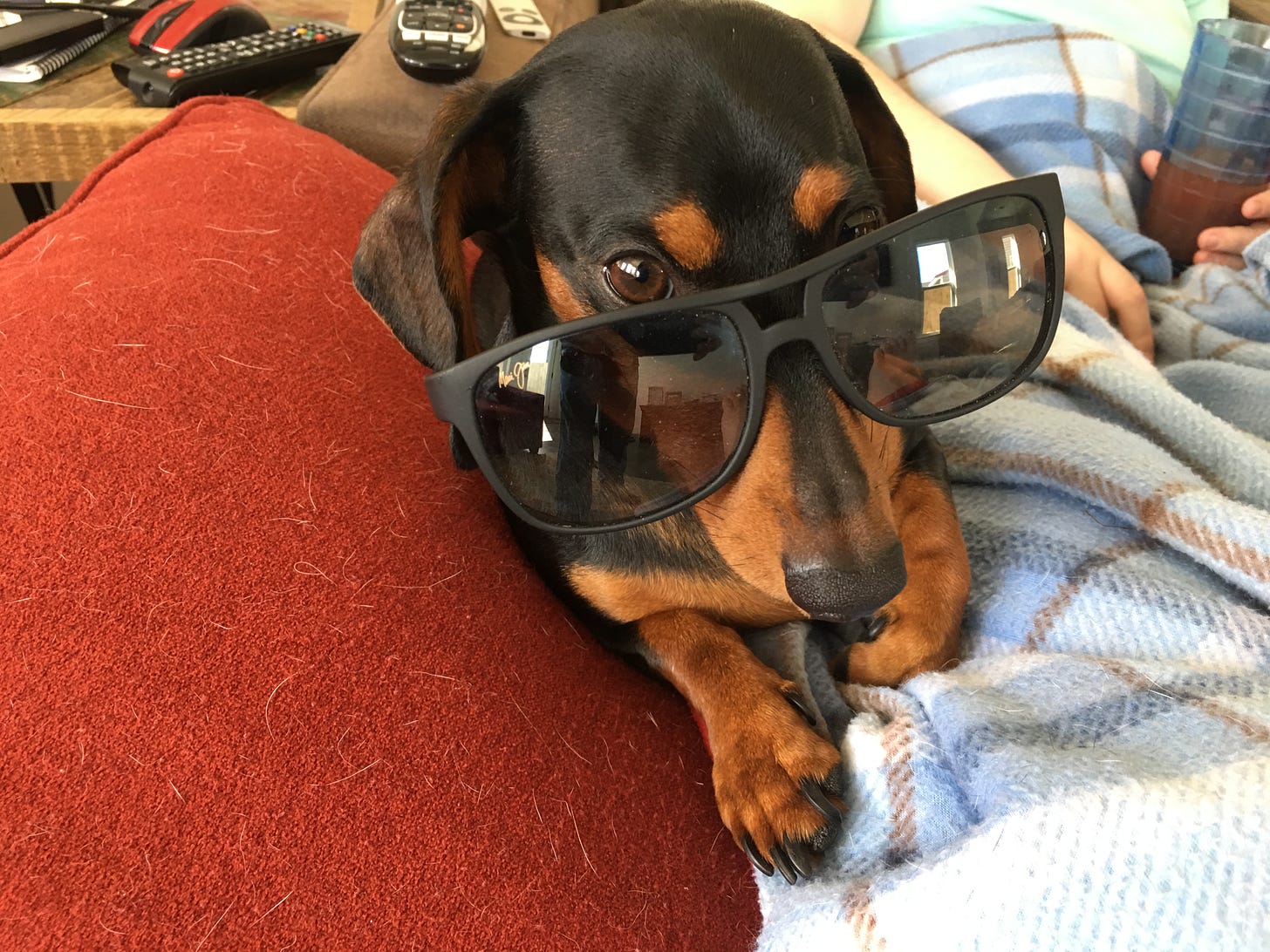 I'VE NEVER BEEN THIS COOL.
Thanks for sharing, Colby, and please — if you've got a dog you want to share with our readers, please email to seventhcirclepod@gmail.com.
Thanks for reading and listening to The Seventh Circle.
We've got a new episode coming as always on Sunday night, but remember — we're not a breaking news podcast, so you can go back and catch up with the whole library at any point, they won't be stale. (Timeless art.) Find the pods at CircleSevenPod.com, follow us on Twitter and Instagram at @circlesevenpod, and be sure to rate and review us on your favorite podcasts.
We'll see you back in hell next week.
— Scott Hines (@actioncookbook)