An Important Message From Indiana Frank's US-31 Family Fun Center
To Our Valued Customers In These Uncertain Times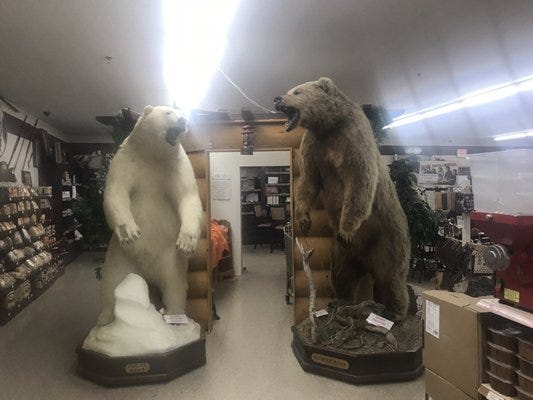 Valued Customer,
It is a time of unprecedented uncertainty for all of us. Amid all this stress and confusion, it's never been more critical for us to stay connected with one another. We here at Indiana Frank's US-31 Family Fun Center, the premier non-interstate roadside destination in southeastern central Indiana's Gold Coast, remain dedicated to keeping you informed about the actions we are taking for you during this time. Whether your family has been visiting us for generations, or you simply stopped in once while waiting at the adjacent Indiana Frank's Tire Repair Emporium, please know that your business is valuable to us.
Many of our policies and procedures have been modified.
CHANGES TO OUR BELOVED ATTRACTIONS
Itchy Gary's Goat Rally is a beloved tradition now in its 38th year of thrilling families of all ages, and will continue operation. We have temporarily reduced the number of daily races from 17 to 15 to allow Gary additional opportunities to hose down the starting gates. We ask that you observe a wider spacing when queued at the betting shed. The blindfolds will be washed and sanitized at the end of each week, and will be replaced should any of the goats present symptoms.

The Haunted Cavern Zip Line Course remains our safest attraction, with the fewest recorded major injuries, illnesses or disappearances over the last five years. It is our scientific understanding that infectious pathogens cannot be spread in the dark, but we have turned off the ventilation system as an additional precaution. We are advising all patrons to take a deep breath before entering the Haunted Cavern and hold it for the duration of the ride.

The Great Pumpkin Patch Artillery Course has been closed due to supply chain concerns. We will reopen it once our pumpkin supply can be satisfactorily replenished, and once needless litigation with the adjacent property owner over unsubstantiated allegations of damages has been resolved. We will not accept substandard pumpkins, nor blame for a garage that exploded on its own.

The Woodland Whirlwind Forest Coaster remains in operation, though we have reduced passenger capacity by 50% both to allow for additional spacing between customers. Happily, we have determined that doing so also reduces derailments by as much as 30%. We have passed on a small doubling of the ticket price to our customers to accommodate this change, and we appreciate your understanding.

Candle Dipping is as safe and lame as ever, but your mother likes it. Humor her.
OUR MANY FINE DINING OPTIONS AND FOOD SAFETY
It is possible that you have encountered media reports of a small number of patrons requiring hospitalization after dining at the Family Fun Center in recent weeks. Lab results and autopsies have confirmed our initial belief that these illnesses are not respiratory in nature and unrelated to current concerns.

As always, we remind you that dining at Hammerin' Harv's Handfuls-of-Ham Buffet and Salad Bonanza has always been strictly at the customer's own risk. We have added new clarifying language to our indemnification statement, which is posted next to the clean plates.

We have removed Italian dressing from the salad bar out of an abundance of caution, and reiterate our long-held stance that ranch is the only safe dressing.

We have added a set of tongs to the buffet, and we discourage customers from bringing their own tongs from home until further notice.

Numerous customers have inquired about curbside pickup and/or delivery of our signature Wild Game Barbecue Balls and High Octane Large-a-Ritas. While we have added several to-go food options, retail sale of alcoholic beverages is not currently permitted under our license okay now put one of those winking emoji things in the email they'll know what it means you aren't just typing this are you
EDUCATIONAL PROGRAMMING
With schools across the state suspended and all school trips on hold, we have also suspended our ongoing search for the Columbus East Five. We maintain our stance that the teachers miscounted students on arrival. Regardless, our thoughts and prayers are with the families.

Our own globally-ranked fungineering school, Frank's Funiversity, has transitioned to online-only education for the remainder of the year. Students enrolled in the Fireworks Intensive Lab will be contacted individually as we are able to reschedule final critiques.

We have suspended our college internship program after multiple abuses of our trust by undercover investigative journalists posing as students. We currently have no timeline for its resumption, and will issue no further comment on the factually-incorrect Netflix documentary Roadside Death Trap.
CONTINUITY OF OPERATIONS
Numerous social media reports in recent days have speculated that we will be forced by the state government to cease operations as soon as this week. We dismiss these rumors outright. The Family Fun Center has been classified as a house of worship for tax purposes since 1987, and is thus exempt from such bans.

Volunteers have been hard at work rebuilding Bandsaw Ben's Barnyard Beer Hall and Urgent Care Clinic following last year's tragic Halloween fire. We expect this work to resume within days with additional worker safety precautions in place.

Indiana Frank's US-31 Family Fun Center relies on ticketed admissions, concessions, and crooked carnival games for up to 76 percent of our operational revenue. As a product of recent world events, we have seen a decline in each of these revenue streams. Your support as a valued customer is more important than ever. Donations to our general fund can be made online through anyone one of Itchy Gary's GoFundMe pages, and we will continue to entertain serious offers for the sale of vehicles from our Bumper Military Surplus Vehicles course.
Our team members continue to be dedicated to serving you during these challenging times. We hope you and your loved ones stay safe and healthy, and we will remain in touch over the coming days and weeks. We know that you have a choice in non-interstate roadside attractions, and we thank you for choosing Indiana Frank's.
Sincerely,
H. Francis Ogleschmidt III
CEO and Founder, Indiana Frank's US-31 Family Fun Center
---
Enjoy this newsletter? Share it!
Don't enjoy it? Sorry! You can find much to love in the increasingly-deep archives, and trust that there is no absolutely no consistency between newsletters, so you might as well sign up and see what happens next!

I hope you have a (…great?) week? Or make the best of a less-than-ideal one? Hell, just wash your hands and stay inside. I'll see you soon.
— Scott Hines (@actioncookbook)