Discover more from The Action Cookbook Newsletter
A cookout in your inbox. Come for the food, stay for the stories, three times a week.
Forgiving Baltimore
Or, sympathy for my devil.
I was born and raised in Cleveland, Ohio, and that means a lot of things, but one of them is: I've hated Baltimore for the longest time.
You see, when I was 13 years old, truly in the thrall of professional sports fandom in the way you can only be when you're 13 years old and truly have nothing better to do, Baltimore stole my football team. I was heartbroken. The Cleveland Browns, a fixture in my world as much as the sun in the sky, disappeared overnight, and turned up in purple and black in Baltimore, Maryland.
Then, not even a year later, the Indians — the powerhouse club that'd just won their first AL pennant in 41 years, a team stocked with All-Stars and future Hall of Famers — was upset in the ALDS by the Baltimore Orioles. Who were these jerks, ruining my life at every turn?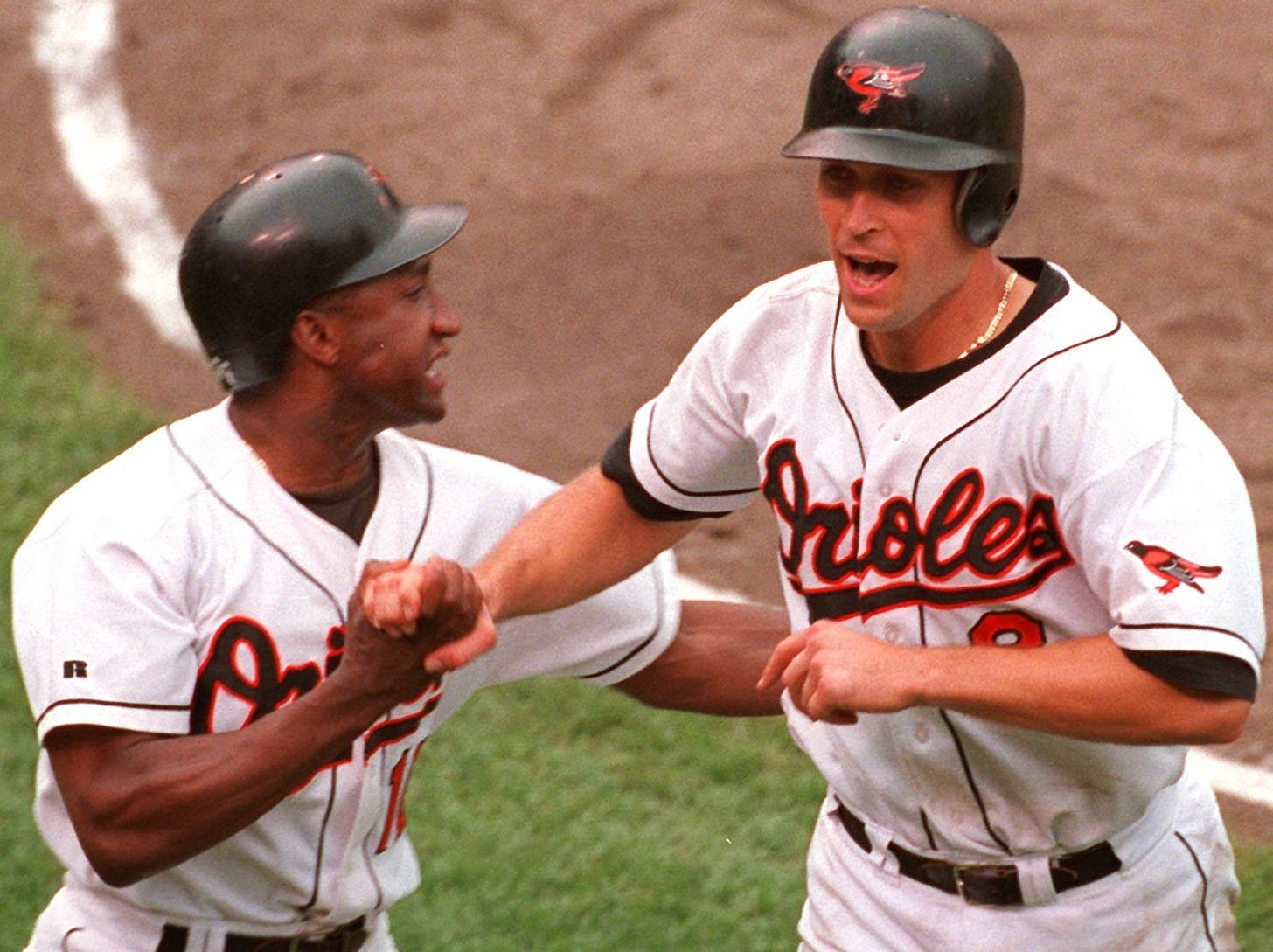 Of course, that was over two decades ago, and as we sat down to research and record this week's episode of The Seventh Circle Podcast, I'm finally faced with the truth: I don't hate Baltimore. I am Baltimore.
They're a smallish, old-line city — one that, despite showy, tourist-friendly efforts to revitalize a slice of their urban core, are still a shadow of what they were 100 years ago and unlikely to ever gain that back. The kind of city that has sports teams because we lined up when they were first handing them out, not the kind that gets them now on the merit of actual population or TV market numbers. They've got hardcore fans who love their teams, and those teams aren't guaranteed any sort of success. The Orioles, villains of that late-'90s playoff run, only have the resources to compete maybe once every decade at best. (And even then, they're falling short).
As for stealing our football team? That wasn't the fans' fault. They were screwed the same way we were, when the NFL let the Baltimore Colts disappear in the middle of the night for Indianapolis. Sure, it would've been ideal if they'd gotten the expansion franchise and we'd been able to keep our beloved team, but Art Modell and Paul Tagliabue and everyone who came after them are responsible for what happened. The NFL has never cared about its fans, except to leverage them against each other in order to secure sweetheart stadium financing deals from desperate municipalities. Fans don't have any say in that.
Also, we recorded this episode before CERTAIN PEOPLE felt the need to attack Baltimore and that shit ain't cool. Don't mess with our SEO, pal.
Joining us in studio this week is Haley O'Shaughnessy of The Ringer, and we discuss:
Cal Ripken's streak, one of those viral Facebook stories about a guy who didn't miss work for 20 years and the boss hung up a banner

The time the Orioles were so bad they fired Cal Ripken's dad

Chris Davis: bad player on a bad contract, or hero of the proletariat?

The Ravens passing on Vince Wilfork so they could draft Kyle Boller

Joe Flacco, a quarterback whose accomplishments are usually described starting with "despite…"

The nearby Washington Wizards, and LeBron James's one true rival
Listen to us at CircleSevenPod.com, Apple Podcasts, Spotify, Stitcher… other places? Right here, even. We're lots of places. Also, if you've been listening and enjoying, please leave a review on these apps, it helps us build! We've got some great things planned in the upcoming weeks that we're looking forward to sharing. Thanks for your support.
— Scott Hines (@actioncookbook)