I don't want to be lovable; I want to be a problem.
On the Cleveland Browns and the glory of hatred.
On September 30, 2001, the New England Patriots beat their division rival Indianapolis Colts to move to 1-2.
On September 29, 2019, the Cleveland Browns beat their division rival Baltimore Ravens to move to 2-2.
This isn't so much an effort to draw a parallel between the two teams as it is a chance to give you a warning: just like global warming, impeachment inquiries, and my own thinning hair: this could get ugly far sooner than you realize.
The Browns defeated the hated Ravens 40-25 yesterday afternoon behind a 342-yard passing performance by second-year quarterback Baker Mayfield and a 165-yard, three-touchdown performance by second-year back Nick Chubb — punctuated by an 88-yard fourth-quarter dash that was the nail in the Ravens' coffin, and produced this magnificent image: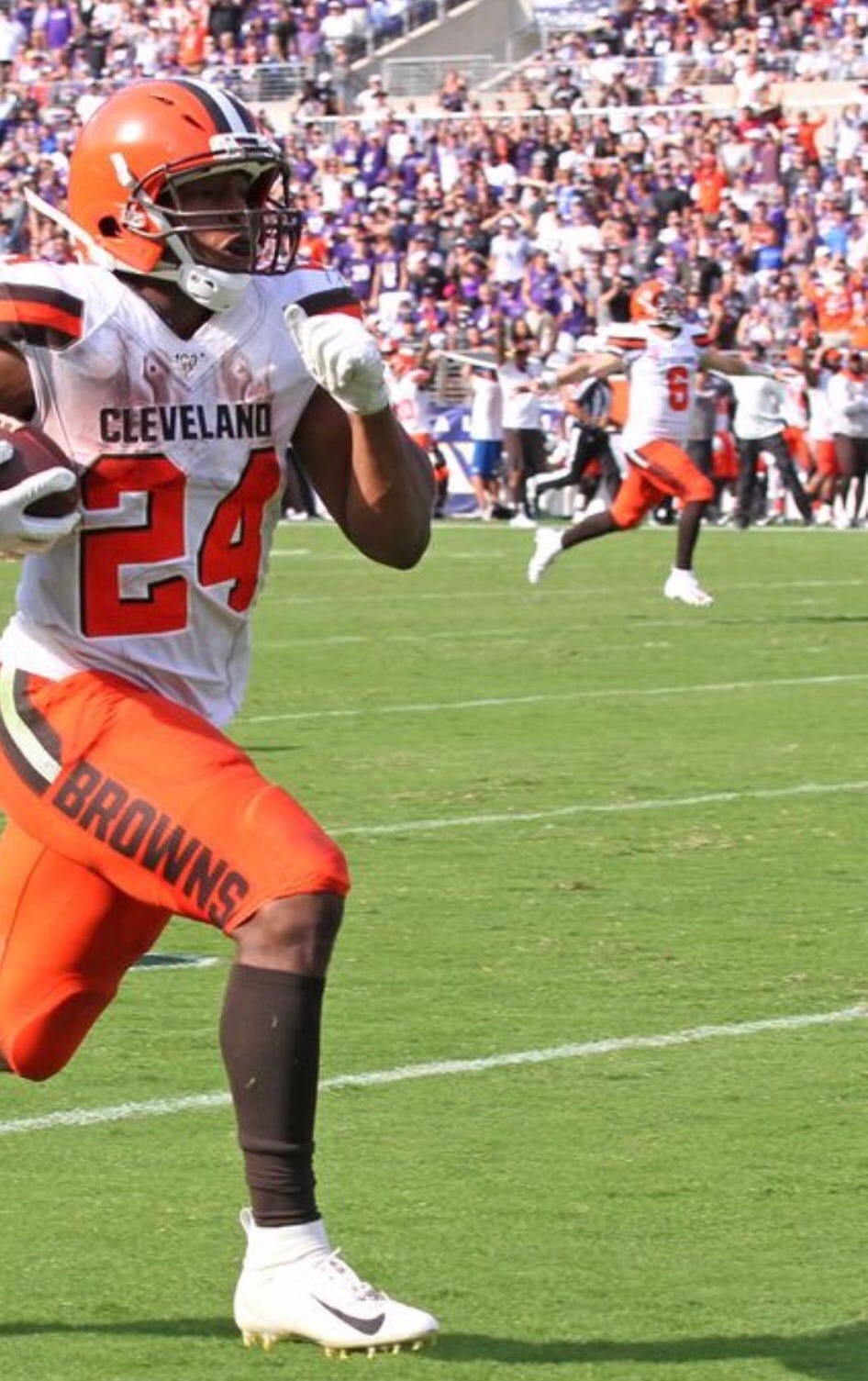 After a 1-2 start to the season that featured a general lack of discipline and cohesion by the team, this was the first they'd really looked like they were capable of delivering on their heavy preseason hype. In the midst of a bit of online chest-thumping over the victory, I received a response to a tweet of mine by someone sneering that the team's televised fanbase "is nothing but a bunch bros making barking noises".
Well.
A few points on that matter, if you'll indulge me:
1) First of all, this criticism is erasure of DJ Byrnes, friend of the pod and co-host of the Browns-themed Factory of Sadcast, who is attending every game this year dressed as Baby Billy from HBO's The Righteous Gemstones.
[Hans Gruber voice] This is not "just a bro", sir, this is an EXCEPTIONAL bro.
2) I don't want you to like us.
See, here's the thing about the "lovable losers" image that gets applied to some fanbases: it sucks.
My history with the Cleveland Browns goes back as far as I can remember. I was born in Cleveland in 1982, and among the earliest things I can recall about sports are "Earnest Byner fumbled" and "we hate John Elway". I attended Browns games in Municipal Stadium — that dank, freezing hellhole of a stadium that fit our tough-as-nails team and fanbase like a glove. I have a clump of turf from the 50-yard-line of that stadium in my house — a clump I dug out with a pocket knife 23 years ago, right after Art Modell (pictured above) ripped the city's heart out and shuffled off to Baltimore.
I love this team, and they've brought me a lot of pain.
Now, there's been a lot of dark humor around them in the last couple decades of misfortune — the famous storefront jersey listing the names of every stiff, has-been and never-was who lined up under center in orange and brown, the "Factory of Sadness" label, all of it. Some Browns fans (to the consternation of many others, myself included) organized a parade when the team went 0-16 two years ago, mockingly "celebrating" the achievement. These sort of things can lead outsiders and media members to believe we actually like losing — that there's some pride in the team's misfortune.
Screw that.
The Chicago Cubs bore that "lovable loser" label themselves for decades, before the once-hapless franchise won the World Series in 2016, breaking a 108-year title drought. Sure, there's some camaraderie in the pain — seeing someone wearing the same colors as you and knowing they've suffered along with you, watching other teams celebrate each year as you look hopefully to a future that you know will probably bring more of the same.
When the Cubs won, there were stories of ballcaps or pennants left on gravesites, of people sharing memories of a parent, grandparent or other loved one who lived and breathed the team and died before seeing them reach the promised land. Don't you think those people would've rather shared in the glory of a victory together than bask in the worthless, patronizing warmth of other fans finding them lovable?
I don't want my team to be lovable, I want them to win.
I want my team to beat down the doors of the league. I want them to thrash everyone in sight by 50 points a game, and never even *sniff* the idea of being lovable to anyone who isn't clad in orange and brown. I want the Cleveland Browns to be a problem. I want you to see fans of my team coming from down the street and thing "ugh, not these spoiled assholes again." I want to make New England Patriots fans seem pleasant — and if the Browns ever do win anything, I assure you, we will. We will be AWFUL.
This season could still easily go wrong. Baker Mayfield could end up throwing more picks than TDs, and raise questions of whether he was just a flash in the pan or a product of Oklahoma's instant-Heisman-winner system. Nick Chubb could end up being a one-year-wonder at running back. Odell Beckham Jr. might never live up to his New York numbers. Freddie Kitchens might prove totally overmatched as a head coach.
Or it might all come together, and faced with the prospect of trading in the lovable loser label for the ire of success, you know what I'd say?
Woof woof.
— Scott Hines (@actioncookbook)
---
In other news, EPISODE 15: WELCOME TO LIFE AFTER FOOTBALL is now live on The Seventh Circle Podcast. Joe and I talk with former NFL (and University of Louisville) safety Curry Burns about what it's like when the time comes to hang up your cleats.
Find us on Apple, Google, Spotify, Stitcher and elsewhere, and please, drop us a review if you're enjoying the pod! Thanks for supporting The Seventh Circle.