If the shoe fits, eat it.
This and more confusing-but-good recommendations in this week's Friday digest!
Well, that sure was a week, wasn't it? Just one day right after another. Whole bunch of them in a row. It's almost over now, though, which means we can look forward to the weekend: rest, relaxation, recovery, and questionable culinary decisions.
It's time for another magnificent seven.
7) Memories of my melancholy take-outs
Do you ever get a hankering for a dish you used to order somewhere, but simply can't get your hands on anymore? Perhaps a restaurant closed, or you moved away. I've had this impulse before, when I fed my cravings for New York's ubiquitous halal cart food by turning it into a fried ball of delicious nostalgia.
Sometimes it's a little simpler. There's a Mexican restaurant near an old apartment of mine, one that I would frequent semi-regularly. When I went, I nearly always got the huaraches (so named for their oblong shape and passing resemblance to shoes.) Perhaps in your part of the country, they're more common, but I don't see them on menus very often around here. They're pretty simple, and very tasty — masa dough, filled with beans, rolled out flat and fried, then covered with a variety of toppings.
I make no claims to producing this dish authentically or correctly, but what I did make turned out delicious. I started with this recipe by Rick Bayless, who I will take any opportunity to mention is, in fact, the brother of lowest-common-denominator sports-screamer Skip Bayless. (That's not Rick's fault, though.)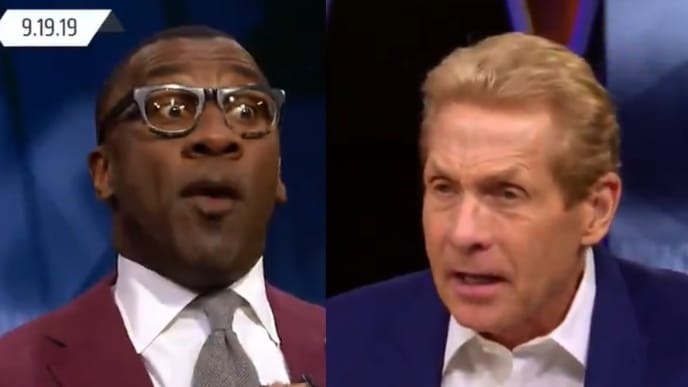 It's a satisfying process to put the huaraches together — make the dough, divide it, make a well in each piece, shove some beans inside, flatten it (Rick calls for a tortilla press, which I do not own; I sprayed the bottom of a Pyrex dish with cooking spray and just smashed them with that), then fry until golden brown.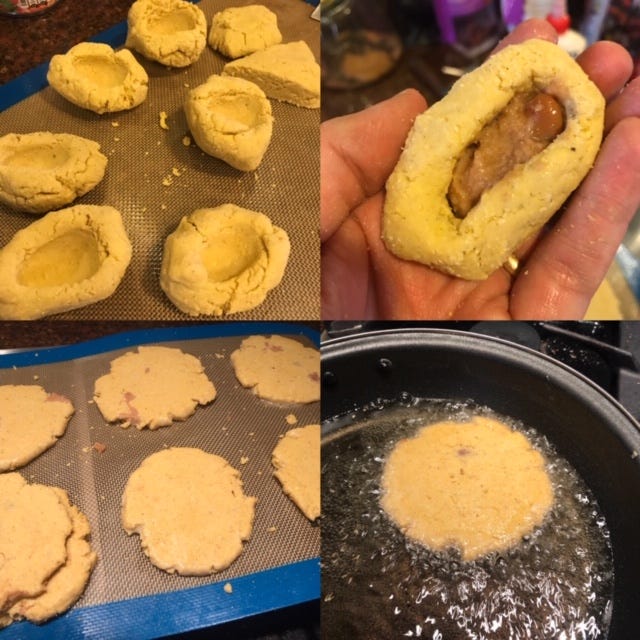 Now, the normal step from here would be to top with beans, salsa, cheese, shredded lettuce, etc. But I never do anything normally, do I? Of course not. I'm making these into burgers, and I want something that'll stand-up, flavor-wise.
1 pound Mexican chorizo

1 can black beans

4 oz queso blanco
I pulsed all of this in the food processor until it all stuck together, then divided into six burgers, which I pan-seared until crispy.
Oh, then toppings?
salsa, or in my case, Ro-tel (sorry, I'm incurably Midwestern)

shredded lettuce

shredded cheese

2 chipotle peppers in adobo, blended with 1/2 cup sour cream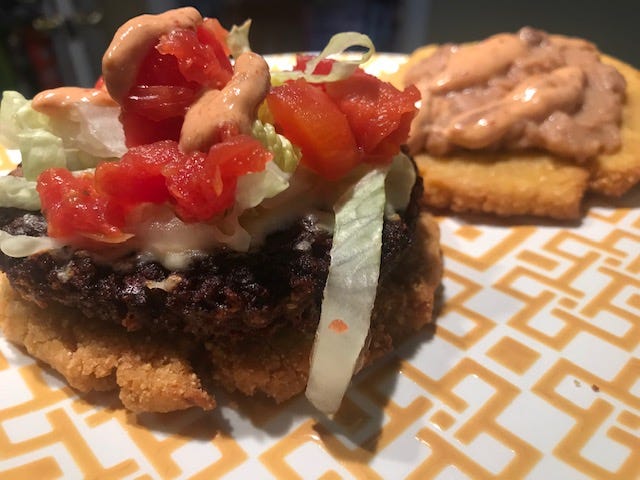 Now that's a burger.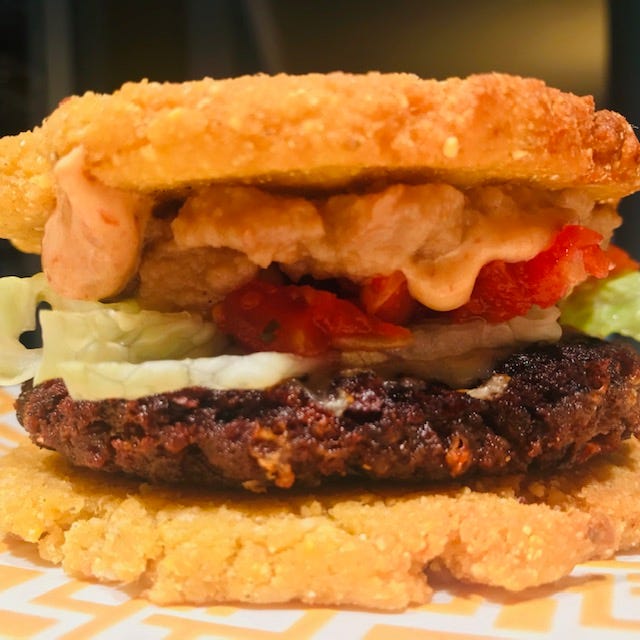 Hmm. This looks like it could use a tasty cocktail to wash it down. Won't you join me, then, in the next step in our weekend journey?
6) Bright, fresh, and simple. (No, not me, the cocktail. I'm not bright or fresh.)
If you've followed this newsletter for a while, you might know that I'm very fond of Maggie Hoffman's cocktail book The One-Bottle Cocktail; it's been the source of many of the best drinks I've featured.
Usually I'm drawn to an exciting or unusual ingredient, and it's probably because of that that I'd overlooked The Golden Lion Tamarin before. There's nothing terribly unusual in it, but don't let that fool you like it fooled me — this is one of the most utterly delicious cocktails I've made in this whole run, and one I'll be coming back to frequently.
It's a simple shopping list: rye whiskey, lemon, fresh ginger, and cream soda.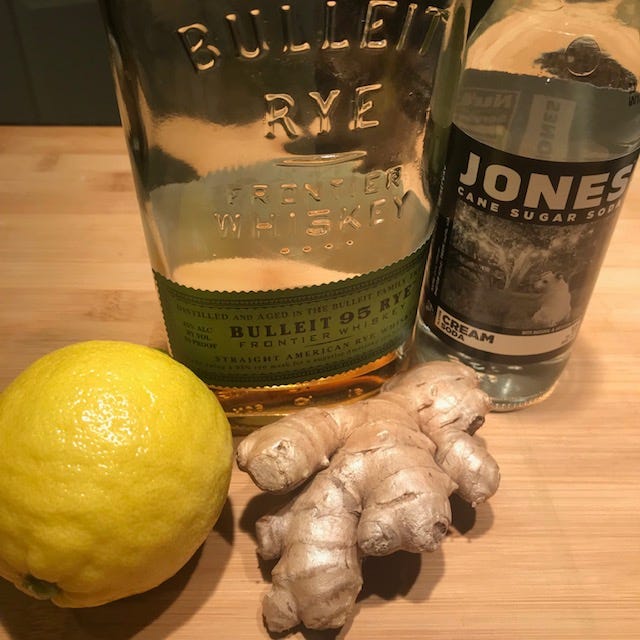 You'll notice that I'm almost out of rye here. If you don't have any on hand, I'll recommend to you my old standby that I'm going to pick up again next, which is Old Overholt — it's a terrific value whiskey and also my go-to for Manhattans. Fortunately, I had enough Bulleit left to make this one happen.
Four quarter-sized slices fresh ginger

1/2 ounce freshly-squeezed lemon juice

2 oz rye whiskey

4 oz cream soda
Muddle the ginger and lemon juice in the bottom of a cocktail shaker; add rye and ice. Shake well, strain into a tall, ice-filled glass, then top with cream soda and garnish with lemon wheels.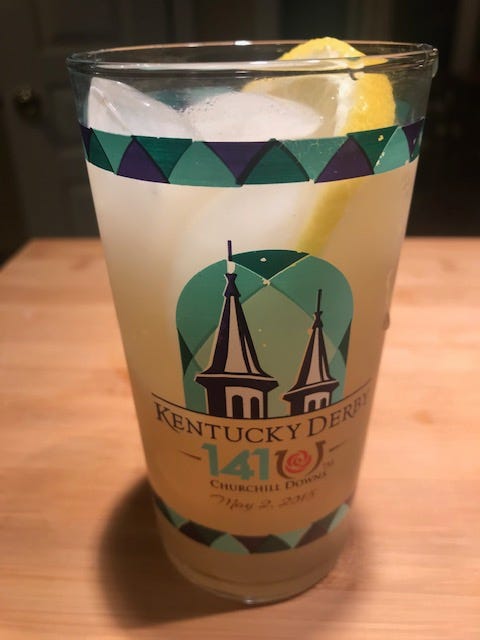 (After five years living in Louisville, most of my glassware is Derby glasses.)
This is an absolutely delicious drink, I don't need to be more clever than that in describing it. You should make it this weekend, and then you should invite me over. (I'm out of rye.)
Musical break time.
5) Yola, "Love All Night (Work All Day)"
I will credit my good friend Denny Mayo, the internet's handsome gentleman scientist, for turning me on to the music of Yola recently. (Denny will be guest-hosting a newsletter soon; he's a great writer and you should look forward to that.)
Yola is currently on tour (she's in the Midwest this weekend!) and I'm told is tremendous in person.
4) My one true love: soothing British reality television.
I've effused in these parts before about the wonders of British reality television. Eschewing the needless drama and let's-turn-every-idiot-cousin-into-a-character-so-we-can-have-spinoffs BS of their American counterparts, shows like Grand Designs, The Great British Bake-Off, and Fake or Fortune? are wonderful for decompressing at the end of a long day. They're genuine, they're kind, and they just show interesting people doing wonderful things.
I've got a new prime entry in this category, and it's The Repair Shop.
Featuring a cast of experts, the show follows the skillful restoration of cherished objects while exploring the backstories of why they're special to their owners. I wrote about it for Decider this week, and you can read that here.
3) Drawing a picture of a little-known world
It can be a little hard to find (used copies are available cheap on the big booksite that I try not to link here), but if you can get your hands on it, Guy DeLisle's 2007 graphic novel Pyongyang: A Journey In North Korea is a fascinating read.
DeLisle, a French-Canadian artist who spent time in the reclusive nation overseeing a team of animators, recounts his time there, with experiences both banal and ominous.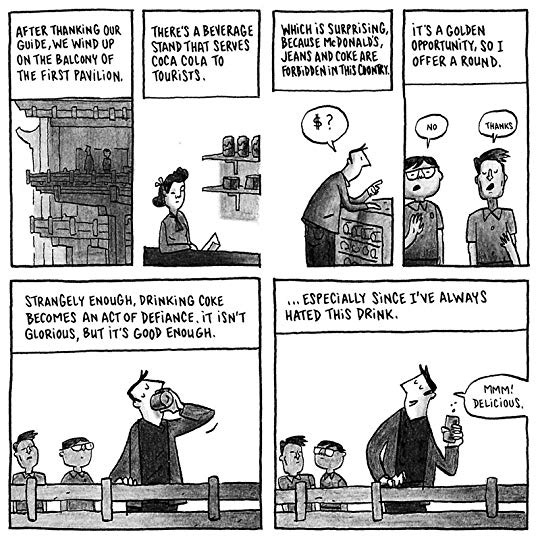 It's interesting to see a Western view of the closed-off country that isn't presented through the lens of any particular political agenda, and you can blow through this slim volume pretty quickly.
2) A serious meditation on parenthood in a warming world.
I'll confess: I don't like to read stories about climate change, because even thinking about it gives me anxiety. I did make time for this essay from The Atlantic, "The Concession To Climate Change I Will Not Make", on raising a child to appreciate thw wonder of the natural world before they know to fear for it, and I'm glad I did. It's very thoughtful.
1) Wow that's a bummer, you'd better have some good dogs today, man.
All dogs are good. Don't believe me? Just ask reader Bryan H., who shares:
Just wanted to share the results of this endeavor and how tasty this was. Love the newsletter, my wife and I can't recommend it to enough people. Also wanted to share our dogs, Kiley and Sophie. They are both very good kitchen assistants.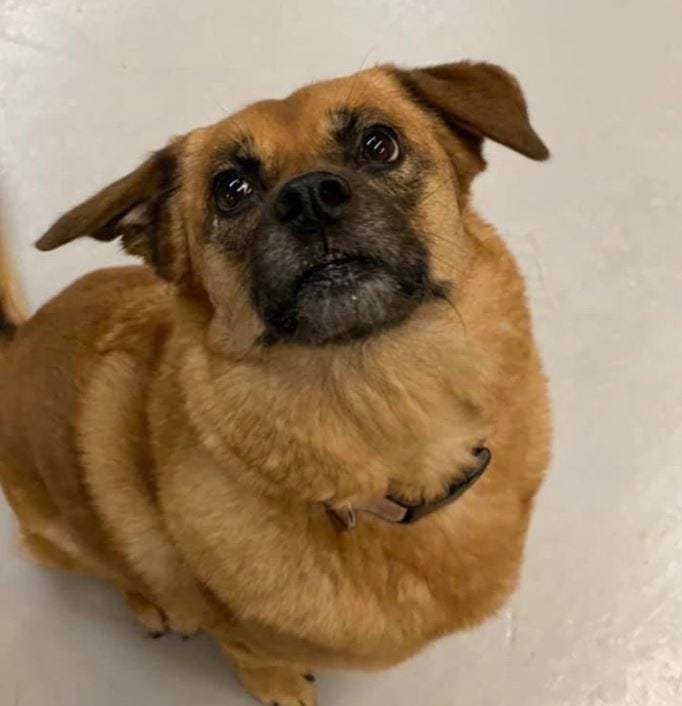 THE BEST SOUS CHEF.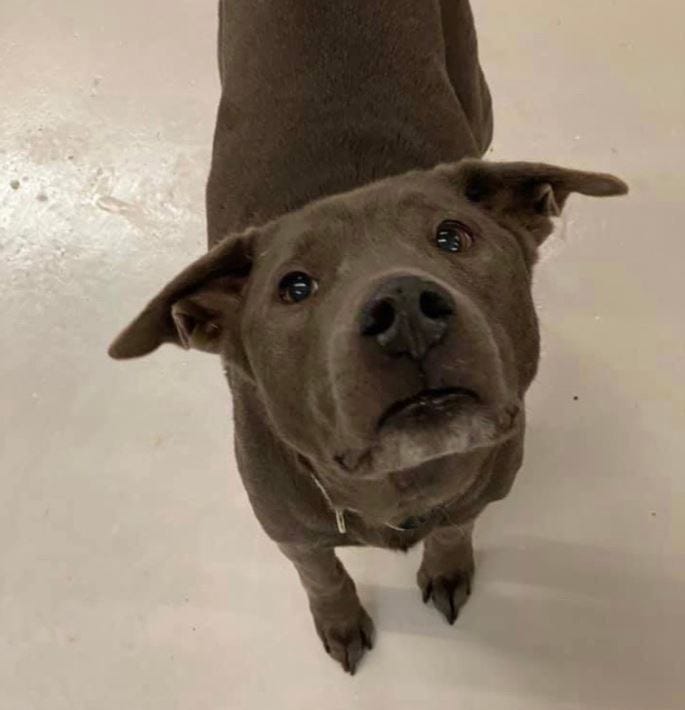 THIS ONE'S A CHOPPED JUDGE AND A VERY GOOD ONE AT THAT.
Oh, the endeavor in question in Bryan's message was the Halal Balls, which, his look even better than mine: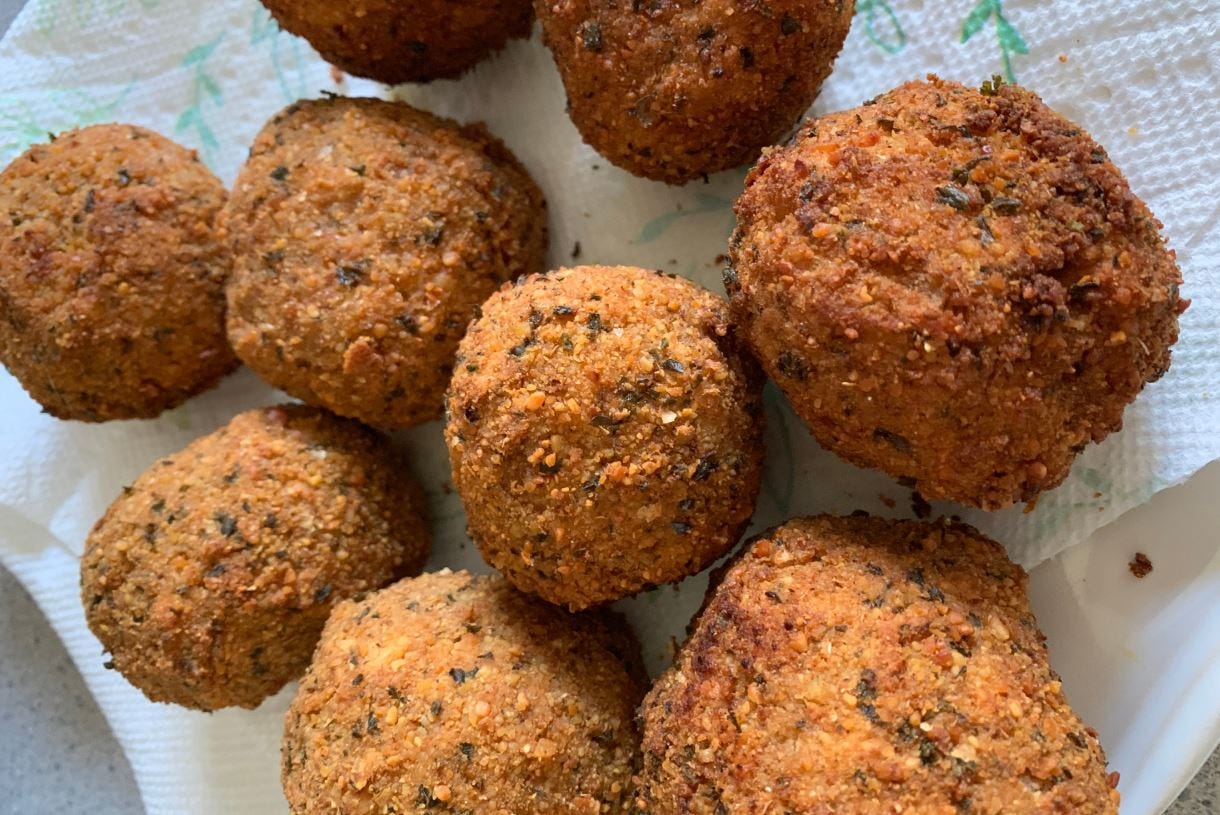 Mmm.
Anyways, back to the dogs. Reader @ServoTristan shares:
A good dog candidate. Aspen the woof.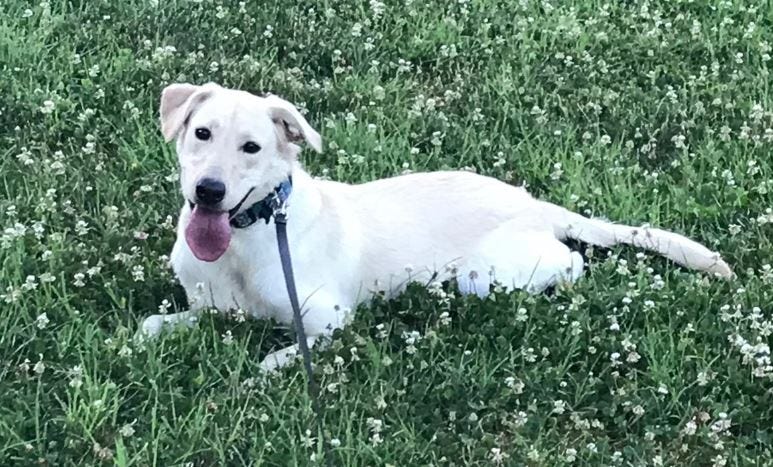 A GREAT DOG CANDIDATE.
Finally this week, reader @nathanielabeita shares:
For the Friday newsletter. Reggie can't wait for the sun to come back.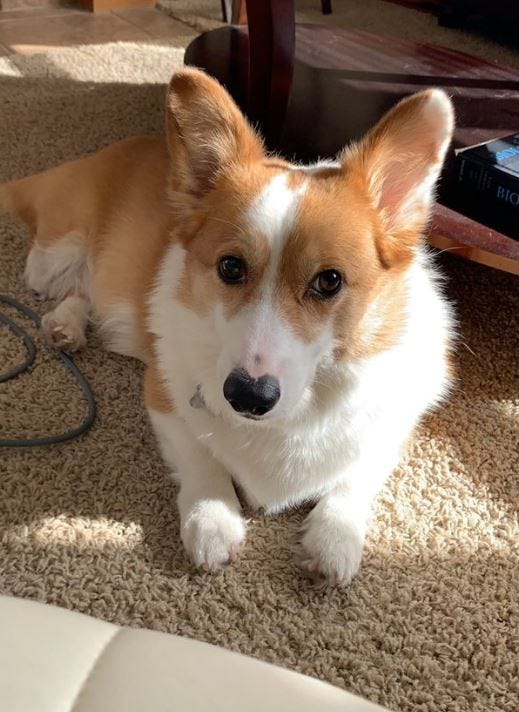 You and me both, Reggie, you and me both. (Reggie is such a good dog name, I can't get over it.)
That's all for this week's edition. I've got some good stuff planned this upcoming week, and an absolute disaster of an idea brewing for later in the month. You should stick around!
If you're not subscribed yet, press this button:
And if you are, then use this one:
I hope you have a terrific weekend, whatever your plans are.
— Scott Hines (@actioncookbook)