It's A Good Day For A Crowded Table
Let us take on the world, while we're young and able.
Hello. Happy Friday! And welcome back to another edition of A Good Day In Hell. As you may already know, this is a weekly rundown that helps you climb back up from the Seventh Circle of Hell, down there with all the Minotaurs and Harpies and screaming and stuff, back into the glorious, heavenly light of the weekend.
Seven circles, seven steps. Let's go.
(7) Mama wants to change that Nashville Sound / But they're never gonna let her…
That's a line from Jason Isbell's "White Man's World", a line that Isbell himself was happy to see proven wrong by the formation of The Highwomen, a supergroup whose debut album thundered onto the scene a month ago.
The group, whose name (and eponymous lead single) are a direct allusion to the 1970s supergroup the Highwaymen (a collaboration between Willie Nelson, Waylon Jennings, Kris Kristoffersen and Johnny Cash) is comprised of four women with powerhouse recording careers of their own — Brandi Carlile, Natalie Hemby, Maren Morris and Amanda Shires.
Shires is married to Isbell, and (if you're a literal sort like me), could be presumed to be the subject of that line of his. Listen to this phenomenal album, and it looks like she changed that Nashville sound anyways.
(6) Whiskey Business
A record like that is best with a glass of something in your hand, if you're the drinking type, and today I'm feeling whiskey (what's new?) — but with a little something extra.
Now, I've adopted Kentucky as my home, and I've even gone so far as to spend an entire fortnight writing about the Kentucky Derby. But here's a little secret, just between you, me, and the few hundred other people getting this email: Mint Juleps are trash. They're gross, they're overly sweet, they're something you should have only once a year before cleansing your mouth with something better.
But am I rejecting the whole concept of fresh herbs in whiskey drinks? No, I am not. They just need better balance. That's where the Bufala Negra comes in.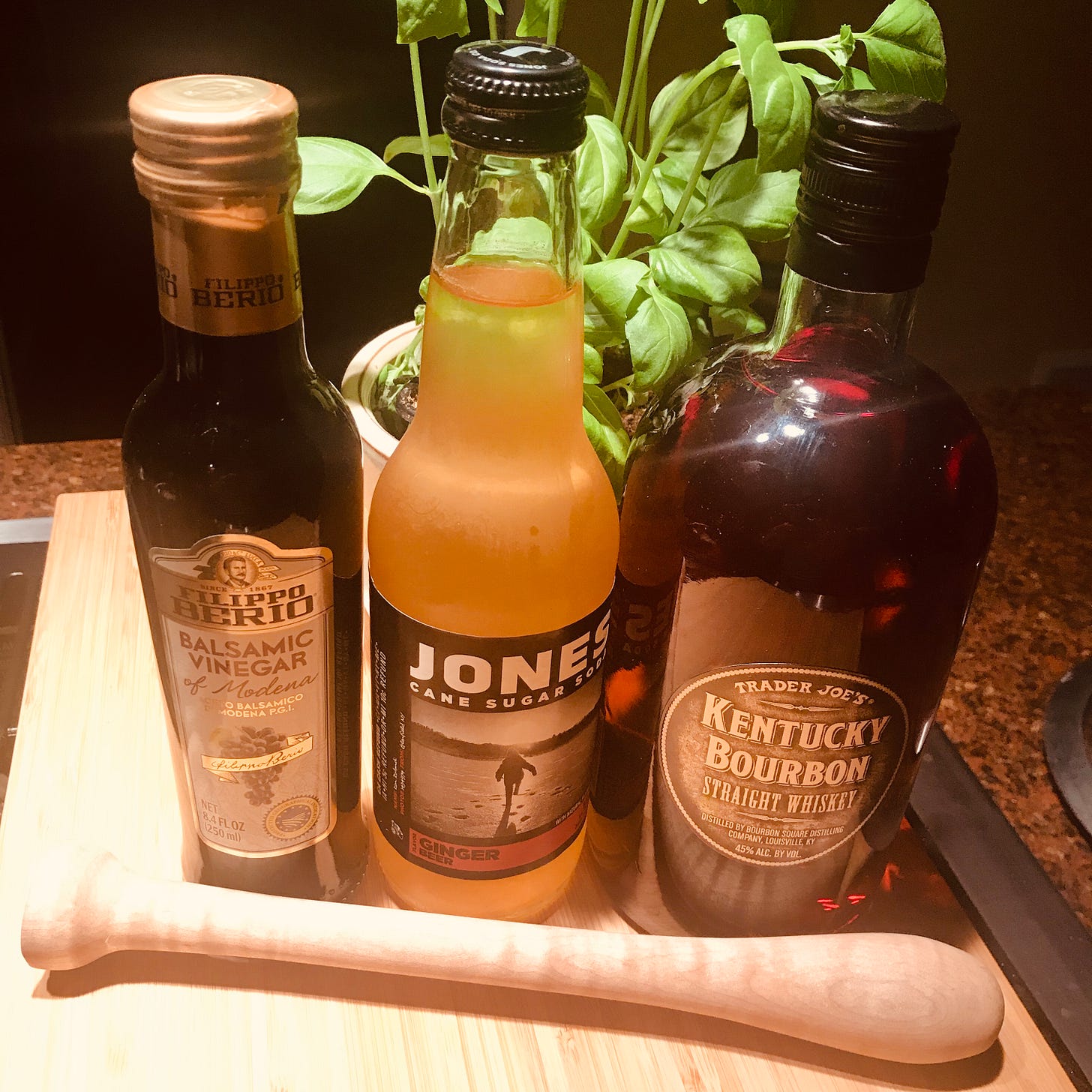 The brainchild of a bartender at The Oakroom in Louisville's Seelbach Hotel, it combines bourbon, simple syrup, fresh basil, balsamic vinegar and ginger ale for a nuanced, complicated-tasting drink that's utterly simple to make. Here's all you need (per drink):
several sprigs fresh basil

1 tablespoon balsamic vinegar

1/2 ounce simple syrup

1-1/2 ounces bourbon

ginger ale or ginger beer to top
Muddle the basil with the vinegar and syrup, add bourbon and ice, shake well, then pour into a rocks glass with ice and top with the ginger ale and a fresh sprig of basil.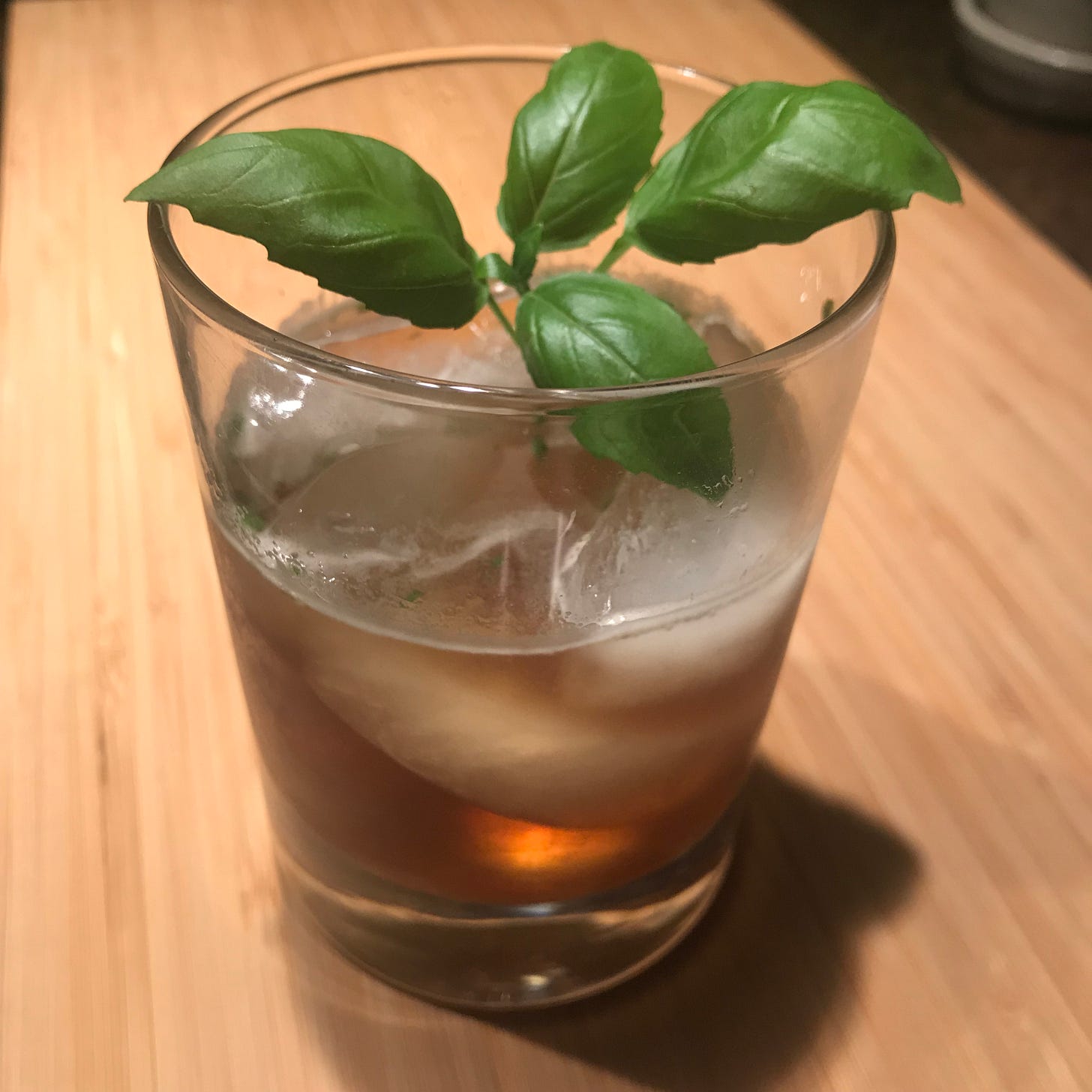 Save the minty junk for the track. This is the real joint here.
(5) The best dish in the world, as rated by writers of this newsletter
My wedding anniversary is this weekend, and my wife and I had our first date in a tapas bar. The choice of venue is perfect for a first date: you can skip out after one drink if things are going poorly, or you can stay for five hours if you're going to end up marrying the person. Also, at least one older relative will overhear your story as "topless bar", and it's nice to liven things up for them.
ANYWAYS, this all gets me thinking about the single greatest food in the world, which is nothing more than an egg-and-potato omelet served cold.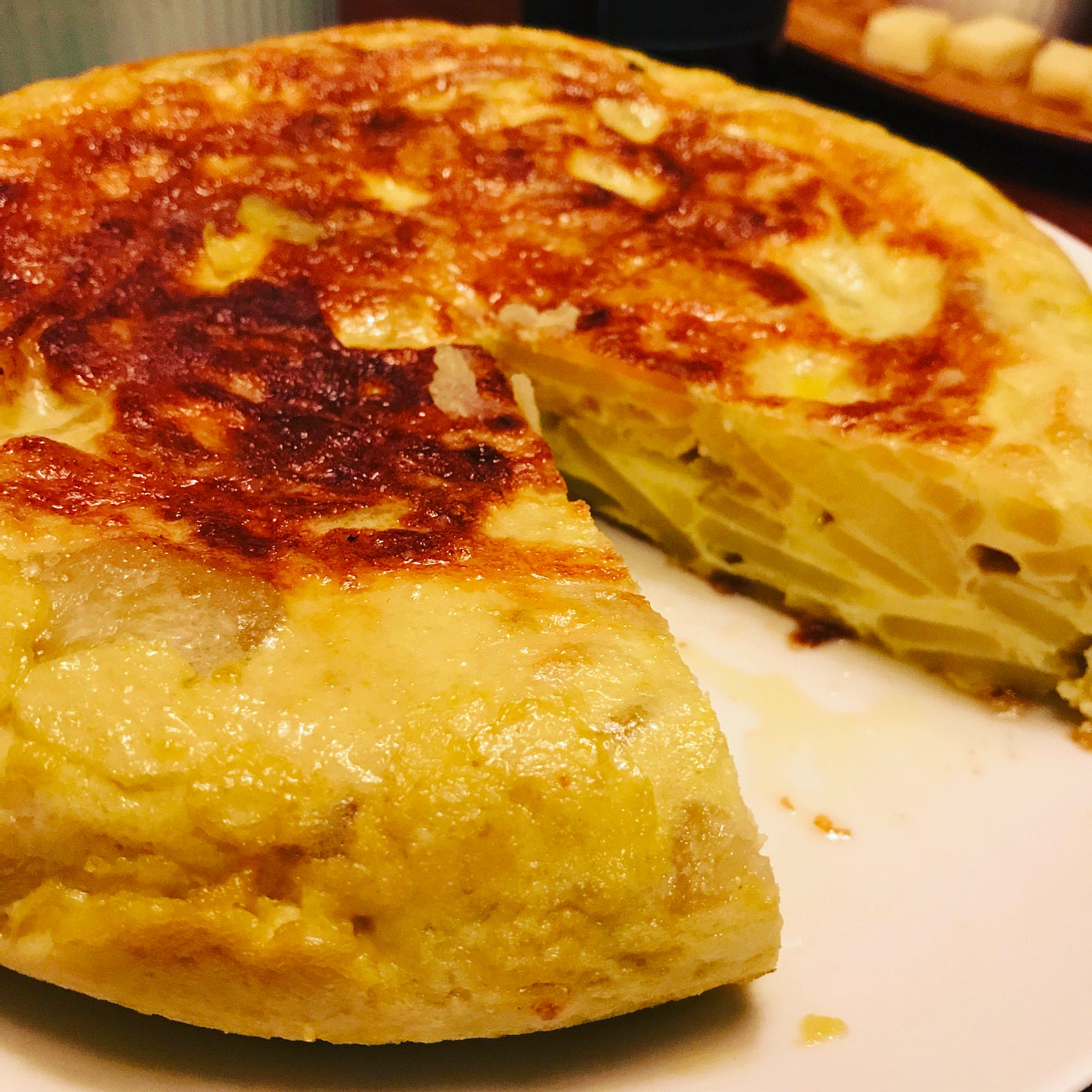 Deceptively simple — just eggs, potatoes, onions and oil — the Tortilla Espanola is unrivaled when done right. I worked in Barcelona for a short time during grad school, and I think ate it (counts on fingers) every single day. Most any bar or coffee shop had one on the counter or under the glass, ready to be sliced and served. With so few ingredients, though, it's a devil to make perfectly. You have to ensure texture is just right, so that the egg and potato slice through without separating.
Finally, after years of failure, I stumbled across a recipe that works, from Serious Eats. It turns out the secret to better cooking is more oil. Who knew?
(4) This Week's Best Read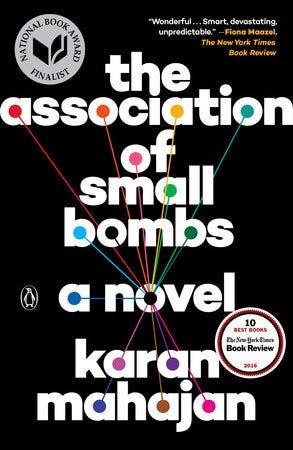 The Association of Small Bombs, by Karan Mahajan, is a novel that packs a lot of complexity into just under 300 pages. It centers on a small bombing attack carried out by Kashmiri terrorists in a Delhi marketplace in 1996, shifting narrators and perspectives to cover the tragedy's causes and aftereffects from the viewpoints of each party involved. Some authors might take 800 pages for a venture like this, but this book doesn't waste time or space in telling a gripping, emotional story.
(3) Speaking of great reads…
If you haven't yet read Travis Pilling's SBNation feature "The Ticket" yet, drop everything right now and do it. It's his story of leaving an observant Mormon family to enter the seedy and at-times-dangerous world of major-event ticket scalping, and it's massively entertaining.
(2) A show that was before its time, and a movie that's right on time.
Do you remember The Dana Carvey Show? You'd have had to be paying close attention in 1996, because it went by in the blink of an eye. Carvey, coming off massive success at Saturday Night Live and in the Wayne's World movies, decided to strike away from all of that and start a primetime variety show on ABC. It was innovative, it was daring, it was loaded with talent… and it was cancelled after only seven disastrous episodes.
The Hulu documentary "Too Funny To Fail" is a hilarious look at the big ambitions and utter trainwreck of the show, which featured then-unknown talents like Stephen Colbert, Steve Carrell, Jon Glaser and more. (Louis CK was also a writer for the show, but given his recent history, the documentary wisely does not interview him).
I laughed out loud all the way through this documentary, and rarely more than in the interviews with Bill Hader, who wasn't involved in the show, but recounts being a teenager who was apparently one of the show's few dedicated viewers.
(1) Gimme those good dogs, you jerk.
Eleanor Thomas writes in to share:
"My best dog, Teifi (pronounced Tivey). Long gone, but I still miss this dog every day."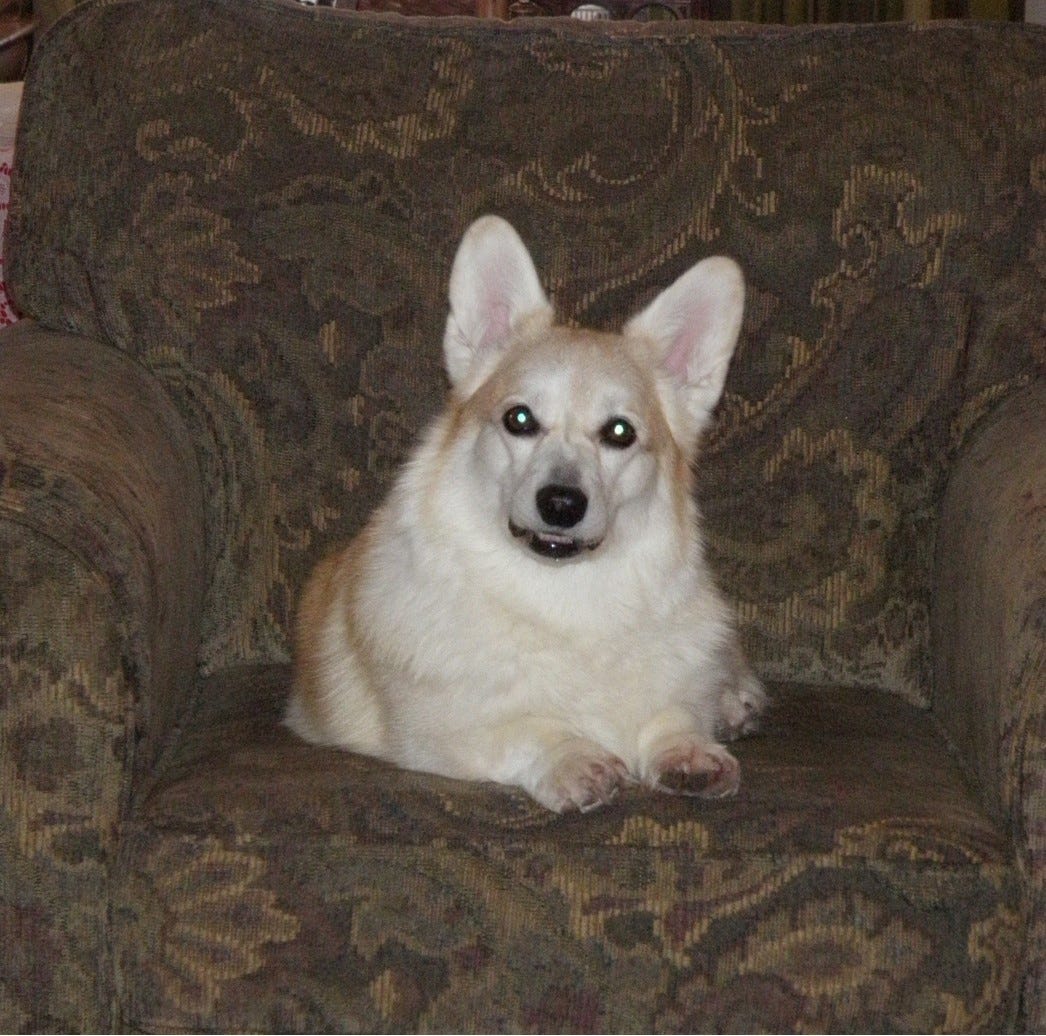 What a beautiful dog. Thank you for sharing, Eleanor! If you'd like to see your dog featured here, reply to this email with the pictures, or DM me on Twitter at @actioncookbook.
That'll do it for another Good Day In Hell. Thanks for reading, and be sure to subscribe if you're not on the list already. There's some great things brewing here, and you won't want to miss them.
Enjoy your weekend!
— Scott Hines (@actioncookbook)