It's a Good Day For One Last Big Score
The Seventh Circle attempts to recapture our youth, or die trying.
It's Friday.
You know the drill by now: we're working our way back up from the Seventh Circle of hell into the glorious light of the weekend. Seven steps to go. It's A Good Day In Hell.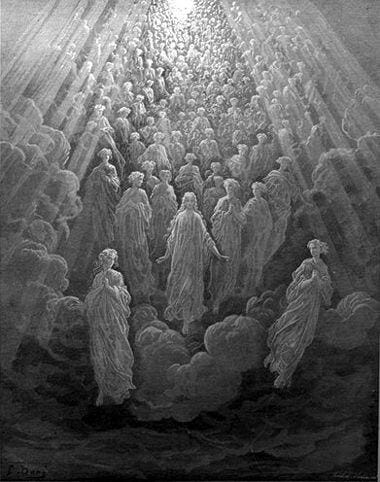 7) What we've got here…
Often, we profile new music you should be listening to in this feature, but today we're going to flash things back. You see, depending on your generation and your tastes, there's likely an album that was truly formative for you — something that defined your view of popular music in a new way coming out of youth. If you're a little older, maybe it was the Beatles' White Album or The Clash's London Calling. For people in their late 30s like me, it's often Nirvana's Nevermind. Was it for me?
No.
It was this.
Coming off the thundering success of 1987's blockbuster debut Appetite for Destruction (and G'N'R Lies, an EP sold as an album to a hungry audience), Guns N' Roses returned to shelves in 1991 with the massive, sprawling, two-and-a-half-hour-long twin albums of Use Your Illusion I and II. It was self-indulgent, unfocused, bloated, all over the place. It's the sound of a band that made a ton of money quickly and mostly used it to buy more and better drugs.
It's a mess, objectively.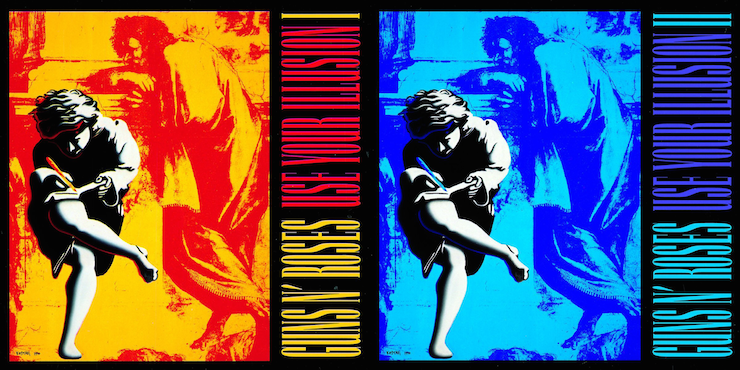 Let's get my co-host Joe's thoughts on it, as Joe and I share a fondness for this wonderful trainwreck:
I could rant about how incredibly toxic, disastrous, petty, vindictive, chaotic, and strung out Guns N' Roses were for days on end. I'll try to keep a straight line of consciousness, but that band breaks your brain and makes you react on impulse alone.

Two things I'll never be able to explain: how Jerry Rice's body held up through a 20-year NFL career, and how Gn'R stuck it out long enough to record this album.

Fun fact: Axl recorded all his vocals on his own and wasn't even in studio when the band laid down their portions, following me here? Appetite is the greatest 80's album — period — and I won't bother debating this anywhere but over a drink or a grill. They wrote most of the lyrics on pizza boxes in the shitty LA apartment the band shared/crashed at. It was pure raw energy but also had ballad moments such as "Sweet Child O' Mine" while also switching sounds completely, sometimes even mid-song, "Rocket Queen", for example.

Use Your Illusion was something all together different and, unfortunately in hindsight, it let us know this thing wasn't sustainable. I love UYI, but honestly wonder how much is nostalgia surrounding my first CD player and their epic music video premieres. It was as grandiose as the record label would approve, full orchestras, videos with small movie budgets. Excess, baby! The phrase "Too Big To Fail" comes to mind when I revisit these albums. Watch the video for "Estranged" and then argue Axl wasn't feeling himself way too much. He swam with dolphins while wearing a Manson shirt that said Charlie Don't Surf. If I played Appetite for you and told you "in less than a decade he'll be swimming with dolphins after avoiding a SWAT team" you'd probably say "hmm, well I'm sure they'll have a great run until then".

Some things in life aren't meant forever, I'm not mad they couldn't make it work. G'n'R like myself is here for a good time, not a long time, I'm just glad they touring again.
Guns N' Roses put out Use Your Illusion, the absolute pinnacle of hair-metal and big rock excess, on September 17th, 1991.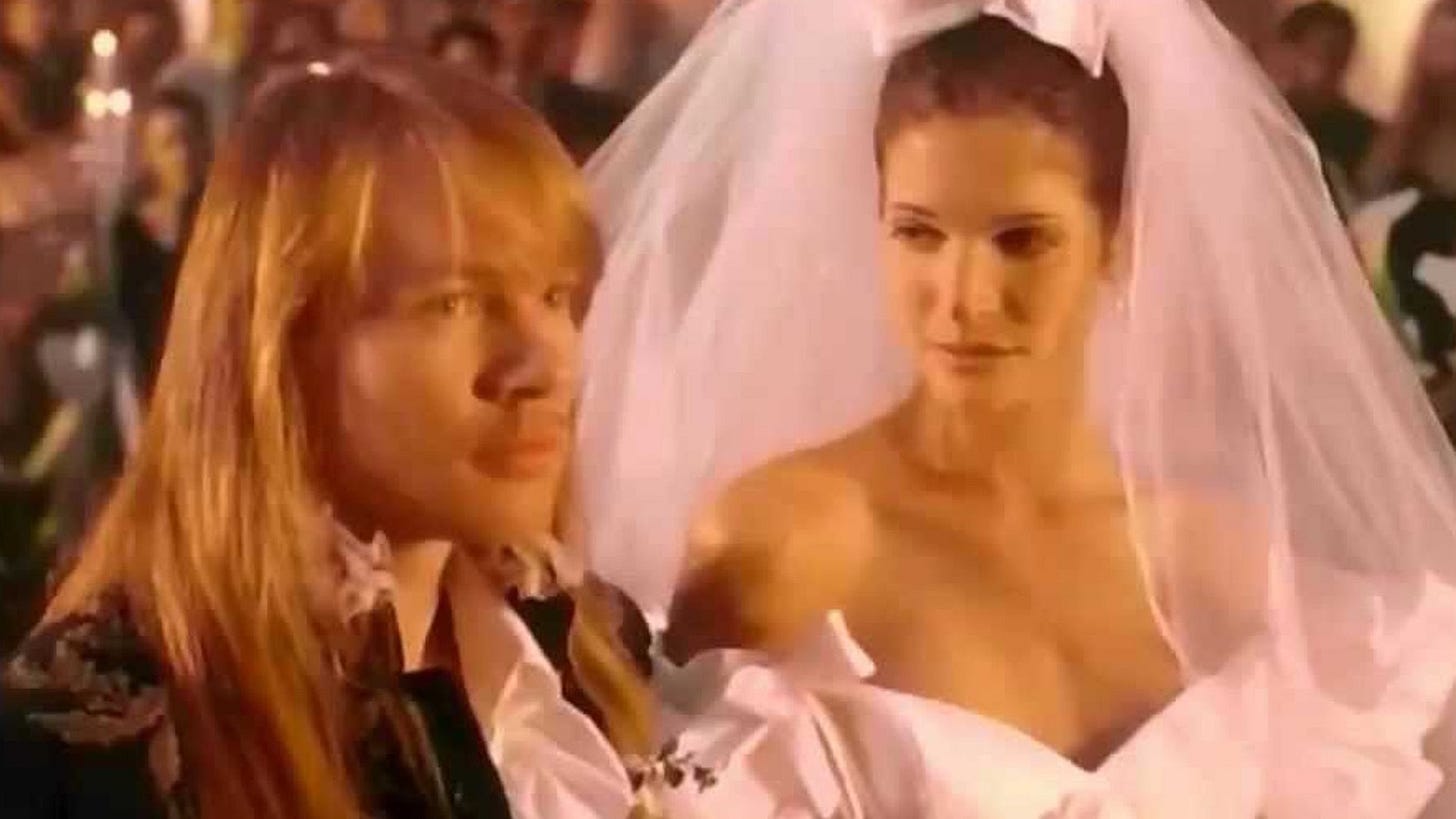 Nirvana put out Nevermind one week later.
6) This makes us want to talk cheap whiskey. Stay with us, there's a theme brewing.
The Seventh Circle's home base is Louisville, Kentucky, and for both of us — Joe, a Kentucky native, and myself, a transplant, bourbon's long been our drink of choice.
But in recent years, the whiskey game has become like the sneaker game — stuff gets expensive on hype alone. One of the first gifts I bought for my then-girlfriend, now-wife (a bourbon lover herself) was a bottle of Van Winkle 12-Year Reserve. It cost me $50, based on the recommendation of a New York City liquor store clerk. Four years later, I saw a store selling the same stuff for $500 — and someone was going to spend it. (It's a very good bourbon, and you're an absolute sucker if you spend $500 for it.)
Listen, you want to give me some Pappy? I'll drink it. But you can chase rich folks' follies forever. We're here to talk value — something that punches above its price point.
Joe again:
I'm from a small town in Kentucky. It doesn't have a lot to brag about, it doesn't have much that I miss, but I do miss the aroma of sour mash in the summer air. Summertime will always smell like sour mash and fresh cut grass to me, just like God intended.

My hometown produces the finest bottle of bourbon for the price that you'll ever find, Ancient Age 90 proof. A 1.75 liter of this corn water is right around $21, you read that correctly, yes 21 bucks for a 1.75 of 90 proof bourbon.

This isn't a gimmick or promotional ploy: it's seriously my everyday sipping bourbon of choice. For 90 proof it's surprisingly smooth, you can drink it neat like a man's man or splash a little water in it. Hell, sometimes you want a bourbon and Coke but don't want to pour Coke into expensive bourbon. (Please don't mix any bourbon that costs more than $15 a bottle with soda or anything but ice or water.)

I will assuredly jinx myself after writing this, so I'm planning on buying a dozen bottles and sticking them behind the bar before they get slick, rebrand, bond it, and repackage it at three times the price. So if you come across Ancient Age 90 proof, grab a bottle, pour one up, and pretended you're on the back porch with us listening to crickets and enjoying the aroma of sour mash and freshly cut grass.

Cheers!
5) Okay, you're talking about old man music and cheap bourbon. What's your angle?
Quite simple! Joe and I both are probably going to die this weekend attempting to relive our younger days, drinking whiskey and watching Guns N' Roses play in a gravel lot at the Kentucky Expo Center in ninety-plus-degree heat at the Louder Than Life festival.
Seriously, look at this lineup — they've precisely engineered it toward "you were a moody teenager in 1999 and now you're an adult with disposable income":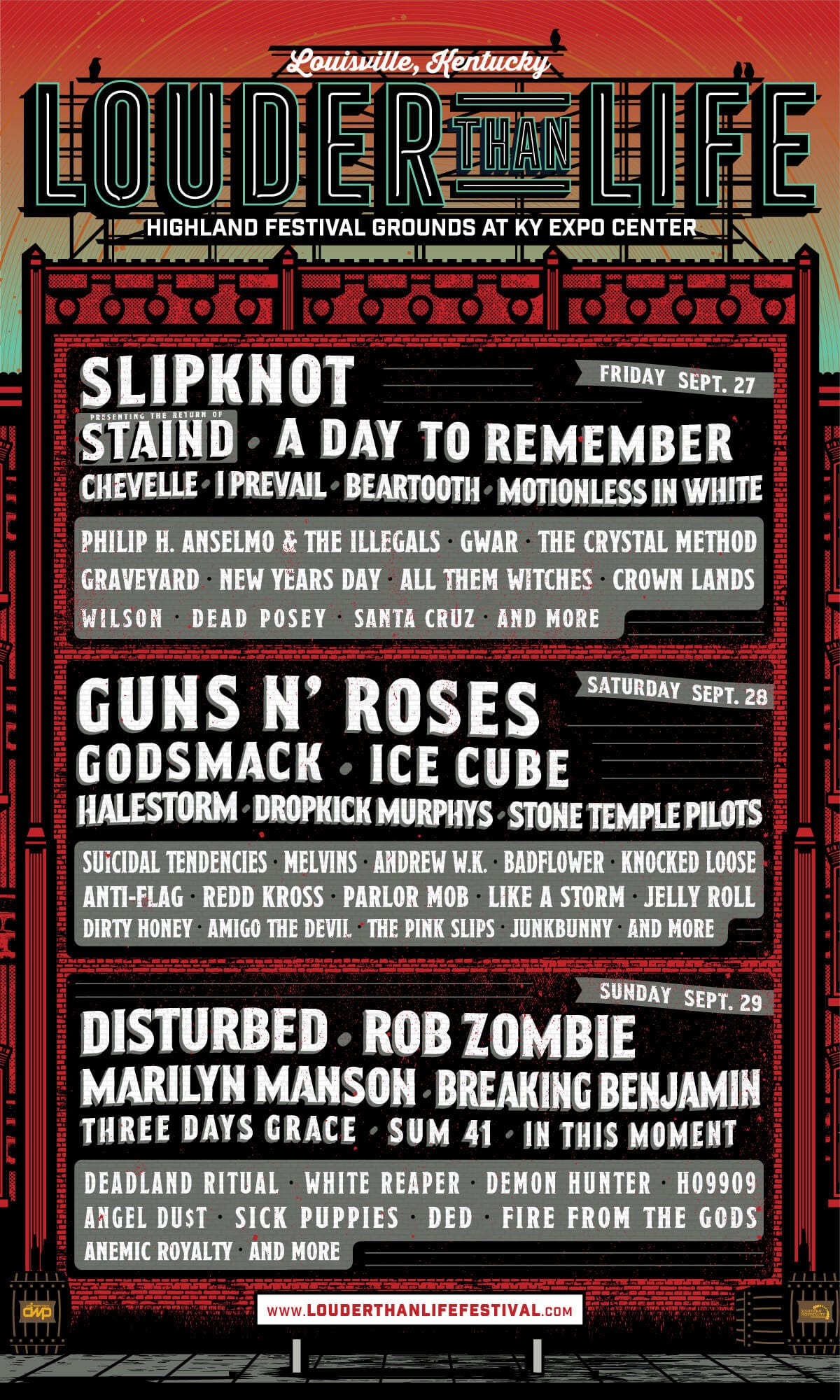 And we've got a promo to offer for you, our loyal readers! (At least, the ones close enough to be in Louisville this weekend. We love you equally, out of town readers, but logistics are logistics).
We've got a couple extra tickets to each of the three nights we're offering up here. Email us this morning (seventhcirclepod at gmail dot com) telling us why you need to listen to all the greatest bands of 1991-2003, and we'll pick a lucky winner or winners early this afternoon. (We're short on time in doing this so there's no true parameters for this, we'll just do our best to be fair).
4) Wow, by all accounts you're a washed-up dad, Scott, how are you going to recover from that?
See, I'm keeping a theme here! I'm going right into the food recommendations. If you're like me (and millions of other people), you might've bought an electric pressure cooker on Amazon Prime Day a couple years ago, and then never figured out what it was actually good for.
YOU: BUT YOU CAN MAKE YOGURT IN IT
ME: WHY WOULD I DO THAT, I DON'T NEED A WHOLE POT OF YOGURT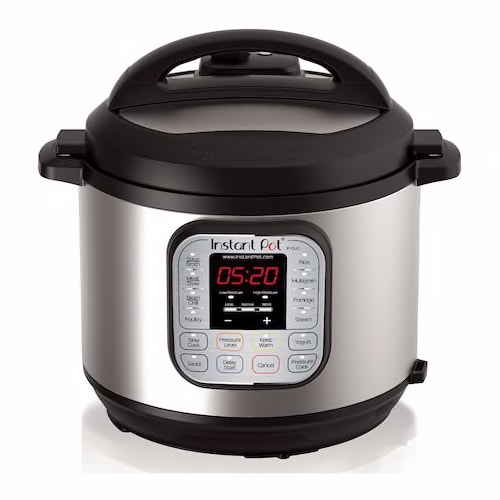 Yeah, it sort of just sat around, being lightly used and not that impressive to me… until I just threw a dang chicken and some water in there.
Seriously, nothing's easier for a home-cooked-ish meal than buying a small chicken, throwing it in there with a whole carrot, a halved onion, a couple stalks of celery, and whatever herbs you have on hand, and letting it run for 45-60 minutes. Pop it open, toss the by-now-very-mushy vegetables and herbs out, shred the chicken off the carcass, throw it back in with some freshly-chopped vegetables, and you've got an incredible soup.
This isn't really even a recipe, just a testament to the one thing that this purportedly do-everything device — that's probably actually doing nothing in your cabinet — actually does incredibly well. It'll make a soup broth so rich that it's nearly solid when chilled.
Here's a batch I did that way, then threw biscuit dough into for dumplings: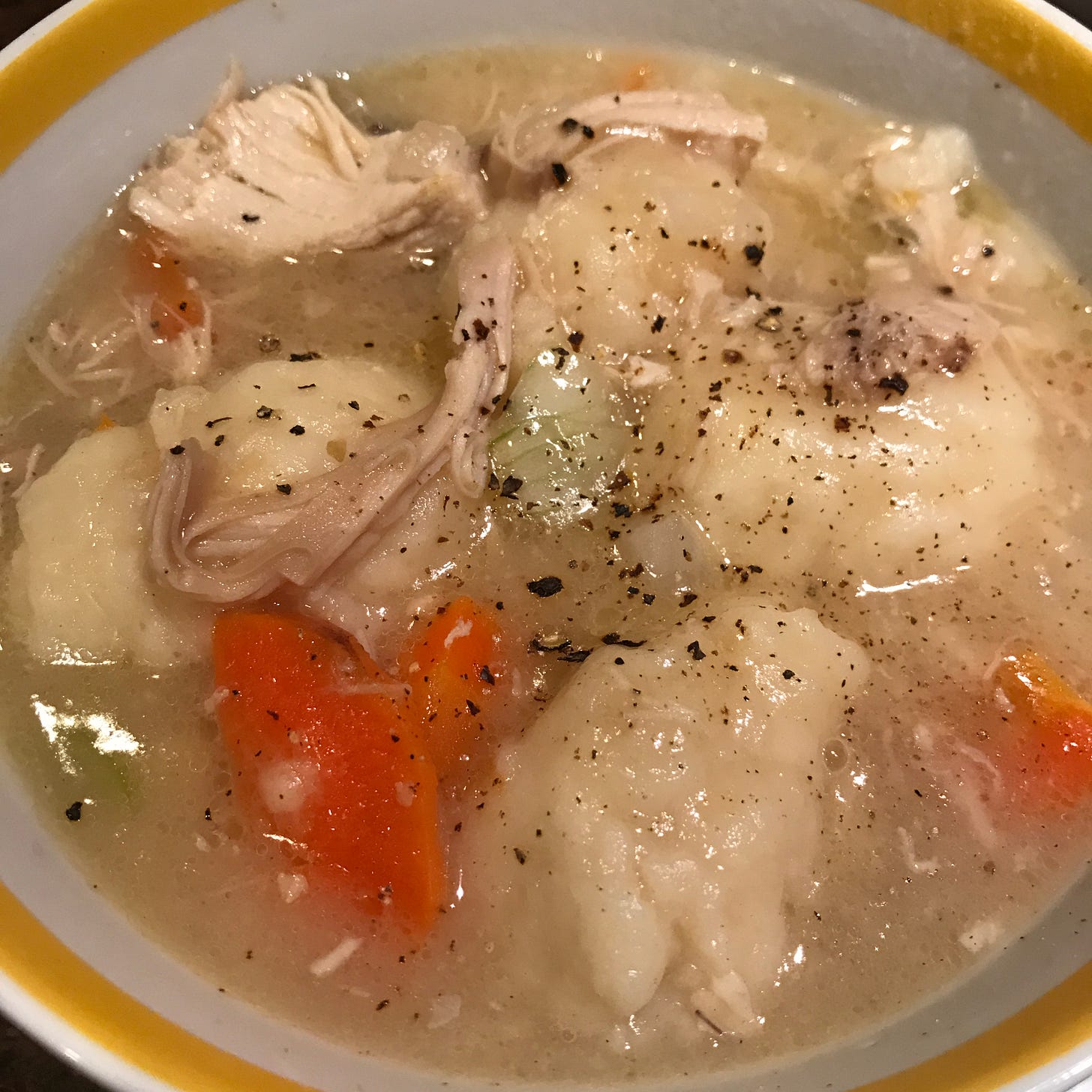 I'm gonna need that after a long night of pretending I can still handle festival shows.
3) You're gonna look like a crime scene.
(Okay, now I'm just getting greedy and forcing the segues).
My book recommendation this week is out of my usual wheelhouse — I'm typically a fiction reader, and not a big true-crime person. But one book I found utterly engrossing and completely fascinating is I'll Be Gone In The Dark, the late Michelle McNamara's profile of the serial killer she dubbed "The Golden State Killer".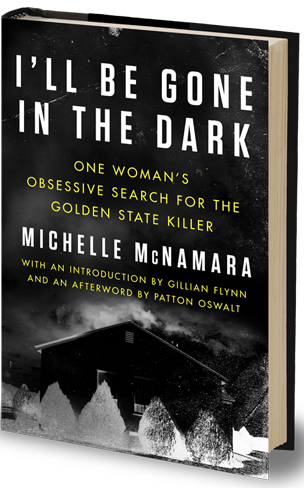 McNamara died unexpectedly before the book could be published, but her work is considered instrumental in reopening the investigation that eventually led to the killer's arrest in this decades-old cold case. Even without that coda, the book is a real can't-put-it-down read, getting deep into the 1970s California setting and inside the mind of a killer.
2) Hey, you talked about Michigan this week, do you have any food recommendations in Michigan?
That's true, we did talk about Michigan in this week's episode of the podcast, WELCOME TO ANN ARBOR. I didn't personally have a recommendation, but I have the ear of someone who knows a thing or two about scoring a win in the Wolverine State: friend, Ohio State fan and Eleven Warriors writer Ramzy Nasrallah:
Go to Dearborn and eat the food of my people, who dominate the area with their cuisine. In fact, you barely need to leave the airport — there's a place right outside DTW called Beirut that looks sketchy from the outside but is muy autentico.
Oh heck yes. The next time I get stuck with a Delta layover at DTW, I'm stepping out for this.
Seriously, it's practically right outside: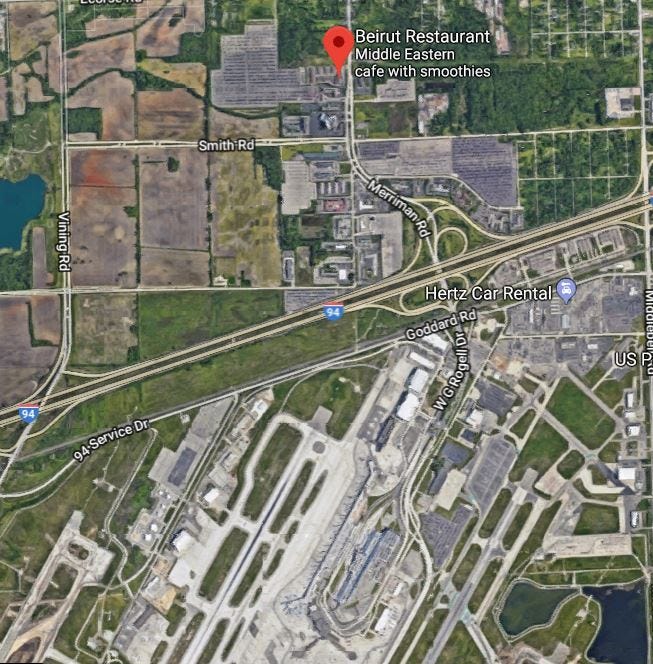 1) Okay, get to the dogs.
This week's submission comes from friend of the pod and long-suffering UCLA fan Nathan Eberhardt, who shares pictures of a sadly-recently-departed very, very good boy:
RIP to a very good friend.
Well, now I'm an emotional mess, but I'll paraphrase something someone wiser than me once said: dogs don't stay around as long as we do because they give us everything they have while they're here.
Thanks for sharing him with us, Nathan — and if you'd like to feature your very good dog in an upcoming letter, email us at seventhcirclepod at gmail dot com.
---
We've got a fresh episode of The Seventh Circle Pod coming for you on Sunday night (we record ahead a few days, so it'll happen even if I die trying to relive my teenage days Saturday night). It's a break from our usual format, but a very interesting conversation with former NFL player Curry Burns about what it's like to walk away from the game.
Subscribe to The Seventh Circle Pod on Apple, Spotify, Google, Stitcher and more, or right here at our website. Enjoying this newsletter? Forward it! Encourage others to subscribe. The more the merrier.
Thanks for supporting The Seventh Circle. We'll see you in hell.