It's A Lucky Day In The Seventh Circle
The Friday the 13th Edition of A Good Day In Hell
Hello, and welcome back to another edition of A Good Day In Hell.
We've gained a lot of new subscribers in the last week, so I should catch you up on what it is we're doing here. Every week, we drag you down to the Seventh Circle of Hell with our podcast — which releases Sunday evening, just as the workweek dread is setting in. We spend all we reliving the worst things that have happened to us as sports fans, and wallowing in the doom and gloom.
We have a lot of fun with it, but it can get a little bleak. That's not what Fridays are for. Fridays are for fun.
So every Friday morning, this weekly digest provides you with some good things to launch you into the weekend on a positive note. We're pretty deep down here in The Seventh Circle, what with the fraud, the violence, the writhing and the screaming. We've got seven steps back up. Seven levels into the light. Seven circles to freedom.
Let's begin.
(7) Savor the flavors of late summer while they're still here.
I'm in my late 30s, and I'll admit it — I'm not the drinker I once was in my younger days. Time was, a night out meant a few beers, a couple of cocktails, a cask of wine, a barrel of whiskey, whatever. Now? Two beers and I'm getting a hangover without even getting to the point where I feel handsome and wise the night before. So, if I am going to drink less, I'm going to make it count. I'm going to make one overly-complex, labor-intensive, seasonal cocktail recipe.
What's this season call for?
Well, the school calendars say it's fall, but the scorching temperatures outside betray the fact that it's still summer. The farmer's markets are somewhere in between, and two things that are peaking right now are melons and bell peppers. That's where this delicious cocktail — The Garden Collins, as introduced to me by Maggie Hoffman's excellent book One Bottle Cocktail — comes in.
It's based around pisco, a South American grape brandy that's not too hard to find and not too expensive either. (I suspect tequila would substitute well in here if you didn't want to buy a liquor specifically for it, but I haven't tried it. Tequila and I mutually agreed to part ways around 2010.)
Here's what else it has: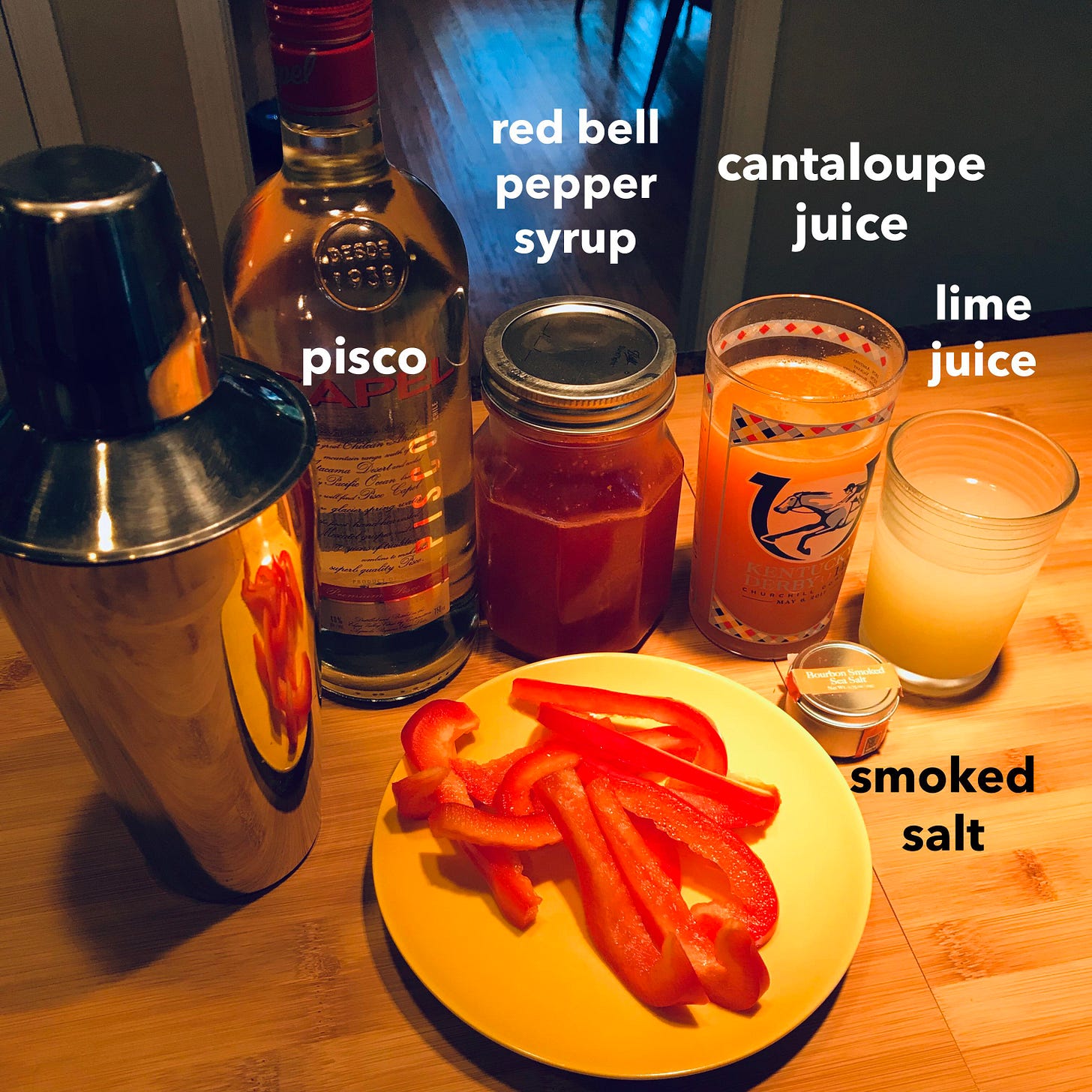 "Hold up, how am I supposed to make these juices? I don't have a juicer."
Neither do I! For the cantaloupe and bell pepper, I pulsed them (separately) in a food processor, then drained them through a fine-mesh strainer. It worked surprisingly well!
Shake 2 oz. of the red pepper juice with 1/4 cup of sugar in a jar to make the syrup. The rest goes together in a ratio of: (2 oz pisco / 1 oz cantaloupe juice / 0.75 oz lime juice / 0.75 oz red pepper syrup / pinch smoked salt). Shake it all together with ice, strain into a Collins glass, and garnish with a slice of red bell pepper.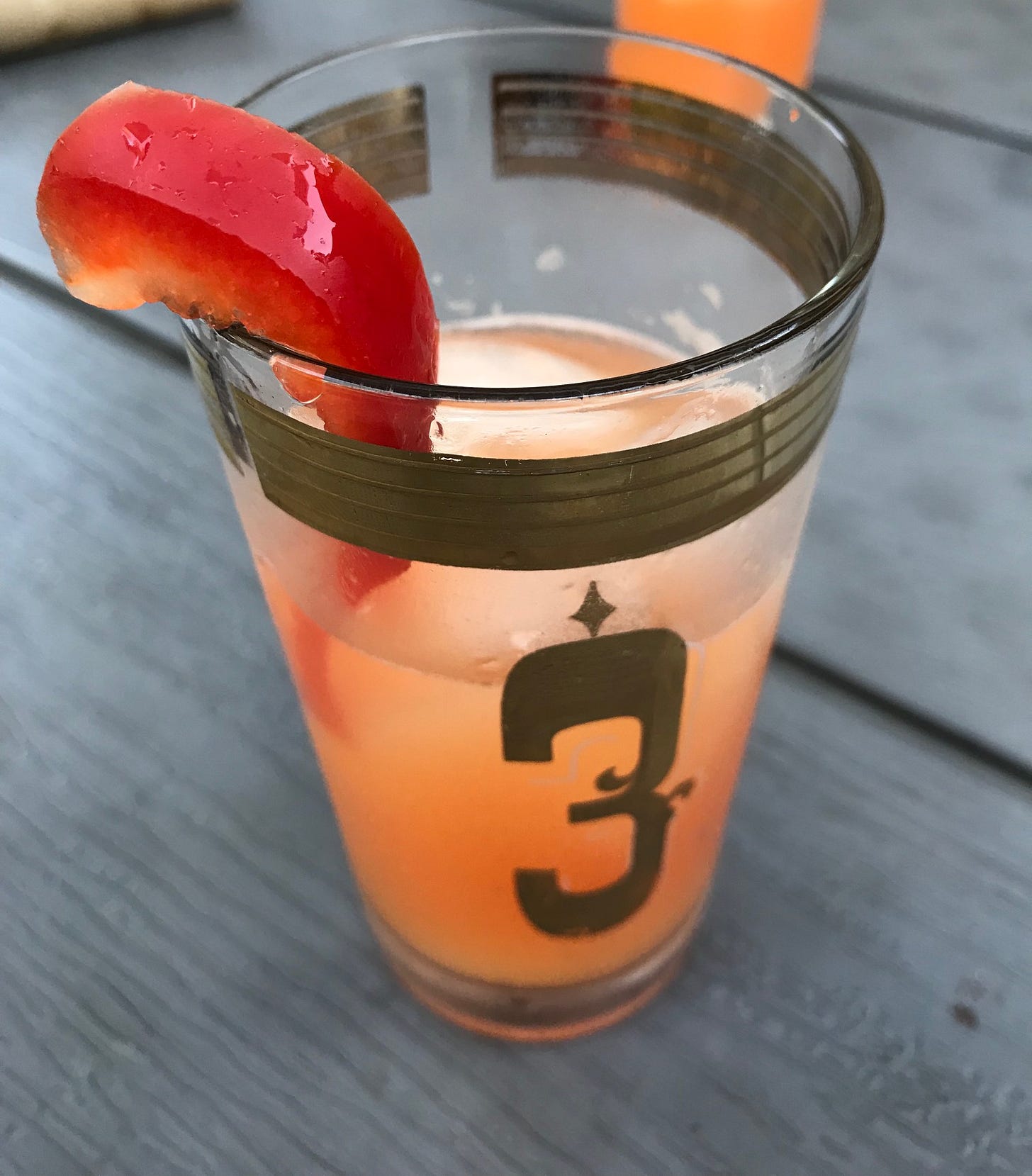 The salt and the pepper really balance out the bright melon. It's delicious. Also, check out that book, it's got a lot of other fantastic cocktail recipes like this.
(6) That looks like it's going to take an hour. I need something to listen to while I'm doing that.
I'm gonna hand the mic over to my co-host Joe Kelly to tell you about the Atlanta-based hip-hop duo EARTHGANG, who he just introduced me to this week.
I was turned onto this group with the enticement that they are "like a new generation OutKast".

I couldn't disagree more — as a fan of Kast, and a new fan of these dudes. They aren't OutKast — they're something completely different, and that's what hip hop needs. "Top Down" is easily the most entertaining track I've played in years. First spin of it and we turned down the treble and cranked the bass. It's just a fun-ass song. The album flows well and invites listeners into their vibe. People compared them to Kast, I disagree. I think it sounds like Anderson Paak & Chance linking up for a project. If you're feeling down on yourself, "Proud Of You" will solve that and you'll be flying off fake gas. We all need fake gas, so sprint with it." — Joe
(5) Who has their finger on the pulse of modern society?
I'll tell you who does: The Atlantic's Amanda Mull, who opened an article this year with a lede that spoke to me in a way journalism almost never does:
There's no good reason you can't eat a chicken-parmesan hoagie for breakfast.
LOUDER AGAIN FOR THE PEOPLE IN THE BACK.
Aside from that piece, which I wholeheartedly endorse and agree with, Amanda, through her terrific writing at The Atlantic and her essential Twitter feed, practically sets The Online Discourse on a regular basis. She'll publish an article, and that morning everyone I follow is talking about it. By the afternoon, people are talking about the subject without referencing the article, and the next day? It's on the morning shows.
Amanda's also a massively dedicated and passionate Georgia Bulldogs fan, and the guest of our next episode, WELCOME TO ATHENS, which will release Sunday evening. I'd praise her without it, but we're thrilled she came on to discuss such fun things as:
The 2008 "Blackout" against Alabama!

Jasper Sanks, who was down!

2nd and 26!

The 2012 SEC Championship Game

and more!
You should tune in and listen once the episode drops, but in the meantime, catch up on her great work here.
(4) I've looked at this weekend's college football schedule, and I'd like to know if you have any good books to suggest instead.
I do! A great piece of historical fiction that weaves complex, suspenseful intrigue with a detailed portrait of a refugee community at a fascinating place in time, The Sympathizer by Vietnamese-American novelist Viet Thanh Nguyen is gripping from start to finish.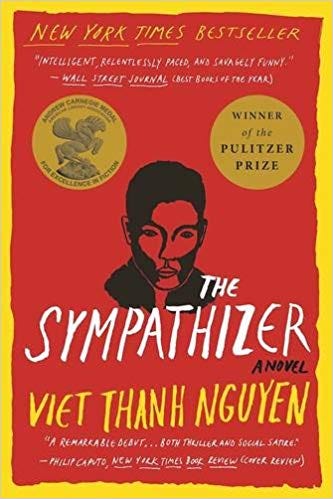 It's told from the perspective of an anonymous narrator — a North Vietnamese mole in the South Vietnamese army — during the war and later in exile in the South Vietnamese refugee community in Southern California. It paints a vivid picture of both the war and the aftermath, and provides an interesting contrast to most familiar, Western-centered portrayals of the war in American popular culture.
(3) Wow, that sounds intense. Let's lighten the mood. Do you have any cooking tips that can strike a balance between moderately improving my cooking *and* greatly increasing the odds of me burning my house down?
I CAN.
Listen, I'll be real with you: I'm exactly the kind of middle-aged idiot who loves a kitchen gadget. If it's something wholly unnecessary that provides a slightly different way for me to prepare something, a way that I can then tell my houseguests and/or beleaguered wife all about? I'm all in.
So, of course, I bought a blowtorch.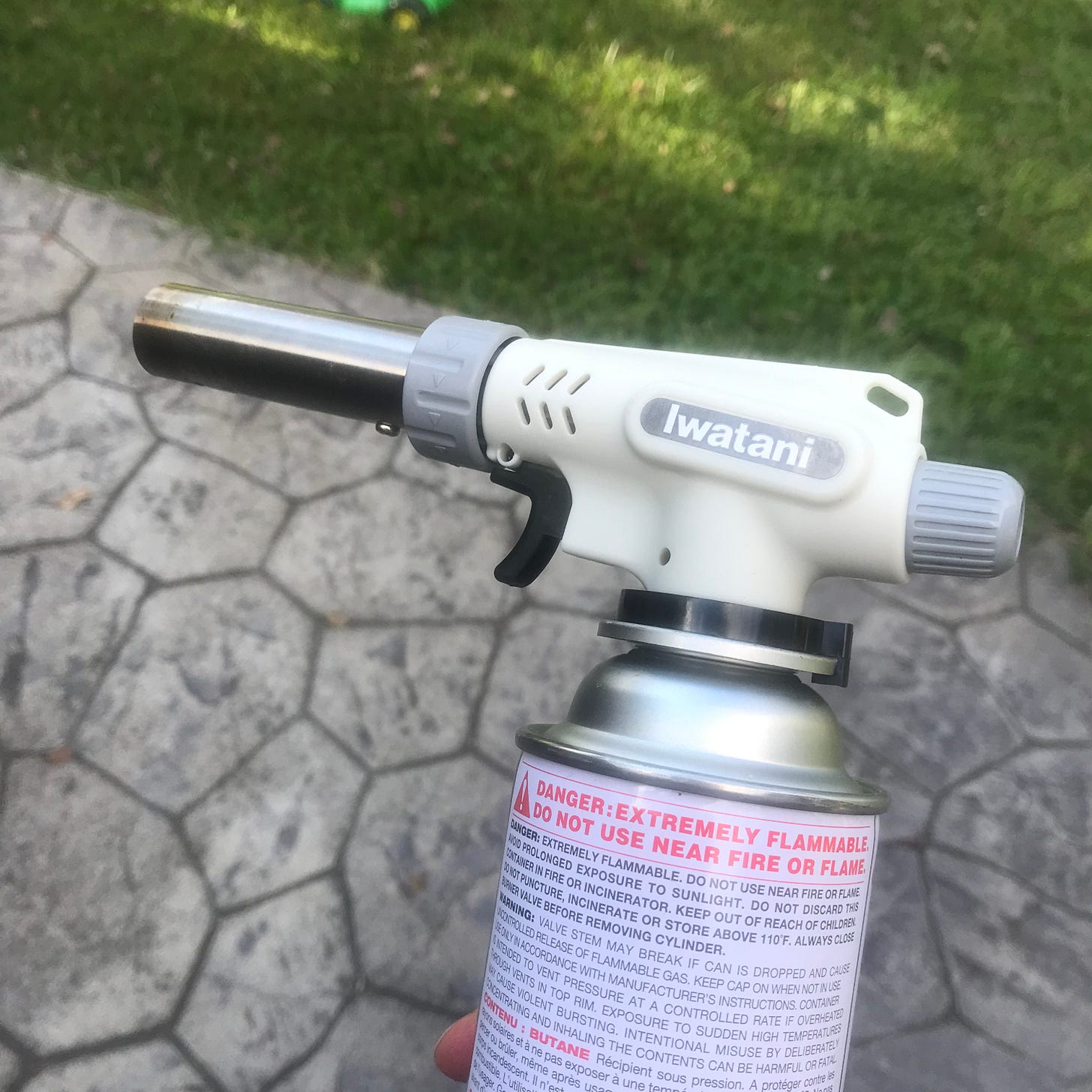 "You immediately used this near a fire or flame, didn't you, Scott?"
Yes. Yes I did.
Look, there's the obvious culinary uses of a blowtorch, like crème brûlée — which I have made exactly once before remembering that I don't like it — but where this inexpensive and highly dangerous gadget thrives is if you're just not getting that steakhouse char on your meat. To wit: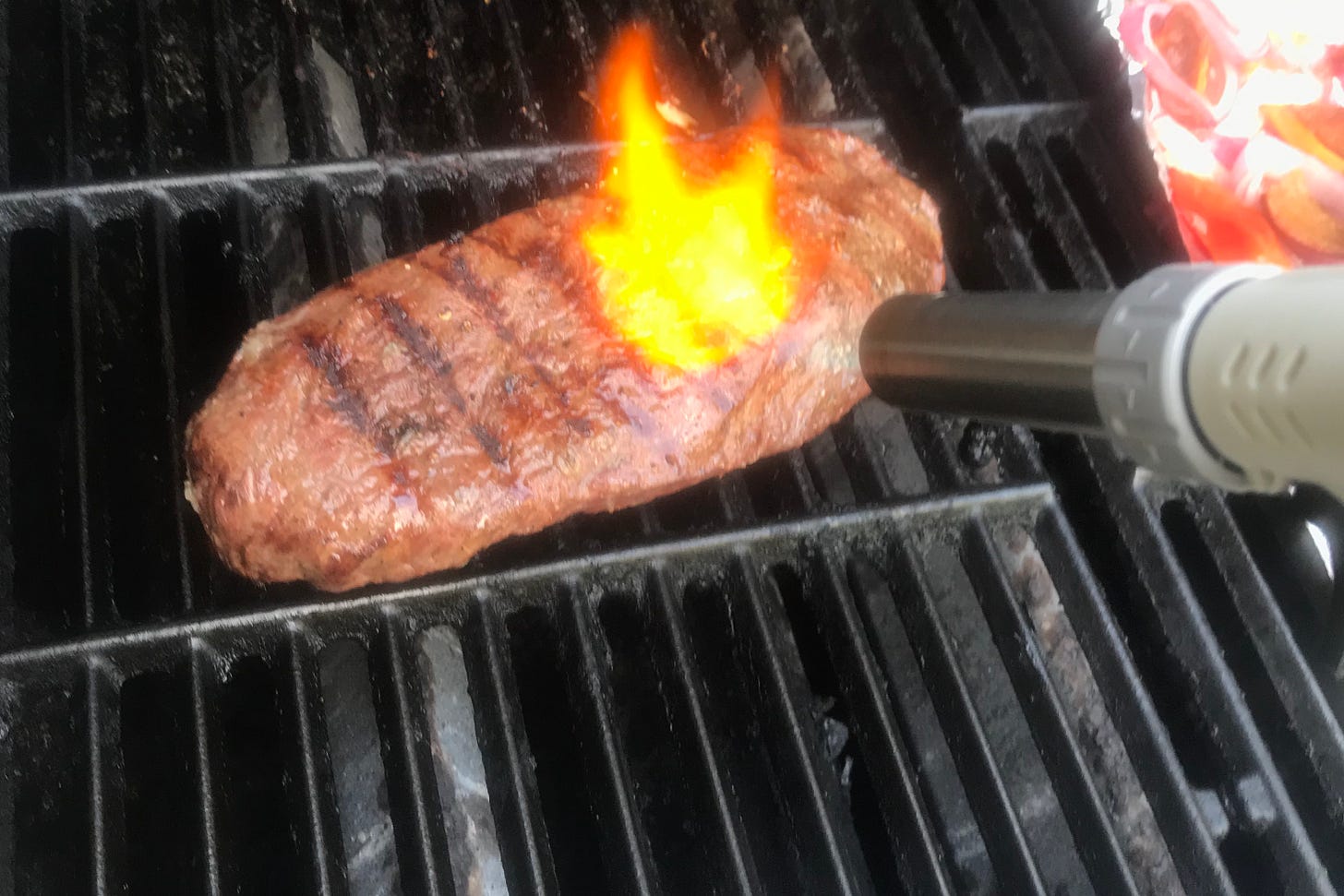 I've noticed that my wife stopped objecting to things like this right around the time I got life insurance. Weird coincidence, huh?
Anyways, this is the one I have, it's a delight and I'm absolutely scared shitless every time I use it. A+ experience, would recommend.
(2) A (new) tradition like no other
College football is a sport — nay, a world — steeped in traditions, many of them stretching back a century or more. It's rare that a new tradition catches hold, and even rarer that it's something truly special. The Iowa Hawkeyes have that.
With the completion of the new facility for the University of Iowa Children's Hospital overlooking Kinnick Stadium in 2017, a new tradition was born. At the end of the first quarter of every home game, fans turn toward the hospital and wave to children watching inside.
It's a championship tradition that fans on all sides can embrace.
(1) Where are the dogs, you absolute monster. You know that's what we're here for.
Yes, yes, of course. I built the earliest part of my social media following by exploiting my dog's charm, and now we're taking submissions of your dogs to share here every week. (I've got a few stored up, but please, send us more at seventhcirclepod at gmail dot com.)
This week, though? Promises were made.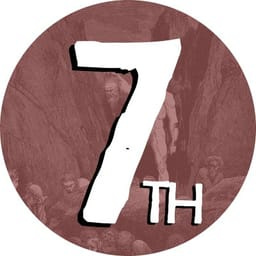 circlesevenpod.substack.com
The Seventh Circle
A Dantean journey through the self-inflicted inferno of sports fandom.
I'm nothing if not a man of my word, and we got well more than the ten I asked for, so I'll pay off this gambit double, after rooting through my kids' dress-up bin: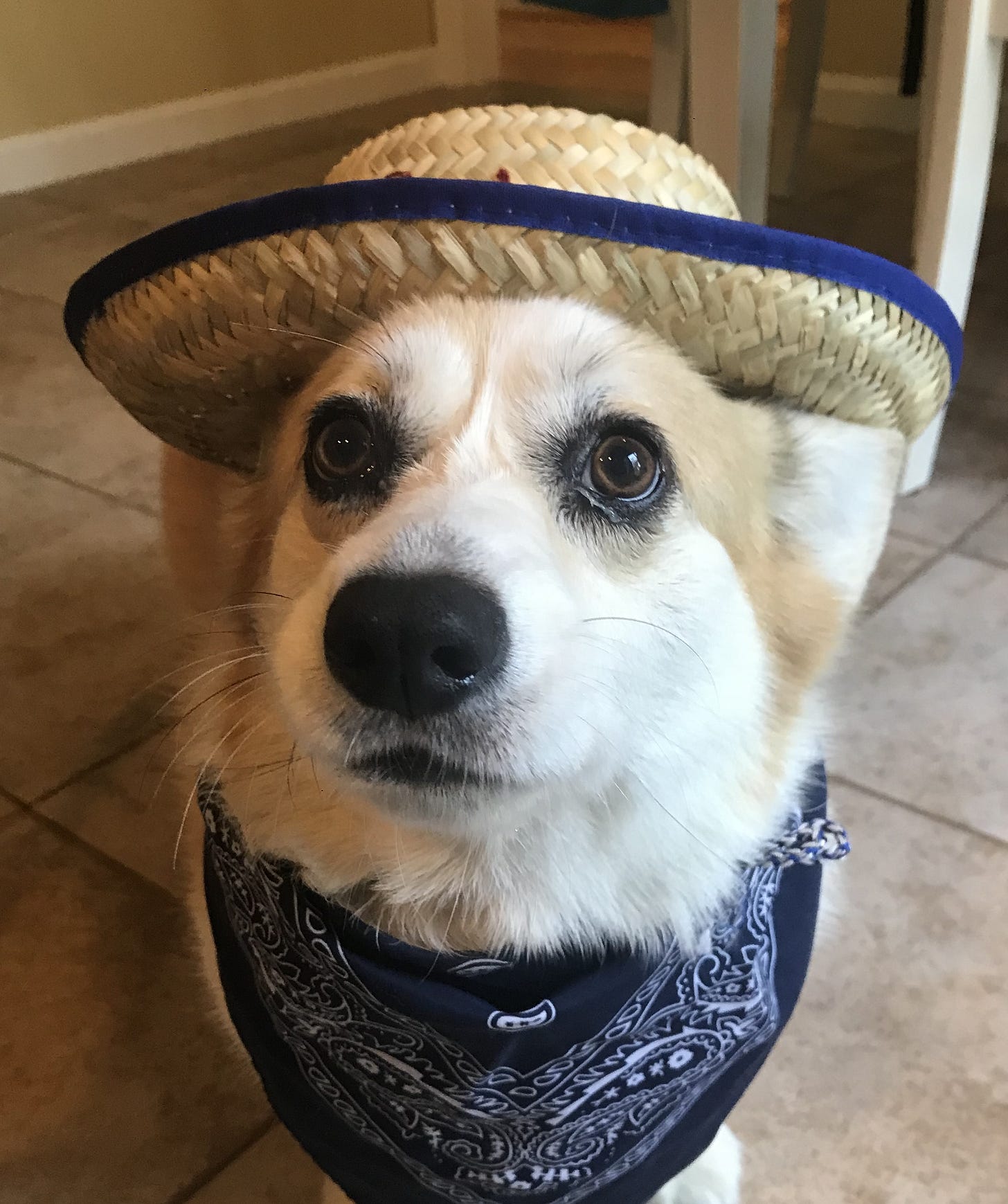 HOWDY, PARDNER. YOU FIXIN' TO HAND ME THAT CHEESE YOU'RE HOLDIN'?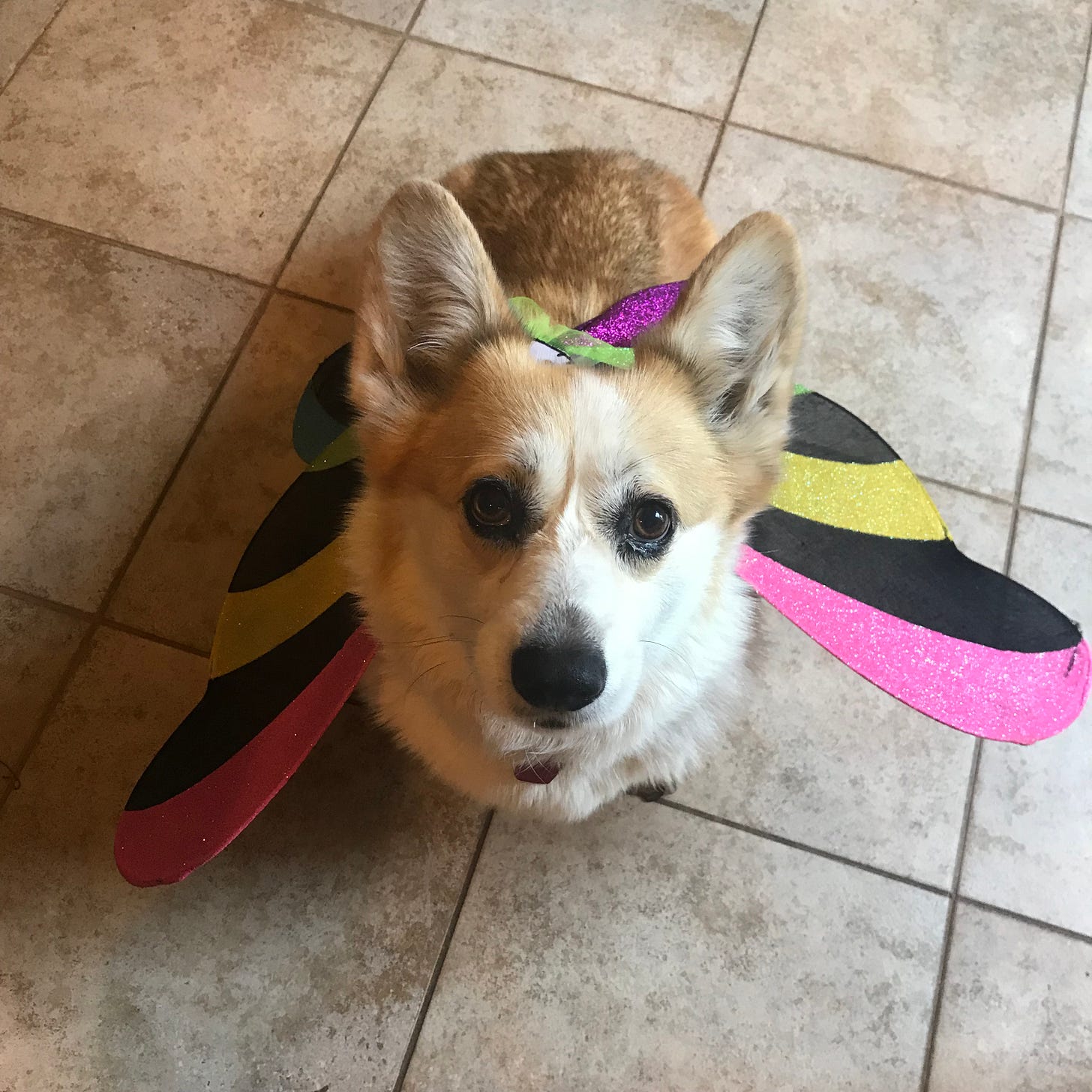 FLOAT LIKE A BUTTERFLY, GIVE ME THAT CHEESE.
(I gave her the cheese.)
What's that? You want a little more? Oh, fine. But only because I'm feeling lucky today.
Happy Friday, everyone.
Thanks for reading, listening to, following and supporting The Seventh Circle. Follow us on Twitter and Instagram, listen to episodes at CircleSevenPod.com and on Apple, Google, Spotify, Stitcher and mor. Tell all your friends, too!