It's Still Week Zero To Me, Dangit!
The Friday Cookbook is tailgating, no matter what.
This should be the best time of year.
I love the start of a new college football season, when the big, messy machinery of the sprawling, nonsensical sport I care too much about sputters to life. Usually the dawning of the season is marked by dozens of oddball and imbalanced non-conference matchups and maybe one "marquee" game that ends up being a bloodbath, but it's still a time for celebration. The long dull summer is ending! College football is back!
Of course, 2020 has not played along with anyone's plans so far, and it's not about to start now.
Some leagues have pushed their schedules back by weeks, while others—the Big Ten, Pac-12 and MAC among them—have outright cancelled their fall seasons. This weekend was to be "Week Zero", a smattering of games moved up before the official Labor Day Weekend start of the season, and now it truly is a week of zero.
I refuse to accept it.
While I may dearly miss the actual games, I will also miss everything else that would go along with them. The pageantry. The celebratory energy. The excuse to eat and drink things that no one should make a habit of eating. Just because we're not going to see previously-scheduled epics like [checks notes] Notre Dame-Navy or [keeps checking] uhhh New Mexico State-UCLA [closes notes, never speaks of notes again] doesn't mean we can't do the rest of it.
Let's pitch a tent in the driveway. We'll crank some tailgate tunes. We'll fire up some questionable gameday grub, and we'll have ourselves our own little Week Zero.
7) I definitely have not gone mad.
It wasn't scheduled to be this week, but I'd like to lament one game that disappeared from my own team's schedule. You see, I'm a fan and alumnus of the University of Cincinnati. The Bearcats are coming off two straight 11-win seasons and return a ton of players from last year. They're loaded for a real run under fourth-year head coach Luke Fickell, who's drawn strong interest from Power 5 programs for his quick turnaround of a team driven into a ditch by a previous coach who failed so badly that he had to go into politics.
Almost every year, it seems, the Bearcats have a non-conference matchup with a middling Power Five team with a name more familiar to casual viewers, and almost every year, people are surprised when the Bearcats beat them. UCLA. Miami. Purdue.
This year, it was going to be their September 26th matchup against the Nebraska Cornhuskers. That game was lost when the Big Ten cancelled its season, robbing me of a planned month of corn-based trash-talking.
So, in retribution, I'm going to steal a Nebraska favorite, and put my own spin on it.
One thing that comes up on the internet every now and then and shocks people who aren't already familiar with it is the Nebraska tradition of serving cinnamon rolls alongside chili. It's a weird combination on paper, but I get it—they're both delicious foods on their own, and you get a sweet-and-savory interplay between the two.
It'd be a shame if someone totally misinterpreted the combination as being a single item, rather than a side-by-side pairing.
And it'd be a real shame if that someone was also someone who spent six years at school in Cincinnati, Ohio, absorbing bold and controversial ideas on chili.
Yep, this is happening. You've come this far. Let's not turn back now.
CINCINNATI CHILI CINNAMON ROLLS, OR, "CINCYMAN ROLLS"
I regret nothing and I apologize for nothing.
First, the cinnamon roll dough.
I'm going to play this part safe. Stella Parks, also known as "BraveTart", is a terrific and reliable resource for delicious baked good recipes, and her cinnamon rolls are absolutely wonderful. You should make them exactly per the recipe and remember that Action Cookbook recommended a good and tasty food to you. In fact, I made a batch of them per my wife's demand that "if you're going to do that stupid thing, you need to make the real ones for the kids and I."
See, look: I made a nice thing. I'm a good cook.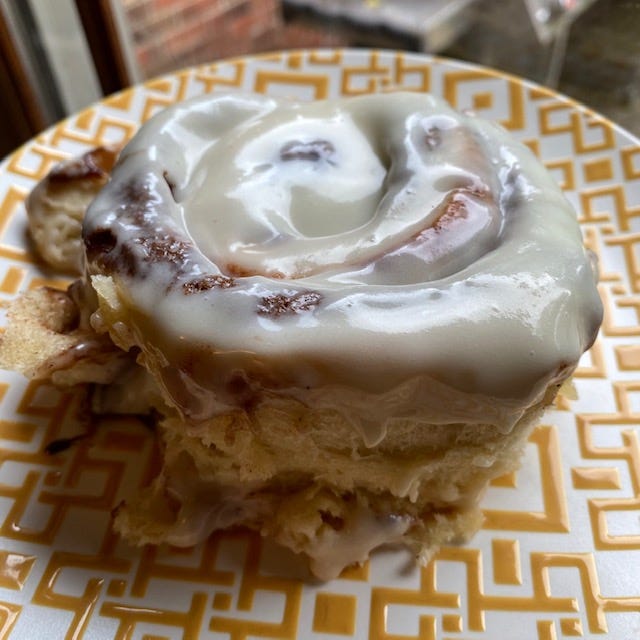 Subscribe to my newsletter.
Now, on to the atrocities that I will never be fully brought to justice for.
I made the dough as per Parks' recipe, omitting the pecans.
Then, I made chili.
Now, look. Do I like Cincinnati-style chili? Yes, I do. Am I trolling 90% of the time that I talk about it? Also yes. It's a perfectly fine regional food, and I like regional foods: they offer character and variety in an increasingly-homogenized culinary landscape. I think most people's revulsion to the dish is conceptual and because of the nomenclature—it's a meat sauce flavored with cinnamon, allspice and cloves, things that aren't at all uncommon in certain cuisines. If it were simply called "Macedonian Bolognese" or something like that, it'd be less divisive. I firmly believe this.
But, people like to argue about food on the internet, and well, let's give 'em something to talk about.
You could buy canned or frozen Skyline Chili if you're in a part of the country where it's available, but if not, I've used this recipe several times to very good effect: it's significantly better homemade. I let the batch cool, drained off the ample liquid using a mesh strainer, reserving a little if needed to wet down the mixture after assembly.
Now, let's assemble some damned cinnamon rolls. Roll out the dough as per the normal person's recipe. There are multiple ways you can order your Cincinnati chili, but I'm a 5-way guy: spaghetti, chili, cheese, onions and red kidney beans.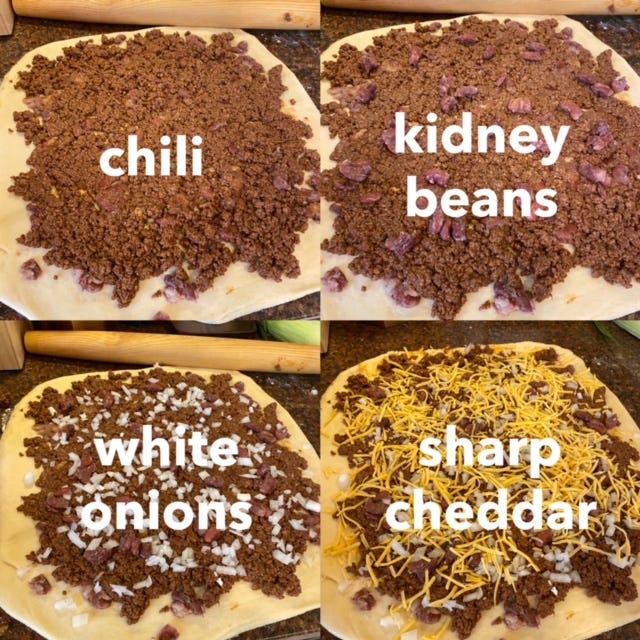 Roll them up tightly, cut into equal pieces using a piece of butcher's twine or unflavored dental floss, arrange in a pan, cover with foil and refrigerate overnight.
The next morning, remove from the fridge, preheat the oven to 350F, and bake for 45-50 minutes covered, remove the foil, and bake another 15 minutes uncovered.
Now, all we need is frosting.
(Okay, I'm not that much of a monster.)
We'll top this off with a sharp cheddar cheese sauce. J. Kenji Lopez-Alt's cheese sauce recipe is very simple and also the basis for an excellent stovetop macaroni and cheese, and it's one reason I try to always keep a can of evaporated milk in the pantry. See, again: I'm recommending good and useful recipes that you can use to make food for normal people. I'm just doing it in a terrible way.
Okay, are you ready to see it?
Are you really ready?
Here it is.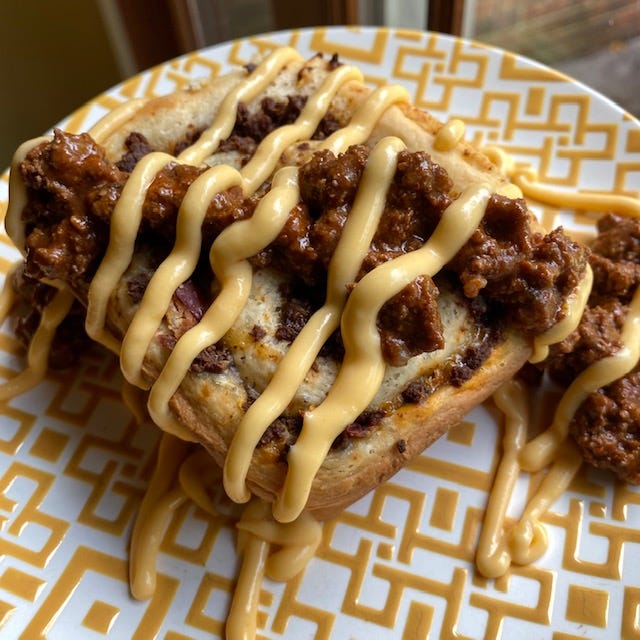 I will swear to you that this was actually delicious, and I will understand when you don't believe me.
Now for what I assure you is completely normal drink.
6) I feel it in the air, the summer's out of reach
We may be transitioning into the flavors of fall with the dawning of football weather, but we've still got some late summer vibes to burn off. August's seasonal items are some of my favorites: ripe tomatoes, peaches, herbs, sweet corn—it's a great time of year at the farmer's market.
It's also a great time at the liquor store.
My mother-in-law (she's a subscriber! Hi!) recently gifted me a bottle of the summer-seasonal offering Crown Royal Peach. I was skeptical at first, considering that I'm not normally a fan of flavored liquors, but I trust her judgment on whisky-related matters. And it turns out: it's very good! (This is not sponsored content, but, it can be. Hit me up, Diageo!) I enjoyed it served just over crushed ice, but I also knew I had to make a cocktail with it.
My herbs have gone nuts this summer, and one that I haven't been able to keep up with using is the rosemary. Now, we have a plan.
The Summer's End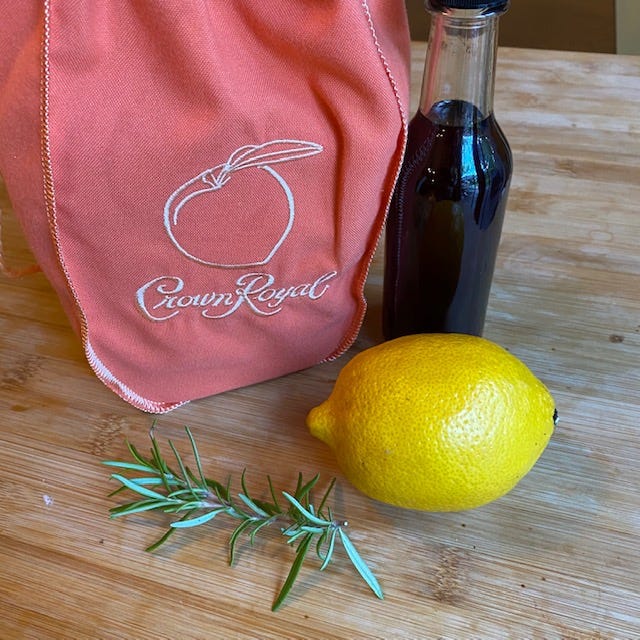 2 ounces Crown Royal Peach (see note below)

1 ounce black tea syrup (see below)

3/4 ounce fresh lemon juice

1 sprig very fresh rosemary
For the booze: If you can't find or don't want to buy Crown Royal Peach, muddle a couple of slices fresh peach in a cocktail shaker with 2 ounces bourbon, then strain.
For the black tea syrup: In a small saucepan, steep three bags black tea in 1 cup hot water until very strong. Remove the tea bags, and mix in 1 cup sugar. Heat over high, whisking until the sugar is fully dissolved, then let cool fully. Store in the fridge for up to a week. (This is essentially very sweet and strong sweet tea you're making.)
Stir the whiskey, syrup and lemon juice together in a mixing glass; strain into a rocks glass 2/3 full with crushed ice. Garnish with rosemary and lemon twist.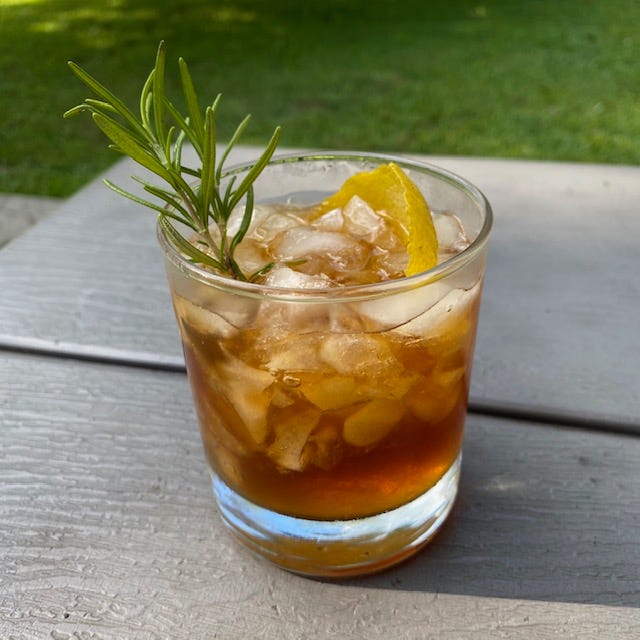 This absolutely slaps. This is one of the best cocktails I've featured here. It feels exactly like the end of summer should; like shortening days and ripe fruit, like the first cool breeze breaking the humidity. If you didn't unsubscribe already because of the chili thing, you should make this cocktail. If you did, scroll up and resubscribe now.
Anyways, the day after I made this cocktail, I watched this episode of Bob's Burgers, and I had to find and add this GIF.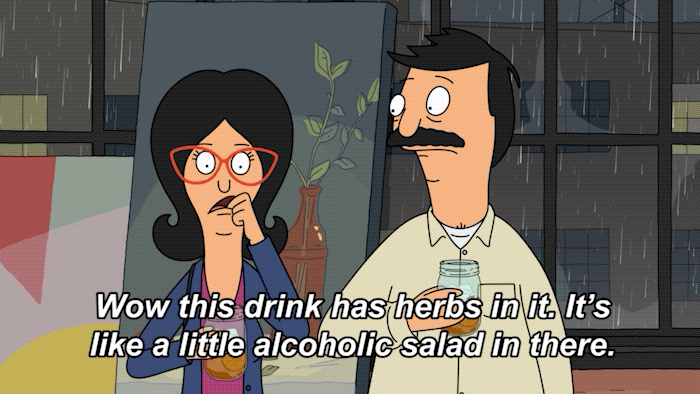 5) Crank up the generator and plug in the speakers.
I couldn't pick just one musical artist to bear the immense responsibility of soundtracking your distance-learning tailgate this weekend. It's too much to ask, because everyone has a different idea of what sounds right at a tailgate. You might be a college kid or an aging alumni. You might prefer rap or country or classic rock. You might have that one song you always play, a decades-old in-joke among your tailgate crew.
So I put out a solicitation:
And then I made a playlist from the responses.
It's 200+ songs and 13+ hours, enough to carry you from early-morning tent setup right until prime-time kickoff. Save for a handful of obviously-joking suggestions, I added everything people told me to add. It's a total mess, it's all over the place, and it's perfect. There's no through-line to this music other than "it would sound good in an open field or parking lot over the sound of a gas generator."
Sit in a camp chair, grab a drink, set up the cornhole boards and have a good sob listening to this and pretending kickoff is coming soon.
Hey, this post is unlocked. Friday posts normally aren't, but this was a post that needed to be shared. Wanna share this with someone? I bet you do.
(Paying subscribers: I've got plenty of great subscriber-only content coming to make up for it.)
4) An elegy for football seasons lost
We're struggling with the lack of football this weekend, but what about the players? What's it like when you build your life around a game and it's no longer there? This is a central theme in one of the most beautiful books I've ever read about the game, John Ed Bradley's It Never Rains In Tiger Stadium.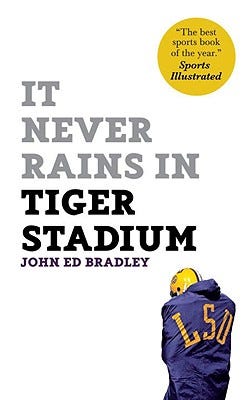 Bradley, a center for LSU in the 1970s, writes a stirring elegy for the game he loved and documents his struggles once his playing days ended. He eventually transitioned to a career as a journalist and novelist, but many of his teammates never moved on, replaying the highlights of the greatest days of their lives and bearing the scars it left them with.
It's a gorgeous book, both sad and joyful, and perfectly timed for you to read at the cusp of a season unlike any other.
3) There's No Reason You Can't Just Watch Friday Night Lights This Fall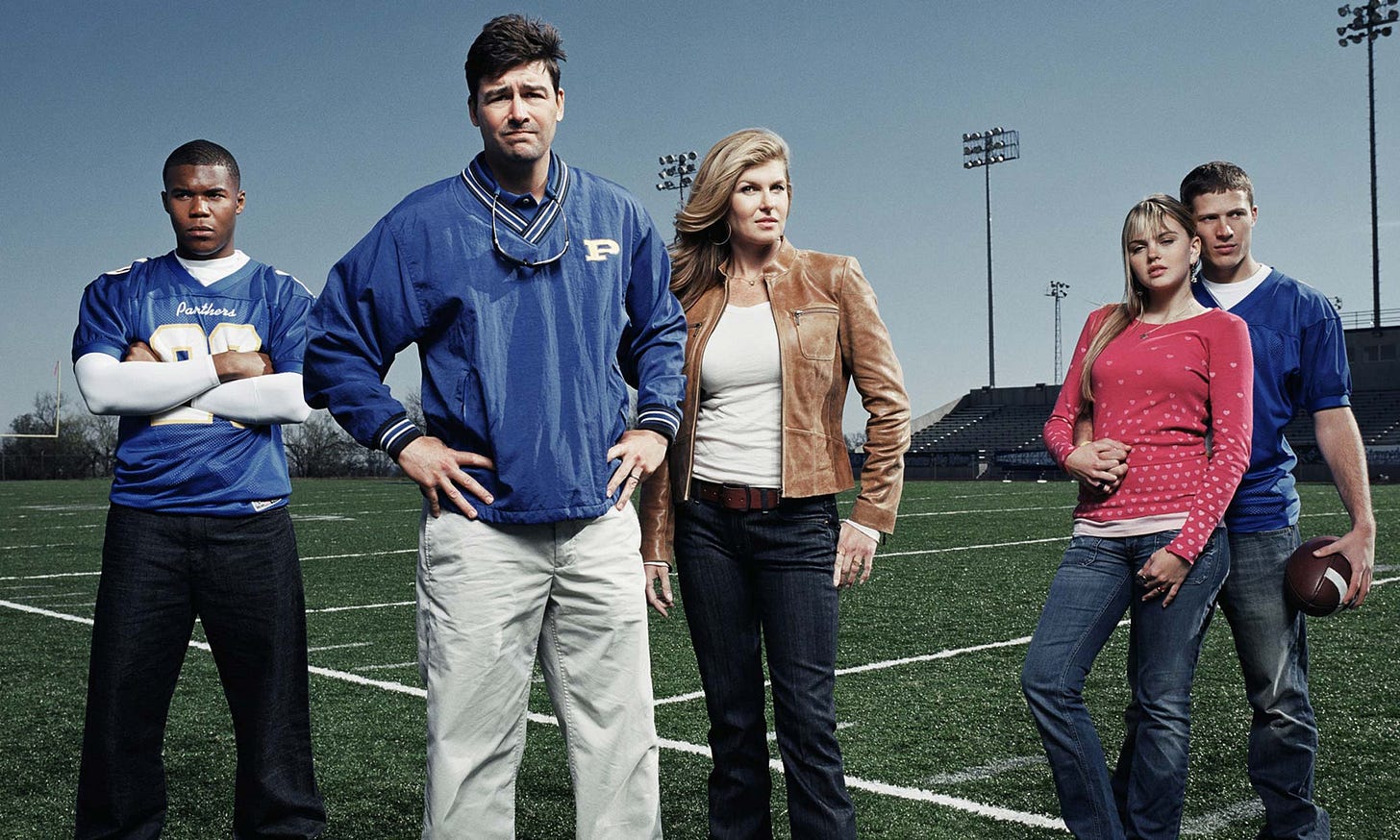 Seriously.
It's a great show, and it's available on Hulu in its entirety. (Also the NBC app, I think? I dunno. I'm a cord-cutter.) There are 76 episodes, and they're each 43 minutes long. That's 3,268 minutes. If you watch five episodes each Saturday, that's 215 minutes—right about the length of a standard football game. You'll finish the entire five-season run in 15 weeks, right about the length of a football season.
[mild spoiler alert]
Sure, there's that one weird murder subplot, but it's not like a lot of college football teams don't have things like that too. Heck, my team was coached by Tommy Tuberville for four years, the murder plot's only half a season. I've seen worse.
[end spoiler]
2) We are a strange land and a strange people and it's not *always* a bad thing
Sure, we're not doing the best as a country right now. We sure do put on a good show, though, and I think a great illustration of that can be found in this clip from a 2008 episode of Stephen Fry In America, where the British comedian's travels around the United States end up with him at the Iron Bowl.
As a complete side note, there is a very limited set of people who will appreciate as I do that (presumably for copyright reasons) they overdubbed the Alabama and Auburn marching bands with the overture from Sondheim's Merrily We Roll Along, but I know you exist, and I see you. This is our time.
The full episode is available elsewhere online, but at the very least watch this clip and appreciate when Fry begins to tear up at the pageantry of it all, only to be scared witless by fighter jets flying over. Welcome to America!
1) There's still someone who's planning to play ball this weekend.
Set the football aside and grab a tennis ball. It's time for the dogs.
First up, Matt P shares:
This is Rosie. She is the new good girl who came into our family thanks to a tip from a friend who volunteers at a local animal shelter. He knew we lost our prior dog just before the shutdown began and had been keeping an eye out for us. One June afternoon my wife got a FaceTime call from him and we were introduced to Rosie. She's the sweetest mix of a mutt and leapt into our hearts. She now enjoys basking under our maple tree, taking walks around the neighborhood and having in depth conversations with the local irrigation systems. Your letters have been wonderful over these past months. Thank you so much!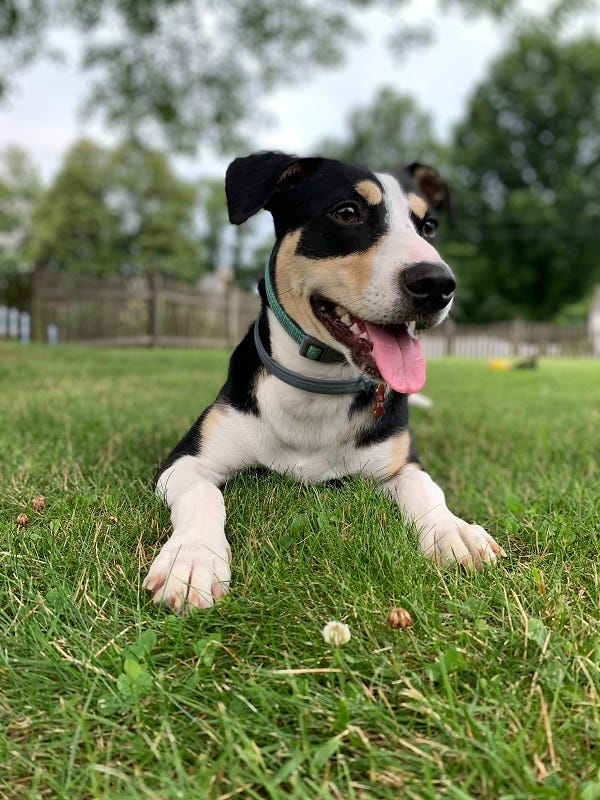 ROSIE. What a good girl. Look at that sweet face. Look at it!
[shaking computer screen] LOOK AT THAT SWEET FACE.
Great dog.
Next up, Andrew E. shares:
Meet Dudley. He has an excellent catalog of sploots for such a young puppy.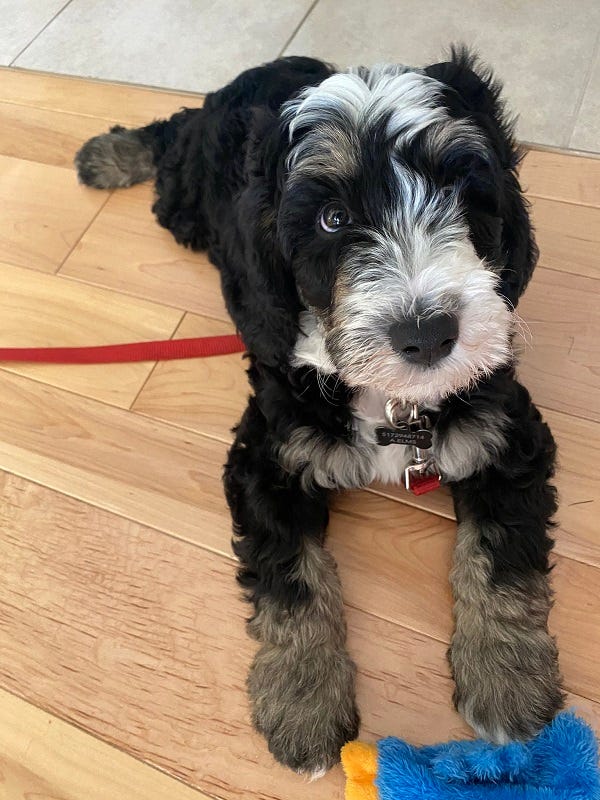 "Sploot" is a term of art that I myself use frequently but could not possibly explain, other than to say it's a very specific form of relaxation that only certain dogs are capable of. Dudley? A master. Great dog.
Finally this week, Megan J. shares a giant ready to anchor your offensive line:
Thank you for your fantastic newsletter every week! My husband introduced it to me, and we've both been loyal subscribers. Love your recipes and music/book suggestions! Here is our Mastiff mix (we think he has Great Dane in him, maybe a little horse): presenting Geoff the Giant! 
I leave the compliments in the submissions because they make me feel good. Thank you for the compliments, and for the dogs. Okay here's Geoff: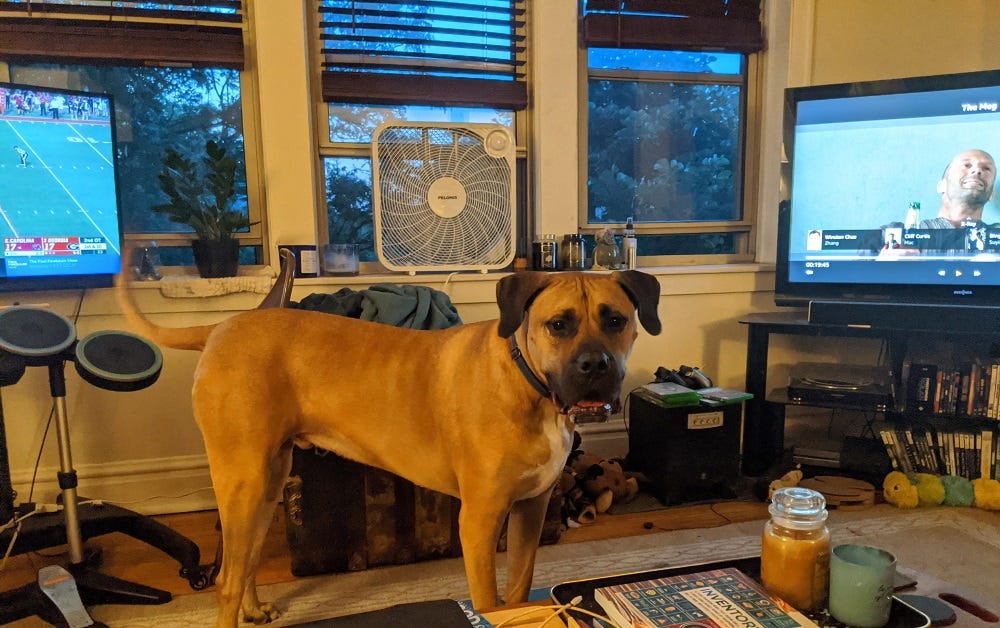 GEOFF.
Look at this mountain of a dog. I love him. I love all the dogs. Thank you for the dogs.
I hope you have a great weekend, stay safe, and in the depths of these uncertain times you finally learn within you there lies an invincible Week Zero.
Thanks for reading.
— Scott Hines (@actioncookbook)