Discover more from The Action Cookbook Newsletter
A cookout in your inbox. Come for the food, stay for the stories, three times a week.
Let's make our own luck this year.
The first Friday of 2020: It's The Magnificent Seven.
Welcome to the new year! Hopefully it's gotten off to a good start for you.
I'm not naturally a superstitious person [knocks wood] [tosses salt over shoulder] [burns enemies in effigy] but it bubbles up inside me this time of year. I can't help it. The start of a new year, with all the promise and possibility that it offers, means that I'm going to take any chance I can to improve my odds.
But no one said I had to be focused about it.
Coming from a vaguely German Midwestern upbringing, my family has long held to the New Year's Day tradition of eating pork and sauerkraut for good luck, and I've carried that on in my adult life. In recent years, I've also appropriated the southern traditions of black-eyed peas and collard greens, because, I dunno, more luck?
There's a few problems with these traditions, though.
First, my wife and kids don't like sauerkraut at all, and so I'm left with an entire bag to eat or throw out myself. Second, those foods on their own can be pretty boring. So this year I changed it up; I'm still bringing those purportedly-lucky foods to the table, I'm just finding a more appetizing vehicle for them.
7) I'm making ramen.
Now, I've long been an appreciator of the instant noodle; despite my moderate skill at and thorough enjoyment of cooking, when left to my own devices, I'm perfectly happy heating up a packet of dried noodles. Maybe I'll crack a couple eggs into it.
The new year seemed like a good time to try out doing it the hard way, though, so I took on a version of this Serious Eats recipe for a tonkotsu-style broth, skipping a few of the more difficult elements. (This is almost always a good policy when recipe-planning: start with a SE recipe and only do 70% of the steps.) 
I'm not as much of an acolyte of the InstantPot as some people, but there's one thing it's incredible for, and that's making broth. I put pork bones and (most of) the other elements called for in that recipe in for 2-½ hours under high pressure, and got a broth so rich and gelatin-filled it turned solid in the fridge.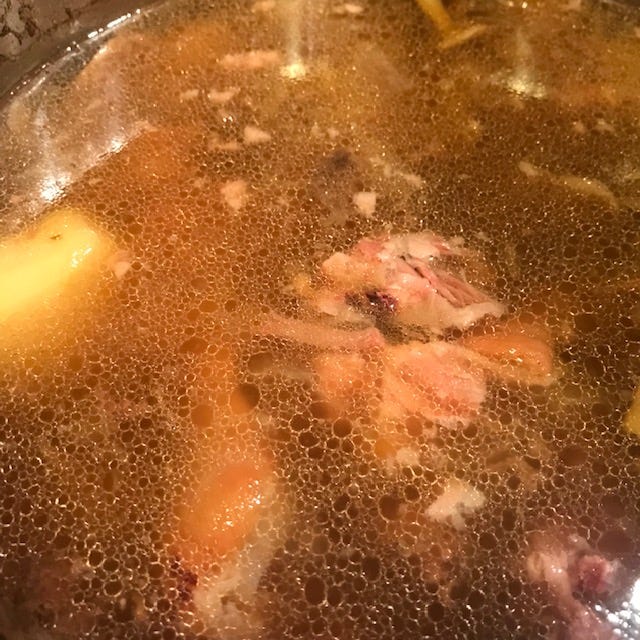 Some cooked ramen noodles, slow-cooked pork slices, roasted mushrooms, soft-boiled eggs and other accoutrements, and no one'll even notice the chopped collards and sauerkraut snuck in underneath everything. (You know, for luck.)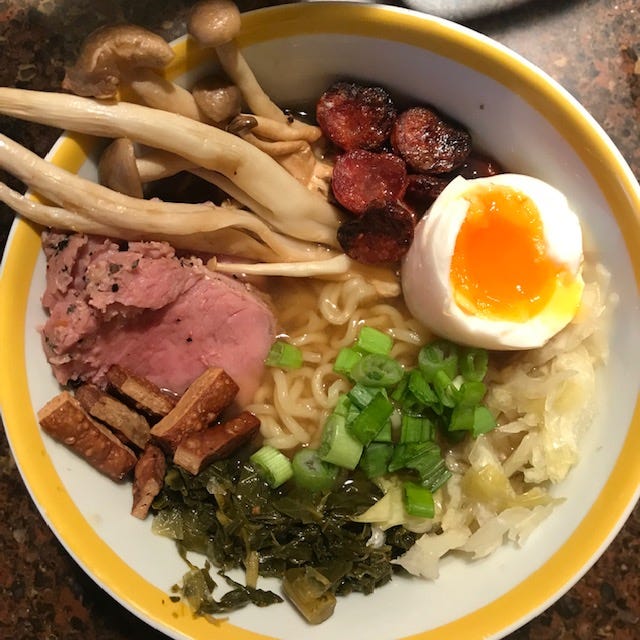 Oh, and the black-eyed peas? I tossed them with chili powder, garlic and oil and blasted in a hot oven until crisp. (450ish for 20-30 minutes, give or take.) Now they're a delightful snack.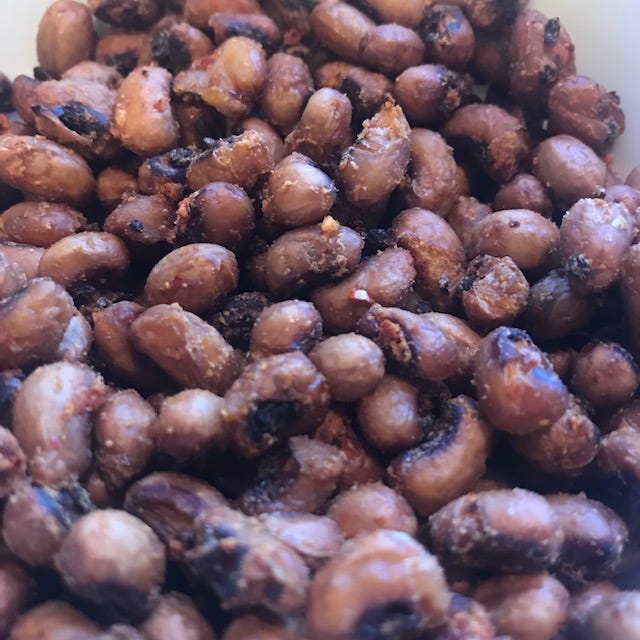 It's not always worth it to take the time — and make the mess — a recipe like that calls for, but it's a new year. We're making our own luck.
(You can still capture this luck for yourself, in my personal belief that we've all got until the first Monday of the year to get our acts together and start any resolutions.)
6) It's Peanut Butter Jelly Time
I frequently feature cocktails around these parts, and many of them center on whiskey. I live in Kentucky, it's bound to happen. A couple weeks ago, longtime Friend Of The Letter Scott K. directed my attention to this recipe from New York City's JBird for a Honey-Nut Old Fashioned.
It involves steeping peanuts in bourbon, which is right up my alley. I can't help but tinker, though. Where that recipe calls for an orange peel garnish, traditional for an Old-Fashioned, that doesn't sound like it goes with peanuts to me. So I switched it up, swiped a box of raisins from the kids' lunchbox snack stash, and simmered them briefly in a splash of red wine.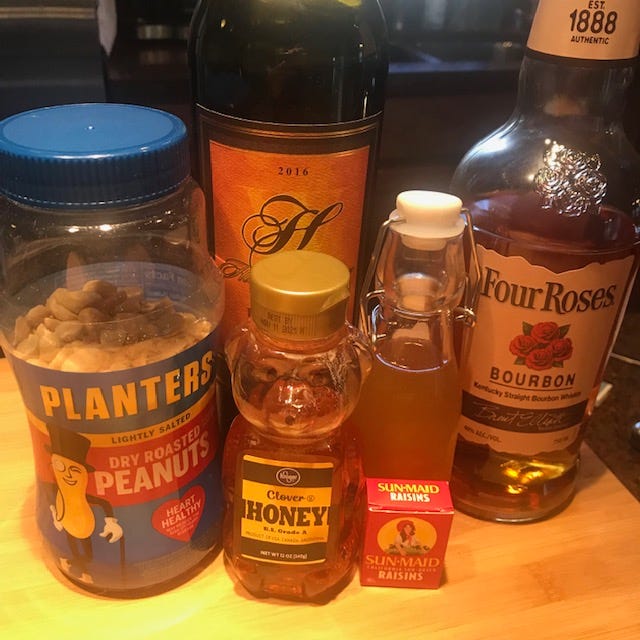 Here's what I used for the drink in total — the linked recipe calls for using a whole bottle of whiskey, but what am I, made of whiskey? (Okay, maybe 40% whiskey, after the holidays. Still, I'm not using a whole bottle for this.)
1 cup bourbon

½ cup unsalted peanuts 
Follow the linked recipe's step for washing the bourbon with peanuts; you'll use two ounces of the resultant infusion in each drink.
2 T honey thinned with 2 T hot water
I thought it was more pleasant and balanced with ¾ ounce of this honey syrup per drink than the ¼ ounce the recipe calls for.
dash Angostura bitters 

handful of raisins, simmered in ½ C red wine 
Stir the 2 oz bourbon, ¾ ounce syrup and bitters in a glass with ice, then strain into a clean glass with a large ice cube.
I skewered the raisins on a toothpick and used them to stir the drink.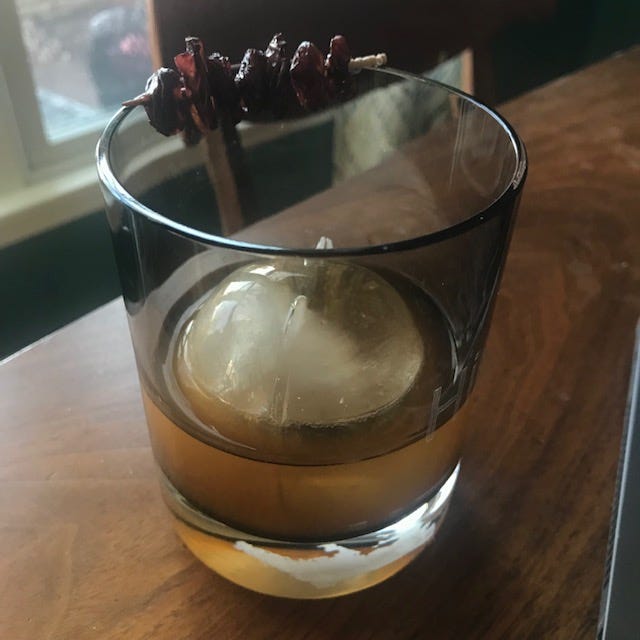 Boom. PB&J in a glass.
5) [musical interlude]
This week, I've really been enjoying the blistering energy of Alex Lahey's second album, The Best Of Luck Club. She channels powerful, crunching guitar sounds into late-night-at-the-bar stories of fucking up, being frustrated and learning to grow up. It reminds me a lot of early Hold Steady, which I mean very much as a compliment.
4) An oddball literary misadventure
This is a less-recent work than a lot of the books I've suggested recently, but it's a fun read and worth looking back to: Brock Clarke's 2007 novel An Arsonist's Guide To Writers' Homes In New England.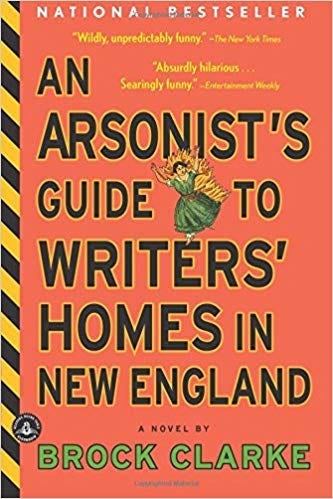 The book's narrator and pseudo-protagonist is the titular arsonist, a man who spent ten years in prison after accidentally burning down Emily Dickinson's house and killing two people. He became and unwilling hero to people with literary grudges, encouraging him to burn down the houses of other writers for a variety of reasons.
When someone actually does begin burning other sites, suspicion naturally falls on him, and he's forced to solve the mystery of who's doing it to clear his own name.
3) Speaking of cultural mysteries…
Need a good, quick binge on Netflix? You should check out the British reality show Fake or Fortune, which follows expert art authenticators as they review works whose provenance is in doubt. It's like Antiques Roadshow on a much higher level; there's historical research, chemical and x-ray analysis, and all other means of building a case for and against a work of art.
I wrote about it for Decider a few months ago — you should read that, then watch it. 
2) 2020? We're doing puzzles.
It's going to be a hellish year online. Politics, anger, corporations tracking your every move. It's time for a throwback entertainment, something that'll get you (read:me) to set my phone down and re-wire my brain in a positive direction.
We're doing puzzles.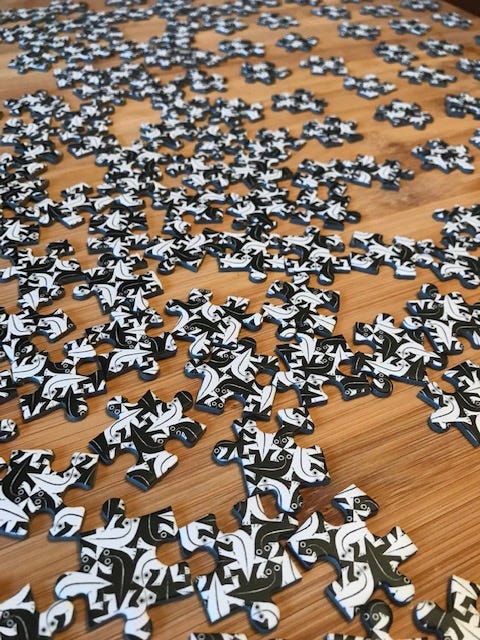 It's cheap, it's soothing, and it requires you to get away from a screen in the evenings. (After you've read The Action Cookbook Newsletter that day, of course.)
Was this just another chance to brag about finishing this sadistic puzzle that my mother-in-law gave me at Christmas? Maybe. The worst part is that she likes me. It was supposed to be a vote of confidence, and not a grueling ordeal, but got through in a stubborn New Year's Eve slog.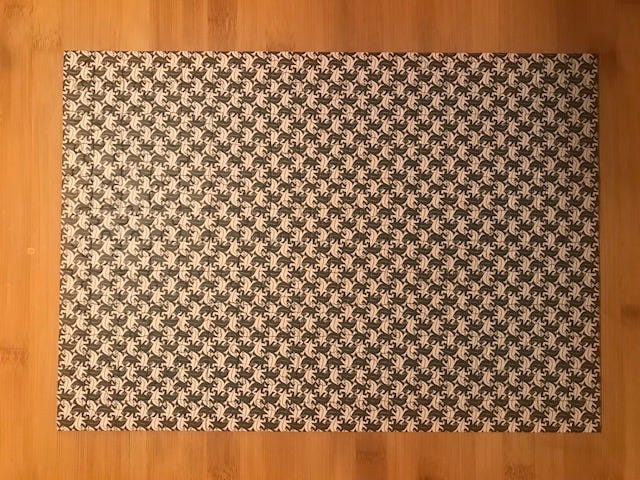 Take that, 2019.
1) One thing that won't change in the new year? Good dogs.
Every week I solicit your dogs, and you haven't failed me yet. If you'd like to see your dog featured in one of these Friday emails, send me a message on Twitter or reply to this email.
First up this week, reader Jessica F. writes in:
Gumbo and Honey. Gumbo wants to listen, Honey could care less.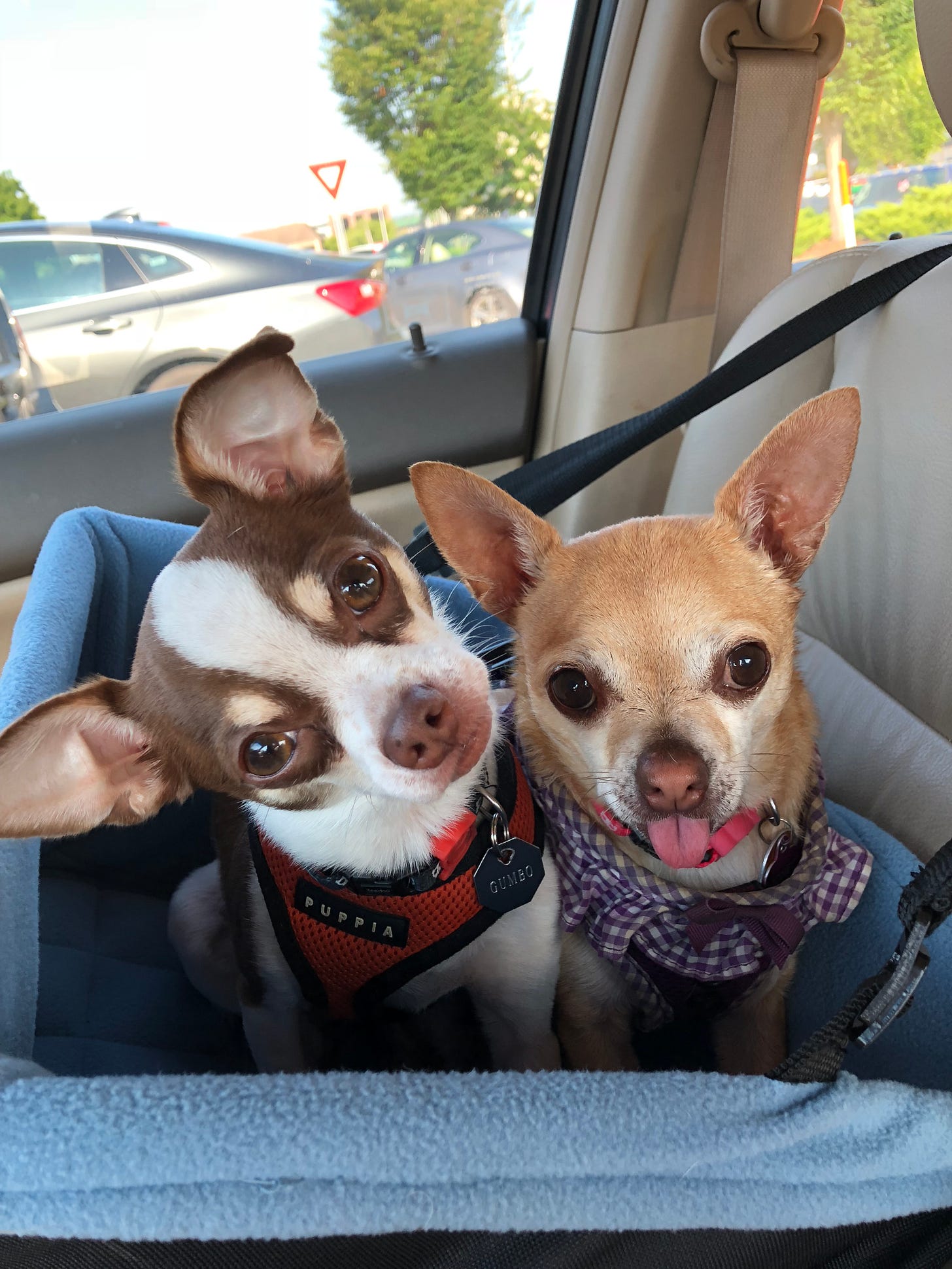 GOOD DOGS.
Next up, reader Tom B. shares:
This is Rey. She is a good dog that likes ducks.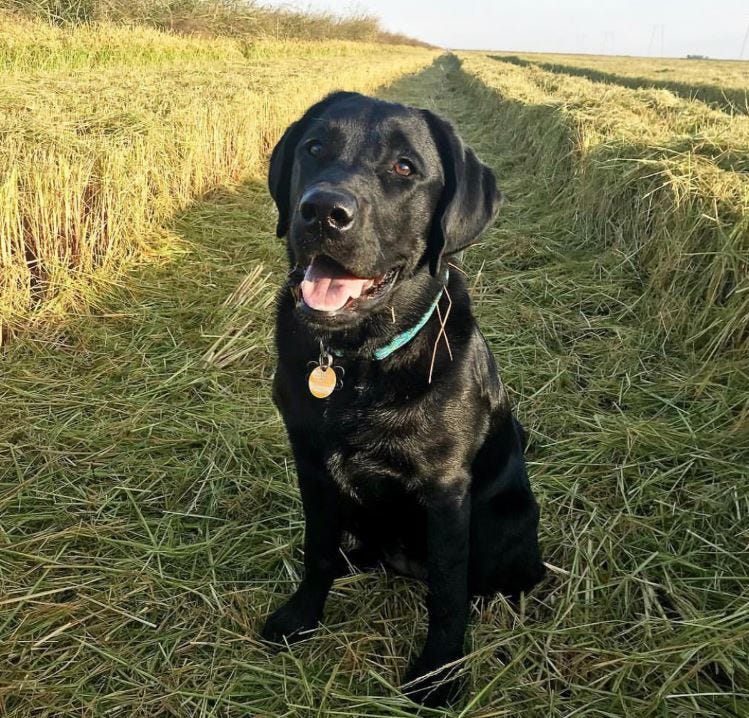 SHE IS A GOOD DOG. I WILL KEEP MY PERSONAL OPINIONS ON WATERFOWL TO MYSELF LEST I OFFEND HER.
Michael W. sends in this good dog:
Signed up today - thanks for the enjoyment! As a token of my readership, I am sharing Nigel.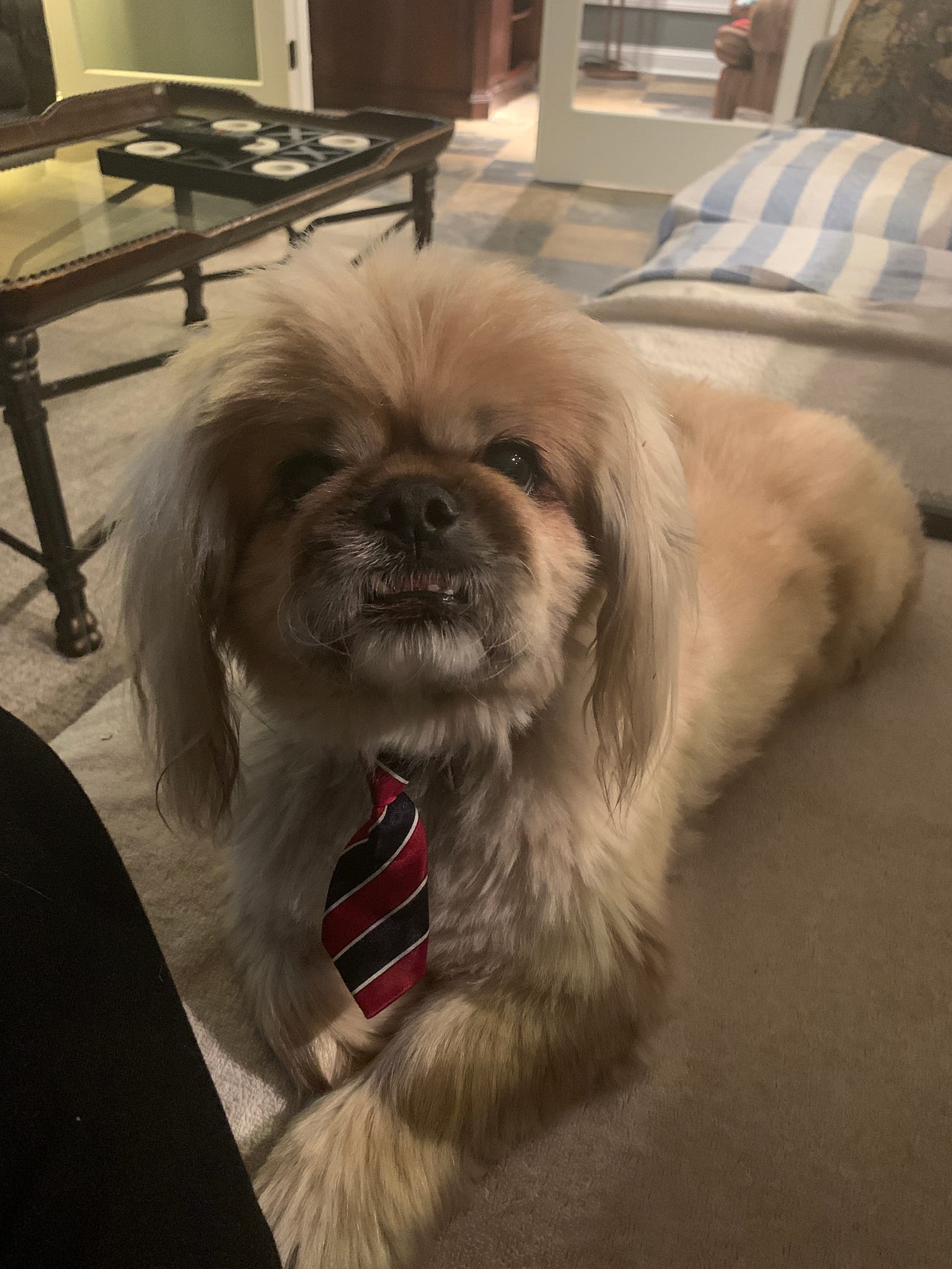 THIS GOOD DOG IS DOING MY TAXES THIS YEAR.
Finally, Twitter user @DrewPitt1 shares:
Hey Actioncookbook! Here are some very good dogs that I hang out with. The black dog is Chopin. We think he's about 14-16 and probably a Black Lab Rottweiler mix. He's about 120-130lbs and refuses to climb stairs but he loves giving kisses. The white dog is Rufus and we're pretty sure he's a White Lab Whippet mix. He likes to sleep with all of his paws in one spot and will eat the fur off of Chopin's neck when he gets nervous during thunderstorms.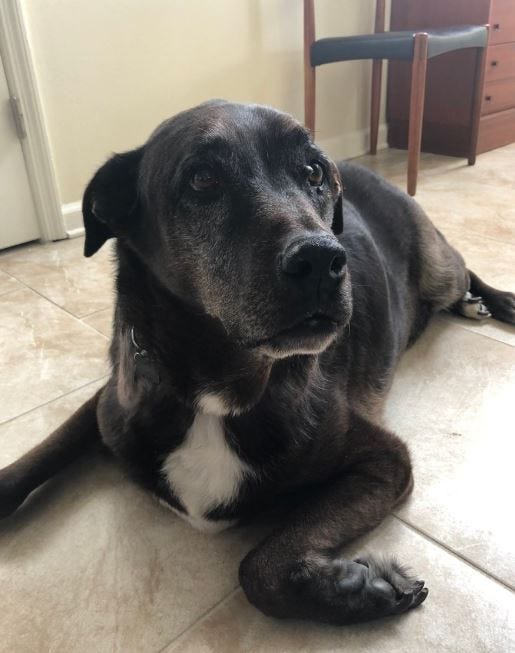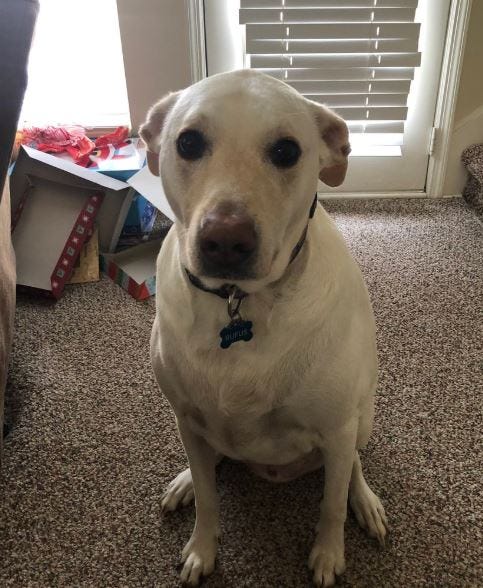 GOOD DOGS HAVE NEUROSES JUST LIKE YOU AND ME.
Much appreciation to everyone who's submitted dogs, and please, keep them coming!
Thanks for reading and supporting The Action Cookbook Newsletter. If you're not subscribed yet, please take a moment to do so:
If you are subscribed and you're enjoying it, tell someone you love:
If you're not enjoying it, tell someone you hate:
And as always, I hope you have a wonderful weekend.
— Scott Hines (@actioncookbook)