Lookin' Out The Window At A World On Fire
It's plain to see that Friday's here.
Okay, the subject line is a little less sunny than I've been shooting for on the Friday emails lately, but I can explain: it's a song lyric I've had stuck in my head for a week, and it helped shaped this week's theme.
Let's get right to it: it's A Good Day In Hell. Seven circles up.
7) Dylan went electric; Sturgill went nuclear
I've been enjoying the music of Kentucky native Sturgill Simpson for a while now — his haunting, otherworldly voice giving new life to old country sounds on a series of terrific records. I can't say they've been ones that I've had in heavy rotation, though.
His latest, SOUND & FURY, changes that. It's thundering, pumped full of heavy rock guitar and thumping electronic beats. It's psychedelic. It's apocalyptic. It's terrific.
I'll say this: I listened to it three times at my desk and loved it. The fourth time, I listened to it on the highway, and that's how this record is meant to be heard — tearing down the road and realizing you're going faster than you thought.
Oh, and he also made a completely bonkers Netflix anime special to go with it?
6) Soaking in the flames
The blistering sounds of Sturgill's album have fit with the weather here in Kentucky lately. It's been above 95 degrees every day for a week, and it's so dry that the ground in my backyard is cracking. The heat wave is finally breaking this morning, ushering in a long-overdue start to fall — but we're going to bridge the gap.
A few weeks ago, I introduced a cocktail from the book The One-Bottle Cocktail. Well, this is a variation on another one from that wonderful book, for what I had on hand (and what I like). It's the Grilled Margarita.
Here's what's in it: (for two drinks)
4 ounces bourbon (the recipe calls for tequila, but I know better)

1-1/2 ounces of a syrup that's two parts hot water, one part honey

2 large lemons (see below)

Rosemary for garnish

Salt for garnish
Slice the lemons in half, and slice off two wheels from those halves. Grill them all until they take some char — the book says 4-6 minutes, but it took me about ten. Juice the halves, and add 2 oz of that now-smoky lemon juice to the bourbon and honey syrup. Shake well with ice, strain, and add the rosemary and salt.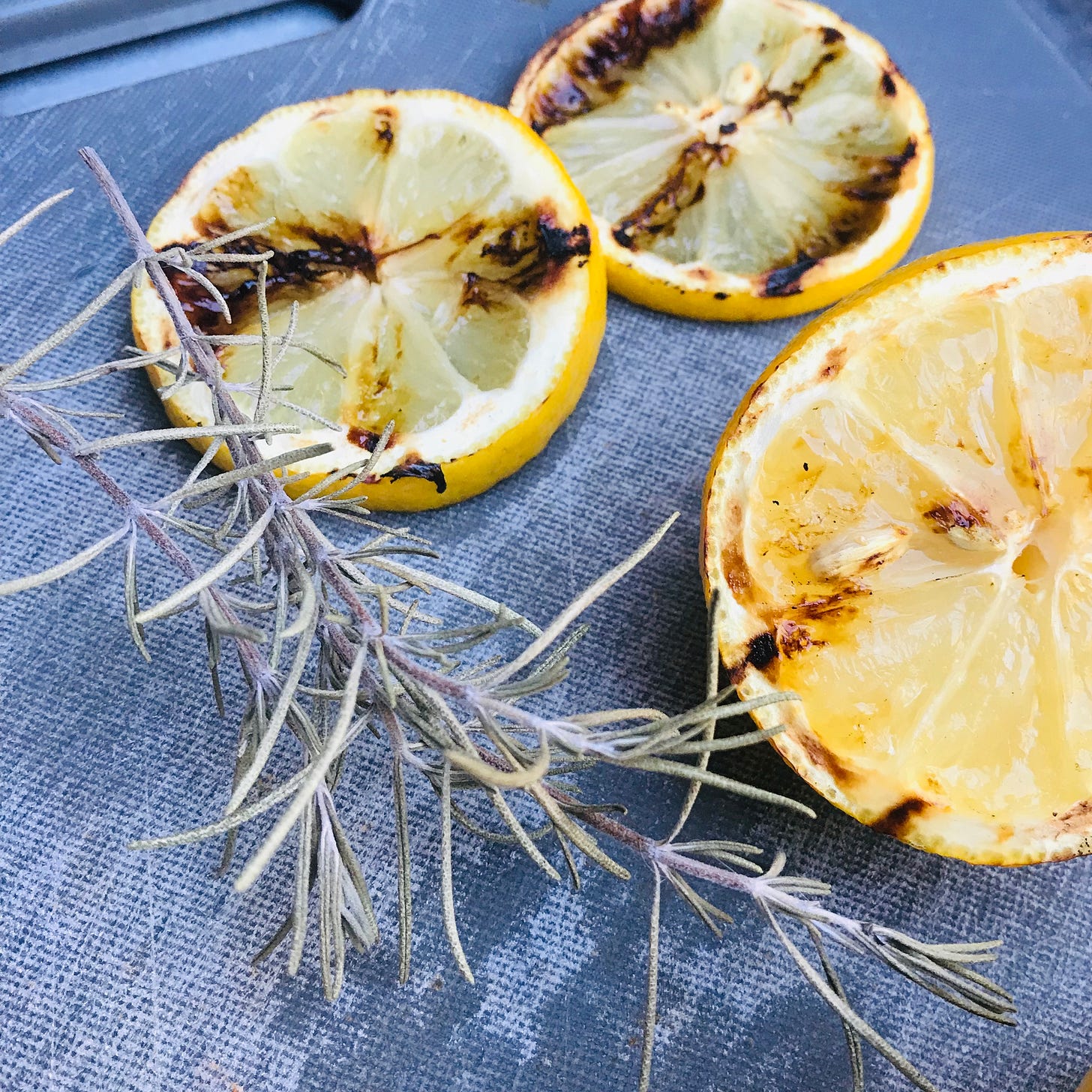 But hey! Why not up the smoke? My backyard rosemary was as parched as everything else, so I tried a trick I've seen at cocktail bars before — lit it on fire, and dunked it in the drink to douse the flame. Garnish with the charred lemon wheels.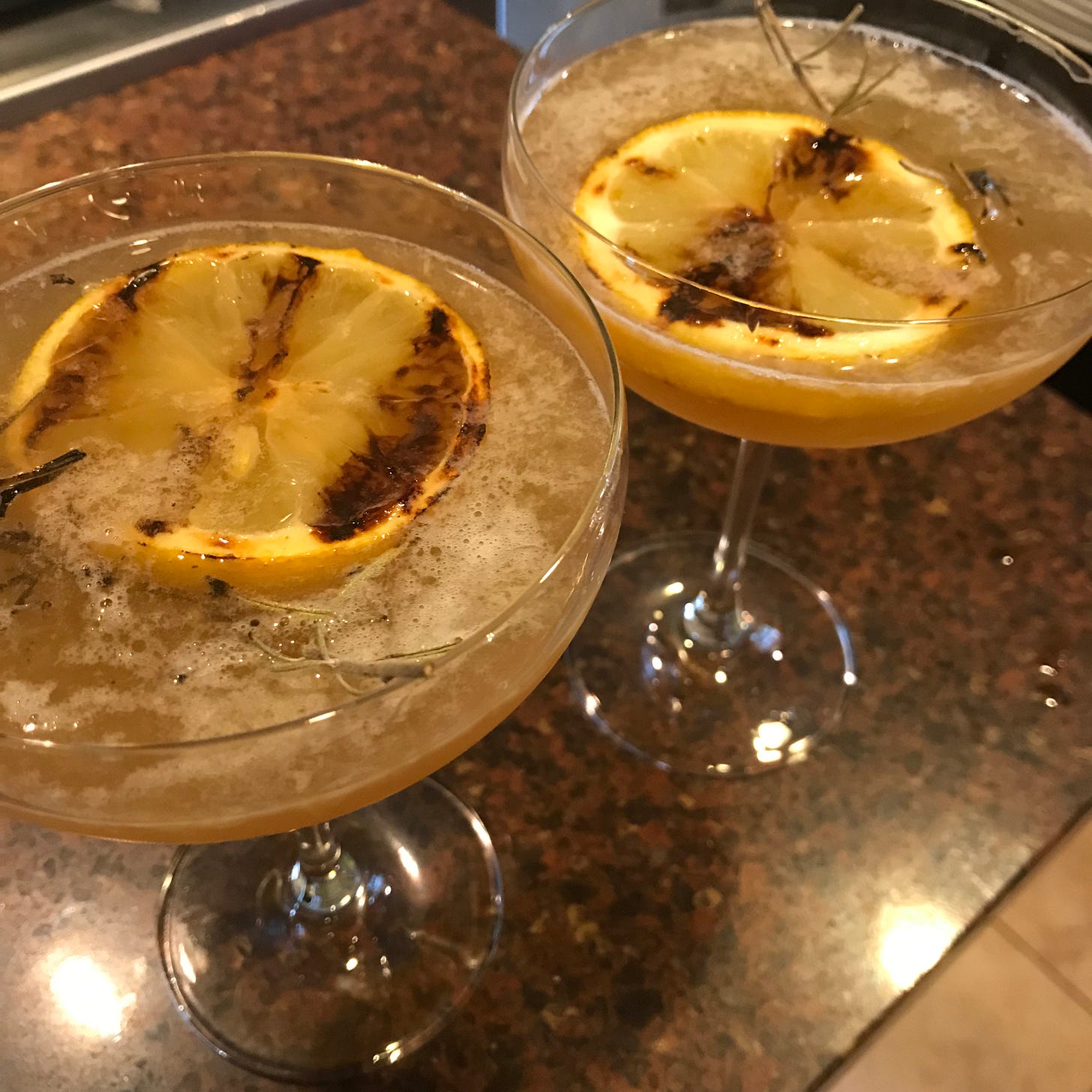 Tastes like a bourbon warehouse fire.
5) Hey, let's keep the apocalyptic theme going!
Of the books I've read in the last couple years, there's a handful that I find myself thinking about on a regular basis — and perhaps none more so than Omar El Akkad's dystopian American War. Set in a future United States, ravaged by global warming and soaked by rising seas, it follows a young girl growing up in a refugee camp and her growing anger.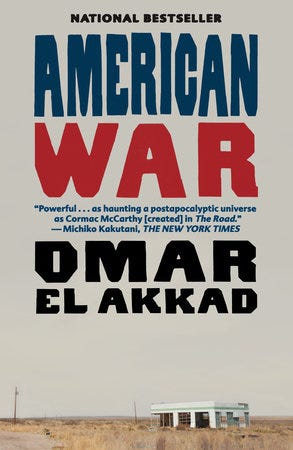 It's dark, but it's also incredibly well-thought-out, reflecting the author's experience as a journalist.
4) That's a bummer.
Sorry. Here, read this. It's made the rounds a few times on social media, but it wrecks me every time: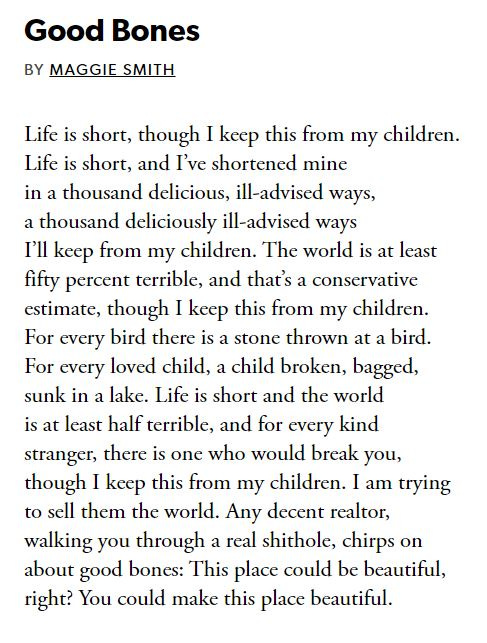 3) Okay, but it *is* finally cooler today, can we look toward fall now?
Yes we can! I've already shared my love of using fresh peppers for green chili, but with chillier air coming, it's finally time for a deep, thick, robust red. Few things have been as revelatory for me as using whole dried chiles rather than jarred powder in making my chili.
I use a mixture that changes every time (depending on what I have on hand), but generally centers on ancho, guajillo and pasilla chiles, with an arbol or two thrown in if I want it hotter. There's no hard and fast recipe to it — grab a few kinds, experiment with what works for you. Cut them up with scissors, remove stems (and seeds, if you want to temper the heat), reconstitute in stock, and blend up to create the base: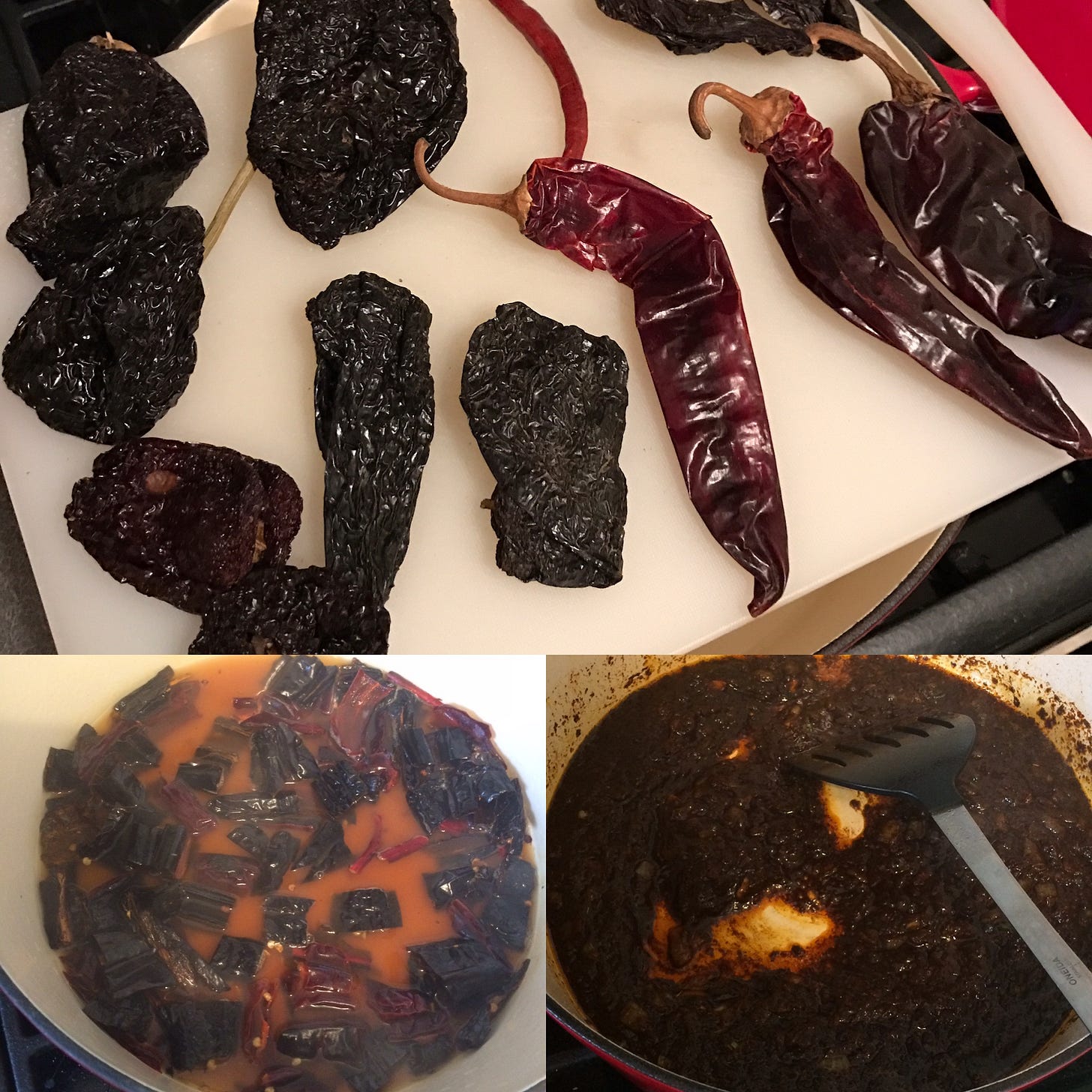 If you've never made chili this way before, you'll be shocked at the difference between using something like this as your base instead duller-tasting powder.
I mean, check this out: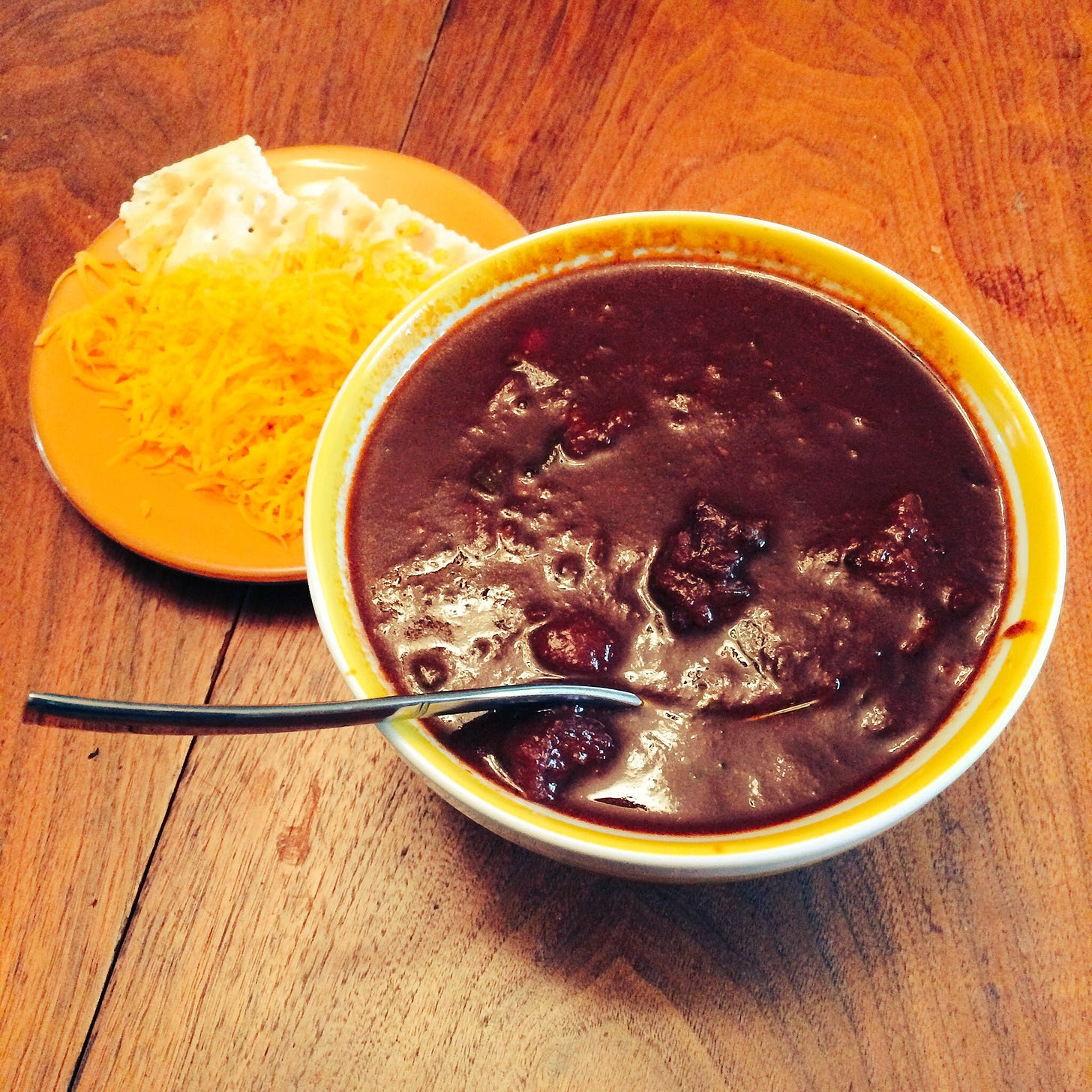 2) Now, for a completely self-indulgent sports reminiscence
It's October and baseball is here, even if my team isn't.
Well, I'm still going to look back on the greatest sports moment I've ever witnessed in person: the Cleveland Indians winning their first World Series game in 47 years with a walk-off in extra innings in Game 3 against Atlanta in October 1995:
I'll never be sure exactly how, but my dad snagged three tickets to this game — an incredibly hard get even by World Series standards, given the frenzy over the Indians at the time — and sent me and my brother with my mom, because she grew up in Cleveland and cared more than he did. It's the kind of thing that locked in a lifelong love of sports for me, and made me the kind of weirdo who sketches baseball stadiums in his spare time. (Click that link! The author is handsome and wise.)
I can only ever hope to pull off something as cool for my own kids someday.
1) Okay, here's nine shots of Holly carrying her slowly-deflating oversized ball.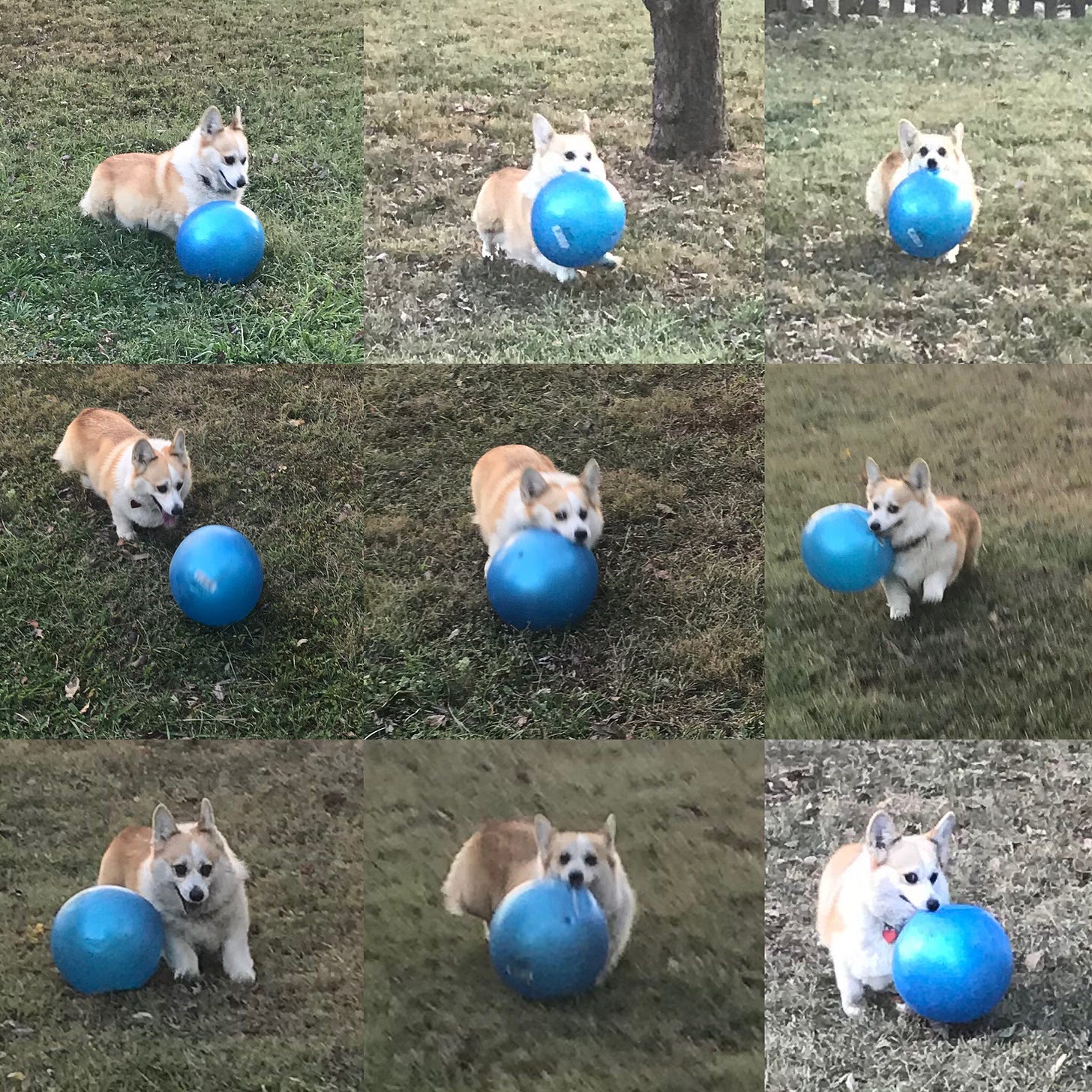 Enjoy your weekend, and thanks for your continued support of The Seventh Circle. We'll see you again soon.
— Scott Hines (@actioncookbook)