Monday Morning Short Yards
A new feature from the Action Cookbook Newsletter.
Good morning! Happy Monday. Halloween is almost upon us, which means I've only got three or four more weeks of tense household candy disbursement negotiations ahead of me.
It was a big weekend across sports — Sunday was what some termed a "sports equinox": the only day of the calendar year with games in the NFL, MLB, NBA and NHL, as well as a good deal of major soccer action and following a Saturday jam-packed with significant college football.
Let's start the week off with some quick hits, and then… something new at the end.
The Astros Are Run Like a Business, So They Know Success Covers For Them
The Houston Astros showed their ass pretty thoroughly last week, with now-former assistant general manager Brandon Taubman berating three female reporters in an apparent defense of accused domestic abuser Roberto Osuna. The Astros lost the first two games of the World Series at home to the Washington Nationals, and it seemed like karma — even if that notion isn't wholly fair to Astros fans.
The team finally fired Taubman, a few days later than they should have, and though there's no correlation other than shoddily-applied narrative-building, they've roared back, winning their third in a row Sunday night to close within a game of winning their second championship in three years. Any sense that they did things right should be tempered — the team's apologies were measured and qualified (and not directed where they belonged), they clearly didn't fire Taubman because of the act, but rather the public response to it, and they haven't addressed the larger organizational culture that led to it.
The Astros' incredible success the last few seasons — under GM Jeff Luhnow, they've gone from a middling team to one that's absolutely loaded with hitting and pitching and full of young stars yet to peak — has been widely lauded for its business-like approach. They've brought in Ivy League quants, and essentially Six-Sigma'd baseball to garner any advantage. The problem with being run like a Wall Street firm, though, is the same problem with Wall Street firms — they're only accountable to a limited bottom line. Winning shouldn't excuse a larger duty to your fans, the media, and the public at large.
Two Things Can Be True, Jamario Moon.
The NBA season that just tipped off proves to be one of the most exciting in years, with the wild personnel shuffling of the offseason creating an unusual parity — there's legitimately a dozen teams with a shot at competing for a title, something that's almost never true in the perpetually top-heavy NBA. Among the largest catalysts for this shift is the fracturing of the Golden State Warriors' dynasty. With Kevin Durant gone for Brooklyn (and injured), and Klay Thompson likely out all season with his own injury, suddenly Steph Curry's going to be forced to do a lot more by himself.
Some people have noticed. And others noticed that they noticed.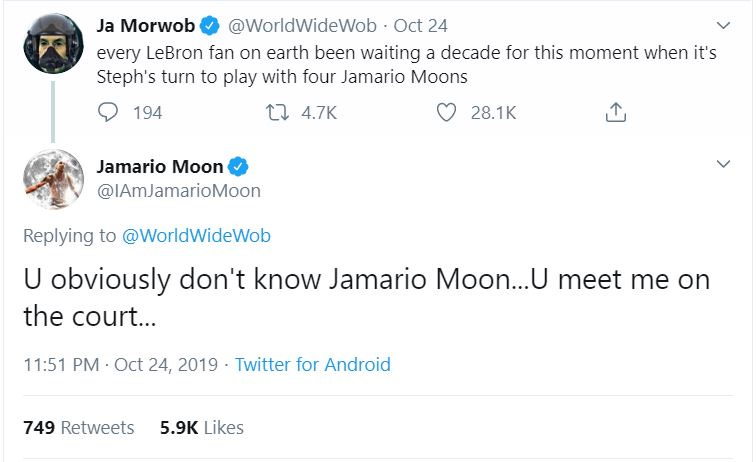 Two things can be true, Jamario Moon: 
Even a scrub-level NBA player would absolutely smoke an average human being on the basketball court, winning 11-0 and juking them out of their shoes. 

You are a scrub-level NBA player, Jamario Moon. We thought you knew.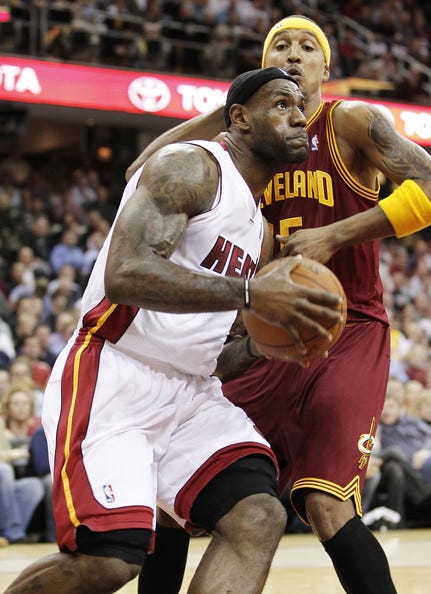 Here's a Phrase I Didn't Expect To Say: I'm Excited About Soccer
My adopted home of Louisville, Kentucky, is currently building a soccer-specific stadium for the resident men's pro team, the two-time defending USL champion Louisville City FC. Last week, it was announced that the major women's pro league, the NWSL, will add a franchise in Louisville in 2021 to share this stadium. I'm excited, and not just because I'll have a chance to take my daughter (and son) to see top-level women's sports close to home, but because the quality of play promises to be even better than the men's team. That said, I have two immediate pleas to the NWSL and the future ownership group regarding this move:
Please, please, please do not give this team some dumbass Kentucky-themed name like "the Fillies". 
Michigan Football Rights The Ship, Just In Time To Crash It Into A Seafood Restaurant
My least-favorite objectively-good rivalry in college football happened for the last time for a long while this weekend, with the Michigan Wolverines (boo) playing host to the Notre Dame Fighting Irish (booo). After a disappointing start to this season featuring a blowout loss to Wisconsin, followed by a loss last week to Penn State that saw them fall behind 21-7 in the first half, the Wolverines have suddenly flipped a switch. They made the Nittany Lions sweat with a second-half rally in State College, and they blew the doors off Notre Dame's season with a 45-14 rout in a driving rain in Ann Arbor Saturday night. They look good. They look like they've figured something out.
Upcoming games against Maryland, Michigan State and Indiana offer the chance for Jim Harbaugh's squad to be on a real roll coming into their season-ending matchup against the undefeated #3 Ohio State Buckeyes. 
That's the real cruel part. Michigan fans could've written off the season during the first half at Camp Randall — and judging by my Michigan-heavy Twitter feed, many did — but now you're going to be 9-2, likely creeping back into the top 10, and you're going to get that shred of "you know, maybe, if things go right…" 
And that's just going to make it hurt more when it happens, just like it always does. 
Not that I, an Ohioan, could possibly relate...
The 2019 Cleveland Browns, Or: How Soon Is Too Soon To Admit You Effed Up 
The Cleveland Browns came into this season with hope for the first time in a decade — and a roster actually worthy of that hope for the first time in probably a quarter-century — with many (myself included) pegging them a favorite for the AFC North title.
With a 27-13 loss at New England Sunday afternoon, they've dropped to 2-5 on the season and look completely lost. The schedule's been tough so far — their five losses are to teams with a combined record of 29-9, including both of last year's Super Bowl participants — but they might have two or three wins if not for the shamefully inadequate game management of first-time head coach Freddie Kitchens. He's looked lost, made some truly inexplicable play calls, and seems to be completely in over his head running a team.
The Browns have had a reputation for a quick trigger on firing coaches, and the best teams prize stability — but there's a real chance of blowing the opportunity afforded by a loaded roster if they stick with a coach who's not ever going to be up to it. Sometimes you need to give a coach three or four seasons to get his system in place. Sometimes you can tell after half a season that he doesn't have a system, and the playsheet just says "oh shit".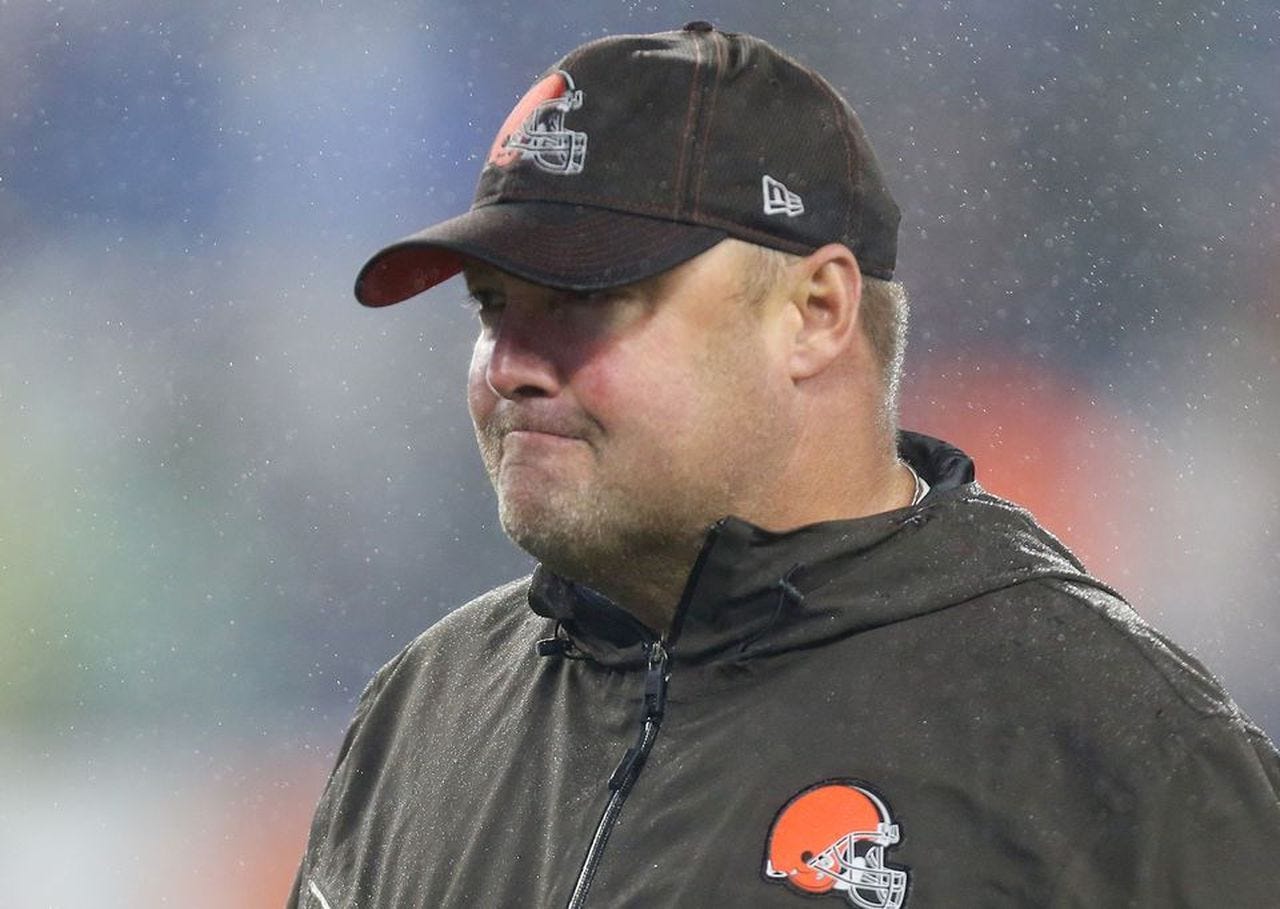 Anyways, this is all just a buildup to me calling my shot: karma is coming for me when Jim Harbaugh finds a face-saving way to leave Michigan by taking the Browns job this offseason. 
And Now, Short Yards.
One thing: I've tried to build my writing career to a place where it can be appreciated on its own merits — work that's hopefully of a quality that you come here for it, and not just because I can be pretty clever at clickbaiting sometimes.
Another thing: I made Holly into a comic strip.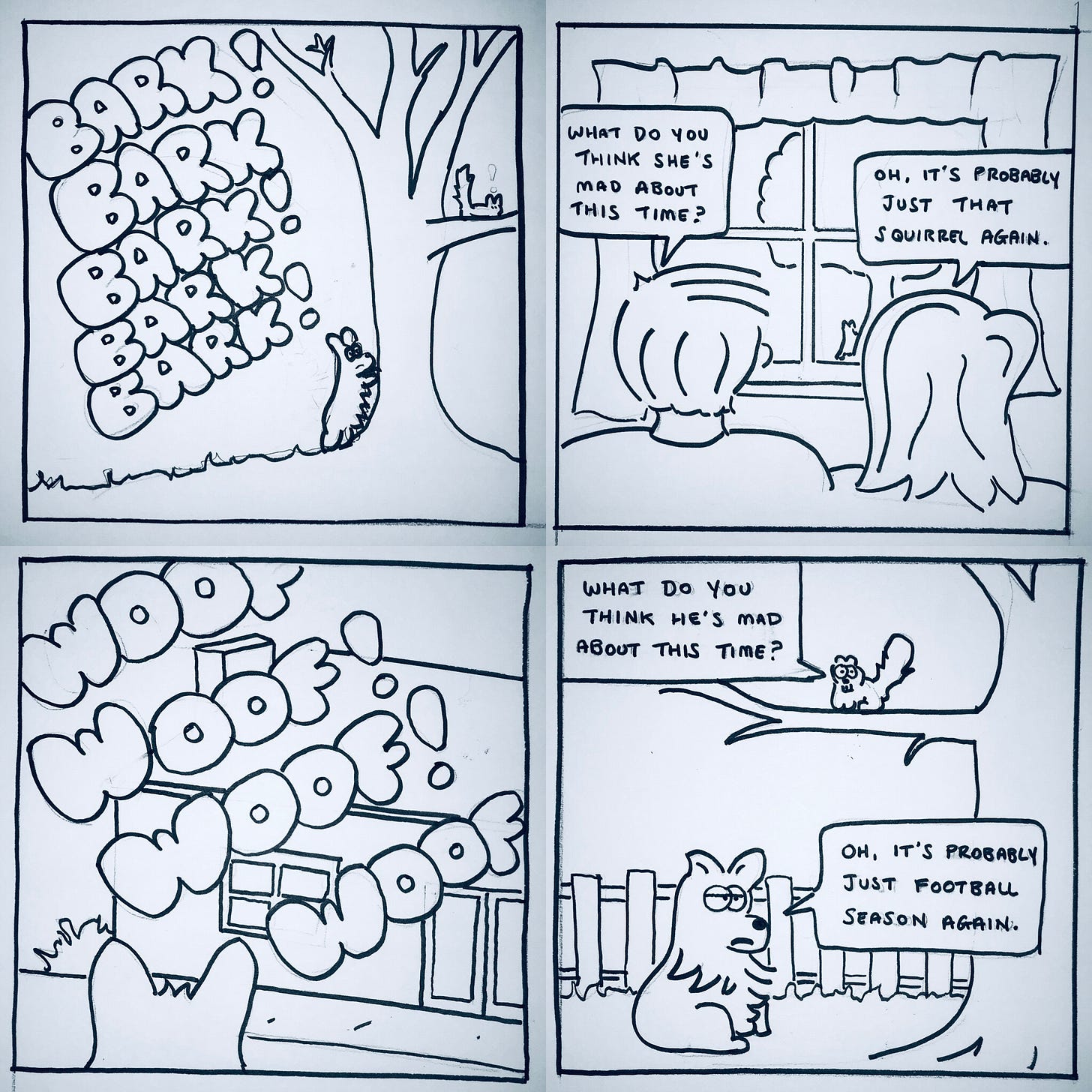 I'm not sorry.
Thanks for reading The Action Cookbook Newsletter. If you enjoy these emails, please share them! The more that read, the more I'll do. That's both a promise and a threat.
— Scott Hines (@actioncookbook)