Monday Morning Short Yards, 11/4
It's like a free newspaper compiled by a man going slowly mad.
Welcome to Short Yards, a completely unfocused Monday feature of quick hits, half-formed ideas, and a shameless attempt to turn my dog into a merchandising empire.
I. The Golden State Warriors' Dynasty, Spinal Tap Drummer Phase: A Short Story
WARRIORS OWNER JOE LACOB: Boy, this team has had a nearly unprecedented level of success in recent years. The roster we assembled here might've been one of the greatest in history. Three championships in four years, a regular-season wins record, record-shattering achievements in shooting. But things have taken a tough turn lately. First Kevin Durant tore his Achilles — before deciding to leave for Brooklyn. Then Klay Thompson tore his ACL. We knew we were coming into the season short-handed, but Steph Curry breaking his hand, well, that's our superstar! And then Draymond Green injures his thumb this week? What could happen next?
[desk buzzer sounds]
ASSISTANT: Mr. Lacob, I have your messages.
LACOB: Ah, great. Come on in.
[assistant enters]
LACOB: Good news or bad?
ASSISTANT: I have both.
LACOB: Let's start with the bad.
ASSISTANT: Well, first off, Willie Cauley-Stein fell in the shower. Injured his back. 
LACOB: Oh, no. We should get him those little non-slip flower decals.
ASSISTANT: [squinting] I'm sorry, this says "at a shower". It was a baby shower. 
LACOB: Ah.
ASSISTANT: Lot of hidden dangers around babies. Can never be too careful.
LACOB: What's next?
ASSISTANT: D'Angelo Russell. 
LACOB: Injured?
ASSISTANT: Kidnapped.
LACOB: By whom?
ASSISTANT: The ransom note demands a follow-up to Black Messiah, so it appears to be some rather confused music fans.
LACOB: Reach out to that D'Angelo. We can partially fund the album if he's game. We need Russell back. Anyone else?
ASSISTANT: Kevon Looney.
LACOB: What happened to him?
ASSISTANT: Exploded. 
LACOB: My god! Gas leak?
ASSISTANT: It appears spontaneous. He had a rare condition where he was [consults notes] made of explosives.
LACOB: That's terrible. Was anyone else hurt?
ASSISTANT: No. [brief pause] Well, yes, but just Ky Bowman, Eric Paschall, and Alec Burks. Fortunately, I didn't even know they were on the team until I looked at basketball-reference on the way in.
LACOB: Do we have anyone left??
ASSISTANT: Well, Jordan Poole,
LACOB: That's a relief, he's promising —
ASSISTANT: … fell into a shadow dimension. You remember that Simpsons softball episode? Sorta like that.
LACOB: Fine, fine. We're going to have to write this season off as a total loss. Just sign some guys from the G-League to one-year deals, we'll aim for the lottery. Maybe we'll get lucky to bring in a young star to bolster our core three when they return. Could be a blessing to have one terrible year, just like when the Spurs got Duncan. 
ASSISTANT: Very good, sir.
LACOB: Wait, before you go — what was the good news?
ASSISTANT: We probably won't have to see these guys this year.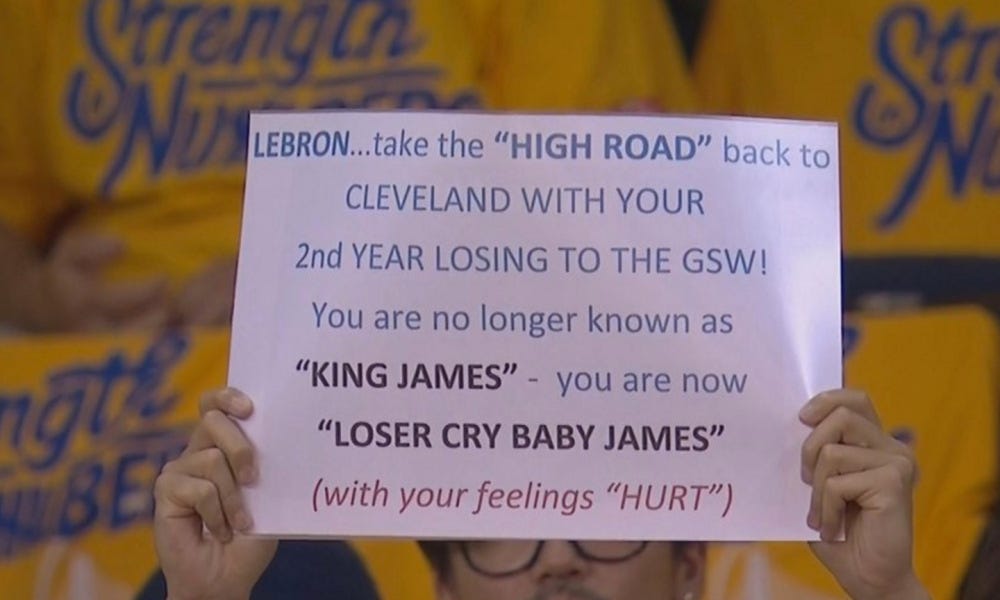 II. The First College Football Rankings, Or, Bob Ross Is 15 Minutes In
It was a down weekend in college football — a historic confluence of bye weeks saw the top three teams in the AP rankings idle, and the only games with serious postseason ramifications were Georgia's win over Florida in Jacksonville — important to the SEC East race and potentially the playoff — and Memphis's wild home triumph over SMU in a raucous, sold-out Liberty Bowl, giving them a real shot at the G5 New Year's bid. 
The College Football Playoff committee will release their initial rankings on Tuesday, and we'll feel like things are falling into place. The only drama will be the order, because the top four promises to include LSU, Alabama, Ohio State and Clemson. Penn State and Georgia will lurk just outside, and it'll seem like a nice, clear picture. Something straightforward and easy to understand.
And then someone's gonna slather a big mess of paint right over it.
Here are my votes for funniest things that could throw the playoff into utter disarray:
LSU beats Alabama, loses to Ole Miss, because all the funniest years involve Ole Miss somehow

Alabama runs the table until losing to Auburn in hilarious fashion. Hey wait, this one isn't even uncommon, but it's always funny.

Clemson loses the ACC Championship Game to whoever accidentally wins the Coastal

Playoff PJ Fleck. Will it happen? No. Can it happen? Still technically yes.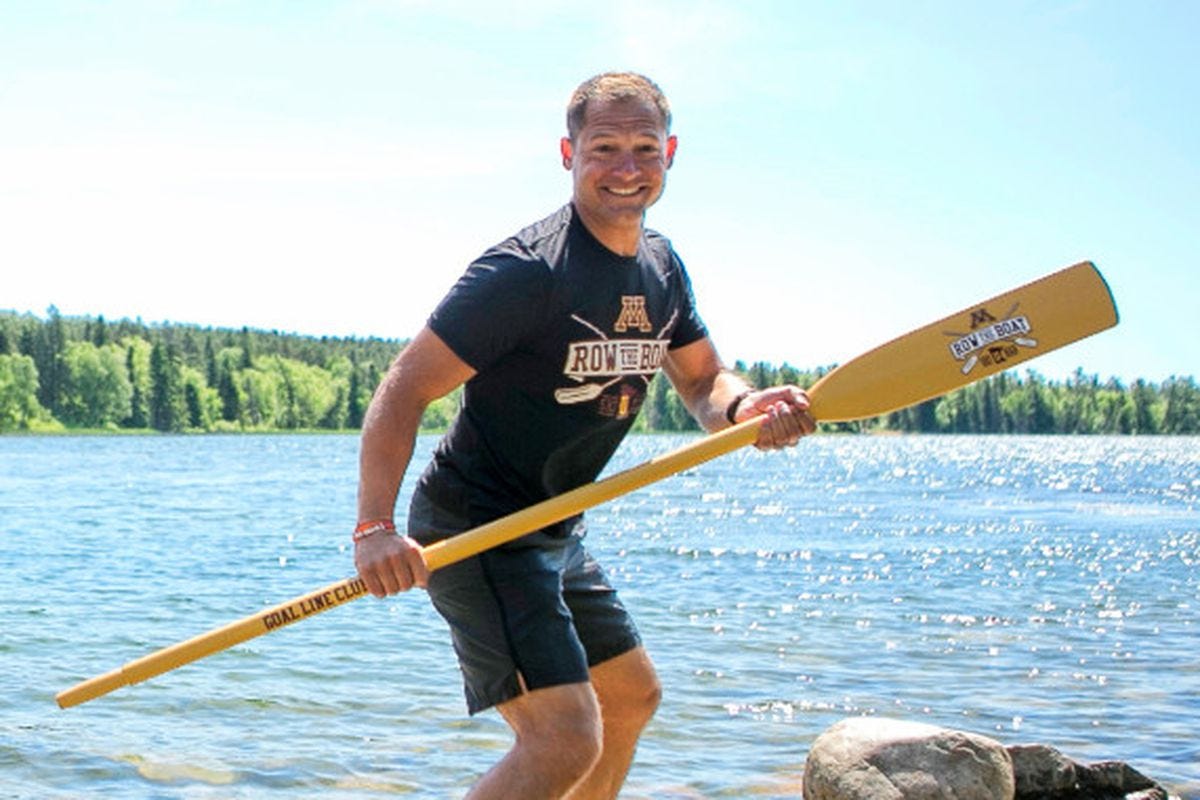 The painting begins in earnest this weekend. 
III. Sean Doolittle and Standing For Something
As a reward for their stunning, storybook run to a World Series title -- the first in franchise history and the first in the city in over 80 years -- the Washington Nationals now face the dilemma many American men's professional sports champions have been faced with, in whether or not to pay a visit to the White House. 
Nationals relief pitcher Sean Doolittle was the first to announce that he would not attend, and rather than simply demurring on scheduling conflicts, Doolittle explained his reasoning in a lengthy interview with The Washington Post:
"I feel very strongly about his issues on race relations," Doolittle said, and he listed the Fair Housing Act, the Central Park Five and Trump's comments following a white supremacist rally in 2017. He also mentioned that his wife, Eireann Dolan, has two mothers who are very involved in the LGBTQ community.

"I want to show support for them. I think that's an important part of allyship, and I don't want to turn my back on them," Doolittle said. "I have a brother-in-law who has autism, and [Trump] is a guy that mocked a disabled reporter. How would I explain that to him that I hung out with somebody who mocked the way that he talked or the way that he moves his hands? I can't get past that stuff."
Sports are inherently political, no matter what some might say, and credit to Doolittle for standing for his beliefs.
IV. Behold, Baker Mayfield, It Took Us 18 Months To Break Him
One small bit of merriment amidst the Cleveland Browns' slow-moving disaster of a season has been the sense from non-Browns fans that Browns fans (a group to which I belong) might somehow have been unprepared for this reality.
No one has ever been more prepared for anything than Browns fans were for this season to go awry. The Apollo missions to the moon look like improv class compared to our ability to absorb this disappointment. The sushi chefs in Jiro Dreams of Sushi are just riffing like subway buskers compared to Browns fans being ready to deal with this season. Elizabeth Warren has a plan for that? WE HAVE A PLAN FOR THIS. 
To paraphrase fellow Clevelander Drew Carey, "oh, the Browns disappointed you? There's a support group for that. It's called everyone. We meet at the bar."
Now, uh, the new guy? He might not have been ready for this. But he's starting to blend in.
V. A Brief Moment Of Lockdown Defense, Not Unlike That of Kevin Love on Steph Curry in the Final Moments of Game 7 of the 2016 NBA Finals
VI. And Now For The Comic Strip Portion of This Email
It's Short Yards, featuring Holly the Corgi.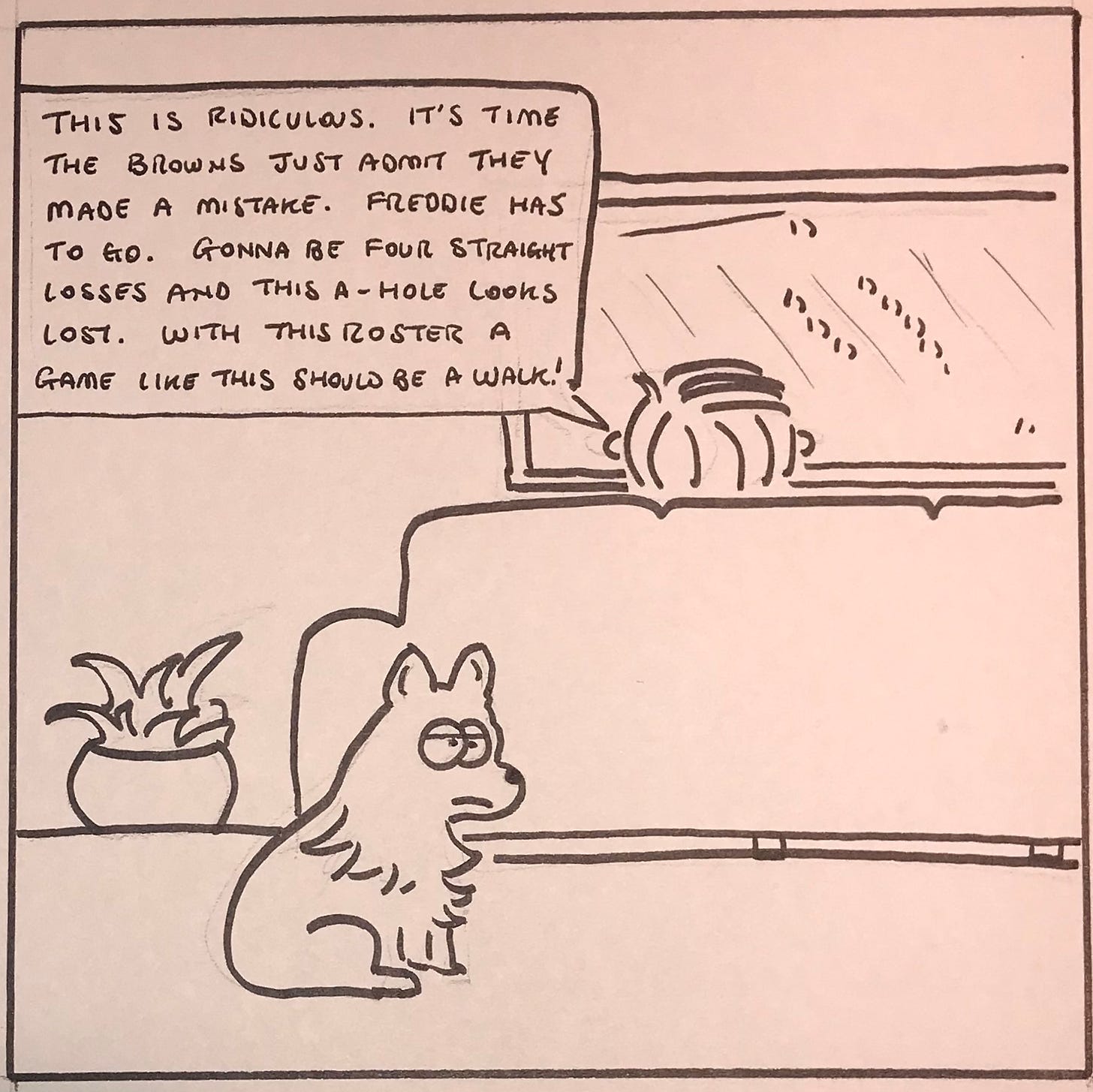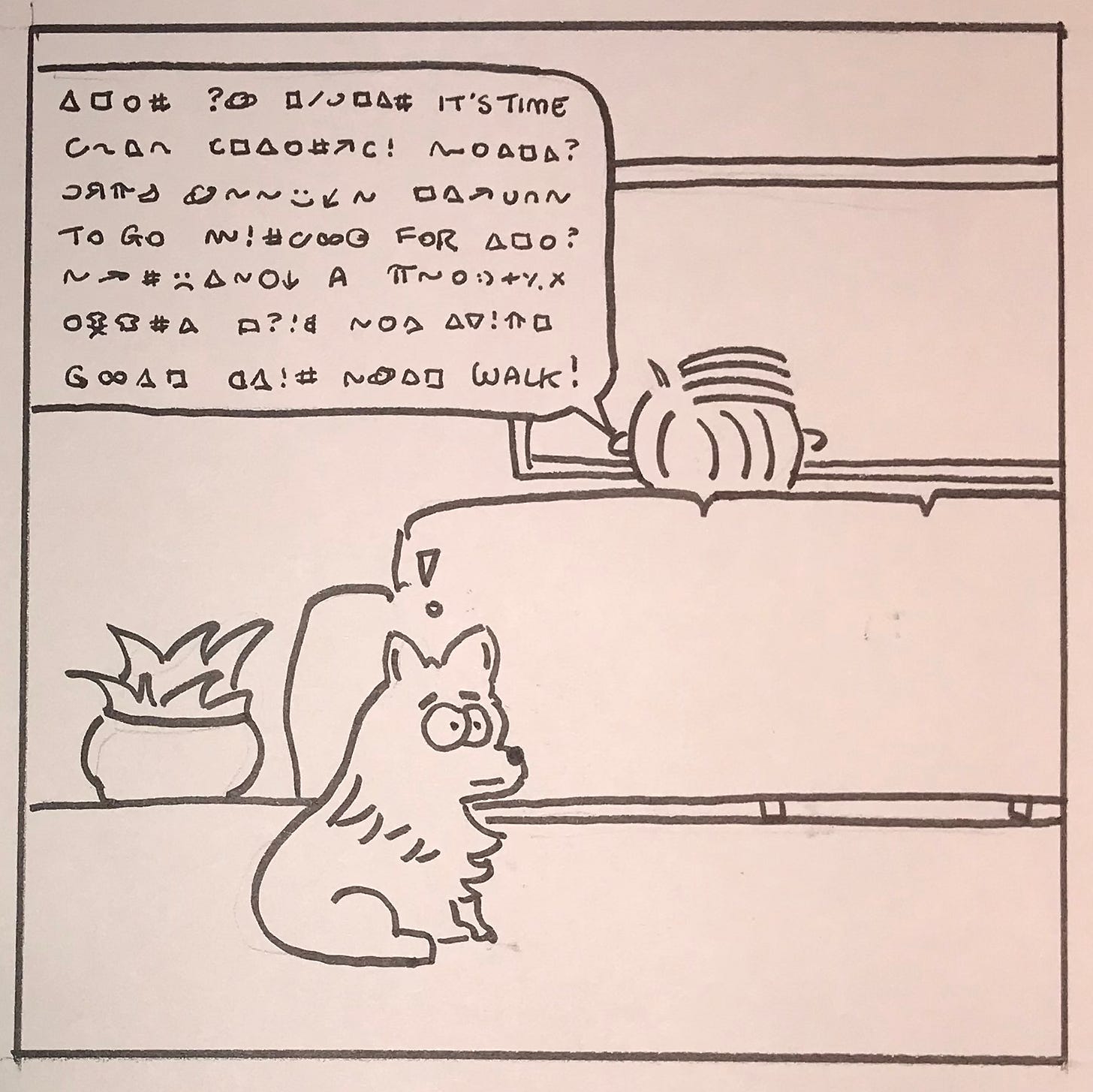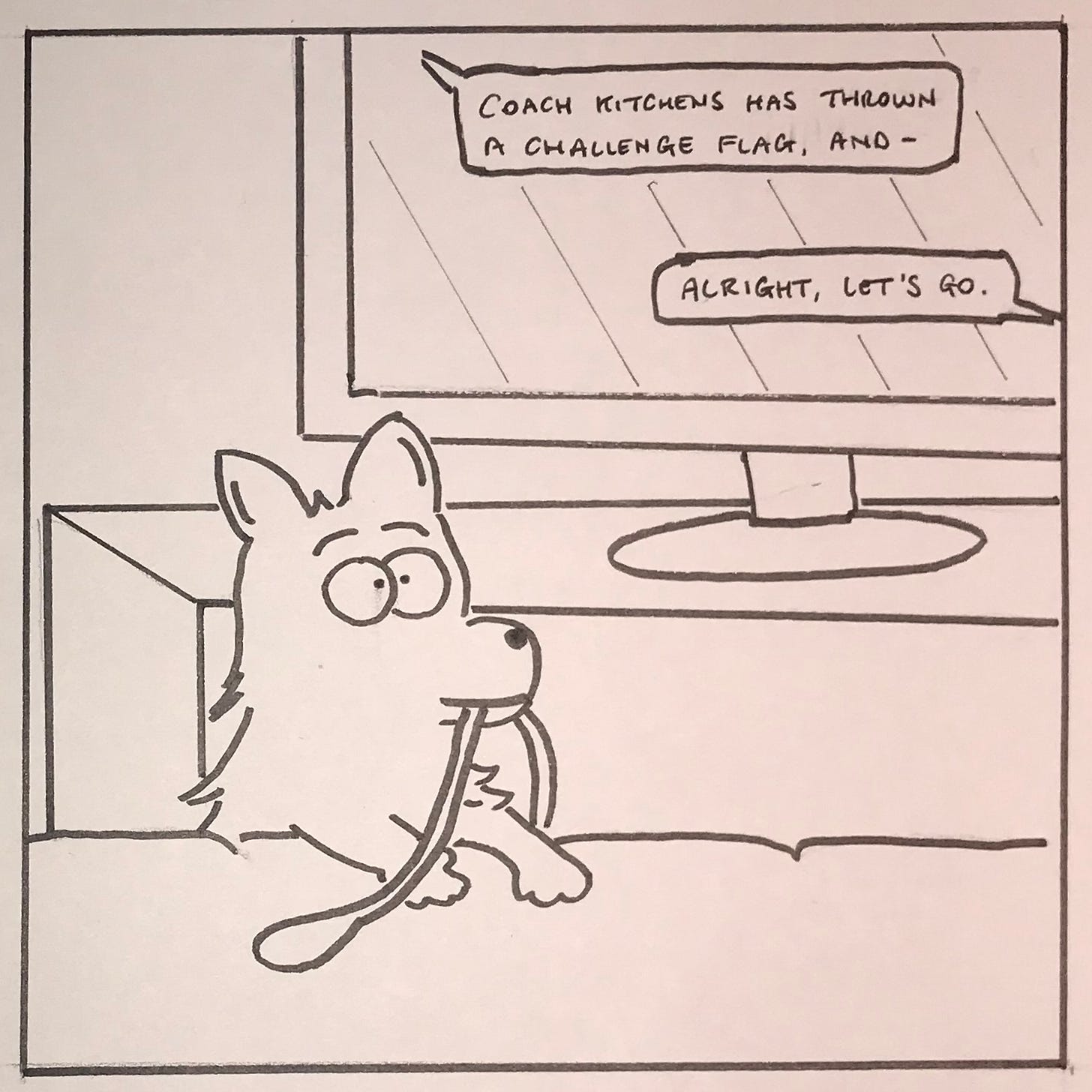 We're comin' for you, Jim Davis.
— Scott Hines (@actioncookbook)
---
Thanks for reading The Action Cookbook Newsletter. Hopefully this helps you get your week off on the right foot. If you're enjoying, please share with someone you like! If you're not enjoying, please share with someone you don't!