On space wizards and fairy princesses
Good intentions in parenting and learning to get out of the way.
The Sith Lord needs to take a nap. But let's step back first.
When my wife was pregnant with our first child five years ago, we found ourselves in full thrall of Expectant Parent Good Intentions. It's a magical time, those hope-filled months before the baby comes. You plan out exactly how everything's going to be in great and well-meaning detail, all without consulting the one person who's actually going to have any say in it.
Cloth diapers. (We held out for six months.) Organic food only. (Listen, they have apple slices at McDonald's now, and there's no PlayPlace at Whole Foods the last time I checked.) No screen time until age two, and only a limited amount of educational programming after that. (Watch your show, honey, Daddy's trying to write.)
We also resolved that we wouldn't project our likes onto our children, wouldn't be stereotypical in our assumptions of the things they would like. There would be no forcing anyone into a princess dress or superhero outfit they weren't interested in.
Hey, can you hold on a minute? I just need to set the newsletter down for a sec to deal with something. Be right back.
HEY. HEY. STOP HITTING YOUR SISTER WITH THE LIGHTSABER. JEDI DON'T HIT THEIR SISTERS
OKAY FINE YOU'RE A BAD GUY WELL GUESS WHAT PAL SHE'S PRINCESS ELSA AND SHE CAN FREEZE YOUR BUTT SOLID LIKE HAN SOLO IF YOU KEEP DOING THAT
I UNDERSTAND THAT IT WAS CARBONITE IN THE STORY BUT FREEZING IS FREEZING, NOW LET IT GO
Okay, now, where was I? Right, the—
HONEY GIVE THE LIGHTSABER BACK TO HIM OR I'M TAKING THE ELSA DRESS AWAY, PRINCESSES DON'T HIT EITHER
YES I UNDERSTAND THAT SHE LATER BECAME THE QUEEN I TOO HAVE WATCHED THE MOVIE MANY TIMES I AM WELL VERSED IN THE ARENDELLE ROYAL CANON
JUST GO HIT EACH OTHER OUTSIDE, I'M TRYING TO TALK TO THE INTERNET
[sits back down, sighs deeply]
Yes, it turns out, despite our proclamations that we would let our children be whoever they wanted to be, at current, they are full-on devotees of the Walt Disney Corporation's various pop-cultural holdings and acquisitions. A little boy wholly obsessed with Star Wars (with a mildly concerning affinity for the Dark Side), and a little girl over whom the only remaining authority we have is to threaten to ground her from wearing any of her rapidly-growing collection of princess dresses.
They jumped right into the pool, with little involvement from us.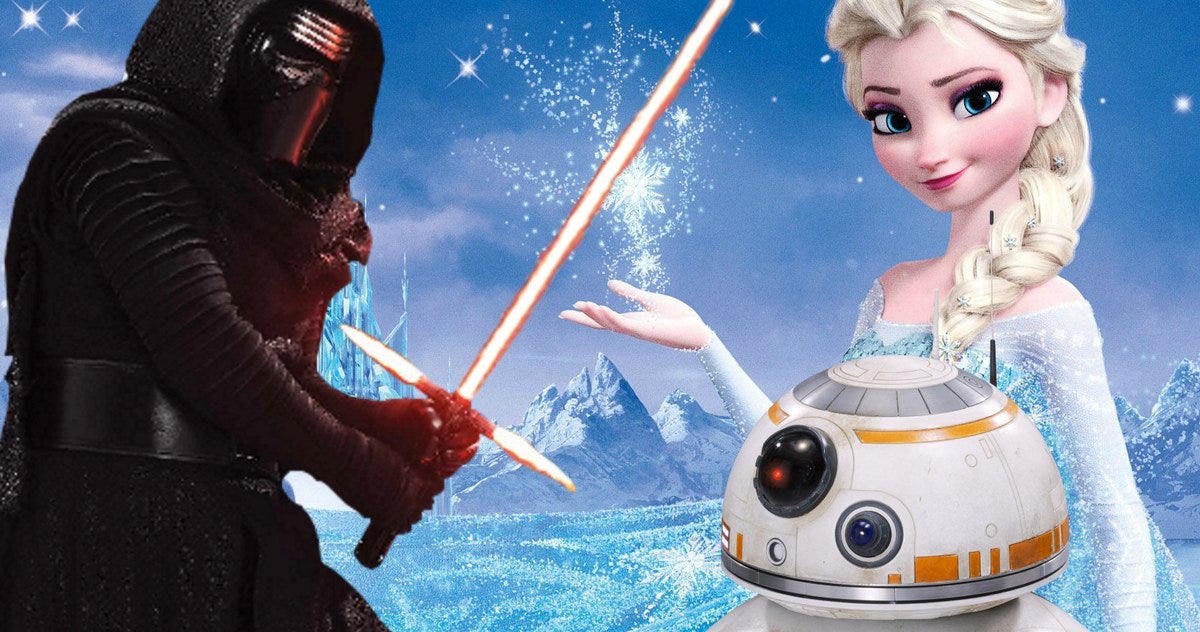 The experience is not without some pleasant surprises, however.
You see, I've known my wife for over a decade now, a time wherein it has been well-established that she has never seen a single Star War, nor once expressed any desire to do so. Knowing this, I found it to be a distinct and indescribable pleasure the other night hearing her pronounce — correctly, might I add — the words "Qui-Gon Jinn" while reading to our son. Any of the subtle distinctions that I have had to catch up on between Princesses Elena and Sophia and Aurora pale in comparison to knowing that, on some level, my wife is now at least aware of the Clone Wars and the Trade Federation's embargo of Naboo. There's no putting that toothpaste back in the tube.
Of course, we happily learn about these things. We learn because we love them, and we do so knowing full well that our parents were once thoroughly educated on childhood interests of ours that were, in all likelihood, far worse. (Masters of the Universe seems to have been mostly left behind in the 1980s, and in my opinion, that's for the best.) Every bit of child culture will feel impossibly dumb as you age, and you must accept that this is the natural order of things, just the same as your (read: my) aching back and thinning hair. 
What was our better intention than this, anyway? What did we think we were avoiding by not presuming she'd want to be a princess, or he a Sith lord?
We wanted our children to know that they could be their own people, people who define their interests and selves outside of the pressures and expectations of the Boy Toy Aisle and the Girl Toy Aisle at Target (they took the signs down, but you can still tell), free of the gender-reveal-cake binary of "are you THIS THING or are you THAT THING!?"
That belief doesn't change in the times when the kids do in fact opt to take the road more traveled, and they're not limited to those choices. Occasionally he'll get the impulse to join a tea party, and I got my little princess her own lightsaber on post-Christmas clearance. (Admittedly, this was mostly just arming her for strategic deterrence. Geopolitics are hard.) Tea parties are fun, and and the blue lightsaber looks great with her Anna dress.
The worst thing we could do as parents is to ruin a good time by projecting adult expectations onto any of it; so much of parenting is just staying out of the way and letting them figure out what they believe on their own time.
What do they believe in, after all? 
They believe in an expansive world of imagination. They believe in a world where things are fair, and merit matters. Even in the hereditary world of princes and princesses, the kind and just tend to prevail over the wicked and cruel. If only. They believe in a world where good and evil are mutually agreed on who's who and go so far as to make it clear to everyone in their clothing and insignia, rather than a world where evil is cloaked in the colors of righteousness. They believe that they can be anyone their imagination allows them to be, and they believe that things will all work out in the end.
I believe they're right. Who are we to stand in the way of that?
(But they're not getting the lightsabers back tonight. Jedi don't scare the dog like that.)
—Scott Hines (@actioncookbook)