One day this'll pass. Let's just do our best right now.
The Friday newsletter offers a plea for hope, and then the good stuff you're used to.
I can't speak honestly about the situation we are all in without acknowledging my privilege.
I'm as horrified as anyone by the ongoing public health crisis, and I anxiously await a day when it has passed. I miss the world outside my door. I miss my friends and extended family; I miss the simple pleasures of going to the grocery store or taking a walk on a crowded street without considering the danger doing so might pose to myself or others. I miss working without having to stop every seven minutes to give my children a snack, and they miss their school and their friends.
I recognize, however, that others have it far worse. "The virus doesn't discriminate", the saying goes, but in reality it is disproportionately affecting lower-income communities, communities of color, and people who do not have the luxury of staying home that I have been afforded. I have a job that can be done remotely and an employer that has been supportive and responsible about employees working from home even before it was a matter of statewide edict.
If you are in a similar situation, I encourage you to reflect with gratitude on that today, as challenging as the changes to your situation may be. Your gift is the ability to comply with the most stringent of the experts' recommendations; your charge is to then do so scrupulously, to avoid hurting the people who are not able to.
I've joked, as many other have recently, that time seems to have lost all meaning. Tuesday feels like Saturday, Saturday feels like Tuesday, and the days are both flying by and dragging at the same time. I think about a visit my parents made here just over a month ago, for Grandparents' Day at my kids' preschool, and it feels so long ago that it the memory of it might as well be in black and white. It is hard right now to imagine what the future will look like, in no small part because it's hard to conceptualize time.
Just outside the window of my living room, where we've set up one of our two makeshift offices, there's a small ornamental tree, one we string with lights each December. (I was going to try to identify the species, but it turns out I don't know anything about trees. Maybe you do?) The first day that I worked from home, nearly a month ago, its limbs were bare. It was a bleak view, especially since that first week was cruelly drab, wet, and cold. We were trapped inside with two children and suddenly more full-time responsibilities than people. The possibility of doing this for weeks or months made my chest tight with anxiety. There was no end in sight.
The next week, buds formed on the tree.
A week later, it began to flower.
Today, it's in full leaf.
Time's still moving. Spring is here.
It may seem like this will never end, but it will.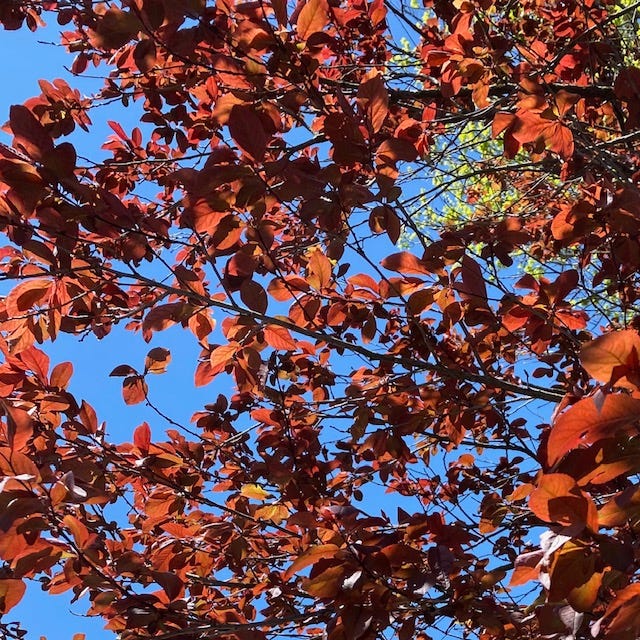 Let's make the best of our situation in the meantime. I've got seven thoughts about how we can.
7) Flip the script.
I love cookbooks. I've got dozens of them on my bookshelves. Eight years ago, I was looking for a non-sequitur pseudonym to use on Twitter, and so I adopted the name of a British cookbook from the 1960s that I thought was funny. Some of my cookbooks are well-worn and oft-cited references, but others seem to function more as speculative items, galleries of the things I could make if I were the kind of person that made things like that. They're intimidating and beautiful — fun to look at but not something I find myself cooking from.
One of those cookbooks is Sami Tamimi and Yotam Ottolenghi's 2012 bestseller Jerusalem, a gorgeous book that captures the rich cuisine from both sides of the authors' divided native city. (Tamimi grew up on the Arab side, Ottolenghi on the Jewish side). I've had the book a few years, but I've never worked up the courage to take on the complex recipes in it.
Right now, though — the week of Passover and Easter, and a time where I've got nowhere to be but in my kitchen — seems like a perfect time to change that. I wanted something time-consuming and elaborate, something that would feel like a real accomplishment when I finished it. Something worthy of a celebratory table.
So I took on Maqluba.
The best way to describe this dish is as a savory upside-down cake of rice, vegetables and chicken, but it's so much more delicious than that might sound.
Here's the basic idea, but you really should get the cookbook, it's wonderful.
Start with:
1 head cauliflower, broken into small florets

2 medium eggplants, sliced, heavily salted and placed on paper towels for at least 40 minutes, then pressed to remove the excess water

2 whole tomatoes, sliced

1-1/2 pounds boneless chicken thighs, diced

1 onion, quartered

1-2/3 cups uncooked basmati rice
Wash and soak the rice in cold salted water and leave to sit for 30 minutes before draining and rinsing.
In a Dutch oven or large pot, working in batches, fry the cauliflower, eggplant slices and reserve. Leaving only as much oil as needed (and this depends on whether the chicken has skin or doesn't), brown the chicken. Add 4 cups of water, the chopped onion, 10 peppercorns and 2 bay leaves. Bring to a boil, then lower to a simmer for 20 minutes. Remove the chicken and reserve; strain the solids from the stock and reserve it as well.
Wipe the Dutch oven or pot clean, and cut a circle of parchment paper to fit the bottom. Layer in the sliced tomato, then the fried eggplant on top of it, then the fried cauliflower, and finally the cooked chicken pieces. Spread the uncooked, drained rice on top of this.
Take 3 cups of the reserved chicken stock, and mix in:
1 tsp ground turmeric

1 tsp ground cinnamon

1 tsp ground allspice [you, muttering: "cinnamon and allspice, huh, Cincy boy?"]

1/4 tsp ground pepper

3 cloves garlic, chopped

The recipe calls for 1 tsp of a spice mixture called baharat, if you can find it, great, I was not willing to make that specific effort and instead used 1/2 tsp cumin and 1/2 tsp paprika, it's close enough
Pour this mixture over the rice; it probably will not cover it at first. Press down on the rice layer until it starts to seep through and cover it. Add a little more reserved stock if necessary, but try not to — you only want as much as needed.
Bring the pot to a boil over medium heat, then cover with a lid, reduce the heat to low, and cook for 30 minutes. Don't peek. Leave the lid on. After 30 minutes, remove the lid, cover with a clean tea towel, and place the lid back on for 10 more minutes.
Now comes the fun part. You've got to flip this whole thing and not ruin it. Cover the pot with a large plate or platter — I used a pizza pan — and holding tightly, quickly invert the whole thing. I had to psych myself up for a solid five minutes before I did it. Breathe. Breathe. OKAY FLIP IT. Wait three minutes. Did you pull it off? Is the dish mangled, or delicious? You don't know yet, but it's already happened. It's Schroedinger's Dinner.
Alright, carefully lift the pot off.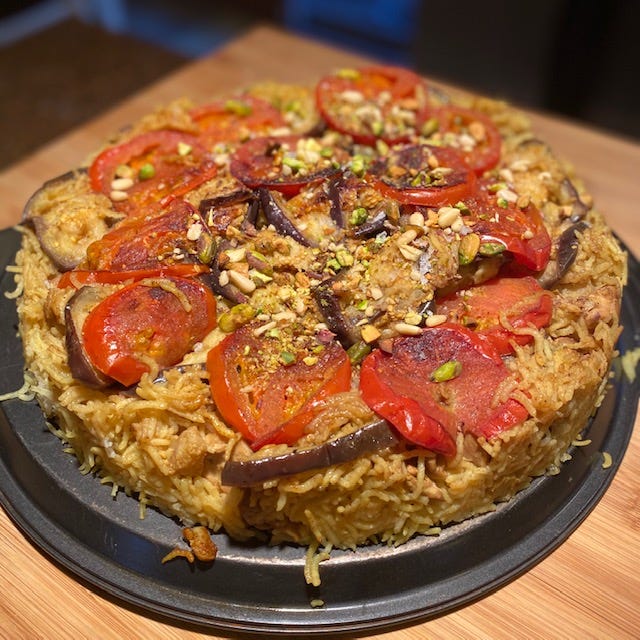 Well, wouldn't you know it. I didn't screw it up.
Top it with toasted pine nuts or pistachios and yogurt sauce. It'll feed a crowd, but don't invite a crowd over. It makes great leftovers and you can eat it for a week. Crowds are for later this year.
6) When life gives you lemons, make lemonade.
I've been known to favor a complex cocktail, something requiring syrups or reductions or infusions. But who's got energy for that after all this rice-squishing and pot-flipping? Let's keep it simple today, with something perfect for the springtime. This week, I've been seeing bumblebees happily pollinating the wildflowers in my lawn, and I've patted myself on the back by keeping a biodiverse yardscape (ed note: I don't take care of my lawn). Those bees reminded me of a classic:
It's the Bees' Knees.
A Prohibition-era creation, it was designed — as most classic cocktails were, really — to mask the flavor of dodgy spirits, and wouldn't you know it, I have a little bit of some questionably-old gin sitting around.
2 ounces gin

1 ounce fresh-squeezed lemon juice

1 ounce of a mixture of equal parts honey and hot water
Shake with ice, strain, that's it.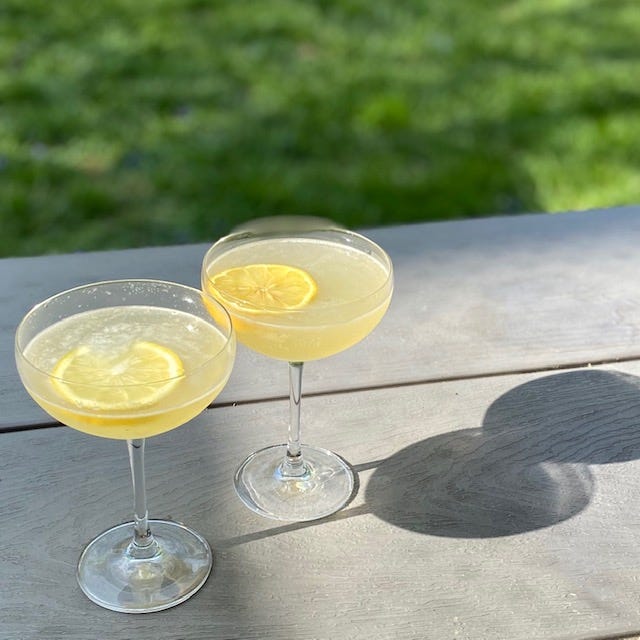 I think this would be great with a sprig of fresh thyme — I've made thyme-infused lemonade for cocktails before, and it's a nice combo — but I didn't have any fresh thyme and I wasn't about to go to the store for it this week. Maybe you have some? Those who can't, teach.
Hey, now that I've got a few drinks in you, do you know anyone who might enjoy this newsletter? Spread the word!
Who doesn't enjoy pressing a big red button, honestly?
5) Retain your ability to be astonished.
A number of my book recommendations lately have been dark, ominous stories, and I apologize for that — none of us need really that kind of thing right now.
What we do need is something like actor/comedian Aaron Jackson's stunning debut novel, The Astonishing Life of August March, which released just this week.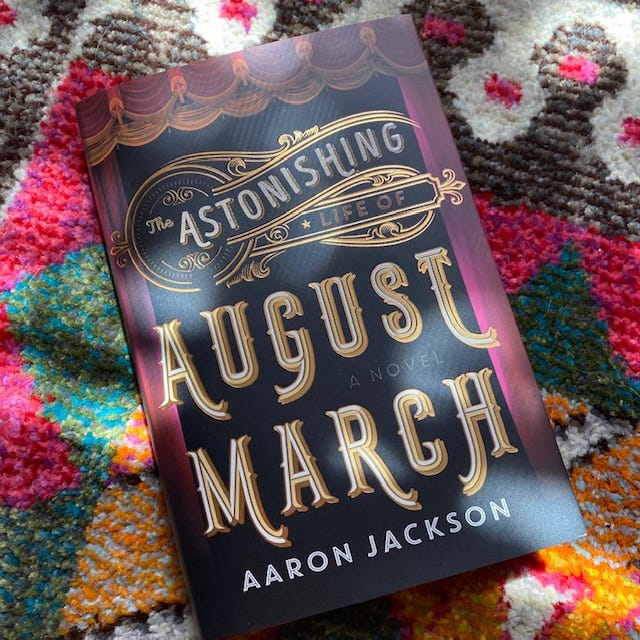 This taut, casually hilarious and wildly inventive novel follows the titular protagonist's life from the day he was born — backstage at Broadway's Scarsenguard Theatre during intermission of a play in the early 1940s. The unwanted and quickly-abandoned child of a rising starlet, August is raised by an elderly laundress and spends his childhood entirely cloistered within the theater. Believed to be a ghost by superstitious actors, he absorbs a highly-developed vocabulary of the dramatic arts while learning little about the world beyond the theater's walls.
Eventually, he's cast onto the streets of postwar New York City, an urchin both worldly and naive, forever chasing the question that haunts him:
Who is it that can tell me who I am?
I absolutely loved this book, more than anything I've read in quite some time, and I tore right through it over the last few days. It's a perfect world to escape into at a moment when we very much need escape. The characters rich with detail and charm, and the plot brisk and entertaining. I cannot recommend it enough.
4) Raise a joyful noise.
I owe this suggestion to the very talented music writer Natalie Weiner, who has a much better understanding of jazz music than I ever will. This four-piece brass quartet from Seattle isn't quite jazz, but it's hard to describe exactly what they are. I kept coming back to the phrase "secular church music", but maybe that's just because I'm not used to encountering brass music anywhere else.
Whatever they are, they're making beautiful, relaxing music. perfect for a Sunday afternoon with the windows open.
3) Be young at heart.
I don't know how I missed Good Boys when it hit theaters in 2019, but it hit HBO's streaming service last week and I haven't laughed as hard at a movie in years.
A buddy-caper comedy that's perhaps a sweeter younger cousin to Superbad, it follows three best friends on the cusp of sixth-grade — the awkwardly self-described "Beanbag Boys" — as they try in vain to recover a drone belonging to one of the boys' fathers before they get in trouble.
Much of the humor is rooted in the characters' innocence and naivete, but it isn't at their expense — it's just belly-laugh moments followed by an "aw, yeah, that is what you'd think at that age!". The young actors are terrific and totally believable, and the payoff is genuinely worthwhile.
2) Slow down for a moment.
Tired of looking out the same window all day long, feeling like you can't go anywhere (because you can't go anywhere right now?) Leave it to the Norwegians to have a solution. About a decade ago, the Norwegian Broadcasting Corporation pioneered the concept of "slow TV" — a real-time, full-length broadcast of a lengthy event such as a cross-country train trip.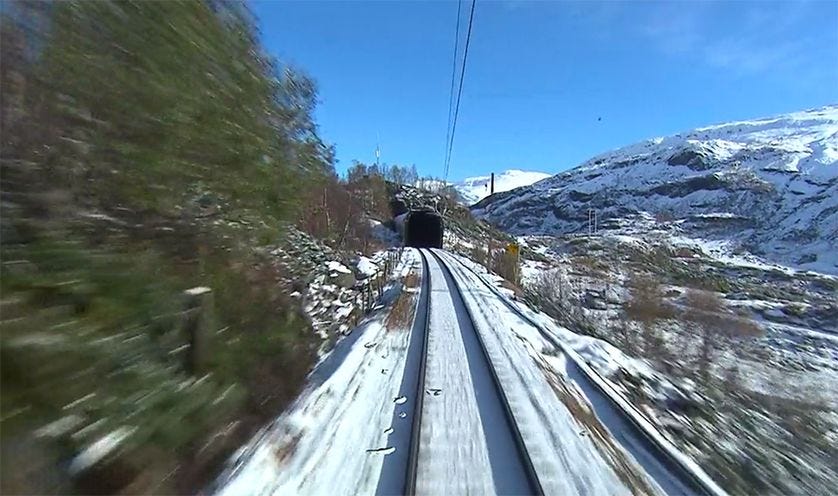 Some of these broadcasts are now available on the streaming service PlutoTV, and I've found it a nice peripheral distraction, something to put on a third screen while I work on two others.
1) Reconnect with your best friends.
I wouldn't leave you to your weekend without some dogs to guide the way, now, would I? You've hung around this long, let's not waste any more of your time.
First up, Chris G.:
Love the newsletter. Friday recipes are always awesome. Here is Reggie absolutely living it up at doggie daycare. She is a girl but named after the great Reggie White.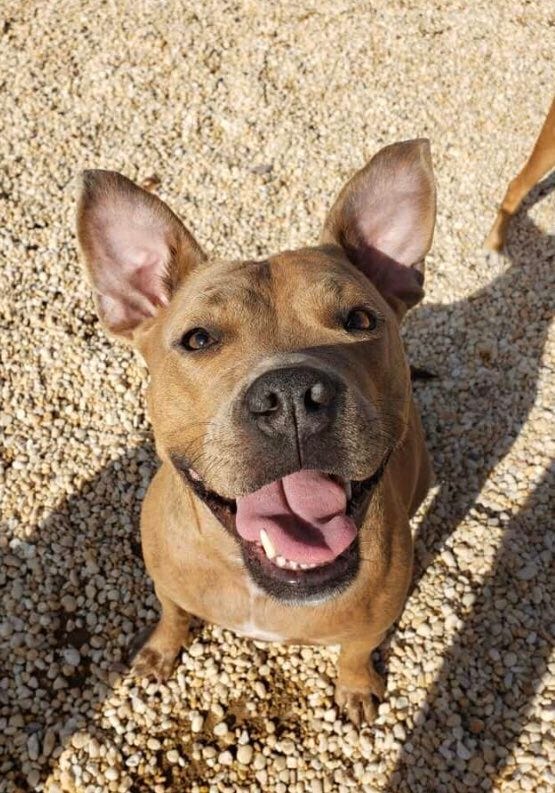 THE MINISTER OF DEFENSE. GOOD DOG.
Next up, Martin F. shares:
I've really enjoyed this newsletter. Here's my family dog, Mookie. We've had him since 2006. Cataracts and glaucoma robbed him of an eye but he's still doing his best.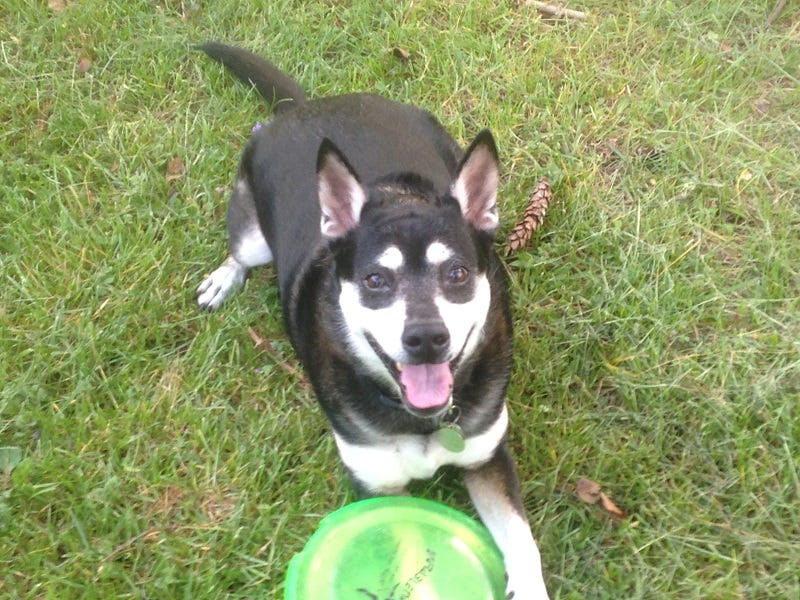 MOOKIE, WE'RE ALL JUST DOING OUR BEST RIGHT NOW, BUDDY.
GOOD DOG.
Finally, Ethan H. / @ChampyChamp shares:
I wanted to share my dog Emmet with your readers (if you'd be so kind). He is a 5-year-old Golden Retriever who still thinks he's a puppy. Please don't let his standoff-ish look in the picture fool you. He shares an enthusiasm unknown to dogkind for people, other dogs, all other animals, dog food, cat food, people food, towels, blankets, and furniture (whether he fits on it or not). He and I think his openness to new experiences and sharing would make him an excellent brand ambassador for the ActionCookbook Lifestyle.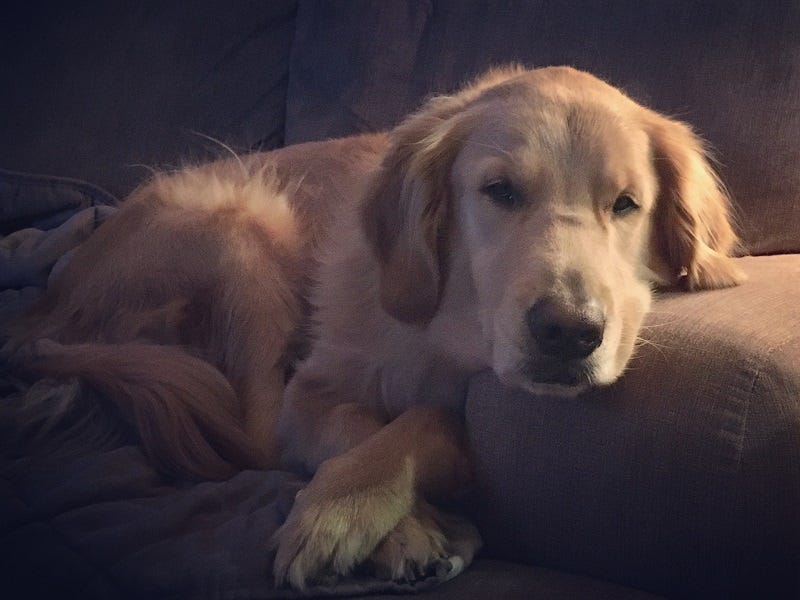 EMMET. GOOD DOG. He, and all the dogs I've had the privilege of sharing here, are excellent ambassadors to this lifestyle. Thanks to everyone for sharing.
And, as always, thanks to you for reading. I hope this newsletter is able to shine a tiny bit of silliness and light into your week, and knowing that people appreciate it brings me genuine joy.
I hope you have a wonderful weekend, and if you're celebrating, a joyous Easter.
— Scott Hines (@actioncookbook)