RECIPE: Savory-os
CHEESY COOKIES THAT ARE IN NO WAY AFFILIATED WITH THE NATIONAL BISCUIT COMPANY
Nabisco's really been getting out over their skis a bit lately with Oreo flavors. Jelly Donut. Chocolate Peanut Butter. Carrot Cake. Strawberry Shortcake. Cherry Cola. "Mystery". They're mad with power, and it seems like there's almost nothing they won't do.
But they won't do this. So it's up to you to step up, take the handoff, and run it in for the touchdown. (That's a football term. There's a game this weekend, I think.)
We're going to combine two existing recipes here, lest I overstretch myself the same way the National Biscuit Company has been.
First? Martha Stewart has a great recipe for Cheddar Shortbread Rounds. You'll need:
2 cups all-purpose flour

1 teaspoon salt

1/2 teaspoon paprika

1/4 teaspoon cayenne

2 sticks unsalted butter

1 cup freshly grated sharp cheddar
Mix the flour, spices and salt in a food processor. Cut the butter into small chunks, and add it, processing until combined. It will not be a dough yet. Add the cheddar, process patiently until it all comes together as a ball. (I screwed up an entire batch by not being patient and thinking I needed to add more butter. You won't. It'll come together.)
Roll the dough out into two logs, wrap in plastic, and chill in the fridge for an hour. Preheat the oven to 350.
While that's happening, let's make some bacon jam. I used this recipe from Delish, modified and simplified slightly. Here's what you'll need:
1 lb. bacon

1 onion

2 cloves garlic

1/2 c. brown sugar

1/4 c. maple syrup

1/3 c. apple cider vinegar

1 tsp. chili powder
Chop the bacon into small pieces. Dice the onion and garlic finely. Cook the bacon in a small pot until the fat is rendered and the bacon crispy. Remove the bacon and drain all but one tablespoon of fat. Cook the onions and garlic until well-softened.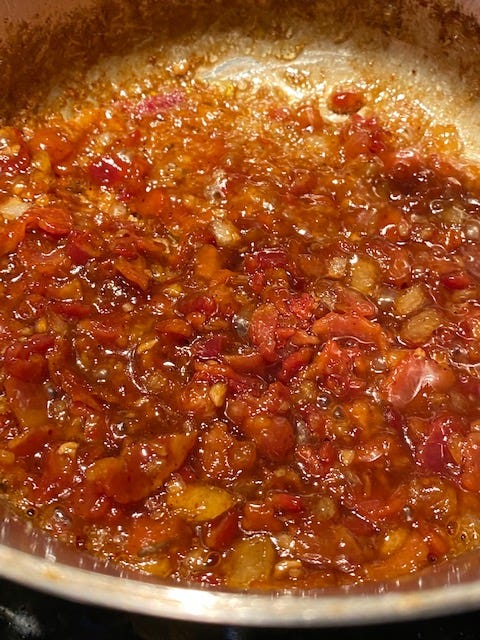 Add the remaining ingredients and reserved bacon and cook on low heat until thickened.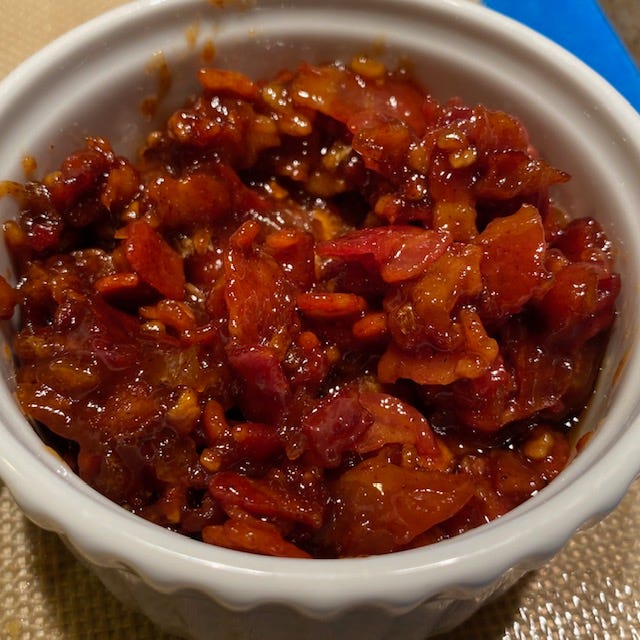 This stuff will go rock-solid in the fridge, I've found, but will loosen back up easily once re-heated. Anyways, back to the cookies. Oven preheated? Good. Slice 1/4" rounds and space 2" apart on parchment or a silicone baking mat. Bake.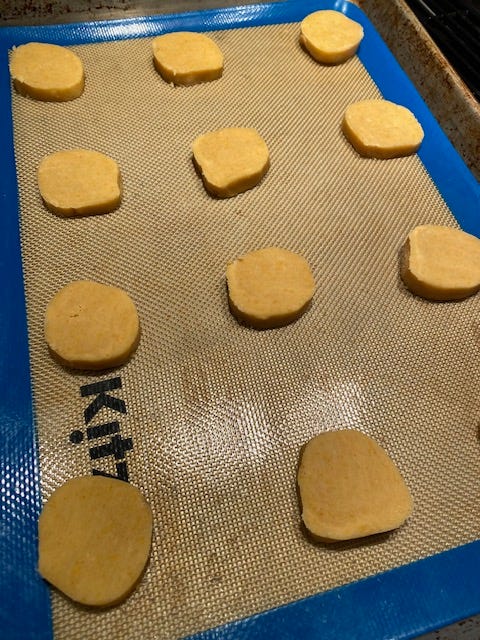 Martha says 10-15 minutes; mine took 20. You'll want some color to them.
Let them cool, add some jam, and behold: the Cheddar-Bacon Sandwich Cookie, or Savory-o.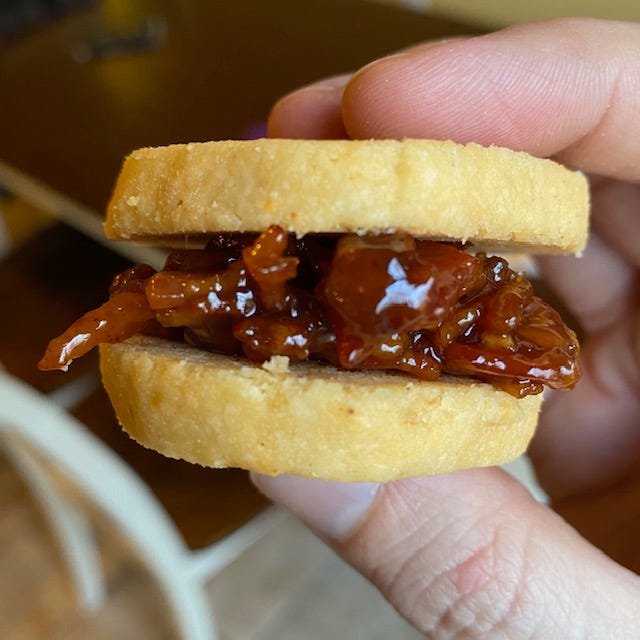 A postscript: these were very tasty, but much more balanced and easier to eat if you just put the jam on one cookie. I was too committed to the Oreo bit to show it that way, though. Your commitment may vary.
— Scott Hines (@actioncookbook)
---
This recipe appeared in the January 31st email newsletter, a Super Bowl preview titled "The Seven Snackurai". If you landed here from somewhere else, do yourself a favor and check that out.