Respecting traditions (or not) on Valentine's Day
The Friday edition, or "Gumbo Is For Lovers"
You've probably already figured this out, but I'm a bit of a sentimentalist. I love holidays and traditions, and occasionally going over the top for them. Thanksgiving? I plan ahead for weeks. Halloween? I'm a sucker for it. Christmas, the 4th of July — if there's a chance to do something because that's the thing you do on this day, I'm all for it.
Heck, it runs in my family.
Valentine's Day, though, is a conundrum. I mean, yes, sure, there are the traditional rituals of cards, flowers, candy, etc — but the important question is, what does one cook for Valentine's Day? What's the traditional dish??
Some people like a big, hearty steak for two, but honestly? It's been wintry and wet all week, and a steak's just not the same if I can't get a good char on it outside on the grill. Others consider eating lobster to be romantic, which is strange to me, because you're crushing a giant ocean bug with tools and spraying juice everywhere. (Nothing's more romantic than having to put a bib on.)
Maybe you'll go out to a restaurant? Get that timeless Valentine's Day experience of being rushed through a table in an overbooked establishment that just wants to get someone else in your seat for that $95 prix-fixe? No, going out is for suckers. We're going to cook at home.
And I'm proposing a new tradition.
I'm suggesting a food that's more in line with the season, something you can cook properly in the warmth and comfort of your own kitchen. Something that doesn't require crushing or cracking or spraying lobster juice everywhere. A dish that itself cares deeply about tradition, ritual and doing things the proper way.
We're making Valentine's Day gumbo.
7) Gumbo Is For Lovers
Now, don't panic. I know I have a habit of needlessly tinkering with foods, and I've also been running a trolling bit for well over a year suggesting that Cincinnati Chili is a regional variant of gumbo. You might think that I'm going to commit some unheard-of sin against regional cooking here, and your fears would be well-grounded.
I'm not doing that. I want to get this right.
My friend Billy Gomila, managing editor at the LSU Tigers blog And The Valley Shook, a native Louisianan through and through, has posted his own gumbo recipe before, a chicken- and andouille sausage-based recipe that I used almost exactly. I qualify "almost", because one of the things that's most difficult about a dish like this — but also what makes it special — is the challenge in getting the right ingredients where you need them. Billy notes, in the linked recipe, the importance of getting proper andouille sausage, and not just something labeled "andouille".
Living in Kentucky, this was a bit of a challenge for me. I explored mail-order options from some of his recommended vendors, but shipping costs were astronomical. I knew I couldn't just use Johnsonville or Trader Joe's sausages, but I wasn't going to pay $50 extra just to have meat shipped to my door. Finally, I settled on picking up some from a good local butcher, and hoped for the best. I accepted the fact that what I made in my Louisville kitchen wasn't going to be the same as something I'd get from a big open pot at a Death Valley tailgate. That's the most special thing about regional dishes like this — you can't fully recreate them outside of their home. You can come close, and you can make something delicious in its own right, but there will always be something missing.
And that's just a reason for me to travel to an LSU football game sometime.
The recipe takes a good afternoon of cooking to make, but it's fun work. The chicken pieces are dredged and partially fried first, then reserved, and the chicken-fat-laden cooking oil serves as the basis of a hearty roux. If you've never made a roux, don't be afraid — as long as you keep a watchful eye on it, constantly whisking, anyone can do it. Just be aware that the changeover from "dark and flavorful" to "nope now it's burned" is fast, and be ready for it.
(I forgot to take a picture before throwing in the onion, celery and peppers)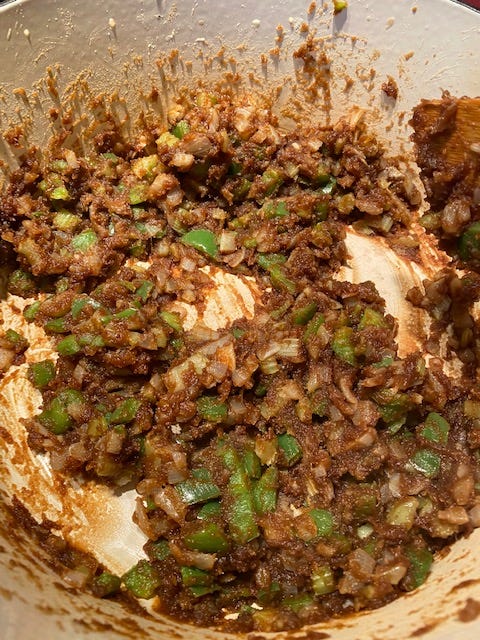 The only change I made from Billy's recipe was adding a bag of frozen okra, because I like okra. I'd say it turned out nice and thick, wouldn't you?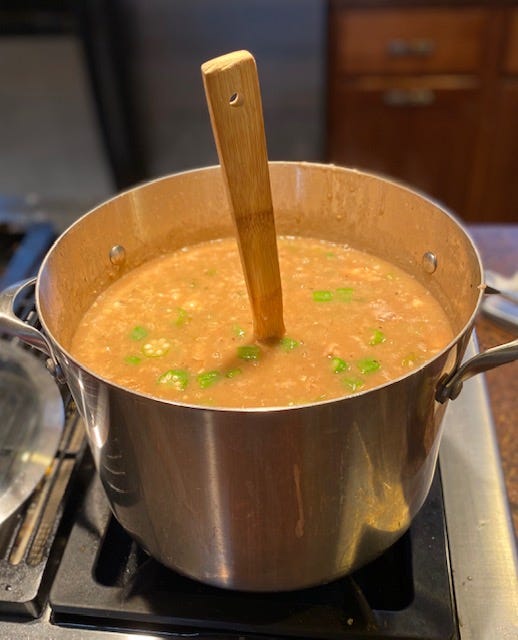 Maybe my rendition of this is authentic, maybe it isn't. It was very good, and it makes enough to feed a small army. Serve over white rice with chopped scallions and hot sauce, and you've got a new February tradition.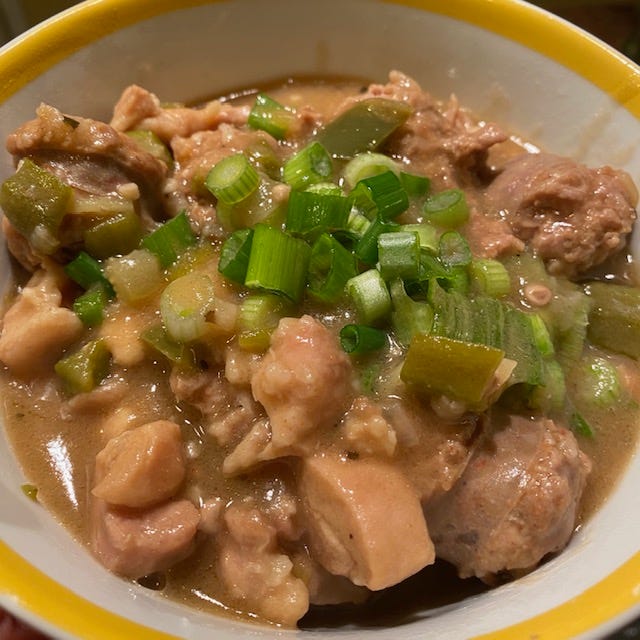 6) Let's stick with this notion of tradition for our drink today.
Valentine's Day is a prime chance to go completely off the rails with drinks — overly-sweet concoctions, headache-inducing champagne cocktails, or just incredibly pricey wines — but we're playing things safer today, and looking again to Louisiana for answers. We're making the most classic cocktail there is: The Sazerac.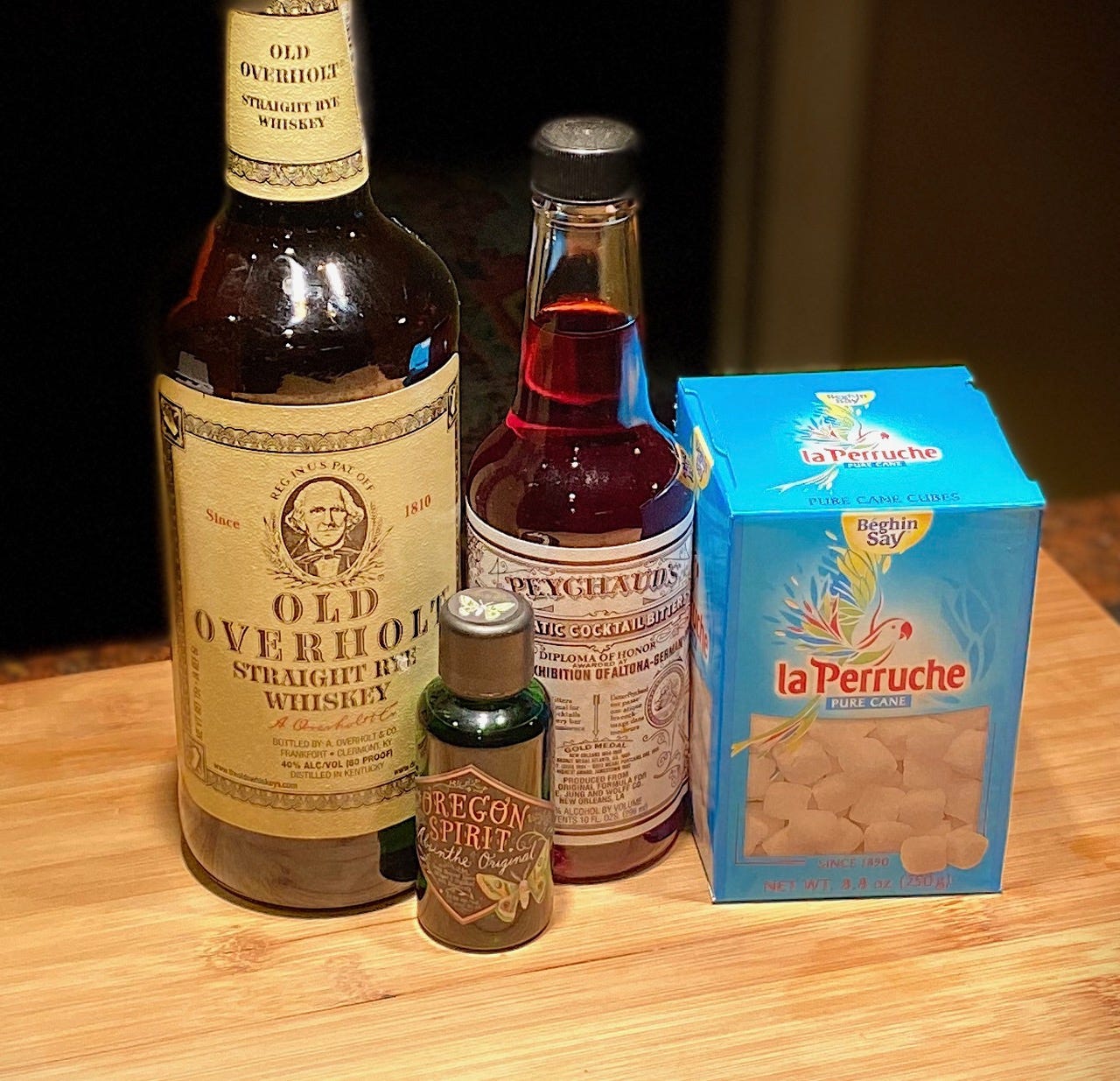 A throwback to the early days of modern mixology, when cocktails were less about showing off fancy ingredients or a bartender's whimsy and more about making questionable spirits taste better, it's a New Orleans classic.
It was originally made with cognac, but is more commonly seen with rye whiskey today. This is a chance for me to make a statement I've made before in these pages, which is that one of the best dollar-for-dollar whiskey purchases one can make is Old Overholt rye, which is around $14 a bottle and is my go-to for simple whiskey drinks like Manhattans, Old Fashioneds and the Sazerac. I mean, look at that label in the picture above. That's your grandfather's whiskey, and I'm not just saying that because of this decorative barrel that sat for decades in my grandfather's house and now adorns my living room.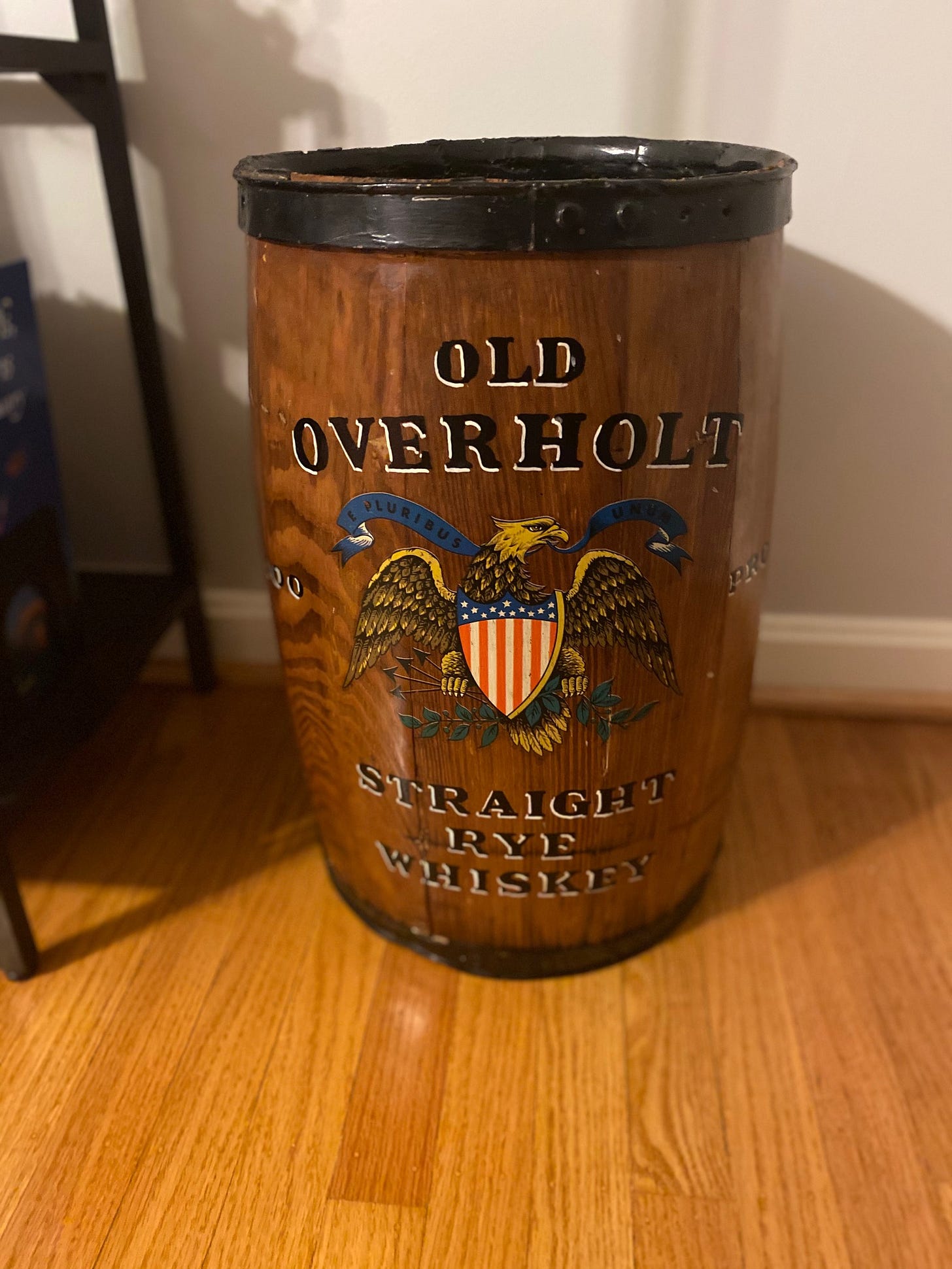 The other ingredients include Peychaud's bitters — this might be the only non-negotiable ingredient in this drink — a sugar cube, and either absinthe or the similarly-anise-flavored Herbsaint, which became the go-to liqueur for replacing absinthe after the allegedly-hallucinogenic spirit was banned the United States, a ban that ran from 1912 to 2007. (Powered by the youthful desire to try anything illicit, I smuggled a bottle back from Europe in college during the ban years. I did not hallucinate, but I did have a terrible night of drinking. I digress.)
Take two rocks glasses. Fill one with ice. In the second, place a sugar cube, soak it with several heavy dashes of bitters, then muddle. Add two ounces rye whiskey. Dump the ice from the first glass, and pour in 1/2 ounce of absinthe or Herbsaint. Swirl it around the glass, then dump it out. Pour the sugar/whiskey/bitters mix into the now anise-tinged glass. Garnish with a lemon twist.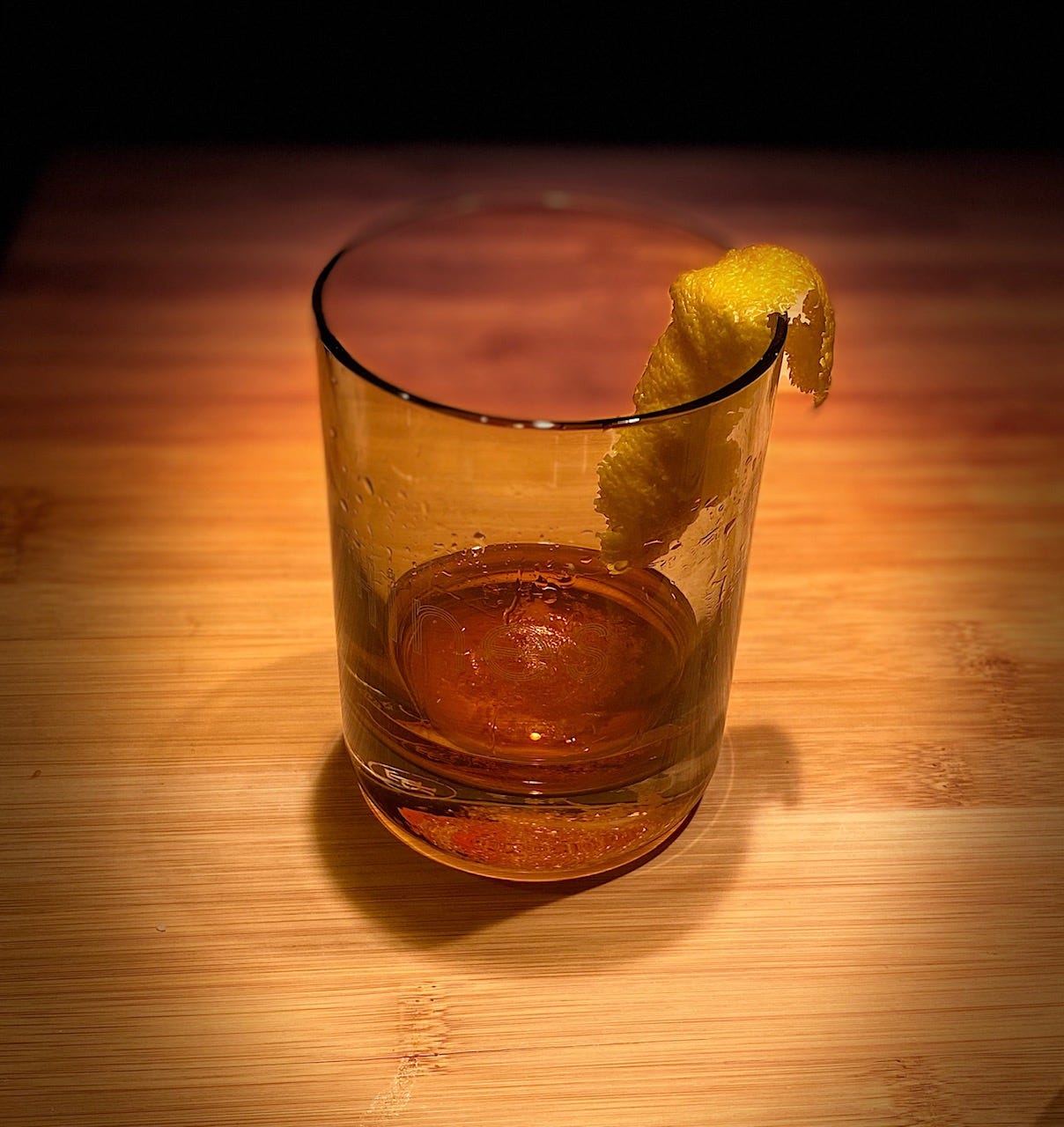 Classic.
5) A romantic comedy with surprising depth and also time travel
Here's a thing about me and movies: I like a solid romantic comedy, but I *love* anything involving time travel. (With that said, I have never seen The Time-Traveler's Wife and am not in any particular rush to do so.)
The 2013 British rom-com About Time takes these two things that I like and applies them in a really unexpected way, delivering a wonderful and emotionally devastating story that's as much about parent-child relationships as it is about romantic love.
Domhnall Gleason (who you may know as General Hux from the recent Star Wars films) stars as Tim, a young man whose father (the always-fun Bill Nighy) reveals on his 21st birthday that the men in his family have the power to travel backwards in time, to previous points in their own lives.
Tim uses this power to correct romantic errors, eventually developing a relationship with Mary (Rachel McAdams, who seems to show up in a lot of these kinds of movies) — but it goes in unexpected places from there and really delivers a satisfying conclusion that I won't spoil any further. You should check it out if you're in the romantic mood tonight.
4) Or maybe you're not.
A good handful of my music recommendations of late have come via my friend Michele (@inthefade on Twitter), including recent favorite Oso Oso and the long-popular-but-new-to-me American Football.
One of the best new finds I've had from Michele is The Sonder Bombs, out of my own hometown of Cleveland, Ohio. They describe themselves (accurately, in my opinion) as a blend of "folksy and fiery", taking a classic emo-pop-punk sound and adding a ukulele played by frontwoman Willow Hawks.
Not feeling Valentine's Day this year? Then maybe you'll like their song "Shitty Boyfriend".
Well I think that you can get over your ex-boyfriend
And I know right now that it don't seem like a likely ending
For the romance novel you both scratched your names into
But I believe in you
3) Dave Holmes, "Party of One"
If you're in my specific Old Millenial / young Xer generational cohort — and I suspect many of you are — late '90s MTV, the last bastion of the teenage monoculture, still holds a close place in your heart. For nerdy, music-obsessed teenagers like me, it wasn't TRL host Carson Daly we identified with, but rather Dave Holmes — an average-looking dude from the Midwest who just loved music and seemed to know absolutely everything about it.
Holmes struck into viewers' consciousness in 1998, when he finished second in MTV's inaugural Wanna Be A VJ competition to late'-90s pop culture oddity Jesse Camp, but impressed producers enough that he earned a longer-lasting and more prominent role with the network than the screeching, bescarfed Slenderman winner.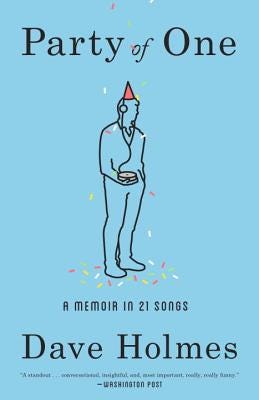 His delightful 2016 book Party of One: A Memoir In 21 Songs recounts his memories of growing up closeted in a Catholic family, finding his way through social awkwardness in school and later at a conservative college, and his success on television, all framed as a mix tape of big hits and obscure hits from his life as a music fan. There's some truly hilarious anecdotes from his time on air, and it's a real reminder of an era that suddenly seems really distant.
2) Good Morning, It's Basketball
This is going to come as a bit of a confession, coming from someone who was a sometimes-compensated sports-adjacent writer for half a decade, but: I have trouble following sports on a day-to-day basis these days, and I don't watch nearly as much as I might make it seem. The demands of having a full-time job, two children, producing a thrice-weekly, award-deserving newsletter and cooking gumbos and Hot Loins mean that I often find myself falling behind on the day-to-day stories of sports that I love.
That's why I've been such a big fan of Good Morning, It's Basketball, former longtime SBNation basketball writer Tom Ziller's paid newsletter that moved to Substack last month. Tom puts out fresh NBA and WNBA content five times a week, and helps me stay in the loop — illuminating the deeper storylines and keeping things interesting for someone like me, a lifelong Cleveland Cavaliers fan who has, for the second time in a decade, gone from rooting for one of the NBA's elite teams to rooting for a comically-bad roster of misfits, has-beens and never-weres worthy of a 1980s comedy film.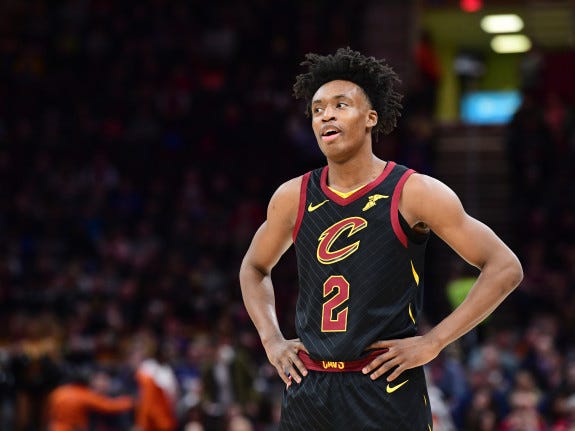 The $5/month subscription for GMIB is a small price to pay to continue appreciating a wildly fun sport I might otherwise start to lose track of. One newsletter a week is free for all, so you can always check it out even if you're not ready to pay yet.
1) The truest companions
Okay, back to Valentine's Day. There's one companion who'll always be there for you, never disappoint you, and won't be mad if you didn't buy them chocolates because chocolate is poison to them and you really shouldn't buy it for them. Let's bring on the dogs.
I've had a huge influx of submissions since last week, which I'm very excited about and would like to see continue — I'm going to parcel them out, so if you've submitted and I haven't run yours yet, I still plan to! You can always submit by DMing me on Twitter at @actioncookbook or by responding to this email.
First up, reader* Lee R. writes in:
Otis just turned 10 this week! (how did this happen) He loves blankets, jumping on the counter, and barking at the mailman.
*full disclosure I have been friends with Lee for 23 years and have personally petted this very good dog on multiple occasions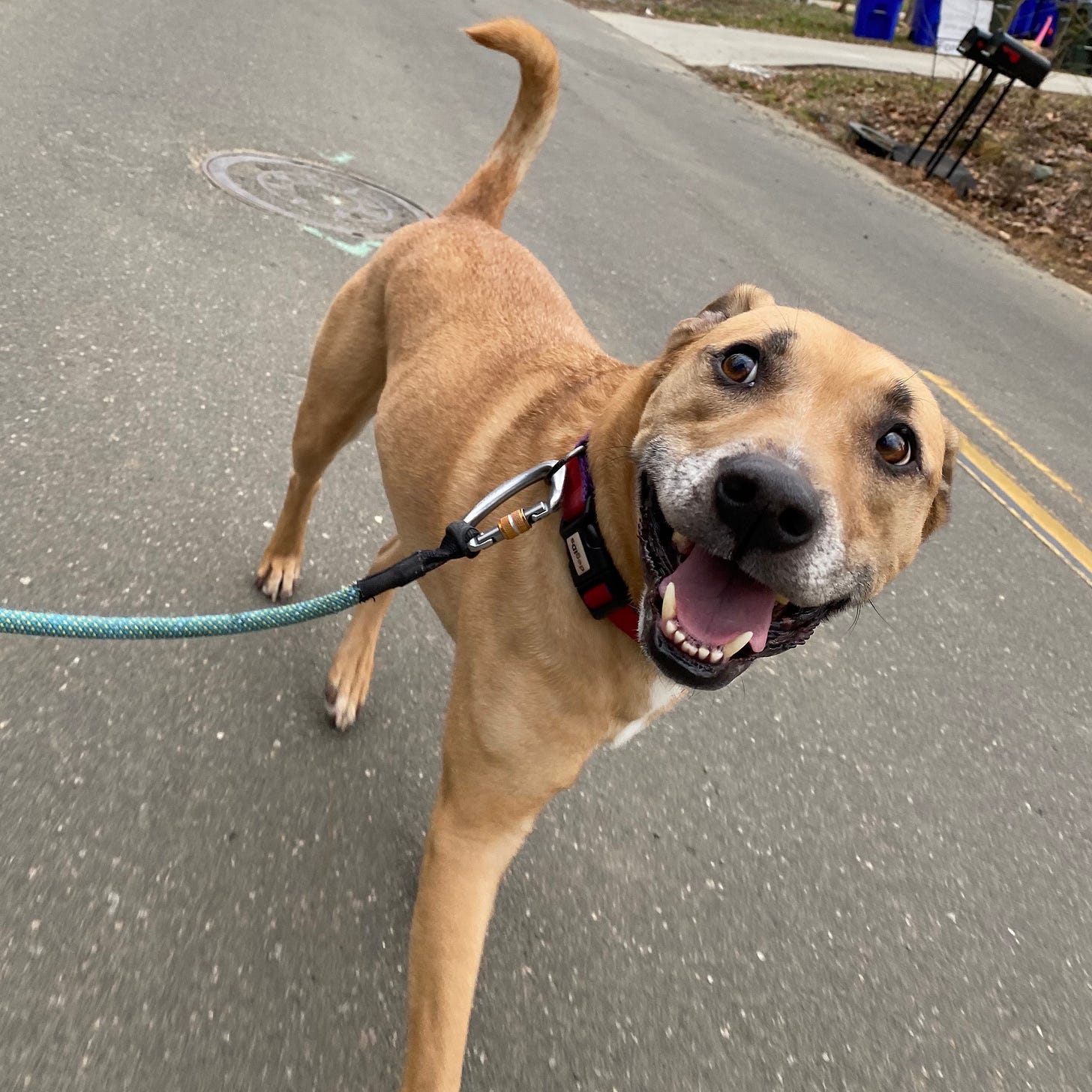 Next up, reader @scouse_eh writes in:
here's my good dog. Her name is Emma and she is 12. She is a very, very good dog. She appreciates belly rubs and rolling on her back (these things are related).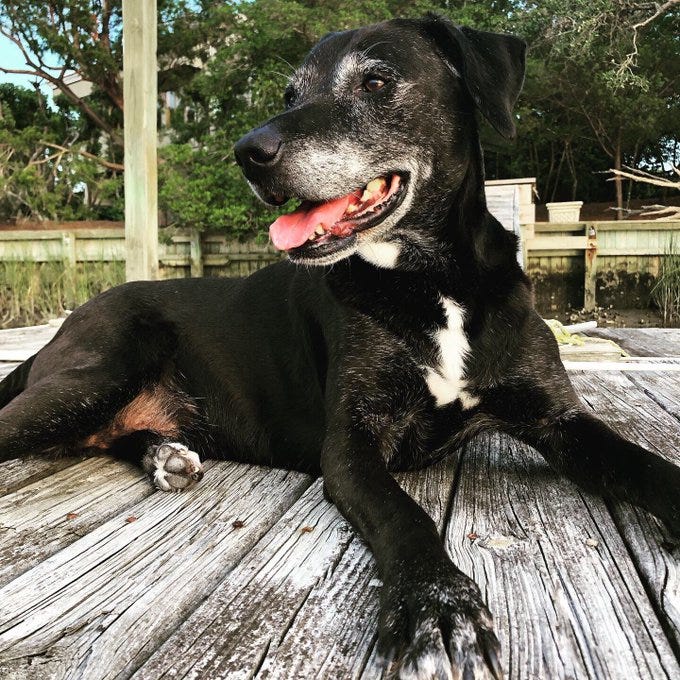 VERY GOOD DOG.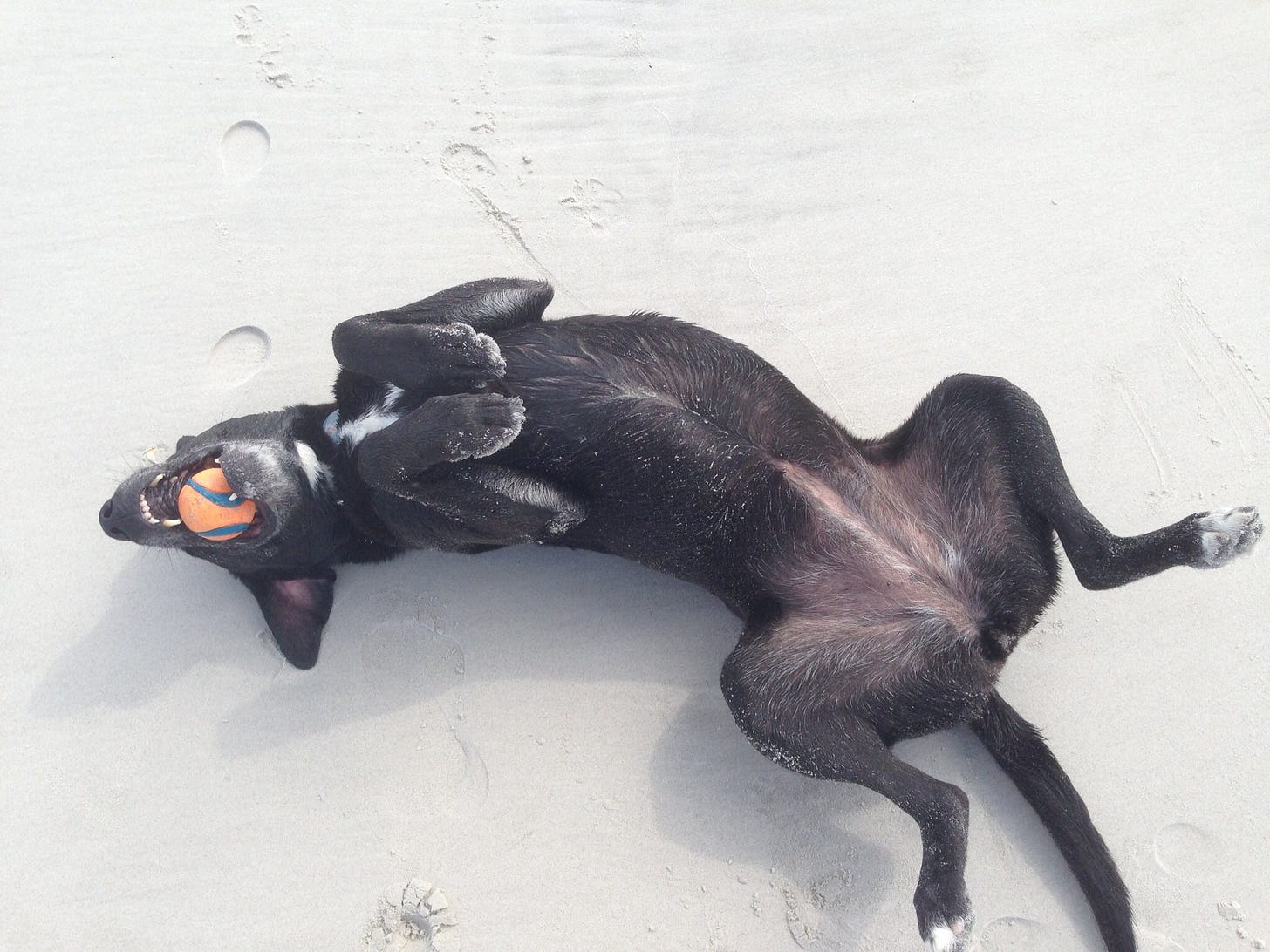 YOU RUB THAT BELLY RIGHT NOW, YOU HEAR ME
Next, we've got reader @SweetFaceAce with an unlikely animal friendship:
Submitting two good boys, Eddie (right) and Archie. Archie is Eddie's best friend. Eddie is Archie's worst enemy.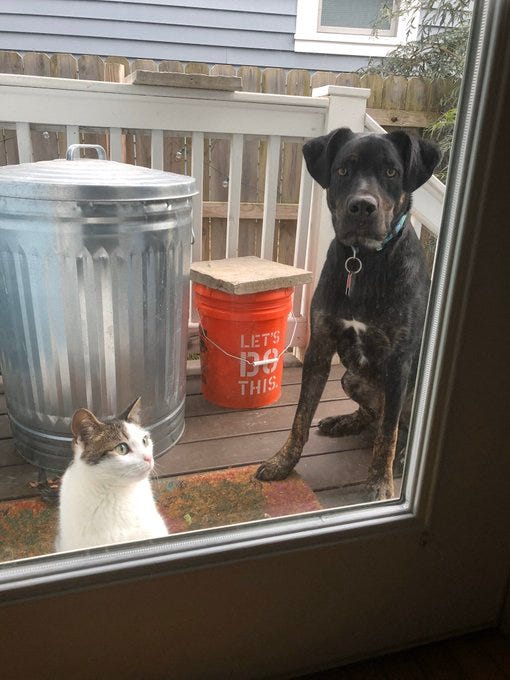 [cat monologue] please for the love of god let me inside
[back to my voice] GOOD BOYS, THOUGH, EVEN IF THEY QUARREL
Reader andrewir keeps us rolling:
This is Lucy our Brittany Spaniel.  She loves human food and ball.  Also, only speeds are 100 and zero.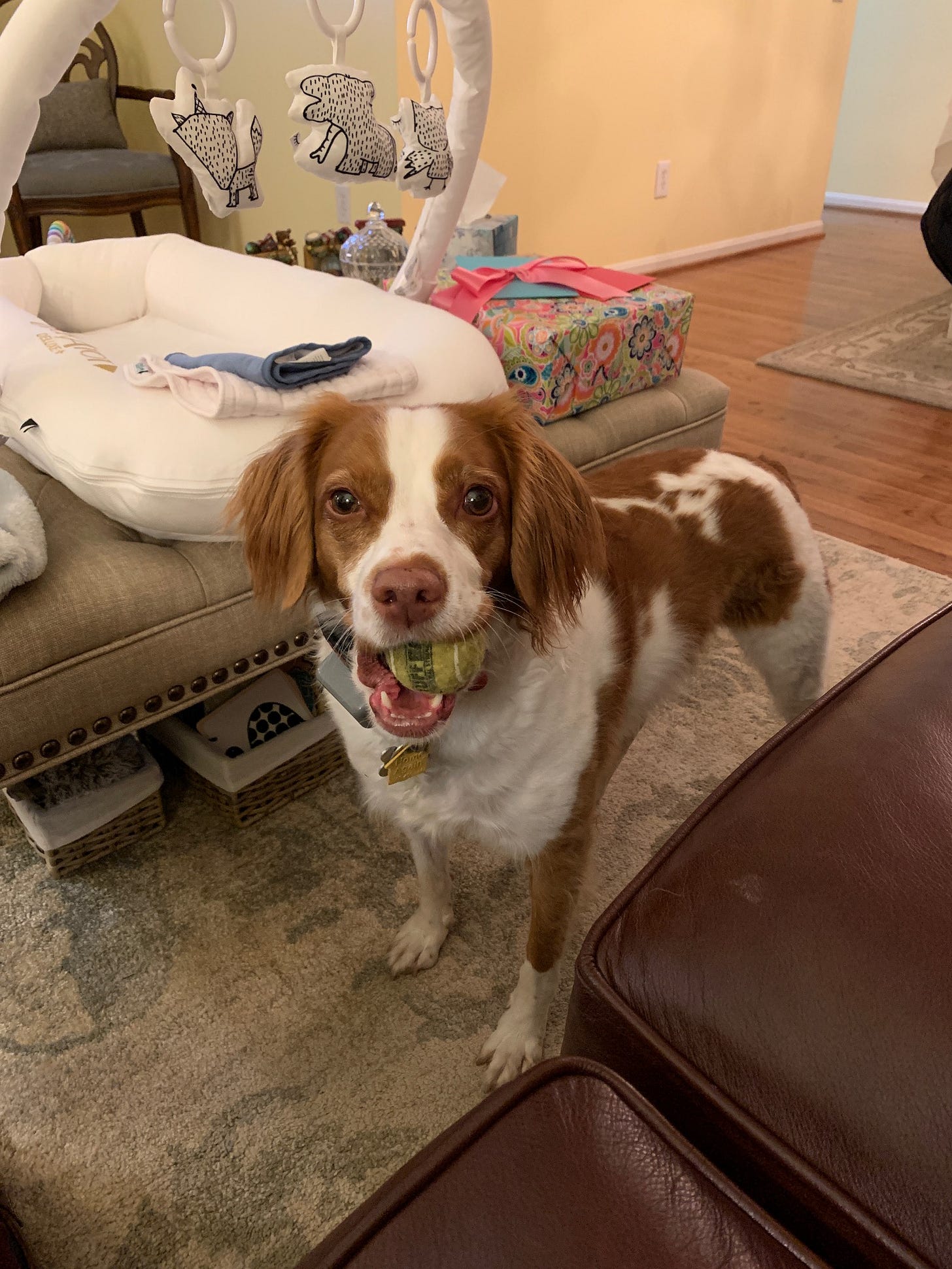 THROW BALL. NO TAKE. ONLY THROW.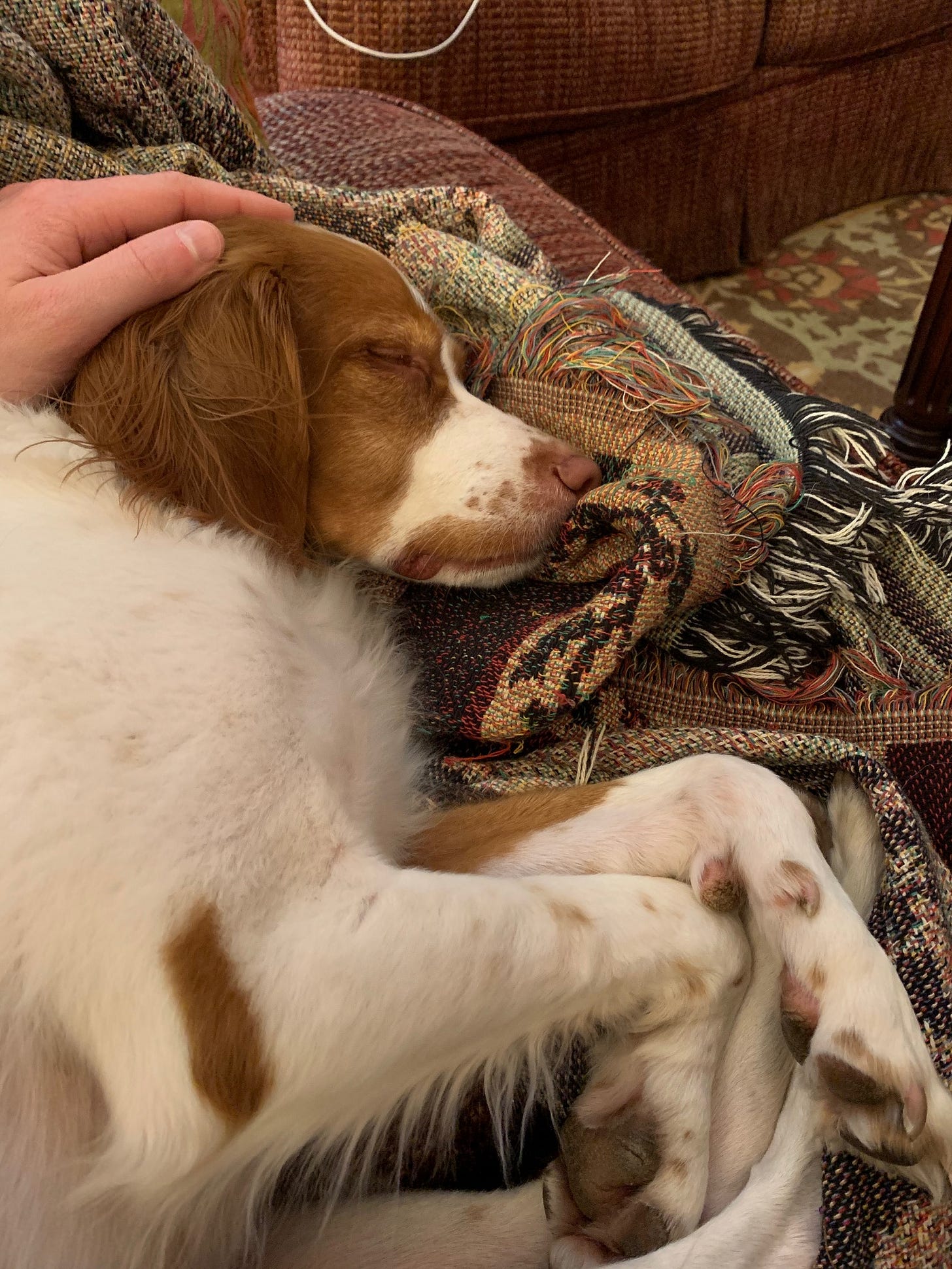 THE GOOD DOG SLEEPS NOW. PET HER WHILE SHE SLEEPS.
Finally, we round out today's selection with @grantnewkirk, who shares:
Here's Scout. She heard you had a newsletter. She woke up just long enough to tell you she wanted in.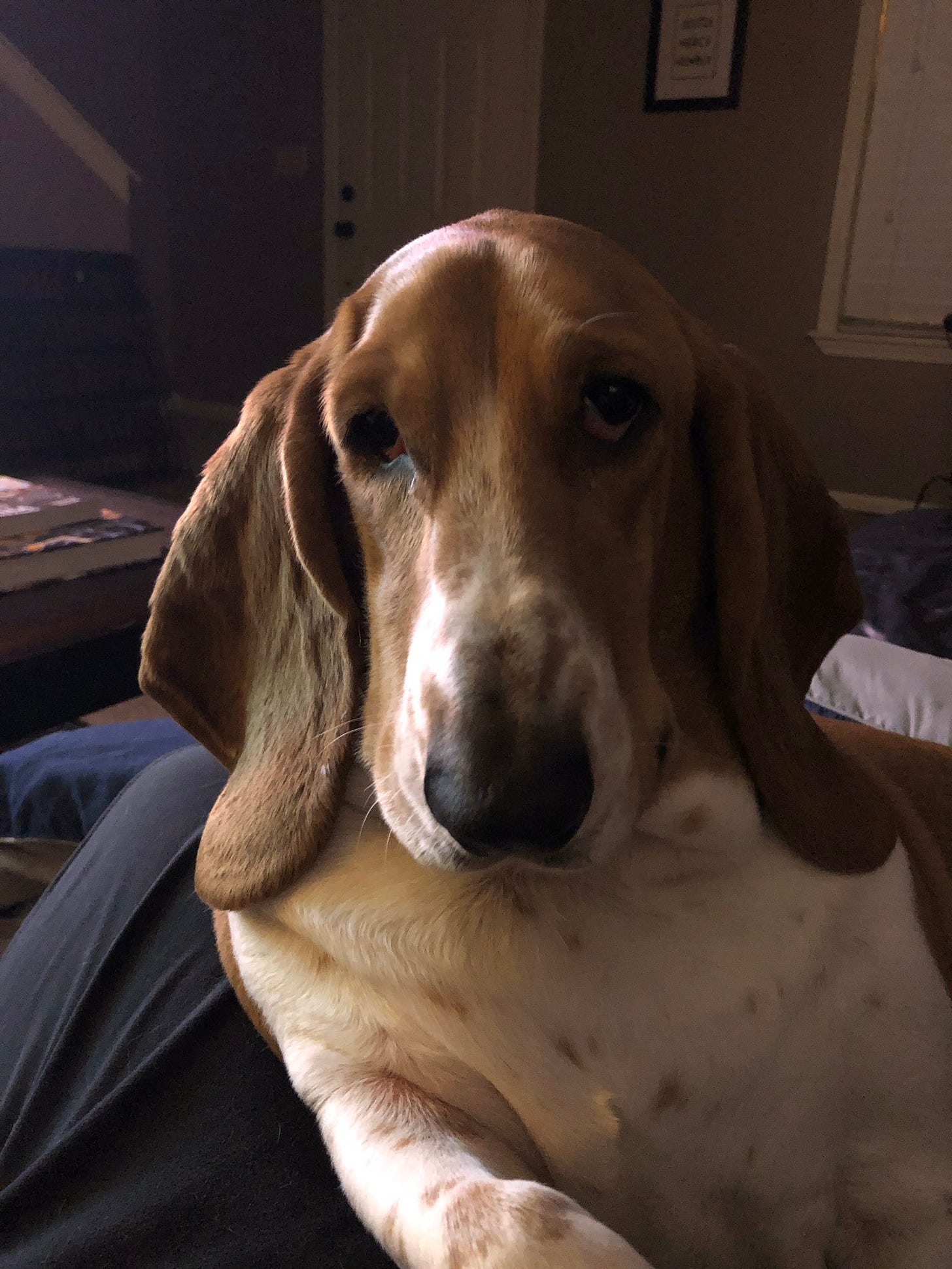 THIS IS A VERY GOOD DOG WHO ALSO WANTS TO TALK TO ME ABOUT LIBERTY MEDICAL.
Thanks to everyone who submitted these very good dogs (and all the ones waiting for subsequent Fridays). If you're enjoying the newsletter? Please share it! The more people that discover this, the better!
I hope you have a Happy Valentine's Day (or just a happy Friday) and a great weekend!
— Scott Hines (@actioncookbook)