Secrets of negotiation and losing at the dinner table
Or, "The Art of the Meal"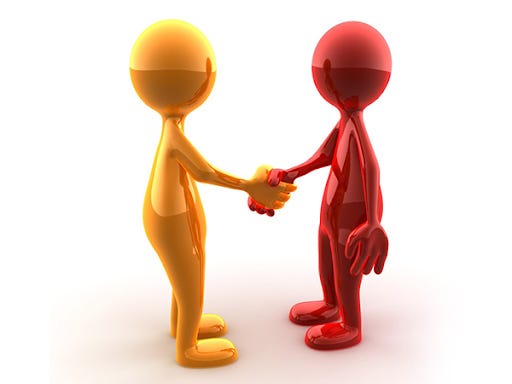 I've never been much of a negotiator. 
Some people thrive on it. They're simply wired differently, and come into any deal-making situation ready to press any advantage, see any angle, exploit any weakness in the position of the person across the table from them. I once witnessed my wife make a car salesman cry when she was 39 weeks pregnant. We left that day with a Honda CR-V for free. They just gave it to us so she'd leave. True story. (Mostly.)
I, personally, am not wired that way. I've always been more inclined to just walk out of a dealership with nothing because "well, the price on the sticker is too much" — not as a hardball tactic, but because of a fundamental lack of that shark instinct. When it comes time to haggle over a car price, a raise, or the sale price of a souvenir in Cancun, I freeze up.
I've been learning, though. Every night, I've been immersing myself in the ultimate shark tank, entering a true octagon of deal-making, facing down a boiler room of—
DADDY WHAT'S FOR DINNER
I think you'll like it, I made—
I DON'T LIKE THAT
You didn't even let me finish saying—
IF I LOOK AT IT CAN I HAVE DESSERT
I didn't say we were having dessert tonig—
WE HAVE ICE CREAM
How do you even know that, you're too short to open the freezer
IT'S BEHIND THE WAFFLES, NEXT TO THE PEAS. THIRD SHELF ON THE LEFT.
[sighs] That's right. Every night at meal time, I enter into a tooth-and-nail, no-holds-barred negotiation with some of two of world's most aggressive boardroom bruisers, a couple of three-foot-tall Gordon Gekkos, a pair of furious featherweight finaglers. I've taken some important lessons from it! These are things I'll be able to apply the next time I have to make a deal in my own life. 
ENTER WITH ENTHUSIASM AND CONFIDENCE
You have to believe that you're going to leave with a successful deal today, even if the odds seem completely stacked against you. Perhaps you're coming in with a really weak hand. It's obvious that your counterpart wants, say, macaroni and cheese, but all you've got is couscous with vegetables. Never betray any knowledge that what you're offering is anything less than a stellar deal for them.
"Hey guys, we've got something really awesome for dinner tonight, I think you're gonna LOVE it!"
If you display anything less than complete commitment at this point, you've already lost.
UPSELL AND REBRAND
Speak their language. Describe what you're offering in a way they'll respond to, even if it's not the way you'd normally describe it yourself. Make an emotional appeal.
"This is really amazing. So, it's called 'couscous', that's like sand that's made out of pasta! You could make a sandcastle in your stomach! Out of pasta!! And peas… uhh, peas make your hair grow faster! If you want Rapunzel hair, you should eat all your peas!"
It is fair to the product to be described this way? Perhaps not. We're not here to worry about the couscous's feelings, though. We're here to make a deal.
WHEN YOUR INITIAL APPEAL FAILS, PERSIST.
If you're being stonewalled, the first thing you need to do is find any small way to break the other party's resistance. A minor concession can turn a protracted stalemate into a construction conversation, and that can snowball into a successful deal.
"I just want you to take two bites. One to see if you like it or not, and one to make sure. That's all I'm asking. Just two bites. If you don't like it after two bites, we can talk about something else."
Don't be afraid to demonstrate how small your ask is.
"See, I took a bite. It's good! Mmmmm!"
[quietly, to self] I wish this were mac & cheese. 
[returning to desperately enthusiastic voice] "I bet you could do that! One bite!"
HOLD SOMETHING BACK
Even if you don't have much leverage, you can't show your full hand at once. Is there something you know that they'll respond to? Don't cede it all at once. Play the long game.
"There might be more cheese in the fridge. It's really hard to say at this point. Why don't you take a few more bites, and then I'll look?"
ASSUME THE OTHER PERSON IS A COMPLETE MADMAN, or, THE REVERSE NIXON APPROACH
Former president Richard Nixon famously employed a "Madman Theory" to international politics, working behind the scenes to cultivate an image of irrationality and unpredictability that would make foreign leaders wary of provoking him, lest they elicit an unexpected reaction.
I'm suggesting the exact opposite of that strategy. 
Thinking conventionally limits you to a single lane of negotiation, an engagement equivalent to 18th-century soldiers lining up in clean formations on the battlefield. If you're only making reasonable offers, you're limiting yourself. Assume nothing. Try anything. Swing for the fences. 
"If you take two bites like I asked, you can help me sweep the floor tonight!"
You're going to need to sweep the floor regardless. Never serve small children couscous. 
"I bet you can't fit six bites in your mouth at once!"
Hey, we took that childhood CPR class for a reason, didn't we?
"I've heard that monsters hate the smell of peas, if you eat them it'll probably keep monsters away tonight."
Sometimes you can just turn one problem now into a different problem later! It's like transferring balances between credit cards.
"If you eat your couscous, I'll let you have some broccoli."
[shrug] I dunno. Was worth a shot.
FINALLY, ADMIT DEFEAT STRATEGICALLY
There comes a point in any negotiation where you've simply got to walk away. You've given away the farm and have almost nothing to show for it. It's a catastrophic defeat, but you've got to save face. You can't let the other party know how much they've won. You have to pretend it was mutually beneficial. 
"Oh, guys, look outside! I think I see a bunny rabbit!"
[quickly shovels food off their plates and onto my own]
"Alright, let's look at your plates and see how you did! Hey, you cleaned up pretty good! Good job, guys!" 
"Daddy, can we have a snack? We're still hungry."
[mouth full of cold couscous] "Ask your mother."
— Scott Hines (@actioncookbook)