The Best That Never Lived Up To It
Remembering the players we were sure would be great.
In 2005, Sports Illustrated ran a cover story on a baseball player who promised to be the sport's next superstar. "Can anyone be this good?", a sub-headline asked, under the blaring banner declaring him "THE NATURAL".
Jeff Francoeur played twelve seasons in Major League Baseball for eight different teams, accruing a career total of 6.7 Wins Above Replacement. That is to say — he added roughly half a win to his clubs' expected 162-game record each year, an improvement roughly analogous to slapping a rear spoiler on a Toyota Celica.
This isn't meant to be an attack on Jeff Francoeur, who is by all accounts a decent person, has a nice career going as a broadcaster for the Atlanta Braves, and, per a reader on Twitter:
So, to be clear: Jeff Francoeur is doing fine. We're not here to criticize him.
No, I want to talk about how expectations can betray any of us.
New stars in sports can arrive on the scene so quickly that it seems like they were always there, and there's a natural temptation to want to identify that moment before it happens. I have a clear memory — though, possibly imagined, it's hard to say — of attending a Cleveland Indians game in the mid-1990s and seeing highlights played on the scoreboard from the team's A-ball club. They showed a player I was certain was going to be the next Mark McGwire, a lanky slugger launching moonshot home runs with ease.
To be fair, Russell Branyan — the slugger in question — did hit nearly 200 home runs in his Major League career. He also batted .232, and struck out in 38% of his at-bats. My enthusiasm may have been premature.
I solicited this question on Twitter last week, though, and I'm far from alone in thinking an athlete was going to be The Next Big Thing and ending up disappointed.
You can wade through the hundreds of responses yourself, but a few names popped up repeatedly:
Freddy Adu
When Freddy Adu signed with Major League Soccer's DC United in 2004, he was billed as the future of American soccer, the player who was going to launch this country onto the world stage on a sport we've always lagged behind on. He was dubbed the next Pele.
He was 14 years old.
He left MLS after a few seasons that didn't live up to that impossible hype, and bounced around teams across Europe and South America.
(The most shocking thing to me is realizing that Freddy Adu, right now, is only 30 years old.)
Marcus Camby
Playing for six teams over a 17-year NBA career, Camby led the league in blocks four times, was named to multiple All-NBA defensive teams, and even won Defensive Player of the Year. He was by no means a disappointment, unless you remember what it felt like watching him play at UMass. Playing on a team that would launch future Memphis and Kentucky head coach John Calipari's career to greater heights, Camby led the "Refuse To Lose" Minutemen to a Final Four, setting a NCAA tournament record for blocks in the process.
It was no shock when he was drafted #2 overall in the 1996 NBA draft, behind only Georgetown star Allen Iverson.
He was drafted ahead of Ray Allen, Steve Nash, Peja Stojakovic and Kobe Bryant.
Corey Patterson
Back when the Cubs didn't have a 21st-century title to their name and were just generally dull and shitty, Patterson was the Next Great Hope at the corner of Waveland and Sheffield. He earned the always-tantalizing title of "five-tool player" with a stellar run through the Cubs' minor league system, promising to hit for average, hit for power, run, field and throw like a superstar.
He never hit over .300, only cracked 20 home runs once, and never won a Gold Glove. He did steal 45 bases in 2006… for Baltimore, after the Cubs had finally given up on his promise.
Vince Young
We'll always have the greatest game ever played, and he'll always have The Cheesecake Factory.
Sebastian Telfair
It's hard to explain the hype around Sebastian Telfair if you didn't follow it at the time, but the NBA in the early aughts was hungry for more star power. Shaq and Kobe were winning titles in Los Angeles, but it still felt like there was a massive void post-Michael Jordan. One player who seemed like he might fill that void was an undersized point guard from Abraham Lincoln High in Brooklyn.
He dazzled from the start, leading his high school to three city championships and one state title, building an intense media buzz with his seemingly-NBA-ready handles and family ties (as a cousin of NBA star Stephon Marbury).
He first committed to play for Rick Pitino at the University of Louisville, before deciding to go straight to the pros, the same way one of his good friends and fellow rising stars would (more on that in a second).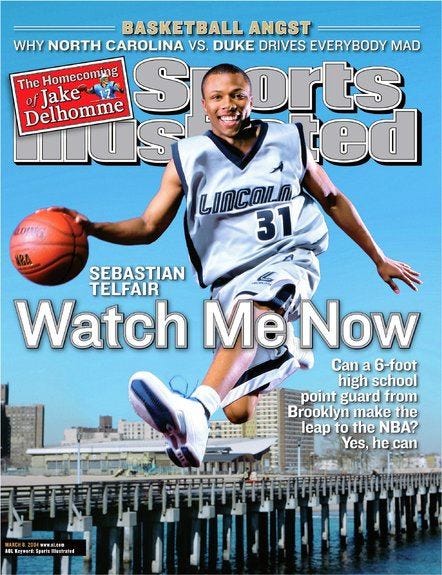 And it… it just never happened. That's what feels so strange about so many of these stories — there's not a tragic injury cutting a bright career short (or worse: a few people mentioned Len Bias, which is a different discussion altogether). By and large, the players in this discussion didn't flame out spectacularly — and in many cases they had perfectly decent careers. It just never came together as a whole, and looking at the stat sheets a decade or two later, it can be hard to wonder what we saw in the first place.
Why do we do this to ourselves? Why do we get our hopes up that any unproven player is going to be great, when they so often fail to deliver on that promise? Why do we want to believe?
Because sometimes it pays off.
— Scott Hines (@actioncookbook)
---
Reminder to catch up on this week's episode of The Seventh Circle Podcast, WELCOME TO ATHENS, where Amanda Mull, staff writer for The Atlantic and a Bulldogs fan so dyed-in-the-wool she's got an Uga in her family, joins us to talk about Georgia football's 39-year title drought and many painful moments during.
We'll follow that up on Sunday night with another fresh episode, touching on one of my own personal favorite topics: the misery of Michigan Wolverines football.
Thanks for reading, thanks for listening, don't forget to rate and review the podcast and tell all your friends about this newsletter!