"The Browns Are Back" is back!
A personal history of believing this every dang time.
If you're a casual viewer of the NFL, or perhaps just a fan of another team, you might have been disappointed by the Cleveland Browns' performance yesterday.
If you're like me — someone who's been a fan of this team their entire life — you've been disappointed by this team before. Sure, the drumbeats of optimism were much louder this offseason, with the star-studded team that John Dorsey has assembled in Cleveland widely predicted to compete for a playoff spot. But what if you've been hanging on this team for decades? There have been plenty of times I and my fellow Browns fans have gotten at least somewhat excited that the tides were turning in our favor.
To that end:
A Long But Not Exhaustive List Of Times I Have Convinced Myself That The Cleveland Browns Were Back:
1999: The Cleveland Browns return to the NFL after a three-year hiatus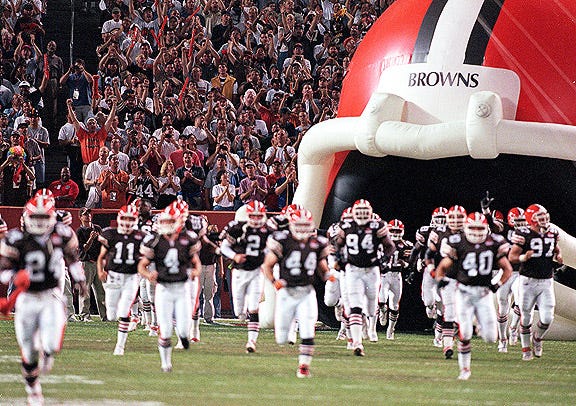 Following legendary scoundrel Art Modell's underhanded relocation of the storied, beloved and well-supported franchise to Baltimore, the NFL awarded the city of Cleveland an expansion franchise. We came back with high hopes — a big rally featuring homegrown television star Drew Carey, a spiffy new waterfront stadium, and a #1 overall draft pick quarterback in University of Kentucky standout Tim Couch. The Browns were back!
Were they back? No. They lost their inaugural game to archrival Pittsburgh 43-0, the first of eight straight losses to open an eventual 2-14 season.
2001: The Browns hire Butch Davis away from the University of Miami.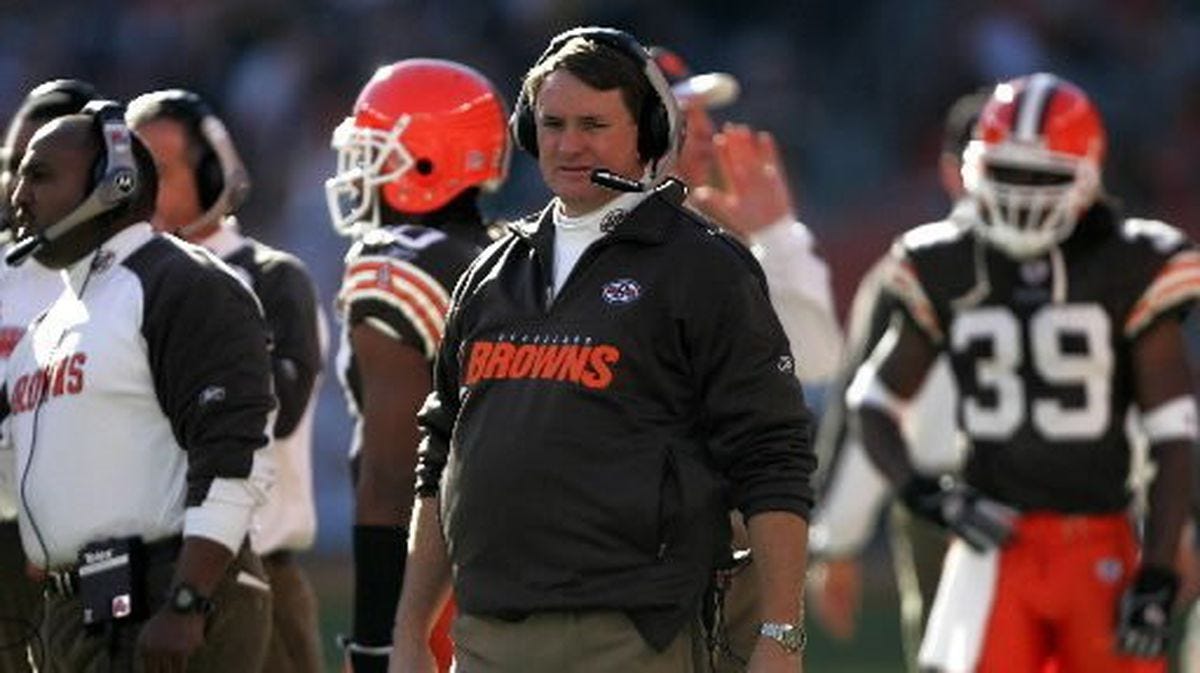 Okay, now we've got a real head coach. Chris Palmer? That guy had no personality and no resume. But we just got a guy from The U. He's gonna turn this team around. The Browns were back.
Were they back? Well, after five wins in two seasons under Chris Palmer, Davis led them to a 7-9 record in his first season (one they could've made the playoffs in, if not for a terrible officiating moment), and a 9-7 record the next year that garnered the revived franchise's first playoff appearance.
So they were back? No, they blew a 27-14 4th-quarter lead to the Steelers in that playoff game, Davis proved a terrible GM and he quit on the team in the middle of his fourth season.
2005: New personnel, winning pedigrees.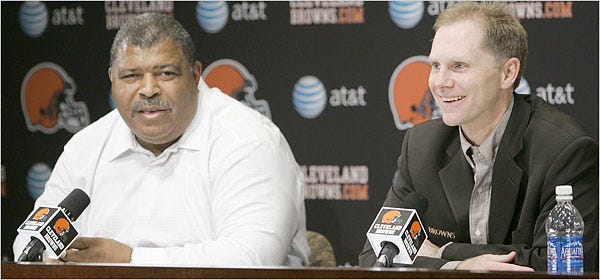 Before hiring a new head coach, owner Randy Lerner hired a GM with some credentials — Phil Savage, who as director of player personnel in Baltimore, had been involved in the drafting of Ravens stars such as Ed Reed, Ray Lewis and others. Then they hired a coach with some resume material too — Super Bowl-winning Patriots defensive coordinator Romeo Crennel. They picked up a veteran QB in Trent Dilfer and drafted a hotshot receiver in Braylon Edwards. The Browns were back.
Were they back? No. Crennel went 24-40 in four seasons in Cleveland. Braylon Edwards became the first player to make the Pro Bowl despite having hands made of actual stone. Trent Dilfer turned out to be Trent Dilfer, and Phil Savage's biggest highlight was responding to a fan's critical email by saying "go root for Buffalo, fuck you."
2007: A Magic Season!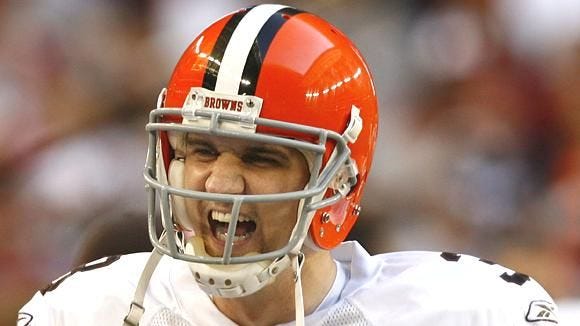 Behind surprise starting quarterback Derek Anderson's Pro Bowl season and major contributions from running back Jamal Lewis, the aforementioned Edwards, and tight end Kellen Winslow II, the Browns rallied to a shocking 10-6 record. The Browns were back!
Were they back? No, they missed the playoffs despite the 10-6 record, then dropped to 4-12 the next season. They would not win more than five games in a season again until 2014. Derek Anderson had a game where he went 2-17 for 23 yards. Winslow is in prison.
2009: The Browns hired "The Mangenius" from New York! 
Eric Mangini, lauded for his early performances with the Jets and immortalized in an episode of "The Sopranos", was going to bring them back.
Did he? 
No.
2010: Okay, what about bringing in Super Bowl-winning Packers coach Mike Holmgren as team president?
Nope.
Hey, I think you forgot to mention when they drafted Brady Quinn from Notre Dame.
I did not forget.
Anyways, they traded Quinn to Denver for running back Peyton Hillis.
Yep! Hillis had a 1100-yard rushing season in 2010, and made the cover of Madden '12.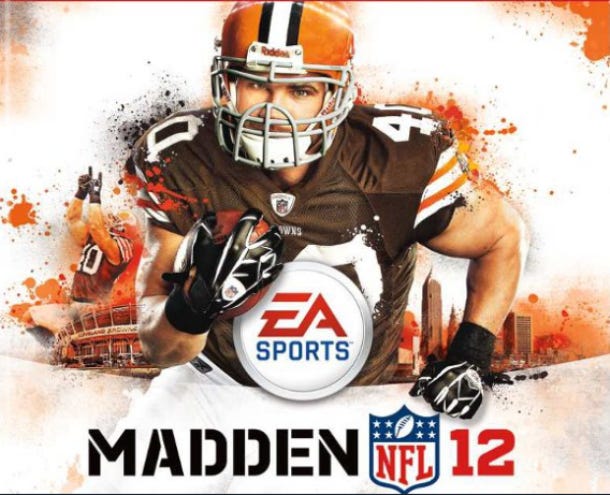 So, the Browns were back?
Nope! Hillis injured his hamstring twice the next year, and never matched that performance again.
2012: New ownership! A culture change! This is what we need!
The Lerner family never delivered a real winner to Cleveland, but now we've got a real chance to start over. New ownership! This guy's committed to winners! He was a part-owner in the Steelers organization, and he's got tons of money! The Browns are back!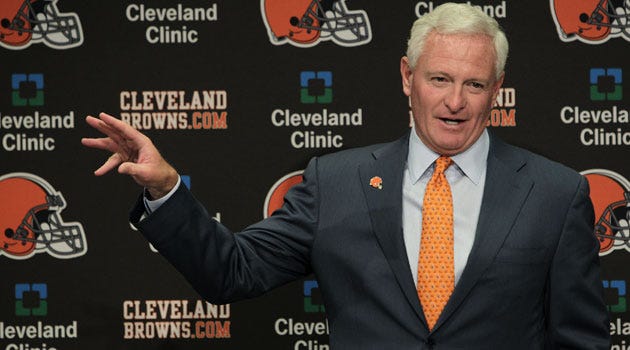 Were they back? Shortly after buying the team, new owner Jimmy Haslam was revealed to be under federal investigation for defrauding customers of his Pilot / Flying J chain of truck stops.
2013: A Hometown Hero!
After an injury to terrible starting quarterback Brandon Weeden, a local kid got an unexpected shot: Brian Hoyer, born in nearby Lakewood, stepped in in relief and led the team to three straight victories. What a story! The Browns are back!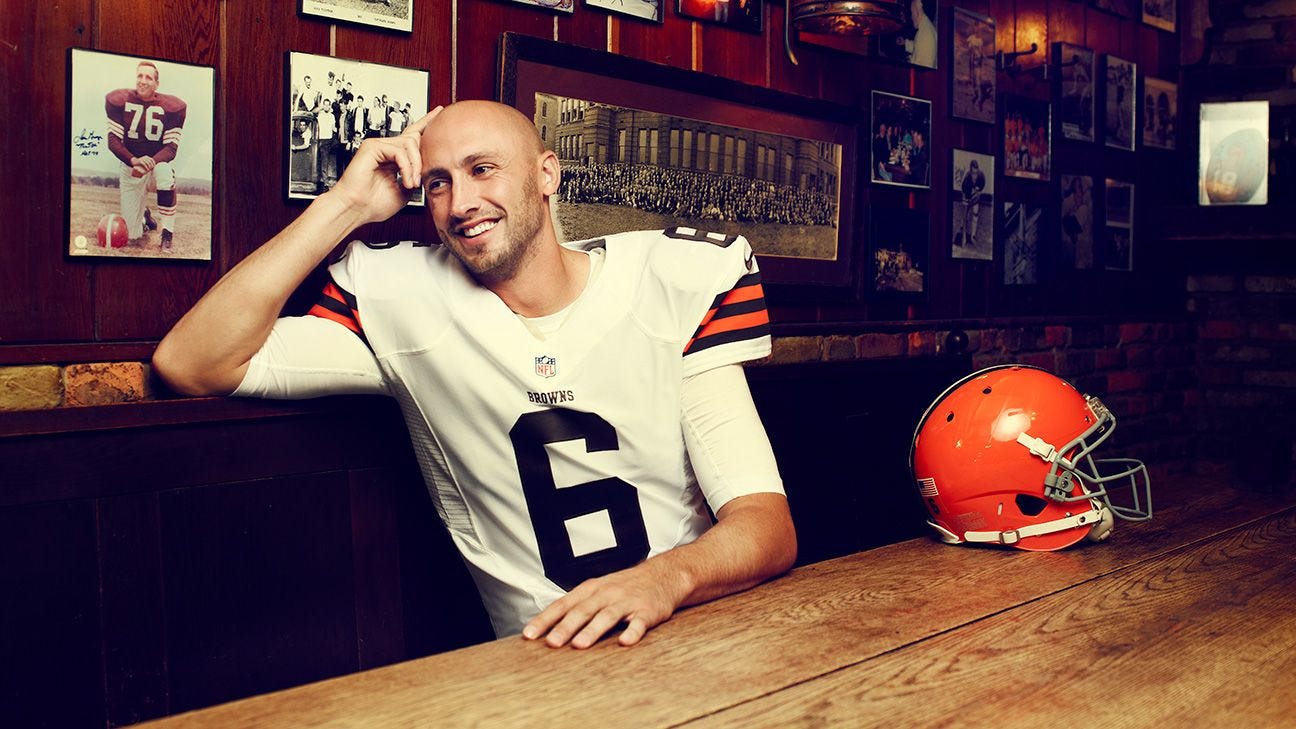 Were they back? Hoyer suffered an ACL injury in the third game, missed the rest of the season and the Browns lost 10 of 11 from there. He would be the starting quarterback going into 2014, but...
2014: The Browns draft a Heisman winner!
I want to be absolutely clear about this: I wanted them to draft Teddy Bridgewater. I was in Radio City Music Hall that night, and these guys were sitting behind me.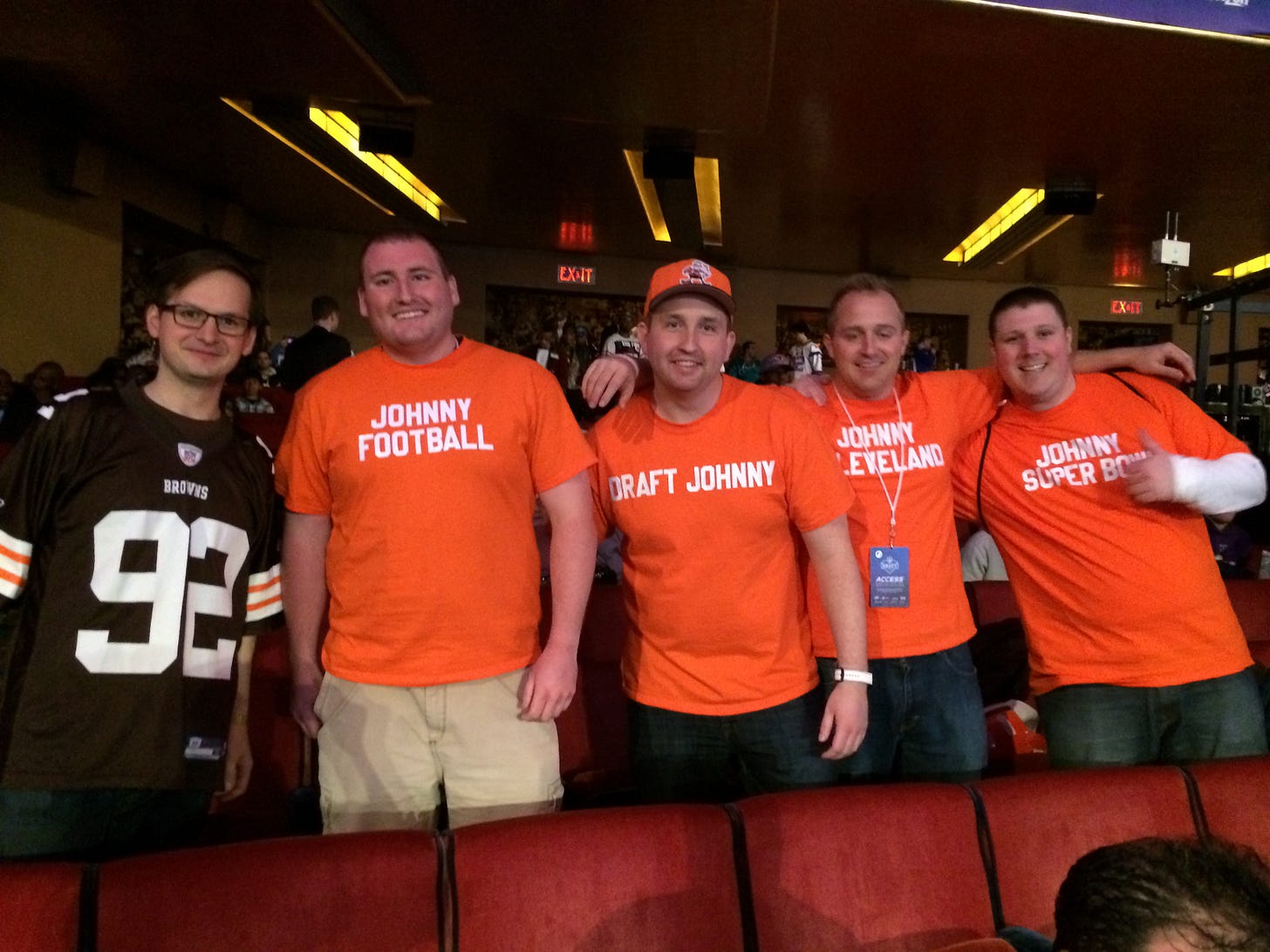 Let's just move on.
2015: Nope.
2016: Noooooope.
2017: No and sixteen.
2018: Maybe?
2019: THE BROWNS ARE BACK, BABY. Loaded with talent. Second-year sensation Baker Mayfield. All-pro receiver Jarvis Landry. Near-1,000-yard rusher Nick Chubb. A fierce defensive front. THE BROWNS ARE BACK.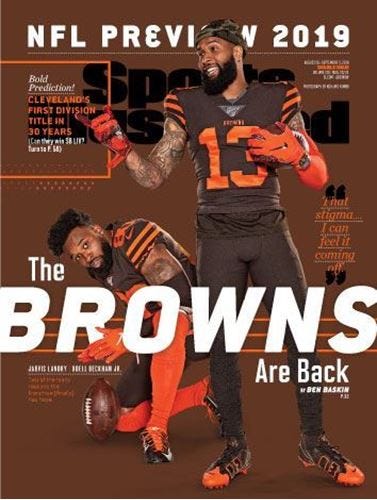 ---
Normally this is where we'd tease a new episode of The Seventh Circle Podcast, but in light of the [The Browns Being Back] being back, we're instead going to give you a chance to catch up — we've reposted our first episode, WELCOME TO CLEVELAND, where I give a lengthy personal history of how Cleveland teams have scarred me, and how I swore I'd never pass this on to my kids.
Oops.
Regular programming will resume next week. Thanks for reading, listening, and supporting The Seventh Circle.
— Scott Hines (@actioncookbook)