The day the system blinked
December 5th, 2009, and the time college football almost got a new challenger.
So many things had to go wrong for this to go right. 
The system wasn't designed to allow an outsider in. I don't just mean the specific, convoluted system that was in place that day, but college football itself. The sport has never been inclined to accept new members of its elite. 
The most American and capitalistic of sports, college football's charm rests in no small part on the idea that, theoretically, anyone can compete. With 130 teams playing in the same set of rankings, there's a wide-open field of competition that suggests even the smallest school might get a shot at a title. The reality lies in the fact that this field is anything but even. As in most things in life, the elite have more resources, more doors open to them, more chances to falter but recover — they even start with the tangible advantage of being ranked before the season starts. A preseason top-10 ranking is inherited wealth; you may have to work to do something with it, but you won't be working nearly as hard as someone without it striving for the same goal. 
In the last 30 years, college football has accepted only three new champions. In 1990, the Colorado Buffaloes snuck in a split title that included a win enabled by a famously egregious officiating error. That season felt like a fluke at the time and that feeling has only grown in the ensuing decades. In 1993 and 1996, the Florida State Seminoles and Florida Gators became the last two teams to join the title ranks, something that almost feels like a market correction, an erasure of the historical oversight of the state of Florida not producing winners in a sport it was practically designed to succeed in. 
The systems were rickety, and before that, they didn't exist. A champion would be declared by collective fiat of a group of sportswriters who likely didn't watch every game. For a time, they ignored the bowl games completely, allowing their decisions to be immediately thrown into question if a "champion" faceplanted in Pasadena or New Orleans. There was the Bowl Coalition and then the Bowl Alliance, compromised attempts to bring some order to the system and allow #1 to face #2, but only if it didn't screw up the games already planned. Then there was the Bowl Championship Series, a 1990s vision of futurism where "computers" would be added into the mix and every major conference finally agreed to play along. In its first 11 years, the system produced controversies, but few surprises in who arrived at its final stage. Tennessee. Oklahoma. Ohio State. USC. Florida. LSU. The system was still working, taking the hopes of over a hundred teams and whittling them down to the same couple dozen it always did. 
On December 5th, 2009, the system blinked. The doors almost opened.
The names at the very top of the rankings through the 2009 season were bold-faced and familiar: Florida, winners of two of the three previous national titles under Urban Meyer. Texas, perennial superpower and recent champion under Mack Brown. Alabama, gearing itself up to full Death Star capability in the third year of Nick Saban's return to the college game. Starting in Week 3, these three held down the top three spots in the polls for the remainder of the regular season. 
Upstarts were lurking around the edges, though.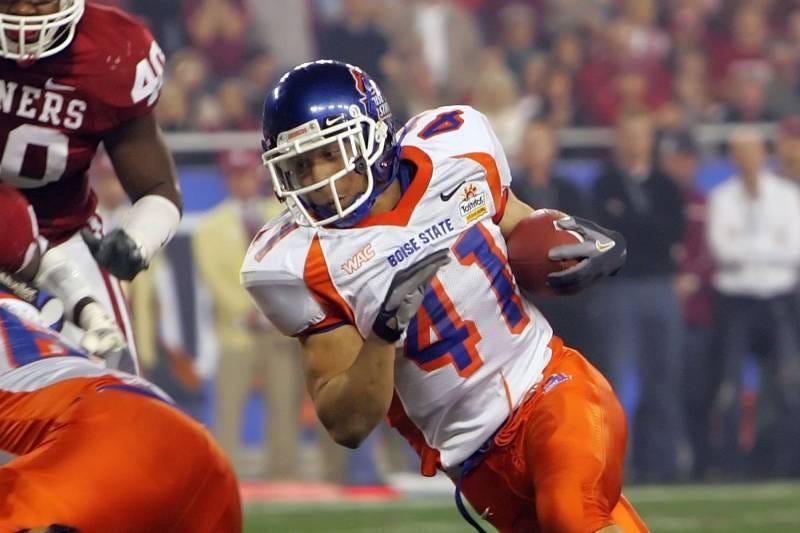 The Boise State Broncos have rarely done anything but win, working their way up from junior college status to Division I-AA, eventually joining FBS only in 1996. They faced obscurity so dire they employed an unheard-of visual gimmick to draw attention to their seeming backwater. They'd burst into the wide public consciousness with their stunning, back-and-forth, trick-play-fueled victory over Oklahoma in the 2007 Fiesta Bowl in what many consider one of the greatest college football games ever played. They were held back only by a classic conundrum — no one wanted to play them, and they'd be faulted for not having played anyone. 
Texas Christian University had the pedigree that Boise State didn't -- two-time national champions in the 1930s behind the arm of "Slingin'" Sammy Baugh. That history felt as distant as the days of Army or Minnesota winning titles by the 21st century, though. The collapse of the Southwest Conference in the 1990s was practically a death knell. While a life raft from the Big 8 kept rivals Texas, Texas A&M, Texas Tech and Baylor in big-time competition, TCU was cast adrift, bouncing through the Western Athletic Conference and Conference USA before landing in the Mountain West. Hiring Dennis Franchione in 1998 helped turn the program around; elevating his defensive coordinator Gary Patterson when he departed for Alabama in 2000 would set them on a decade-long upward trajectory.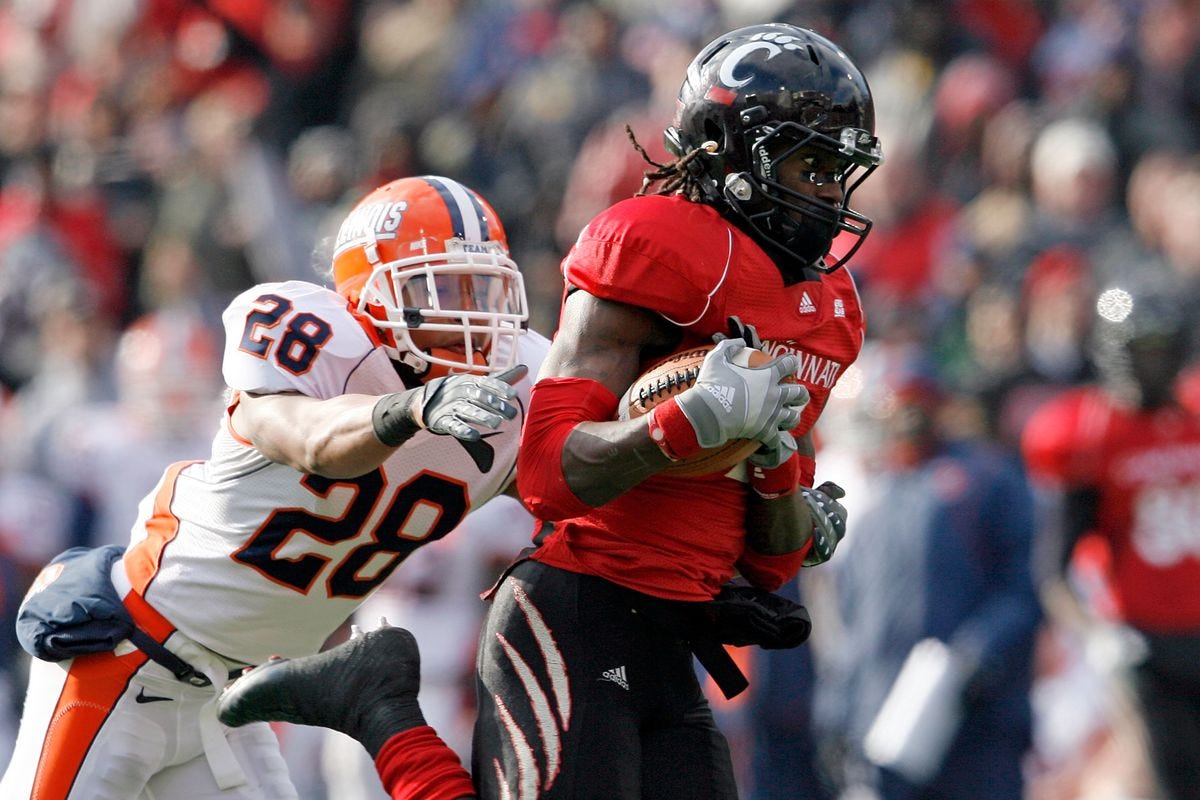 The University of Cincinnati didn't have the distant pedigree of TCU or the flashy wins of Boise State; all they had was the looming shadow of in-state football titan Ohio State a reputation as a basketball school. That reputation allowed an opportunity, though — membership in the moderately-competitive, technically-top-tier Big East as one of the teams that could help make up for the loss of Miami, Virginia Tech and Boston College to the ACC. They'd gain yearly games against Pittsburgh, Syracuse, West Virginia, and a shot to show they could compete. Under Mark Dantonio and then Brian Kelly, they began to compete for the first time in their long, unspectacular history. 
Each had started to make waves, and with other blue-bloods — Ohio State, USC, Oklahoma — suffering early losses, a narrow window opened. By Week 5, Boise State, TCU and Cincinnati had all cracked the top 10; by Week 7 they all remained there. They would have to be perfect; a single loss would doom teams with schedules like theirs. Even then, perfection might not be enough. The BCS was exclusionary by design; in taking only two teams, it often left out worthy power-conference contenders, like 2004's undefeated Auburn team.
As long as two of the Gator-Tide-Longhorn trifecta held on, a 12-0 season still wouldn't be enough for a shot at the title. Alabama and Florida's inevitable meeting in the SEC championship game meant one would suffer a loss before the final poll, but it seemed certain the other would finish undefeated, The way Texas rolled through their schedule, it seemed like it would take a miracle for a window to open.
That miracle might've arrived in the form of Nebraska's Ndamukong Suh, a defensive destructor of Old Testament savagery. The Big 12 Championship was to be a cake-walk, a breeze for 12-0 Texas against 9-3 Nebraska, the kind of South-North mismatch that eventually contributed to the Big 12's near-demise a few years later. No one told Suh that. He terrorized Texas's Colt McCoy all game, recording 4-½ sacks and 12 tackles in a game that stayed closer than anyone predicted. In the waning seconds, Nebraska clung to a 12-10 lead, one that would break the logjam and allow one of the hopeful upstarts passage to Pasadena and the BCS National Championship Game.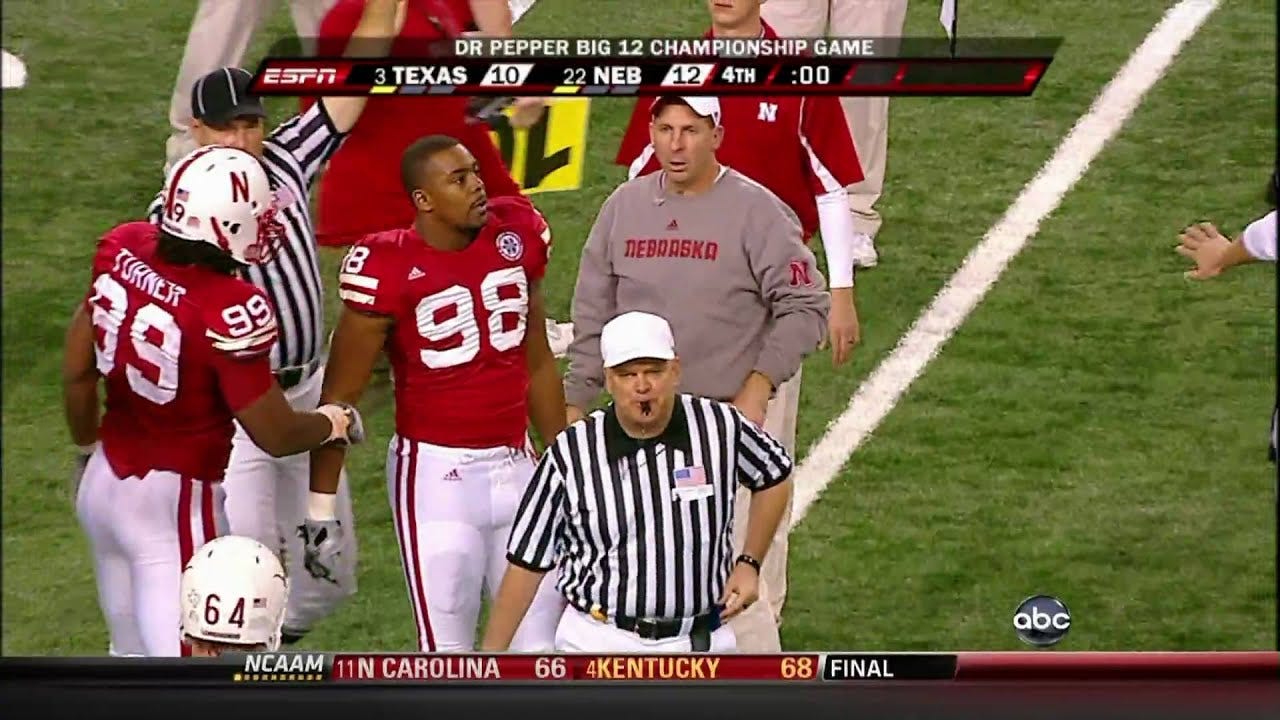 The miracle didn't happen. The Longhorns got one last shot on an officiating call that I know was probably right and will still argue was wrong for the rest of my life. The national title game was a turd, with Colt McCoy getting injured early (he took neither the Nebraska game nor this as a warning that the football gods hated him, so they sent him to the Cleveland Browns next to make it abundantly clear) and Alabama cruising to a joyless and unsatisfying victory, kicking off a run of joyless and unsatisfying Alabama victories that would define much of the next decade in the sport. 
The system blinked. The system held.
If you're not a fan of a blue-blood team, why do you continue to hope? This year Utah — the original BCS buster, a refugee of the same Mountain West that TCU fought its way out of and Boise fought its was into — stands on the precipice of the playoff. They're in a major conference now, have played excellent ball all season, and could still be left out of the expanded field  if Georgia defeats LSU. The foursome would all be from the in-group. No surprises. No new entrants.
Why do we do it? Why do we continue to hope when the system is set up to keep this from happening?
The magic of sports lies not in probabilities but in possibilities. Just because something isn't going to happen doesn't mean it couldn't happen, and this is so central to the American mindset that it makes perfect sense for college football, the most American of sports, to represent it so well. We're all one brilliant idea away from being billionaires, one lucky move away from being heroes. As someone who understands math, history, and the way the sport behaves, I understand full well that it is unlikely that my beloved Bearcats will get the chance to compete for a national title. The system will resist accepting new members, because for it to believe that you can win a title, you have to have won a title already. It won't happen. 
But I know that it can happen. I saw the system blink once.