The Sun Shines Bright On My Seventh Circle Home
A little too bright, if you ask me.
The workweek is hell. It's Friday, though, which means it's time to claw our way back out. Seven circles to go. It's A Good Day In Hell.
(7) Seriously, about that sun, though.
This is, technically speaking, the final weekend of summer. Does anyone want to tell summer that? Here in The Seventh Circle's earthbound base of Louisville, Kentucky, it's been over 90 degrees nearly every day for weeks, and we haven't had a drop of rain in nearly a month. It's getting dusty and dry. In fact, my garden — which was thriving with tomatoes and cucumbers earlier this summer — is only putting out peppers and never-ripening tomatoes right now.
Which gives me an idea.
It's time to summon fall with some cooler-weather fare. The power of positive chili, if you will.
The nice supermarket near me had a big batch of Hatch chiles from New Mexico the other day — a great seasonal find, and worth buying a big bag of to roast, peel, and freeze for later (or use right now). I tossed them in a little canola oil, threw them directly on the grill, and let them cook until the skin was charred and black and the flesh softened.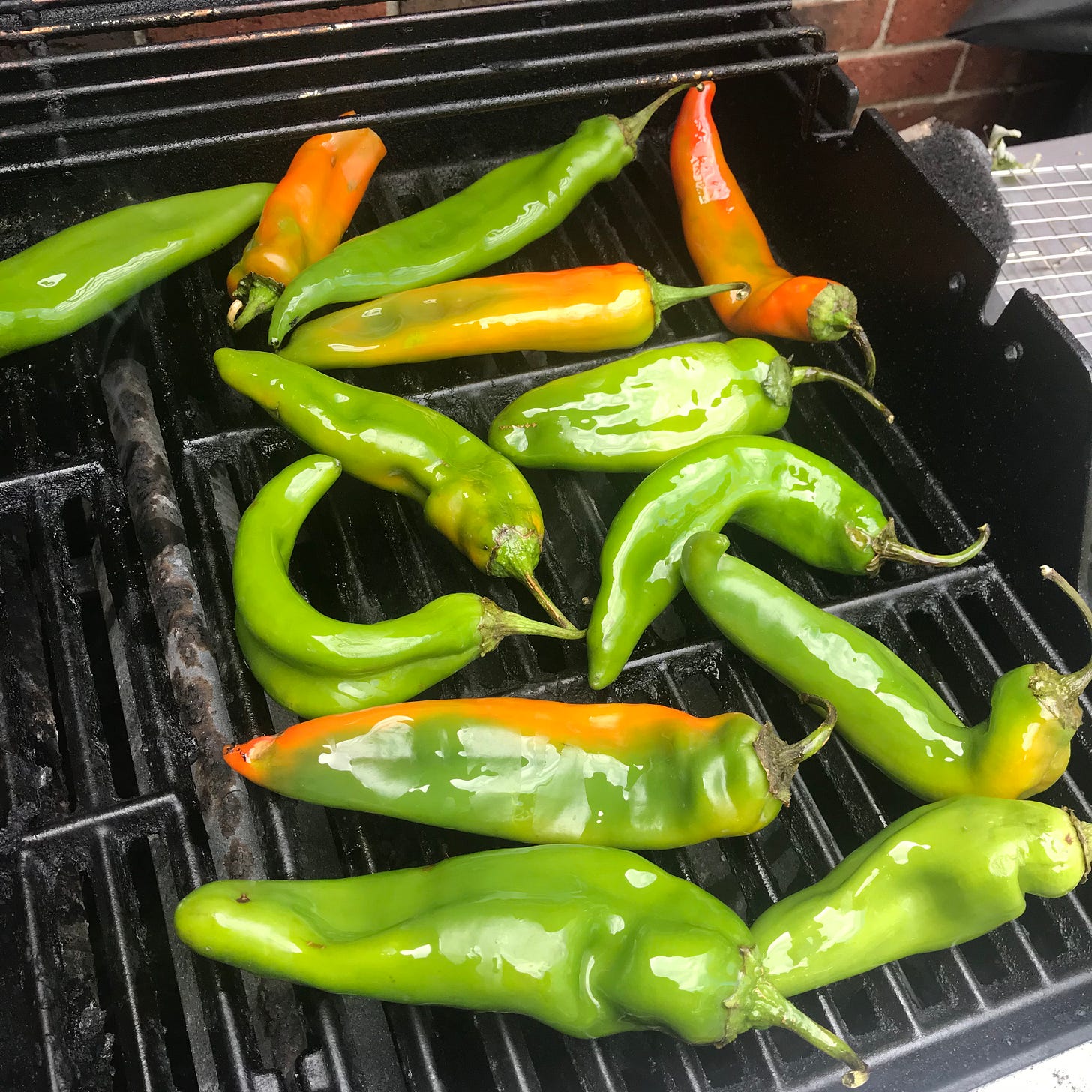 I'm going to take some of this bounty, mix it with what I'm getting from the garden, and make my favorite chili verde. (This recipe shares elements with Kenji Lopez-Alt's work at The Food Lab, but I've modified for my tastes/abilities/preferences)
Here's what I throw in it:
4-5 poblano peppers (these are one of the few things thriving in my desert Kentucky garden right now)

4-5 anaheim or Hatch peppers (Anaheim will be easier to find in the store year-round; Hatch will be similar but spicier)

2-3 jalapeno peppers (with all the peppers, remove the seeds if you want to temper the flame)

12 tomatillos, peeled (depending on your local supermarket, tomatillos may be tougher to find; in the interest of using up garden duds, I'll sometimes swap in unripe green tomatoes and add some lime juice to make up for the tomatillos' tart flavor)

12 cloves garlic, peeled but whole

1 yellow onion, peeled/halved
The peppers can all be roasted on the grill as shown above, or they can go with the other items onto a foil-lined sheet pan under a broiler until they blister and go soft. For the peppers, hold them under cold running water and rub off the blackened skin — it should come off easily. Throw this all into a food processor and blend smooth. This is your base. Next, the meats.
3 lb pork shoulder, cut in 2-in cubes (ground pork will work too)

2 lb boneless chicken thighs, whole

1 qt chicken broth

2 T ground cumin

1 T ground coriander

Vegetable oil
In dutch oven or stockpot, heat a couple tablespoons of oil over medium-high heat, add the cumin and coriander, stir for 60 seconds to bloom the spices, then add the meats and sear for 4-5 minutes (just enough to get a little browning). Pour in that pureed pepper mixture and chicken broth. Cook the whole thing in a low oven at 250F with lid the ajar for 3-4 hours, or add to a crockpot on low for 6-8 hours. Remove the meat with tongs, chop it roughly (I pulsed it 2-3x in food processor), and add it back in.
Finally, we add:
1 cup fresh cilantro, chopped

15oz can pinto or white beans, drained

Juice of 1-2 limes

Salt to taste
You've got yourself a stew, baby.
I like to top it with a lot of green — scallions, pickled jalapenos, cilantro, a squeeze of fresh lime juice — and a big handful of pepper jack cheese and sour cream.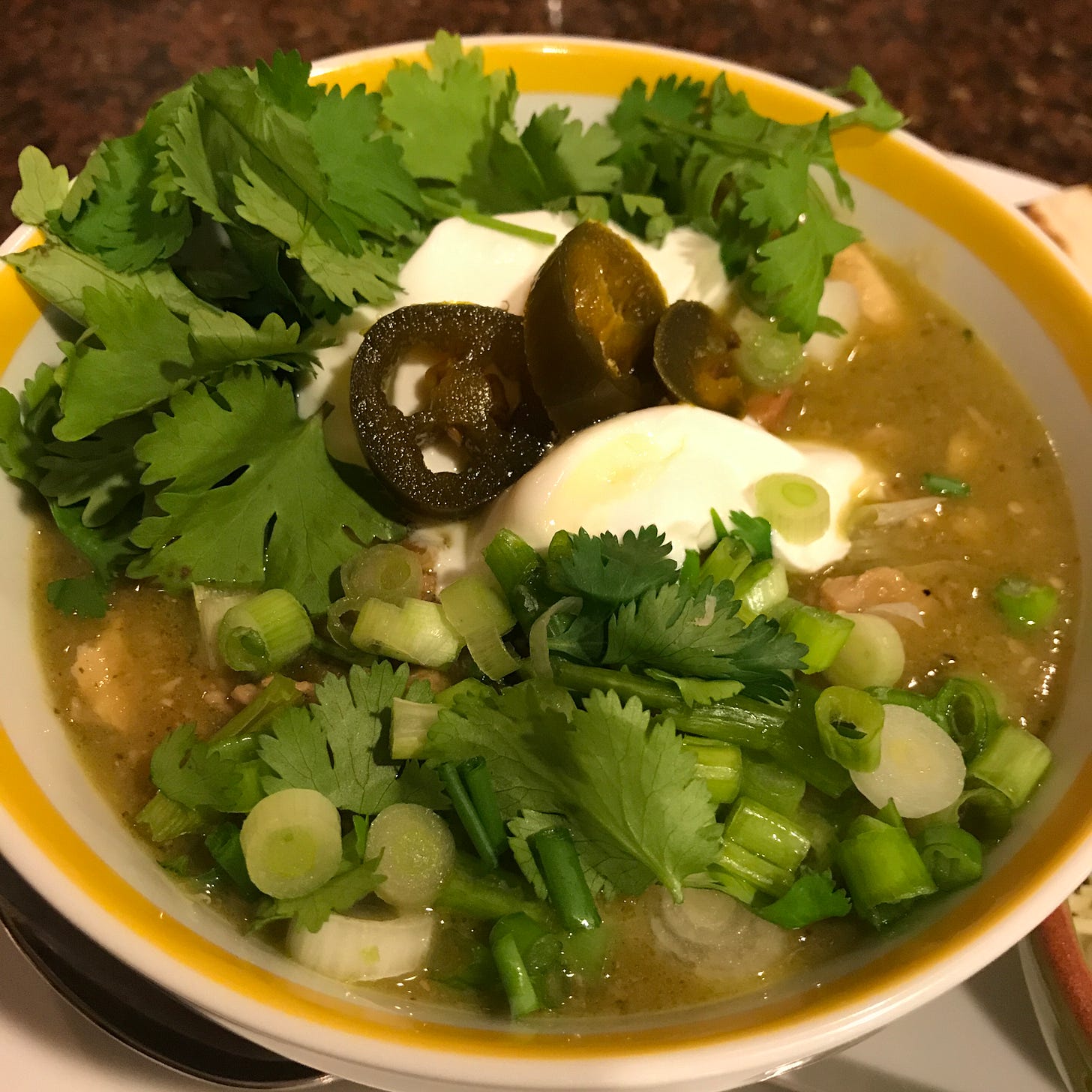 You hear that, summer? That's your green light to get on out of here.
(6) Now, let's talk about recording cover songs.
As usual, for the musical segment of A Good Day In Hell, I'm handing off to my co-host Joe Kelly. Today, we're going to talk about covers. Joe:
One of the boldest things an artist can do is to cover a hit song.

You may think "Well, then cover an obscure song mainstream audiences aren't familiar with but shaped your taste". And invite the wrath of the "real" experts? I think not. There's not a lot to gain in most instances.

Remember Taylor Swift and what she did to Earth, Wind & Fire's "September"?Sorry if you don't, because within 48 hours, Taylor's camp had it completely scrubbed from existence, something I thought only government officials could do today. Taylor has gangsters on her payroll. Message to established artists: don't. Nobody wanted or needed Weezer's boring cover of "Africa", much less an entire album that sounded like every college band on 50-cent Beer Night.

Now, occasionally, a band does the unthinkable. They make a cover so damn good it becomes "their" song. "Blinded By The Light"? Most people have no clue that was a Springsteen song. "All Along The Watchtower"? The typical reply on that one is "Jimi took that from Dylan, and Bob basically told him 'have my wallet, too, sir'".

Let's explore another possibility, though — making an incredibly unique cover that everyone credits another artist or group for. Now that's hell. I'm part of the Napster/Limewire generation that seemed determined to fool an entire generation into thinking Jimmy Buffet sang "The Pina Colada Song" That isn't even the right name of the song much less the artist. Every southern rock song was labeled as The Doobie Brothers, and "Stuck In The Middle" was Dylan — but no greater mishap was the "Phish" cover of Gin N' Juice. Except that wasn't Phish, it was a group called The Gourds.

The Gourdes made a very unique cover, but you probably just learned that now. Our buddy @cliffysmalls said it best: "Change the name to 'Shine & Dew' and the song's already a bluegrass tune." I can't see anything wrong with that assessment. Check that bass line and the dueling guitars. The harmonies and the twang added to the vocals make it a truly original cover.

Plus, it's fun as hell.

So, friendly advice from the Circle 7 Pod to artists, struggling or established: cover songs for albums at your own risk — but if you don't have a camp like T-Swift's, the Internet's an unforgiving place and the best you can hope for is it gets mislabeled as Imagine Dragons and you can duck and run from the mob. — Joe Kelly
This song sent me down a wormhole to the University of Cincinnati's Daniels Hall in Fall 2000 so much it made me want to set off a fire alarm cooking popcorn. — Scott
(5) Man, you guys are talking a lot today. Got any good books?
Yes! Do you like a sprawling, multi-generational saga that weaves in a fully-realized fictional story with a detailed portrayal of a historical place and time you might not know much about? You do? I suggest Min Jin Lee's best-selling novel Pachinko, which follows a Korean family that migrates to Japan, spanning most of the 20th century.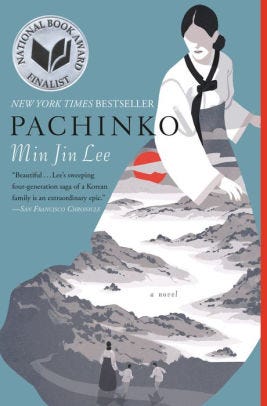 I say this as a compliment: some books seem like they could've been written quickly, and some seem like they must've taken years. Pachinko reads like decades' worth of work, while remaining engrossing and readable.
(4) Cheap Beer Saves Lives
Since we spend so much time on The Seventh Circle talking about the bad things that can happen in sports, we'd be remiss if we didn't shine a light when something truly good happens. And there's nothing we relate to more than a silly joke that turns into something more. That's what happened on College GameDay this week at Iowa State University, when fan Carson King held up a sign with this joking plea: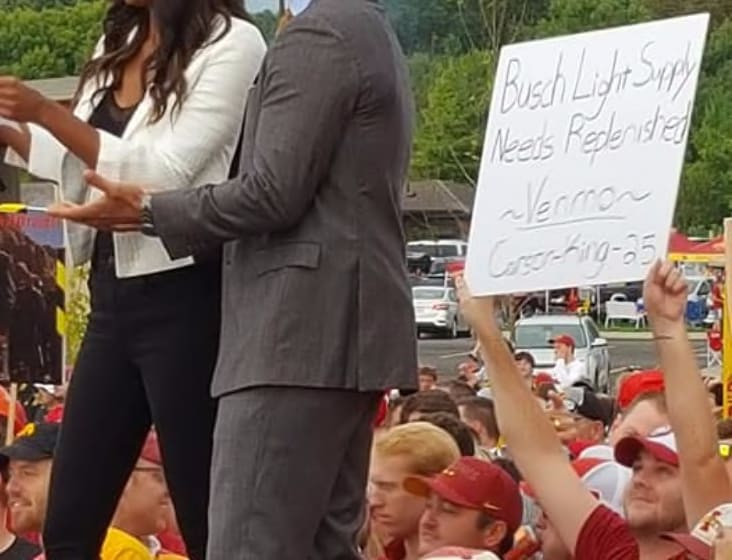 Within hours, he had over $1,600 in donations to his Venmo beer-money fund, and he realized he should do something worthwhile with it, deciding that he'd donate "all but a case of beer" to the University of Iowa Children's Hospital. From there, the fundraiser skyrocketed, and as of this writing, he's raised over $225,000.
Someone buy that man a beer.
Oh, right.
(3) Where do you go when you need some writing inspiration?
A short while back, ESPN senior writer Kevin Van Valkenburg shared his syllabus from a nonfiction writing class he taught at the University of Montana. It's a great selection of some truly beautiful journalism and sportswriting that you may never have seen, and worth a perusal if you want something to shake off writer's block from time to time. (Some of the links are broken now, but you can usually Google the name of the piece and find it elsewhere.)
(2) Hey, you talked about Athens, Georgia on the podcast this week.
Yes, we did! It's a great lead-in to tomorrow's headlining match between the Georgia Bulldogs and Notre Dame Fighting Irish.
Okay but where would you eat if you were in Athens tonight?
Oh, that's easy: Five & Ten. I had the good fortune of eating there in February when in Athens for the Drive-By Truckers' "Homecoming" run at the 40 Watt Club, and we ate like kings. Damn hell ass kings.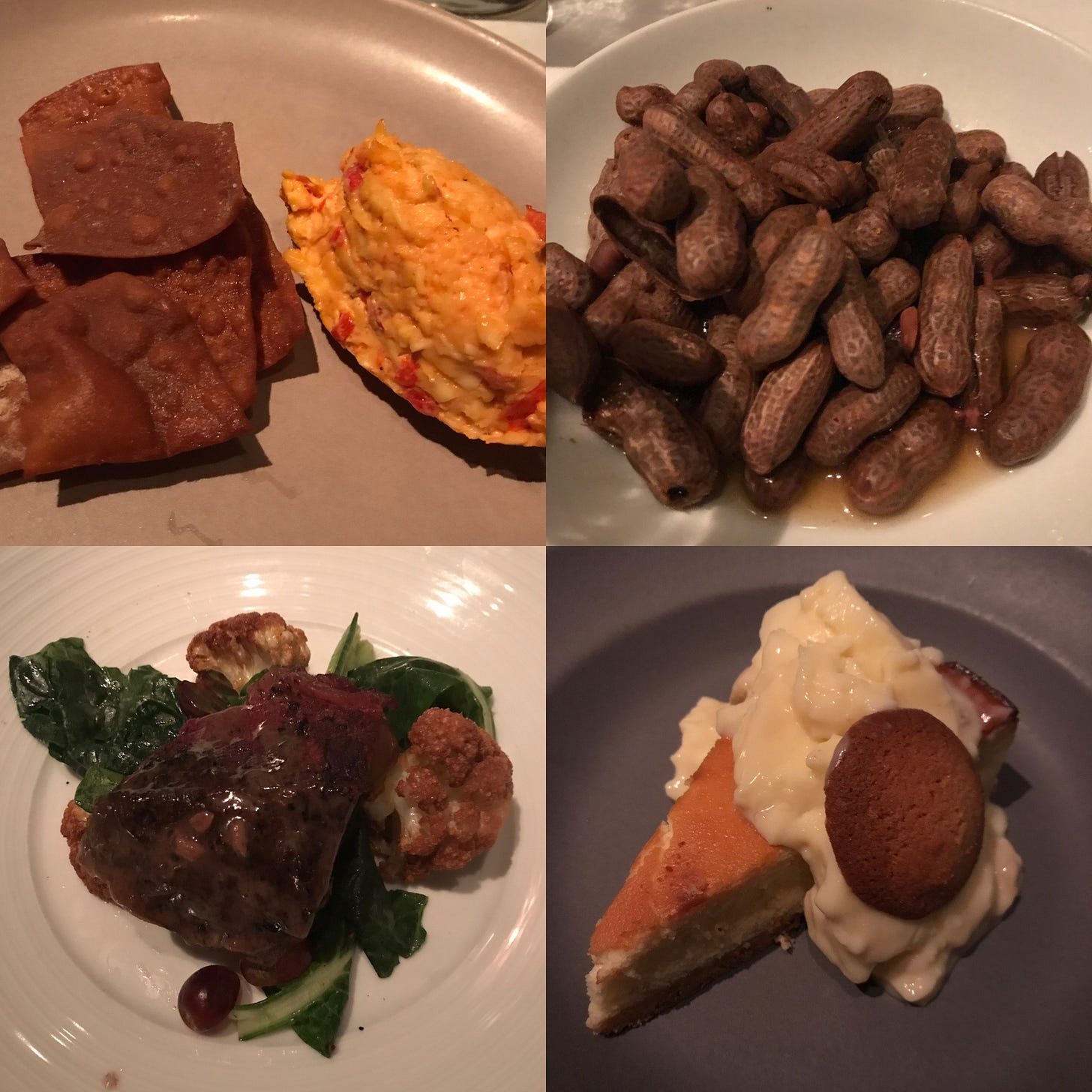 Proust can have his madeline, I'm thinkin' bout that short rib and pimento cheese.
(1) I've made it this far, pal, there'd better be some dogs.
From reader and friend of the pod Zach Berry, with only the commentary "good doges".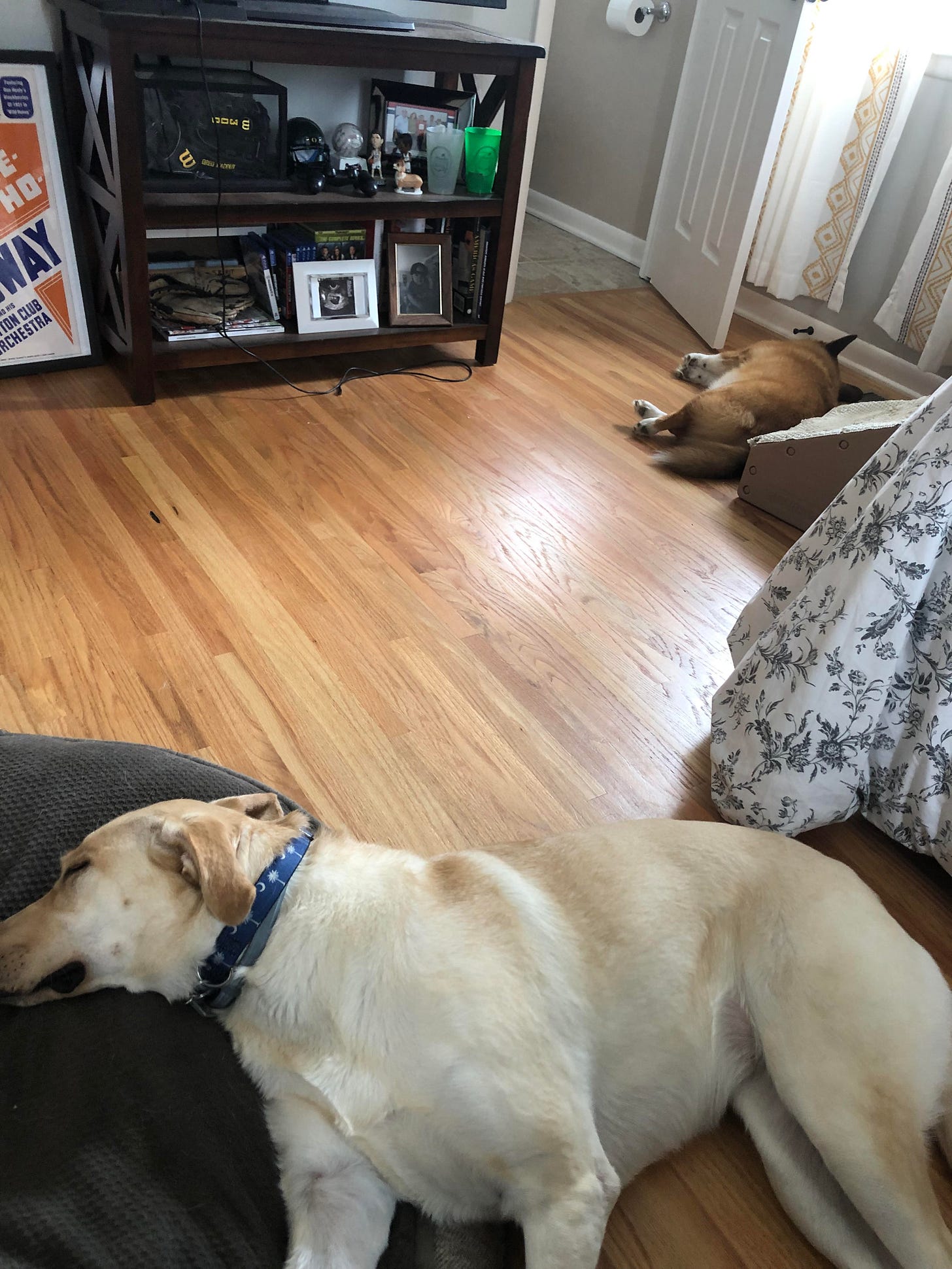 Very good doges, indeed.
Reminder: submit your own dogs (seventhcirclepod at gmail dot com) and we'll be sure to feature them in an upcoming edition of A Good Day In Hell.
Thanks for reading, listening and supporting The Seventh Circle. We'll be back on the pod Sunday night with Ace Anbender of MGoBlog joining us to talk about the bountiful miseries of 21st-century Michigan Wolverines football in WELCOME TO ANN ARBOR. In the meantime, like, subscribe, follow us on Twitter and Instagram, review, tell your friends, write our URL on bar bathroom walls: spread the word.
See you in hell.
— Scott Hines (@actioncookbook)