The sun still shines in my new Kentucky home.
The Friday newsletter reflects on a strangely empty first Saturday in May.
As you may well already know from reading this newsletter, I live in Louisville, Kentucky. I'm not a native Kentuckian — I moved here five and a half years ago — but my children are, having both been born in this town I've adopted as home. It's a lovely city, full of quirky charm but far more accessible (financially, but also in pretty much every other way too) than New York City, where I'd lived for the decade prior.
You probably know a few things about Louisville even if you've never been here. Plenty of bourbon and baseball bats, horses and fried chicken. It's more than that, though. It's a small city, but it's got a rich culinary scene, performing arts worthy of a much larger city, strong independent media, and a vibrant, quirky culture. I joked in Wednesday's newsletter about how I consider moving to any city I spend more than a day in, and there are very few cities that can stack up against Louisville for your first 36 hours on the ground. (That's part of how I ended up here.)
There's something big missing right now, though.
It's the first weekend in May, and this city should be on top of its game, celebrating the 146th annual running of the Kentucky Derby. What you have to understand about size of this absence is that the Derby is more than a horse race on a single day: it's a full-fledged holiday season, one that's every bit as celebratory — and as disruptive to the normal workings of daily life — as Christmas is anywhere else. I had the pleasure of writing about this in depth for SBNation last year.
Of course, the first Saturday in May will come and go with no Derby this year, for the first time since 1945. The [waves hand vaguely] stuff has necessitated its rescheduling to a hopeful date in early September, though I'm skeptical that whatever event that does happen in late summer resembles one from any other year. It's hard to imagine 150,000+ people squeezing into Churchill Downs any time in 2020.
It is still the first weekend of May, though, and These Uncertain Times can't change that. The leaves are back on the trees. I'm going to plant my vegetable garden this weekend, as I do the day after Derby each year. It's going to be a May unlike any of us have ever lived through before, but springtime in Kentucky is still beautiful. The sun still shines bright.
This week, my Friday recommendations are themed around this gorgeous, sometimes-frustrating, sometimes-wonderful city (and state) that I've chosen to make my home in.
7) The sun shines bright
Most every place has a signature dish of some kind — the sort of thing that you fill in if you're making one of those buggy, ad-laden slideshow listicles of You've Gotta Try [X] When You're In Each of the 50 States, the most shameful and derivative form of clickbait that I will still click through to every single time.
Here, the entrant is almost certainly the Kentucky Hot Brown.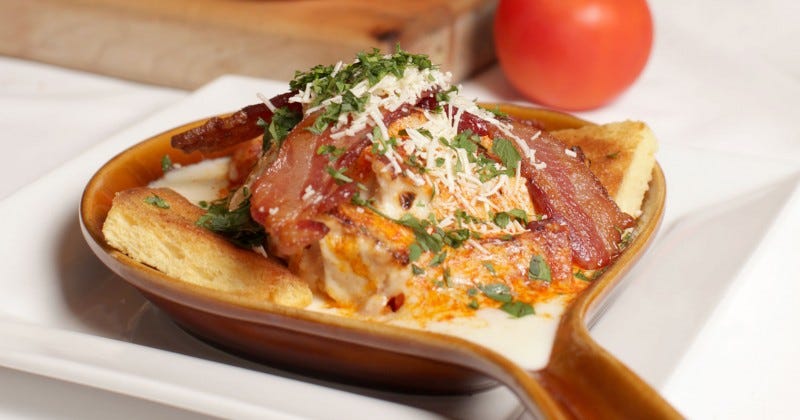 Though it has parallels elsewhere — the Turkey Devonshire in Pittsburgh, The Prosperity Sandwich in St. Louis, or the Welsh Rarebit in the UK — the specific dish that is Kentucky Hot Brown can be traced to the historic Brown Hotel in downtown Louisville. A late-night dinner for a hard-drinking town, it's a real gut-bomb: an open-faced turkey sandwich doused in rich, cheesy Mornay sauce, topped with bacon, Parmesan cheese and tomato slices. It's delicious, but it's a lot of sandwich: if you eat a whole one, you'll probably want to sleep for three days after.
[extremely infomercial voice] There's got to be a better way!
Hmm. What if… we had a way to share it? What if… we made it a pizza??
Now, this in and of itself is not an Action Cookbook Newsletter innovation. Hot Brown Pizza exists around these parts — as a matter of pure coincidence, it's the last meal I ate inside a restaurant, in The Before Times. (Had I known then what I know now, perhaps I would've chosen something fancier than pizza in a sports bar, but at the same time, I would kill to sip a watery Bud Light and half-watch some sports highlights.)
We can't dwell on that now. We've got a pizza to make, and there's a lot of steps.
We'll need:
1 batch of pizza dough (see below)

1/2 pound smoked turkey breast, chopped (see note below)

4-5 strips thick-cut bacon, cooked and chopped

1 batch Mornay sauce (see below)

3 small tomatoes

Parmesan cheese
Pizza Dough:
You can use any recipe you're comfortable with, but I prefer this, a slight variation on the basic dough recipe from Tony Gemignani's The Pizza Bible:
453 g bread flour

4.5 g active dry yeast dissolved in 70 g warm water and 1 tsp honey

225 g cold water

1 Tbsp kosher salt

1 Tbsp olive oil, plus more to coat bowl
Mix the flour, salt, water and oil in a stand mixer for several minutes until it forms a ball; pull out and knead until smooth on a floured surface. Place it in a large bowl lightly coated in olive oil to rise in a warm place; cover the bowl with a damp dish towel. After 30 minutes to an hour, divide in two portions*, and ball them by rolling stretching apart toward your thumbs and tucking in underneath (picture balling up a sock). Let rise again for at least an hour or up to four, or 24 hours in the fridge.
*I usually use the second one to appease my children with a plain cheese pizza, but you could freeze it. I suppose you could halve the recipe, but you're already making a mess, might as well make it worth your while.
Mornay Sauce:
3 Tbsp butter

3 Tbsp flour

1-1.5 cups whole milk

1 cup shredded Gruyere

1/2 cup grated Parmesan

2 whole cloves garlic, peeled

one peeled halved onion
Make a roux by melting the butter and whisking in the flour; stir until it begins to bubble and there's no trace of flour. Slowly whisk in the milk, add the garlic and onion and stir over low until it begins to thicken, about ten minutes. Remove the onion and garlic cloves; add the cheese and stir. It will be thick; if you were making this to pour over sandwiches I'd use two full cups of milk but that's too wet for a pizza; I used 1 cup plus a few splashes to thin it out.
A note on the turkey:
You could smoke your own; you could look at some of the recommendations I've made in past Fridays for how to smoke. I chose an easier and tastier route, picking up a pound of smoked turkey curbside from FDKY BBQ here in Louisville; it's one of their specialties and it's amazing. (This is not sponsored content. I don't know how to make money. My good friend and former podcast co-host Joe Kelly is a key part of FDKY and he long ago sold me on their food, so I'm just preaching as a convert.)
Okay, let's assemble this bad boy:
Stretch the dough as thin as you can. I cheat mightily at this, after a great deal of trial and error finding a method that I can't screw up: I slowly stretch it with my fingertips on top of a silicone pastry mat, lay a piece of parchment paper on top of it, then flip it over and peel the mat off. I never have to toss the dough or clumsily attempt to dismount it from a pizza peel; I just put the parchment straight in the oven with it.
Spread the Mornay sauce over the dough; if it's the same consistency as mine, it'll be like frosting a cake with cheese. (Note to self: future content?) Add thin slices of tomato, then scatter the chopped bacon and turkey, and top with Parmesan. Bake until the bottom begins to brown. I use a pre-heated pizza steel in a 550-degree oven; you may not have the setup for this so it may take a bit longer.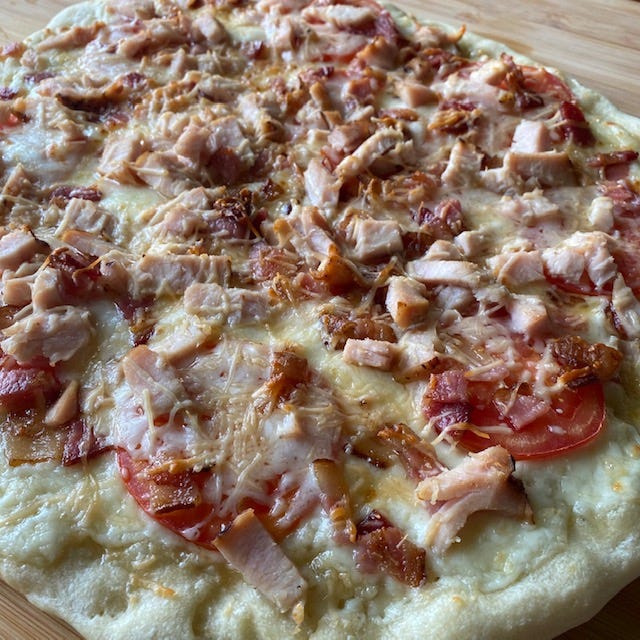 I wouldn't lie to you: this was very good, and it's even better as leftovers, as the bubbly cheese sauce sets up. It's only logical that a food that originated as late-night drunk food would make excellent leftover pizza.
It's great for sharing, and you know what else is? This post.
[whispering to self] Seamless as always.
6) The corn top's ripe and the meadow's in the bloom
Here's a question I'm forced to ask myself every May: do I actually like Mint Juleps?
The thing is, if Derby season is Louisville's Christmas, then the classic cocktail is its eggnog: a drink that you can't separate from the moment, one that's neither necessarily good or bad, but instead a tradition that must be upheld.
Of course, I wouldn't be doing my duty to you as a newsletter lifestyle influencer by not tinkering with it, would I? I debated my options. Should I make something spicy? That's always my quickest move. I tried one with muddled jalapeno: it wasn't great. (Jalapeno in drinks almost always overwhelms everything in the drink.)
Finally, I came across a solution.
[extremely Don Draper voice] It's toasted.
To achieve this, we're going to take some tips from a Kentuckian with an impressive body of work. Lexington native Stella Parks has offered up some tremendous baking advice over the years, first on her standalone site BraveTart and now as a senior editor for Serious Eats. One of her signature moves, which is included in her excellent cookbook Bravetart: Iconic American Desserts, is Toasted Sugar.
It's exactly what it sounds like: you take simple white sugar and toast it in the oven. Fill a 9x13 glass dish (it should be glass) with a 4-lb bag of sugar, and cook it at 300F for 2-4 hours, stirring it thoroughly every 30 minutes. It won't melt; it should just slowly take on a sandy color and caramel aroma. Once it reaches the desired color, let it cool (which will take at least an hour). It can be stored and substituted for white sugar in any recipe you'd like to add a little more complexity to: cookies, muffins, breads; heck, buy her cookbook. It's great.
In my case, I used some of it to make the simple syrup for my Mint Julep. I made a heavy syrup — rather than a 1:1 ratio of sugar to water, I used 2 cups of sugar to one cup of water, stirring over medium heat until the sugar dissolved fully.
The result was, frankly, stunning. My sugar had reached a sandy blond color, but the syrup I made from it looks like this: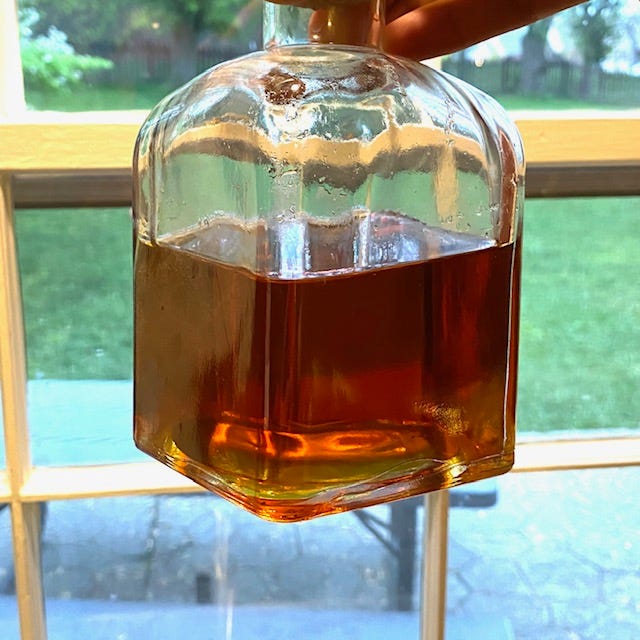 My good friend and gentleman scientist Denny Mayo responded to a text of me being surprised by this effect by saying "yes, that's Beer's Law".
I do not know what that means but I will take his word for it. Let's make a toasty Julep.
10-12 sprigs fresh mint

2 ounces bourbon, preferably Woodford Reserve

1/2 ounce Toasted Simple Syrup (it's strong; use it sparingly unless you've got a real sweet tooth)

crushed ice
Muddle the mint in a glass, or a metal Julep cup if you have one; add crushed ice to the brim. Pour syrup and bourbon over the ice. Stir with a straw. Garnish with more mint.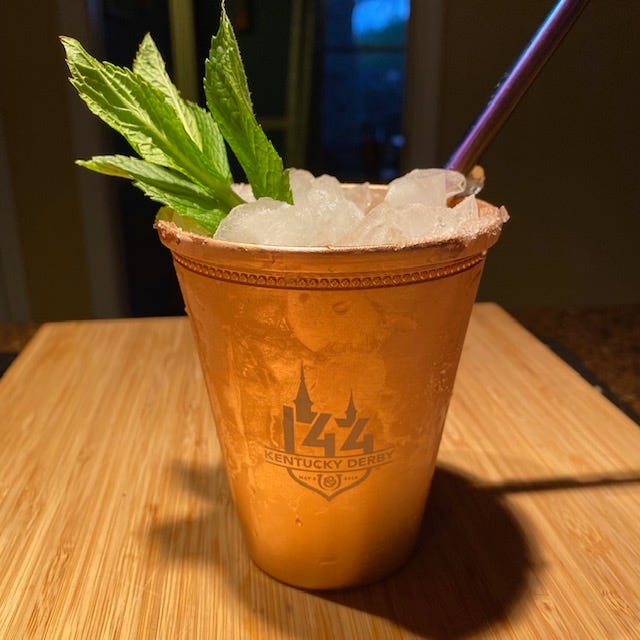 Have a couple of these and you won't even remember there was supposed to be a horse race this weekend. Hey, you're probably toasted enough yourself now to sign up for a newsletter someone shared with you!
I'm just so good at promoting my work.
5) While the birds make music all the day
I really mulled over the music recommendation for today. It could've been John Prine's classic rendition of "My Old Kentucky Home", or this lovely version by Louisville-based quartet Linkin Bridge. It could've been Alison Krauss's wonderful 2002 live album Live, which was recorded at the Louisville Palace.
I'm going to go with someone you're less likely to know unless you live here, though, and that's Kentucky singer-songwriter Ben Sollee.
Sollee's got a deep and rich catalog that's well worth your time.
4) They're all merry, happy and bright
As I mentioned in the introduction, one of the things that helped sell me on a move to Louisville after a decade in New York City was the quality of the food here; my wife and I visited for a long weekend when she took a job interview here, and our first meal off the plane was at MilkWood, chef Edward Lee's restaurant underneath Actors Theatre of Louisville downtown. It was a terrific meal, the first of many I'd have at Lee's restaurant, whose menu seeks to blend his Korean-American heritage with the iconic flavors of the South.
Lee's also an author, and in addition to cookbooks, he's put together the captivating travelogue Buttermilk Graffiti — recounts of his travels around the country to discover the depth and richness of American cuisine, from Middle Eastern food in Michigan to Vietnamese food in Texas to a Nigerian immigrant's cafeteria in Louisville and a classic diner in New York City.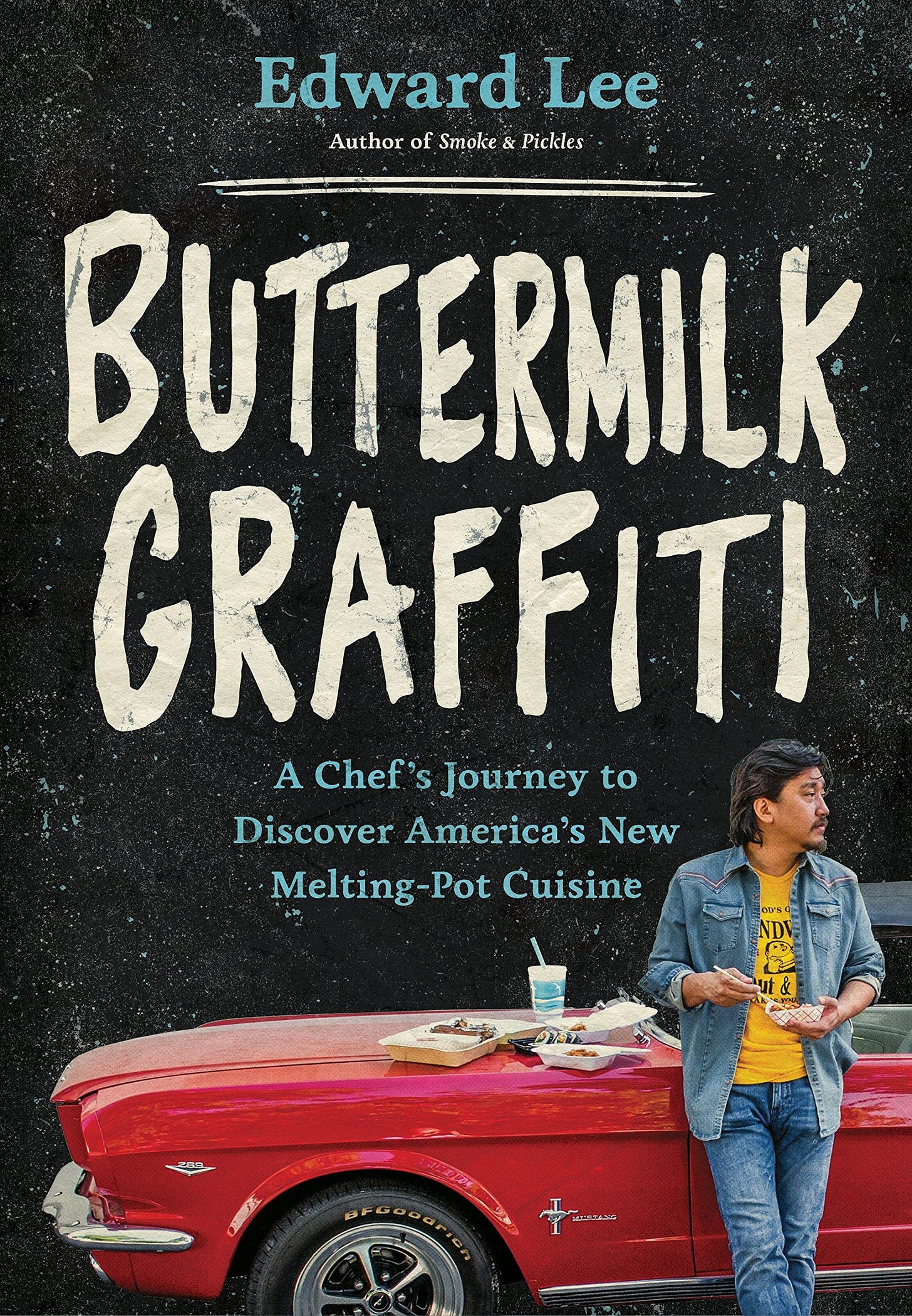 You know I've got the travel bug right now; there's no better way to plan a trip than through food.
3) Weep no more, my lady
Lee features heavily in the second season of David Chang's excellent food series Mind of a Chef, with episodes specifically devoted to Louisville and Kentucky:
Sadly, the show's been removed from Netflix recently, but you can still stream it through various PBS apps and Amazon Prime for a small fee. It's worth it; they're very gentle, soothing, smart food shows.
2) By and by, hard times come knockin' at my door
You know what else punches above its weight class here? Our local public radio. Louisville Public Media and the Kentucky Center for Investigative Reporting do some tremendous work on a non-profit's scant budget. Our three local public radio stations are terrific, and they've never been better than they were with the 2017 five-part investigative report The Pope's Long Con, which unraveled a web of deceit and abuse by Kentucky preacher-turned-state representative Dan Johnson.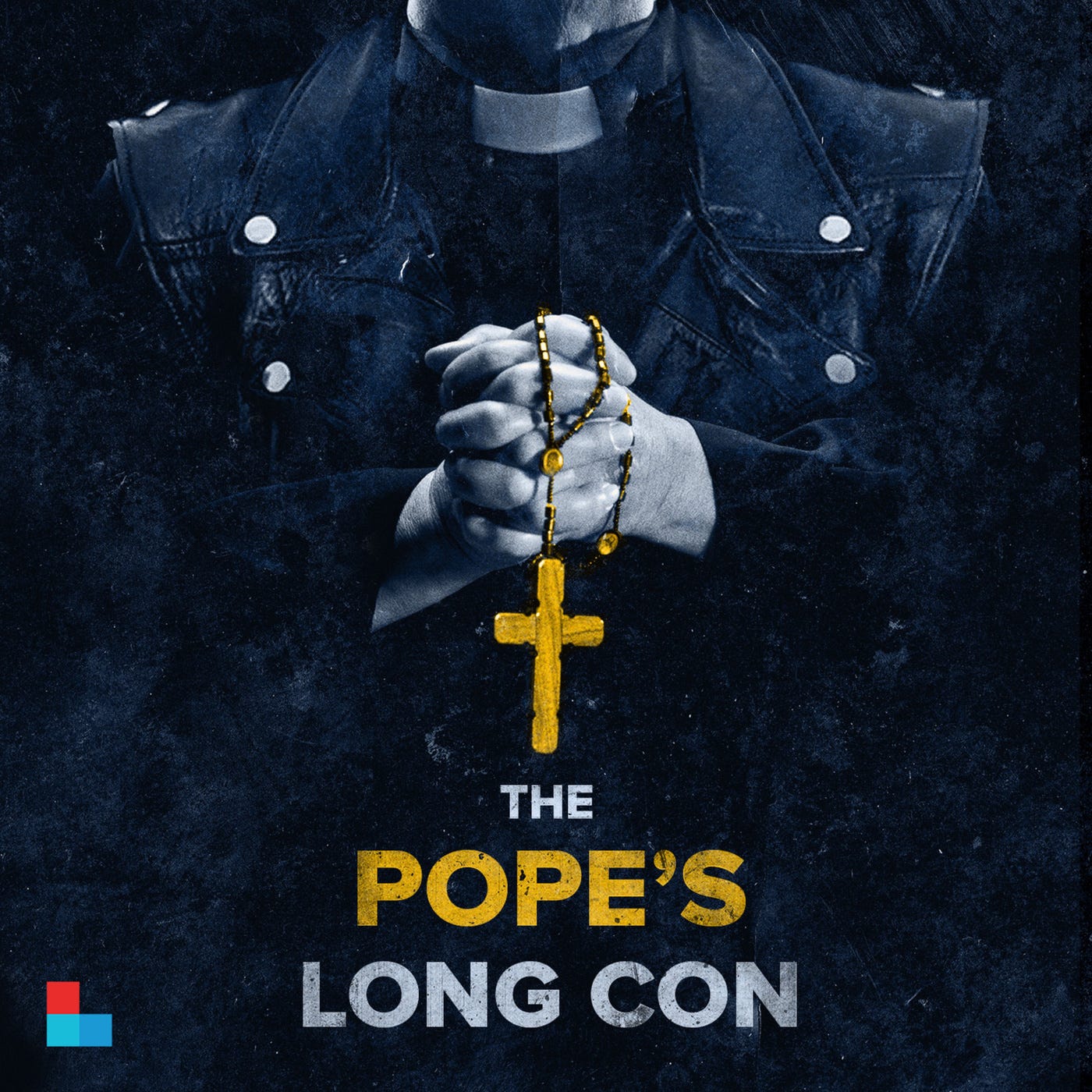 On an dark note, in the midst of the show's initial airing, Johnson, alleged to have committed arson, sexual assault and numerous other misdeeds over a long career, committed suicide. No details of KYCir's story as reported have been challenged, and despite the tragic result, it's a towering achievement in local journalism chasing a story larger outlets missed.
On a brighter note, another LPM podcast worth checking out is The Music Box, "an interactive music education podcast for kids, exploring fundamental music concepts through performing, responding and connecting."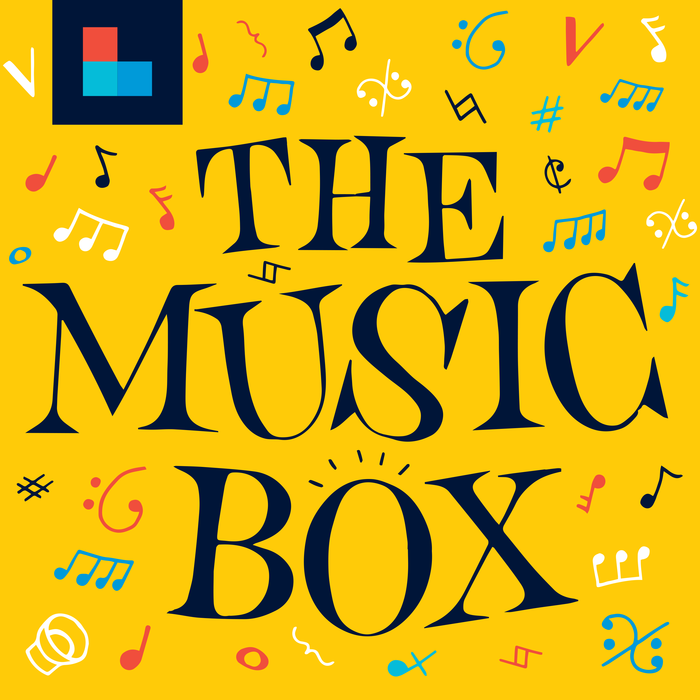 They're short episodes, all around 10 minutes, and downloadable companion lessons are available on their website. Great for if you're stuck at home with kids whose education has, uh, slid a little lately. [cranes head to hear if my kids' episode of Wild Kratts has ended yet] Home schooling is going great.
1) So we'll sing one song for my old Kentucky home, my old Kentucky home far away
Alright, we might not have horses this weekend, but there's one thing we'll always have when it's Friday in the Action Cookbook Newsletter, and that's reader-submitted dogs.
My queue got a little low last week, and so I solicited more submissions — suddenly my inbox is bursting at the seams with good dogs, and it'll take me a few weeks to get through all of them. Thanks to everyone who submitted, and you can still always send me your good boy or good girl by responding to this email or DMing me on Twitter.
Let's get to them:
First up, longtime Friend of the Newsletter @tholzerman shares a pair:
The brown dog is Zoey. She likes laying on people and licking her own butt. The tan/white dog is Blitz, who chases his tail when he gets excited and sometimes catches it.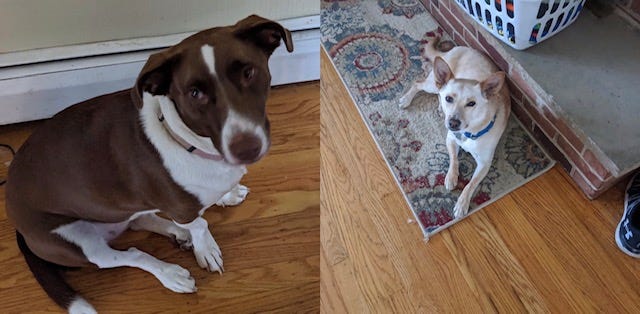 GOOD DOGS. My god, look at these goons.
Next up, @DigDoug shares:
Hey. I'm a fellow Louisvillian and long time subscriber. Have some dog pics!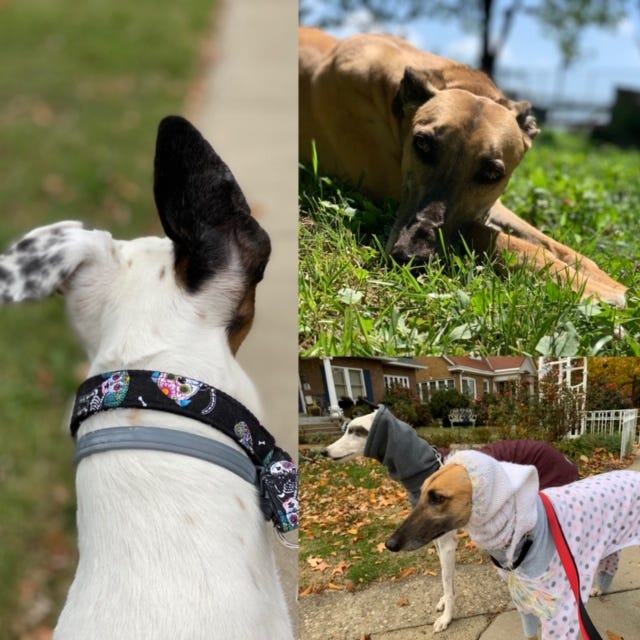 GOOD DOGS. I admire sighthounds' ability to always look like a put-off celebrity caught by paparazzi while picking up their dry cleaning.
Next, @JokaStrength shares a new look at a very good boy who's graced these pages once before: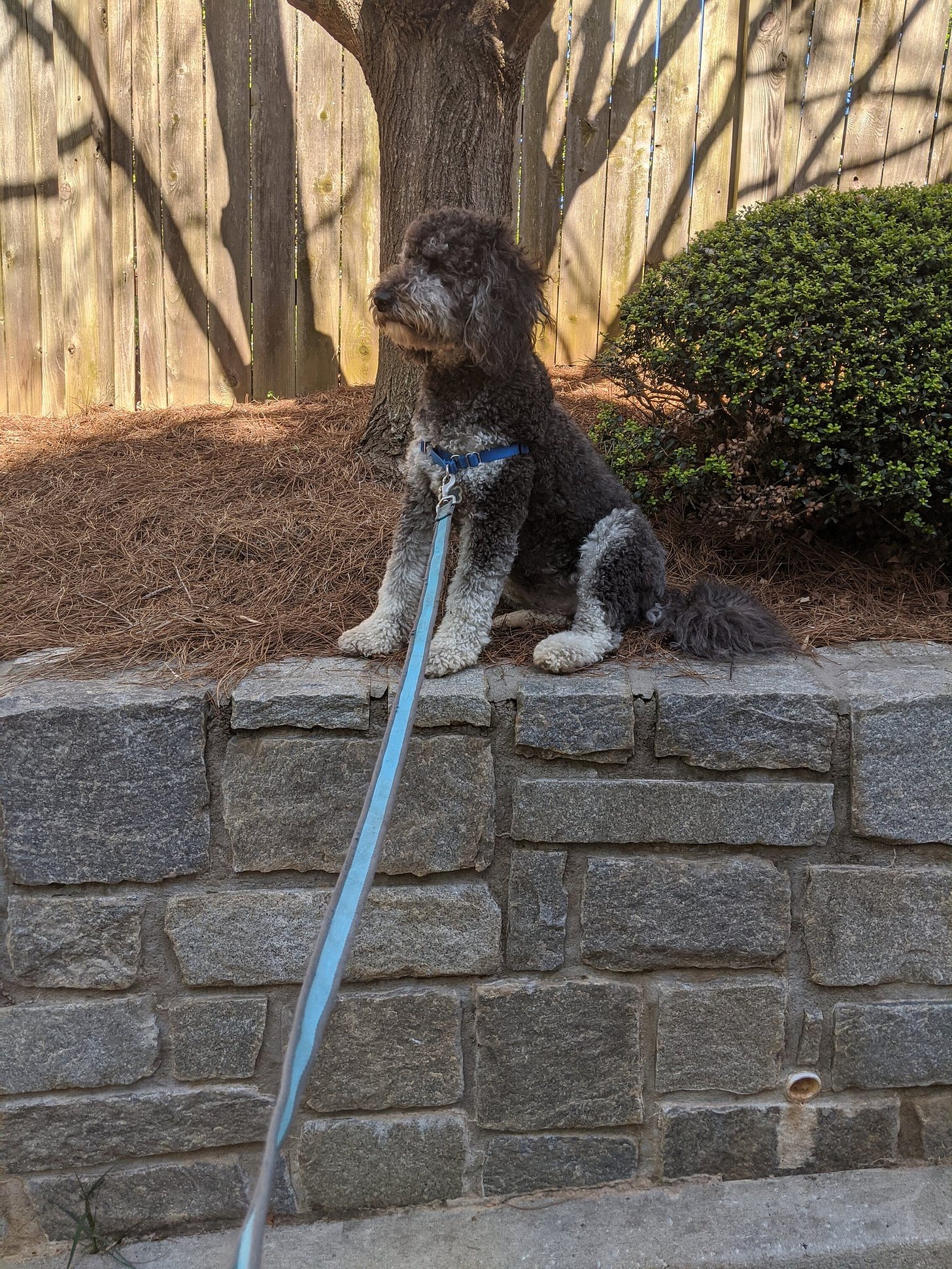 GOOD DOG. So regal. He looks like he built that wall himself, or hired someone to do it.
Finally this week, @StaircaseWhitt shares just a whole LOT of dog:
Meet Sakoda and Brisket, my beefy boys. Sakoda had very bad separation anxiety for about 2 years, and then 8 months ago we brought home Brisket and he's been happier ever since. Still very jealous of head scritches and territorial of our bed, but happy. During all of this I've been so thankful to have these two. I'm not ashamed to say that I'll talk out loud to them about my hard days and they'll happily listen and occasionally offer a heavy paw on my arm for support. Best of all, they are both incredible snugglers and fancy themselves lap dogs.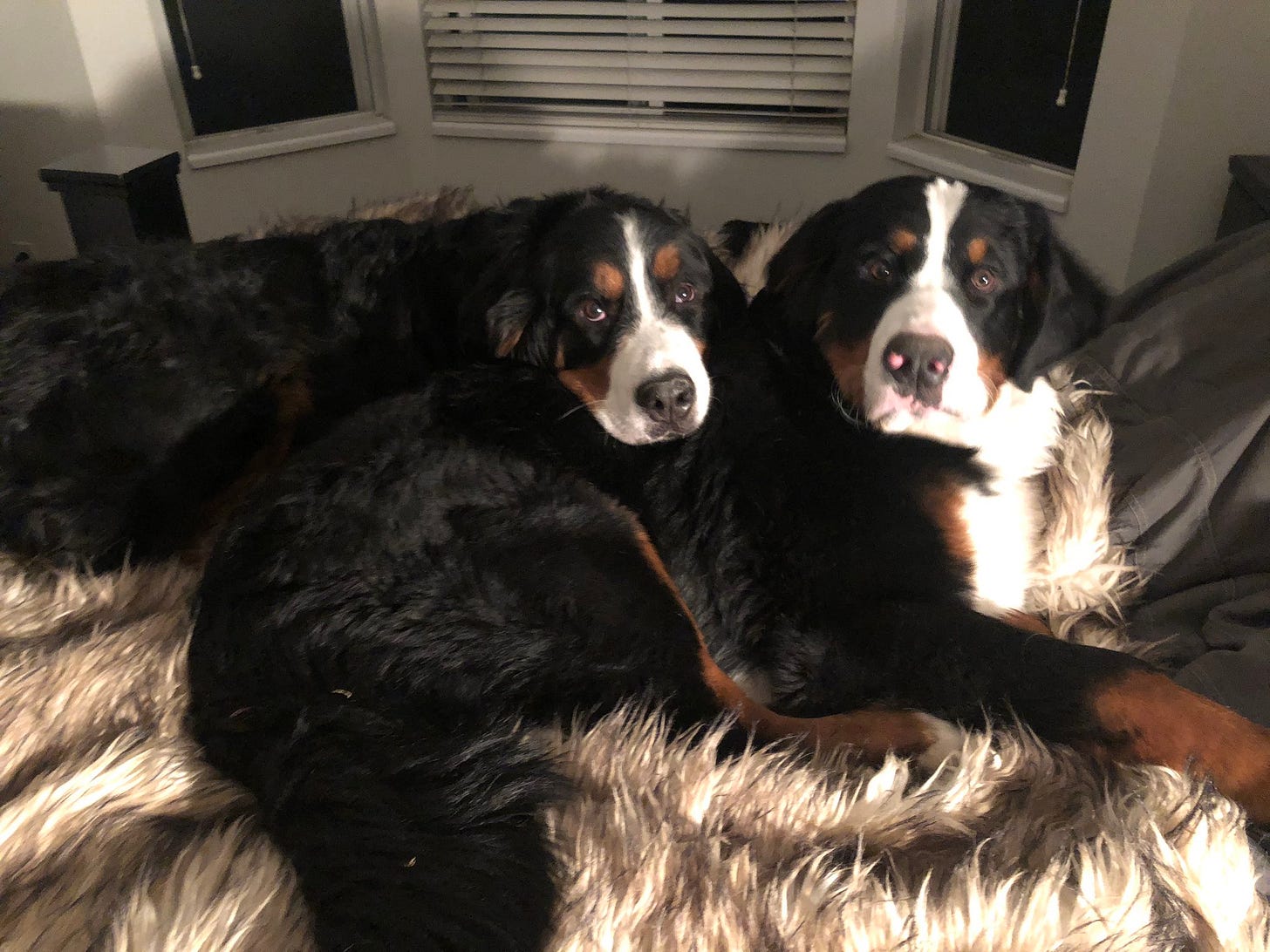 GOOD DOGS. If these big boys are territorial of your bed, I wonder where you sleep.
Thanks to everyone who shared this week, and as always, thanks to you, valued reader, for making it this far through my lengthy ramblings. I continue to be amazed and grateful that thousands of people are willing to let me into their inboxes, and I hope you've found something you enjoy.
Question for you: is there a recipe, cocktail, book, musician, etc., that you've discovered through these emails that you've especially enjoyed?
I'm always interested to see what connects with people. Let me know in the comments!
Have a great weekend.
— Scott Hines (@actioncookbook)