Discover more from The Action Cookbook Newsletter
A cookout in your inbox. Come for the food, stay for the stories, three times a week.
The weekend? We've got a plan for that.
A road map to success in this week's A Good Day In Hell.
2019 is rapidly winding down, and it's also about to get a good deal busier. Soon, holiday shopping, holiday parties, holiday travel and year-end deadlines are going to put demands on our schedules, and if you're like me, there's a good chance this is one of the last unscheduled weekends you'll have this year.
So let's make the most of it. Normally, every Friday edition of this newsletter is something I call A Good Day In Hell — borrowing from Dante's Inferno to suggest that the workweek drudge can feel like the Seventh Circle of Hell. Consequently, each Friday morning we review seven good things — food, drink, entertainment, sports, dogs — that can help us climb out of those boiling depths and into the weekend.
We're going to do the same thing today, but there's a few things that require a little forethought, so we'll approach it step by step.
We'll make a plan.
FRIDAY NIGHT
Friday nights are tough. Worn out from the workweek, I can't be asked to do a great deal other than pick up pizza for the kids and collapse on the couch. I love cooking, but at most I'll do legwork for the weekend ahead.
That's exactly what we're going to do here, before hunkering down for the evening.
(7a) Let's Make Dough
One of the most therapeutic things in the kitchen (aside from clobbering meat with a hammer) is to make dough. You're creating something out of seemingly nothing, there's kneading involved, and then waiting. We're going to make two.
First, I'm cracking into Stella Parks' tremendous (mostly-dessert-focused) cookbook Bravetart for an English muffin dough that'll make us feel like we really accomplished something by Sunday morning. Here's what she calls for:
3-1/2 cups (16 oz by weight) unbleached bread flour

2 tablespoons (1 oz by weight) sugar

2 teaspoons kosher salt

1-1/4 teaspoons instant dry yeast

2 cups milk (any percentage, I used 2%)

4 tablespoons butter, melted
Sift the flour into a large bowl, then stir in sugar, salt and yeast, followed by the milk and melted butter. Cover with plastic and set somewhere on the cool end of room temperature. Good? Good. We'll come back to that Saturday morning.
"That's it? I barely did anything."
Okay, we'll make another. I adore Michael Ruhlman's book Ratio: The Simple Codes Behind The Craft of Everyday Cooking, which introduces a lot of simple science and rules of thumb to making successful recipes. One he uses is the 5:3 bread ratio. We're going to make pizza dough with it.
500 grams bread flour (about 4 cups)

300 grams water (about 12 ounces)

2 teaspoons salt

1 teaspoon instant dry yeast

1 tablespoon olive oil
Mix all that in a mixer (or by hand, it'll just take longer) until it clings to the hook. Toss in a bowl and cover with a damp towel for a couple hours.
Hmm. We'll need something to do for a couple hours.
(6) The most soothing show on all of television
Have you watched Grand Designs yet? The British homebuilding show has been running nearly two decades, but it's only been in the last few that American audiences have had access to it via Netflix, where multiple seasons are currently on offer.
I could rave on for 1000 words here about Kevin McCloud's understated genius as a host, or about how I'm actually a licensed, practicing architect and find the show incredibly accurate, but I already did that earlier this year for Decider, so I'll link that piece here.
This has consumed so many slow Friday evenings in my house while dough rises. It's a peaceful entry into the weekend.
(Before you go to bed, knead the pizza dough for 2-3 minutes, then cover with plastic wrap and put in the fridge. The muffin dough stays out.)
SATURDAY MORNING
Ahh, that was restful. Are we rested yet? No? That's okay, we're not in a rush here. Here, let's set the tone.
(5) Have a lo-fi morning with the help of Soccer Mommy
Soccer Mommy is the nom de guerre of 22-year-old Nashville-based singer-songwriter Sophie Allison, and her 2018 debut studio album Clean offers bare, confessional lyrics with a willful low-fi sensibility. There's a fine line between setting a vibe and putting you on — in the lead track, "Still Clean", there's a point where the audio briefly cuts out in what we can assume is a purposeful gesture to her bedroom-pop origins. This sort of thing could come off as gimmickry in less capable hands.
It works, though. Her soulful voice reminds me of a Gen-Z Sheryl Crow at times, and Clean is a perfect, chill way to start your Saturday.
My muffin dough!
Right, that. Per Parks, "without stirring the spongy dough, dollop twelve 1/3 cup portions onto a cornmeal-covered baking sheet. Sprinkle with cornmeal, cover loosely with plastic, and refrigerate for 10 to 24 hours." Hey, 24 hours? That's tomorrow! Great. Our work here is done, again, for now.
What now?
SATURDAY AFTERNOON
Well, I write about college football a lot. This weekend, there's a handful of early games with some intrigue. Indiana, ranked for the first time since 1994, heads to State College to take on Penn State, still sore from a disappointing loss to Minnesota last week that knocked them from the playoff field. Or, you could watch Michigan-Michigan State, a sibling rivalry that often turns ugly, hilarious, or both.
Or, you could pick up a nice book.
(4) Family drama! (and details that might only matter to me but I appreciate them)
I'm far from the first person to recommend Little Fires Everywhere, Celeste Ng's 2017 novel, but I won't be the last, either.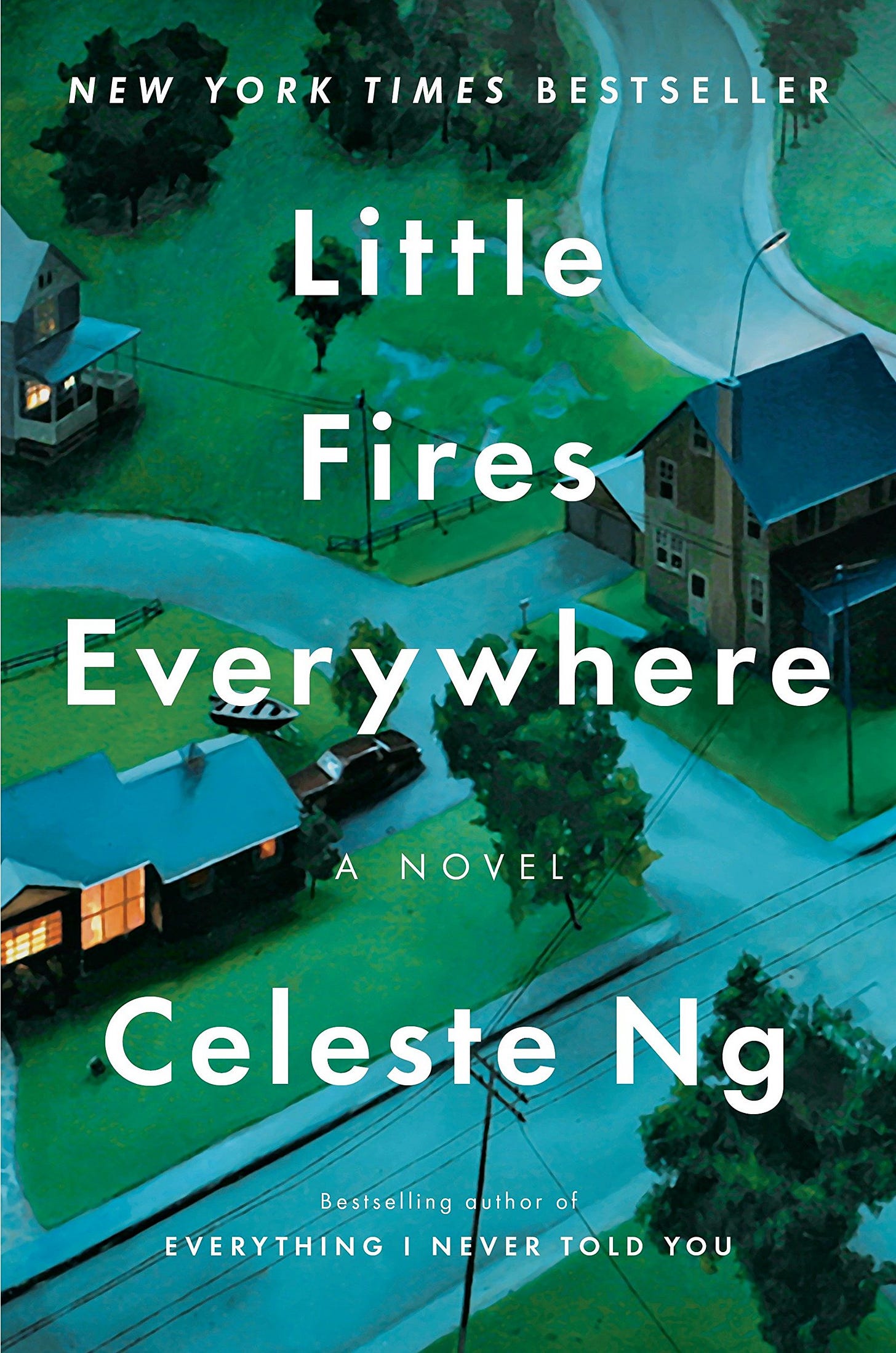 It's not a difficult read, and I mean that as a compliment — it doesn't have any tricks or affectations, it's not that long, it's just a good story told exceptionally well. It centers on the well-to-do Richardson family of Shaker Heights, Ohio (a wealthy inner suburb of Cleveland) and how their lives are upended when they rent a house to Mia Warren, an itinerant artist, and her daughter Pearl.
It's set in 1997, and I know this is beside the point, but as someone who also lived in Cleveland in the late '90s, there were a number of period-and-locale-accurate details I really appreciated.
(3) *YAWN* This is almost too relaxing. I need a pick-me-up.
You know what I love in concept, but almost universally despise in execution? Combinations of coffee and alcohol. Invariably, they're sugary sludge, tempered with some chemical-y tasting liqueur like Bailey's Irish creme. I don't like my normal coffee like that either. It ends up feeling like you swallowed a lead weight.
Now, if you've been reading this newsletter for a while, you'll know I'm overly fond of Maggie Hoffman's cocktail primer The One-Bottle Cocktail. The book is full of simple recipes (only requiring one spirit each, hence the titles) that still display a complexity of taste and texture. Today, we're doing her recipe "On The Sly", a much fresher take on the combination of stimulants and depressants.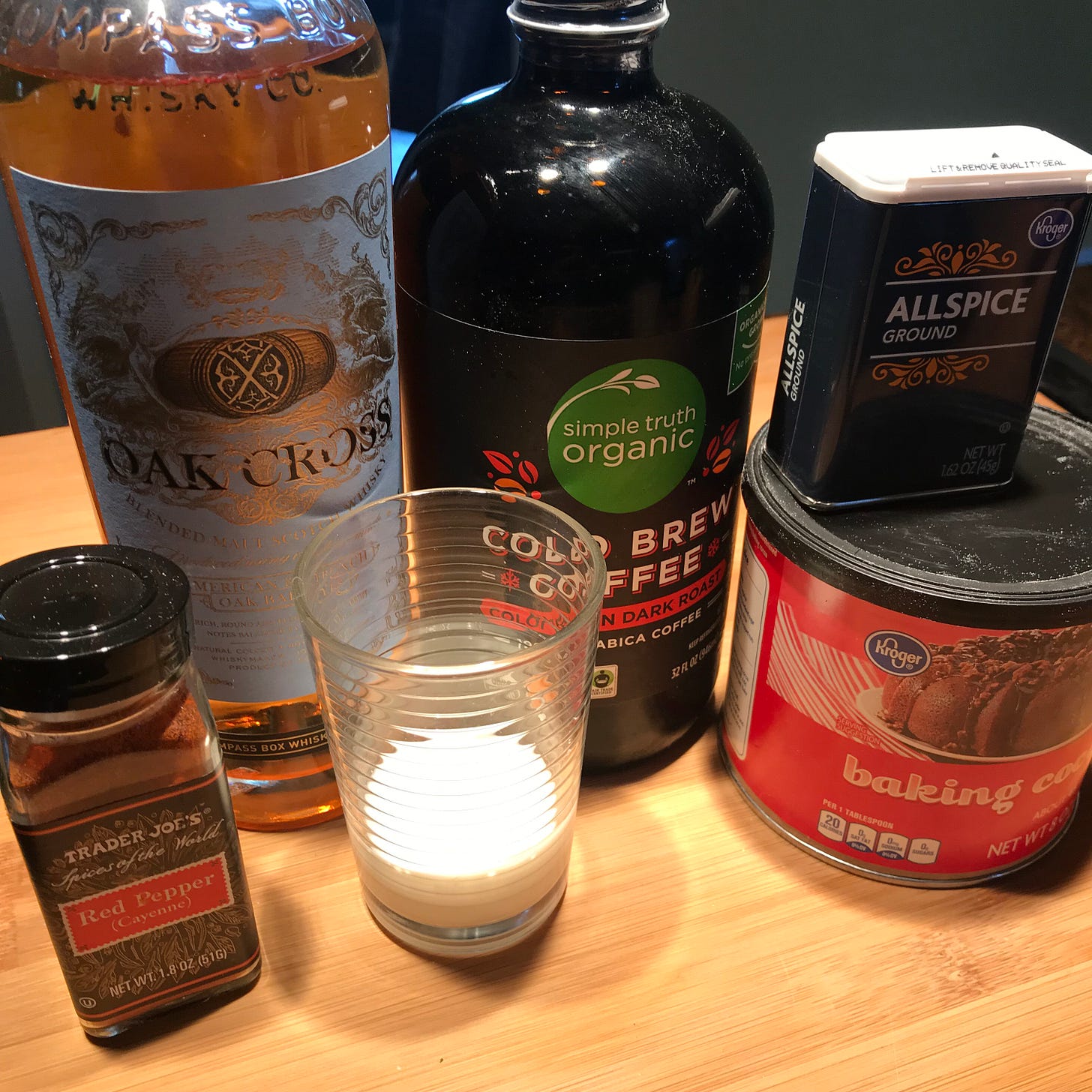 Here's what's in it:
2 ounces scotch

2 ounces cold-brew coffee

3/4 ounce maple syrup

1/2 ounce heavy cream

2 pinches ground allspice

1 pinch unsweetened cocoa

1 pinch cayenne (you should have this left over from last week's sandwich)
Shake that all up with ice, strain into a coupe or wine glass, and garnish with more cayenne and allspice.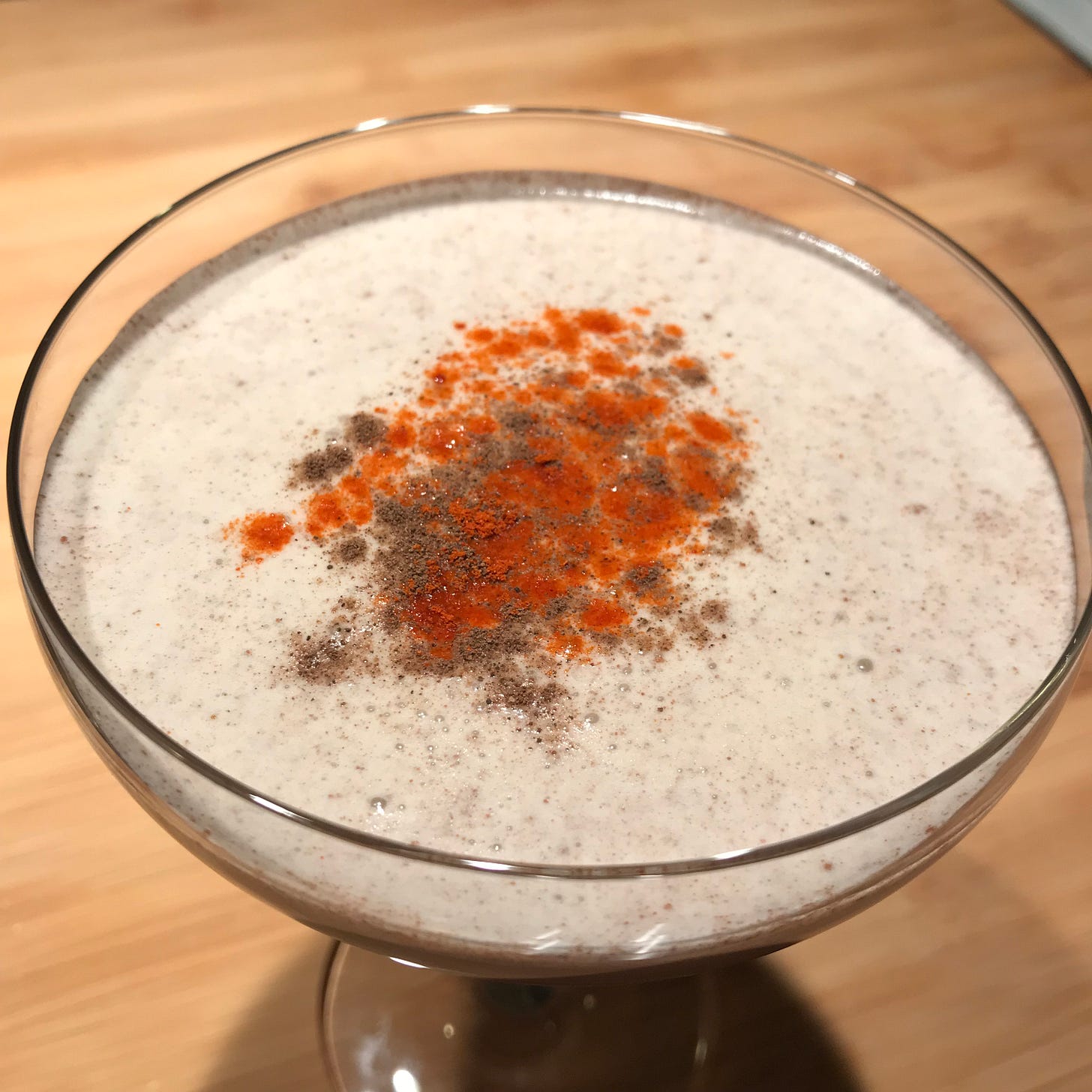 The minimal amount of cream is just enough to give it a smooth texture without being heavy, and the back-bite of the cayenne really balances the the dairy sweetness.
It also travels very well for a Saturday afternoon dog-walk.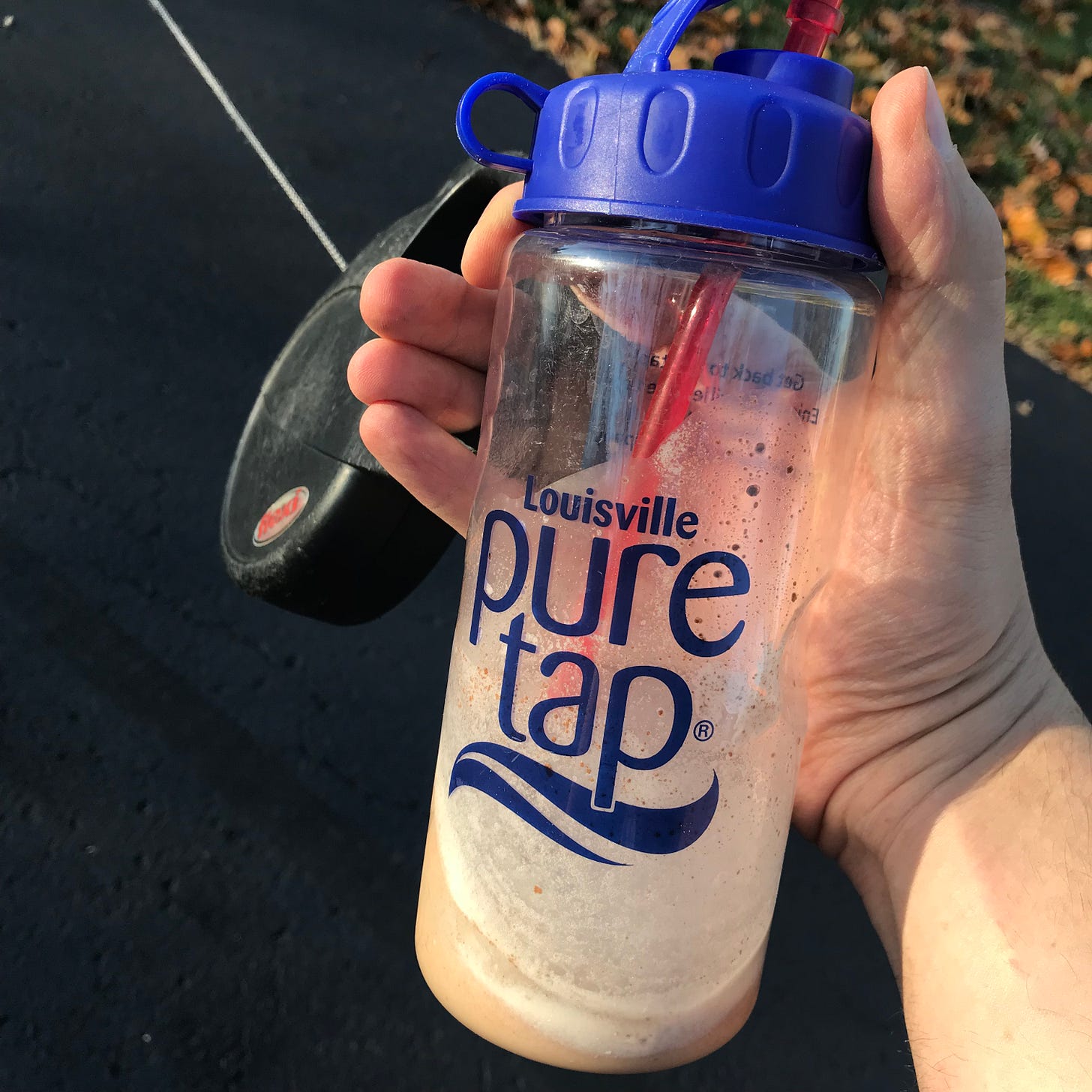 On the football front? You could watch to see if Ohio State covers the Big Ten-record 52-point spread against Rutgers, the ever-chaotic matchup of Georgia and Auburn, or you could see if 9-0 Minnesota can continue their best start since 1904 against Iowa.
Hey, when you get back from that dog-walk, pull the pizza dough out of the fridge and let it come to room temperature (still covered, loosely).
SATURDAY NIGHT
(7b) It's pizza time.
Now your pizza dough is ready to rock, and here's a little secret: I've been making pizza for years, and I'm still terrible at stretching and tossing the dough, and especially terrible about sliding it into the oven. Here's what I do: I have a silicone baking mat, which I spray with cooking oil. I roll and stretch the pizza into as perfect a circle I can on the mat. Then I lay a piece of parchment paper over top, flip it, peel the mat off: boom. You've got expertly stretched dough you can top and toss in. I use a pizza steel, you might use a stone or a pan, but I find baking it right on the parchment doesn't hurt a thing, and you don't have to use a bunch of cornmeal to get it to slide off a pizza peel.
But don't ask me. Ask this dog, who's had high hopes for years.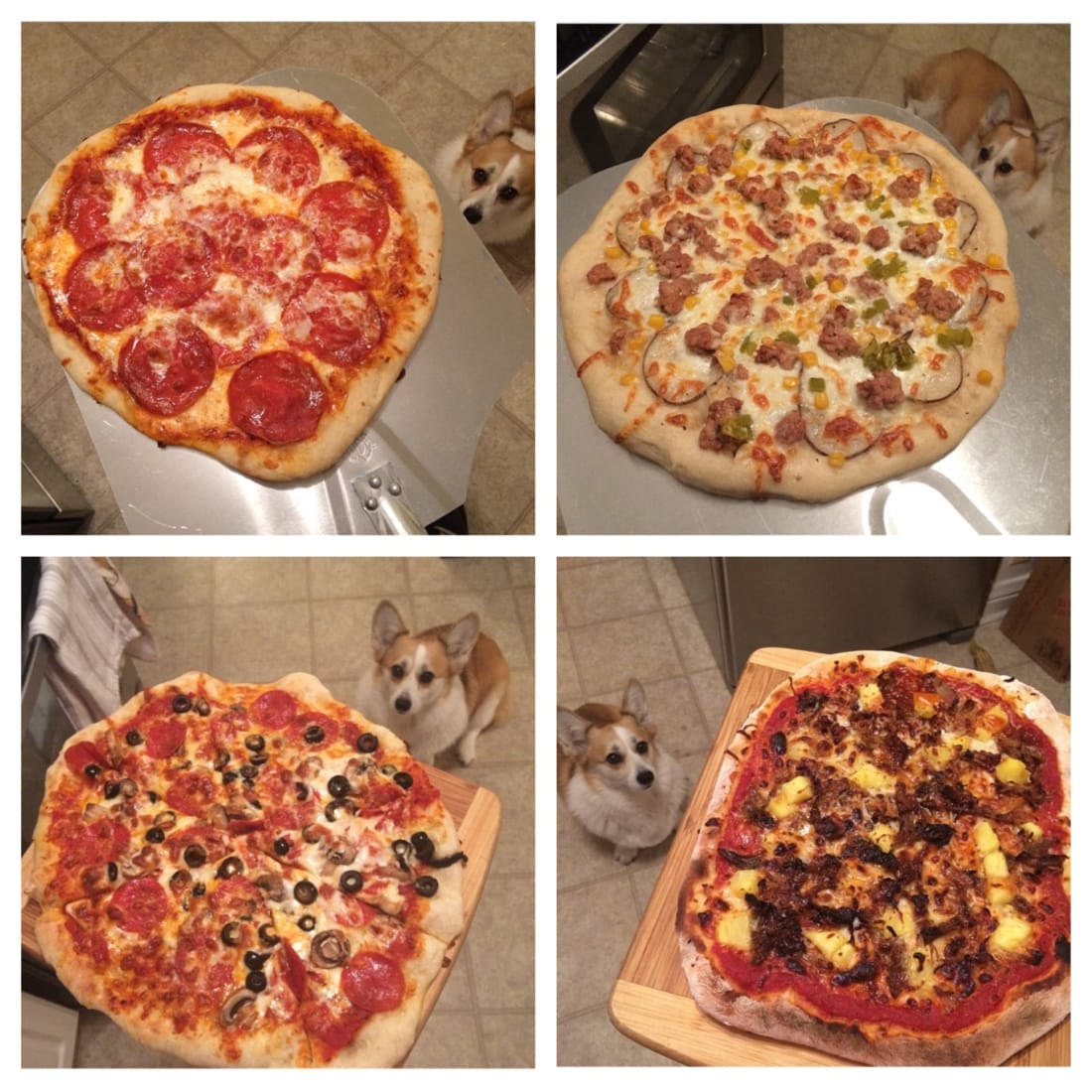 What to do with our evening? Well, again, there's more football. Oklahoma's looked shakier than preseason predictions, and they take on Baylor, who are an exceptionally-flimsy-looking 9-0. Or, we could crack out a board game.
(2) Fun on the farm
I won't pretend to be a well-versed board game aficionado, but one game I've loved playing is Chickapig, a sort of four-way game of chess featuring loose pigs, cow poop, and a good deal of ruthlessly screwing over your friends and family.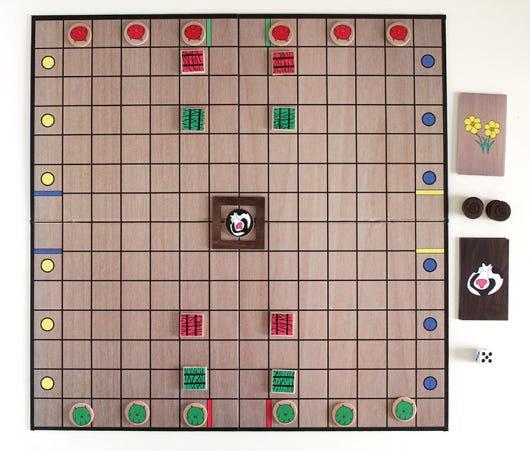 But I'm not the expert here, you, the readers, are. I want to know what games you've found entertaining recently, and I'm opening up a separate discussion thread here just for that. (Note: you can mute the thread to stop getting emails about it.)
SUNDAY MORNING
Ah, what a weekend we've had. If only we had a great breakfast to look forward to.
Hey, wait! We do!
(7c) Look at me. Look at me. I'm the muffin man now.
Pull that English muffin dough out of the fridge and let it come to room temperature. Preheat an electric skillet to 350 degrees (or a cast-iron skillet to medium heat), and brush it with butter. Turn out the individual muffin portions, and flip (about 5-6 minutes) to get each side golden brown.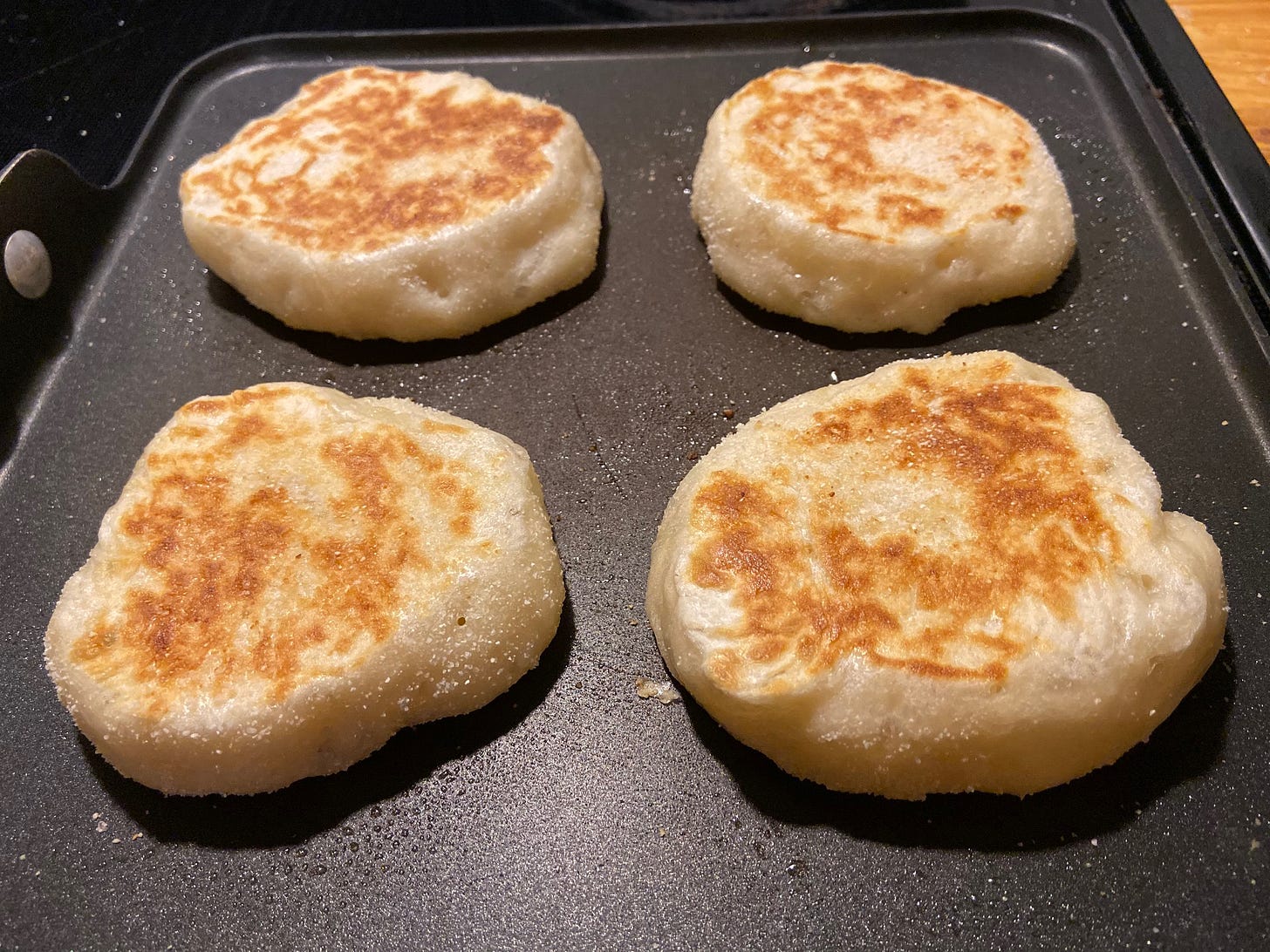 (I borrowed this particular picture from my wise, talented and handsome friend Dave, because mine got slightly too brown on the outside. The cookbook says 8 minutes per side, I disagree.)
Separate the muffins with your fingers or a fork rather than a knife, and…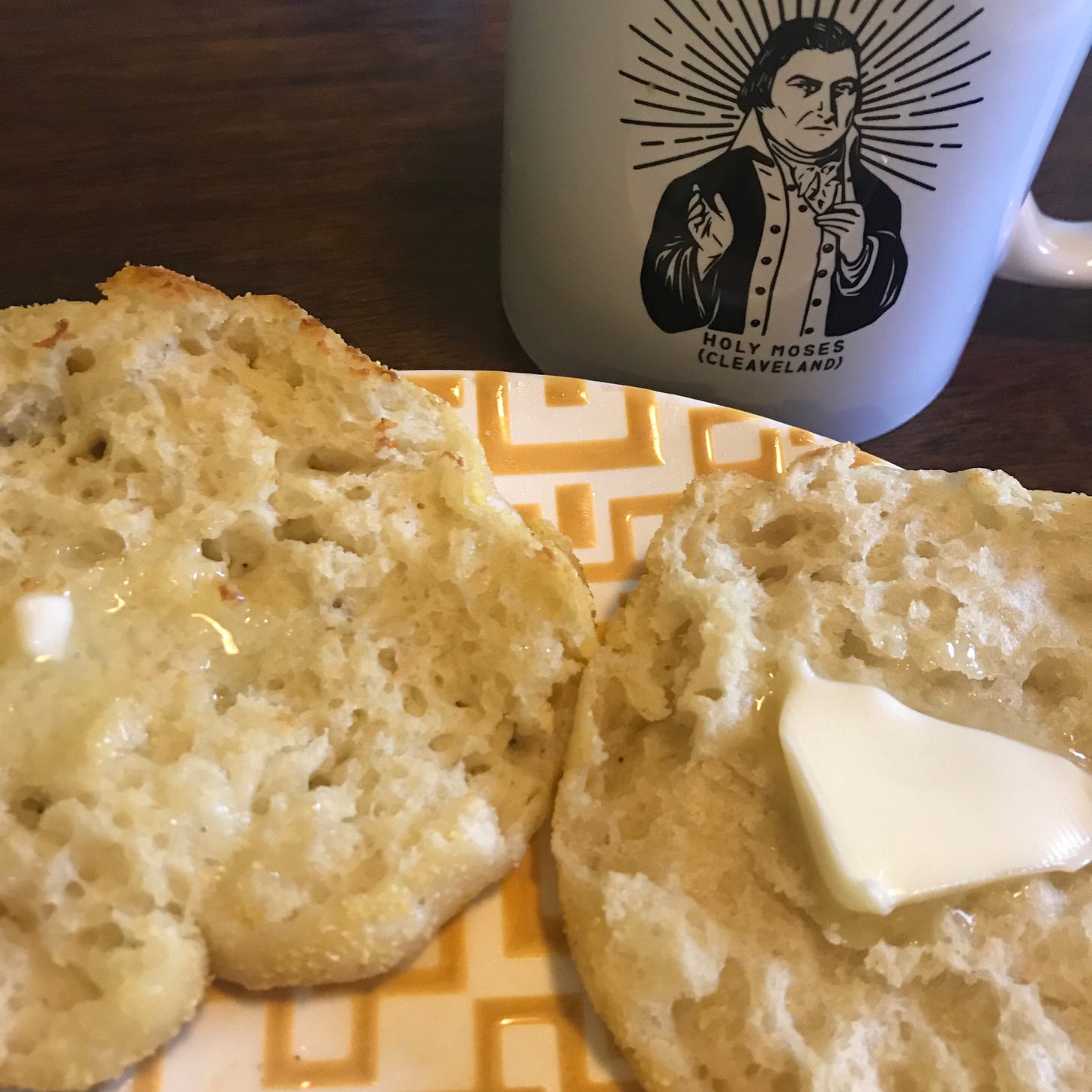 Breakfast magic. Pictures don't do justice what a different freshly-baked English muffins are over store-bought: they're pillowy-soft and steamy inside, with a fresh crisp crunch on the outside that you'll never get out of a plastic sleeve.
And it hardly took any work on Sunday morning, because you? You had a plan for the weekend.
There's almost nothing missing, except—
(1) Dogs.
There's one thing we're consistent on here, and that's sharing everyone's terrific dogs to end a Friday email. Today, thanks to an inbox bounty, we've got three. (You can reply to this email with your own dogs, and I strongly encourage you to do so!)
First, Matt B. writes in, with simply the subject line "Buckley is a good boy."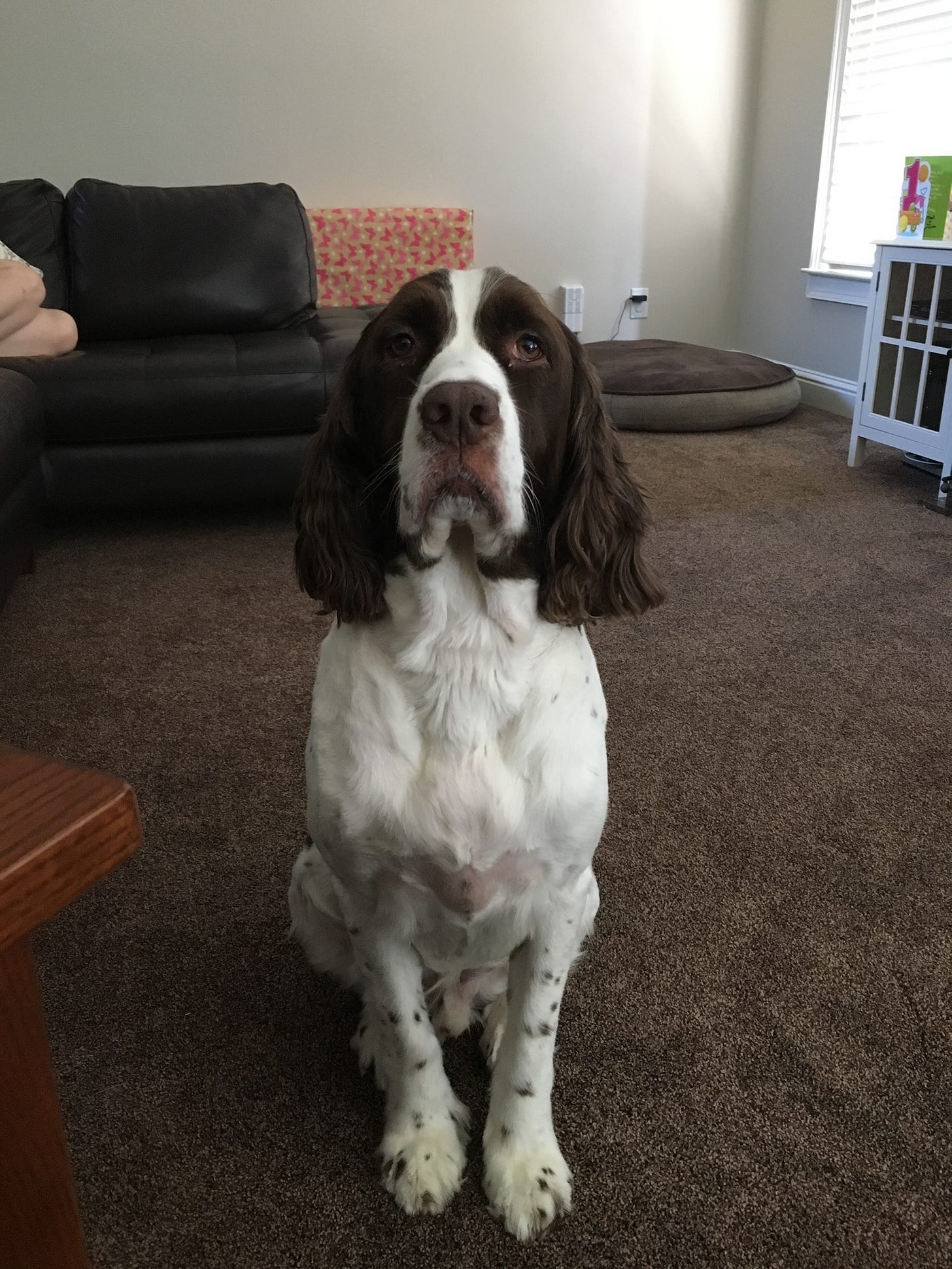 YES HE IS.
Next, Chris K. shares:
Lottie was born with a chicken wing arm. Franny is a puppy mill rescue and imprinted on Lottie, so when they sit down, Lottie has a tucked arm and Franny tucks the same arm because she thinks all dogs do that.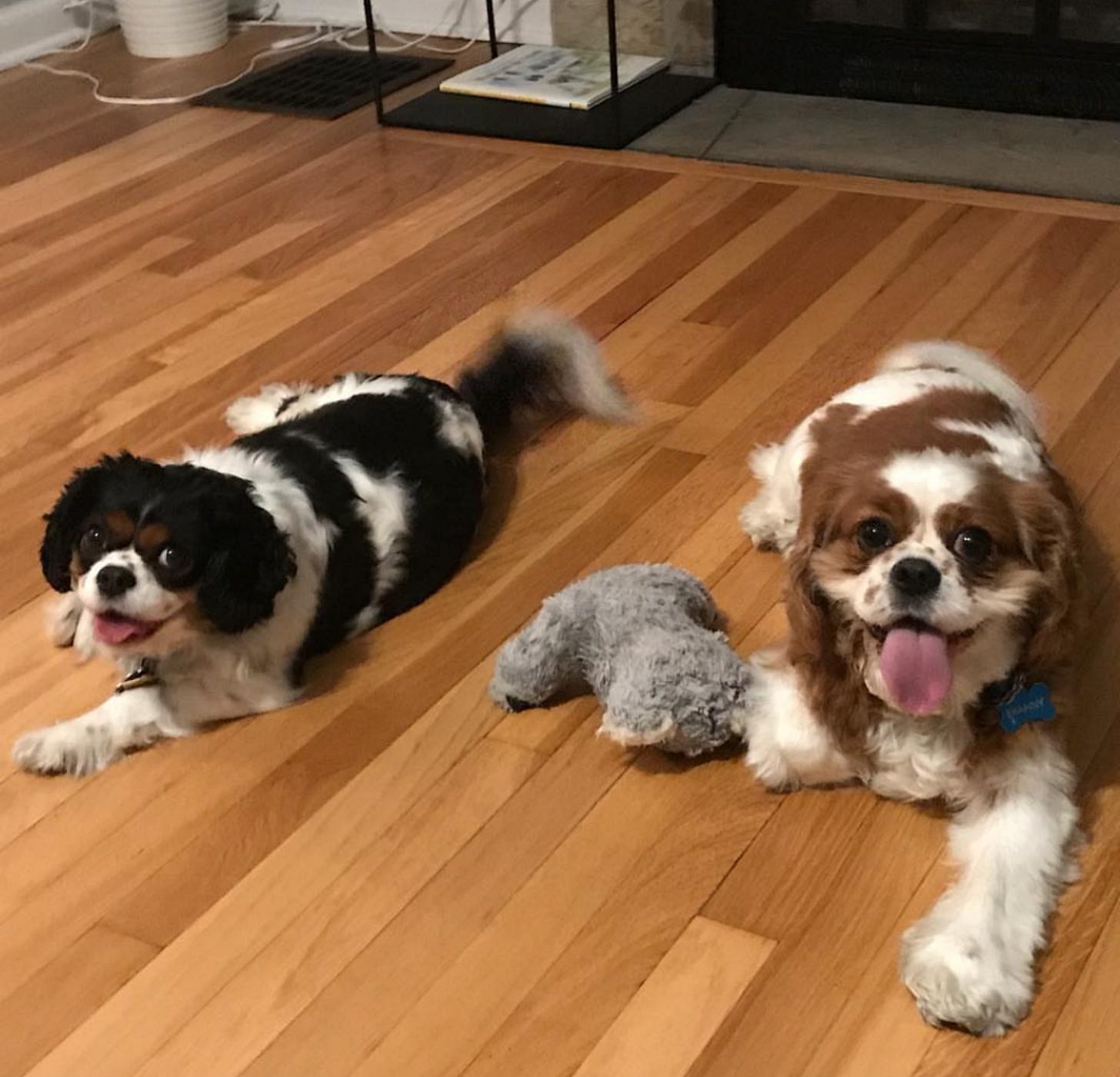 SUPPORTIVE DOG BUDDIES.
Finally, @thegreatets shares:
This is Daisy, the 6 year old black lab. My wife and I went to visit her at my coworker's house after Florida lost to Georgia Southern in 2013 because puppies can heal pain even from Muschamp. My coworker found himself with eight jet black puppies after finding a female on craigslist supposedly fixed, but uh, she was decidedly pregnant. We ended up coming home with 2 from the litter, keeping our big girl Daisy, and our friends taking in her smaller sister. She loves playing frisbee, so much in fact that she tore both ACLs at age 2. She is excellent with kids, dogs, and pillows, and can poop on command.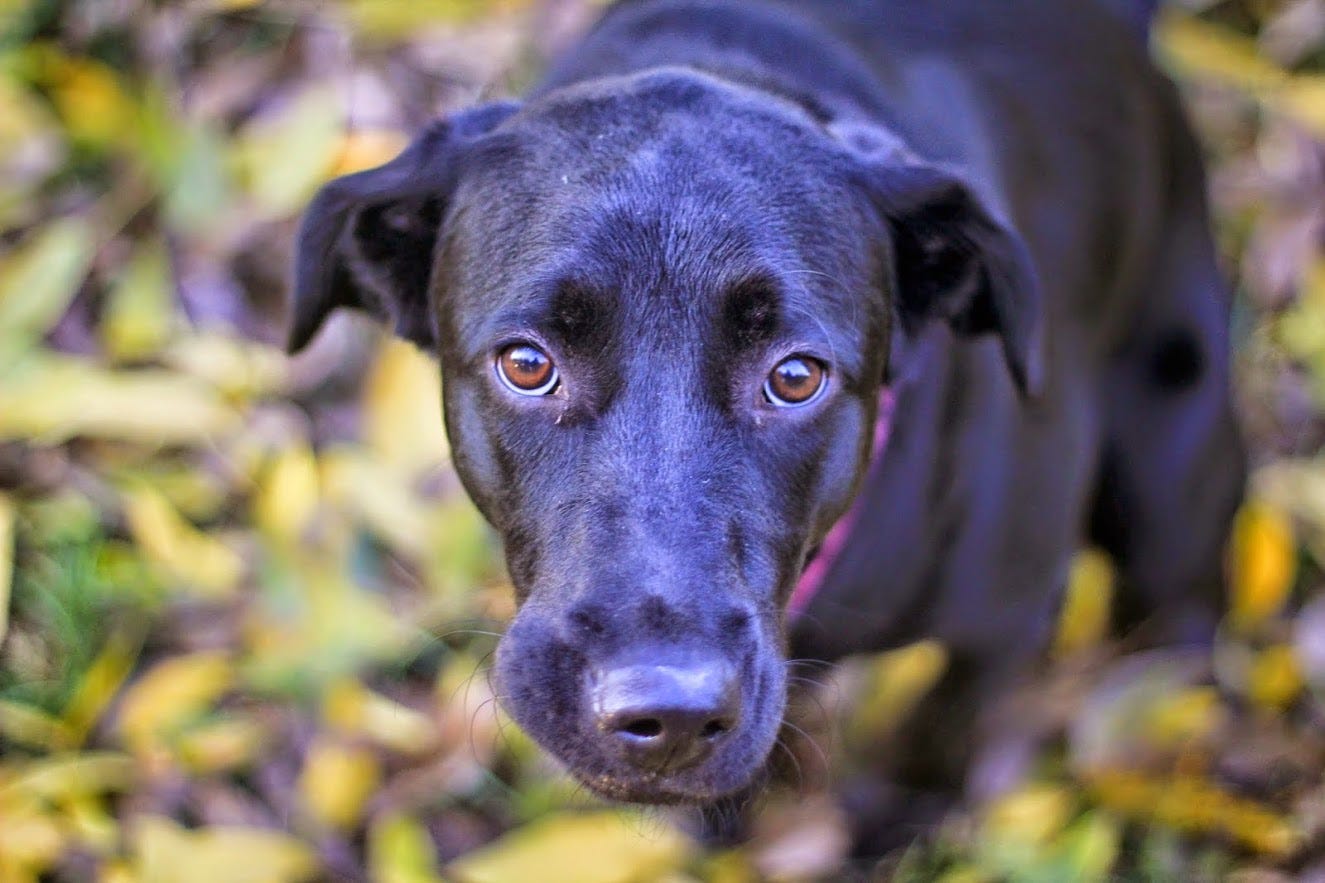 Can poop on command? That's a dog with a plan of her own.
Have a wonderful weekend, and I sincerely thank you for reading and subscribing to The Action Cookbook Newsletter. It's been great seeing this project grow, and the more it does, the more I'll be able to do. If you're enjoying it, please share:
And if you're not subscribed yet (gasp!), there's no time like the present:
I'll see you on the other side of the weekend.
— Scott Hines (@actioncookbook)