The Wreck of the Jim Harbaugh Era
I will not apologize for how much fun I had doing this.
[clears throat]
We could write an incisive, thoughtful analysis of what's happened to Michigan football in the Jim Harbaugh Era, on the heels of this weekend's 35-14 plastering by the Wisconsin Badgers. We could look at failings on each side of the ball, assistant coaching changes that've hurt the Wolverines, question their schemes, their motivation, their execution.
We could do that.
Or we could do this.
The legend lives on from Fielding Yost on down
Of the men that they call Michiganders 
The maize and blue lads, who'll rise up and stand
Against any old Big Ten defenders
Lloyd Carr he was it, national title he split
A branch off the tree of Schembechler
When Coach Carr retired, the school was inspired
To think there were things they could do better
They hired the pride of the Mountaineer side
A spread-gun coach named Rich Rodriguez
As risky hires go, it was riskier than most
He'd bring in new offensive ideas 
Got off on bad terms when 2008 turned
With an opening game loss to Utah
They finished oh-eight with a 3-9 mark
It's quite fair to say it caused a brou-ha
Rodriguez was fired after three seasons round
It was clear his new system was failing
And every fan knew, as the boosters did too,
A Mich'gan Man they ought be retainin'
Hoke started off great and he seemed worth the wait
With their first win in eight 'gainst the Buckeyes
When the Sugar Bowl came, it seemed much the same
And the fans all thought "boy, we're in luck, guys!"
Shane Morris stayed in, the announcers came on,
Sayin', Brady, he has no idea
Dave Brandon got fired, the fans sick and tired, M said
Brady, I guess we'll be see'n ya
The boosters wired in our hero's comin' in 
A true Blue man we know can repair ya
But now four-plus years in, without a big win
Comes the Wreck of the Jim Harbaugh Era
Does anyone know where the Maize and Blue go
Once their savior's return has gone sour?
The pundits all say it shouldn't be this way
But they lost by three scores to Wisconsin
Is it Don Brown's defense or Harbaugh's nonsense
Or the loss of line coach Greg Mattison
And all that remains of his recruiting gains
Is an ineffective Shea Patterson
Rutgers they'll roll, but Iowa comes in 
With the doom of their great Hawkeye tight ends 
Old Michigan State, your spirit will break
And Notre Dame's back on the schedule 
And farther below looms O-H-I-O
The perennial playoff contender
Surely Jim Harbaugh knows no wins against O
Is how his era will be remembered
In a musty old hall in Detroit they prayed,
Or maybe it was Zingerman's Deli
The MGo boards pine, and the twittersphere whines
What happens next, can anyone tell me?
The legend lives on from Oosterban on down
Of the Big House up there in Ann Arbor
Go Blue, they said, never give us for dead
But it's not looking great for Jim Harbaugh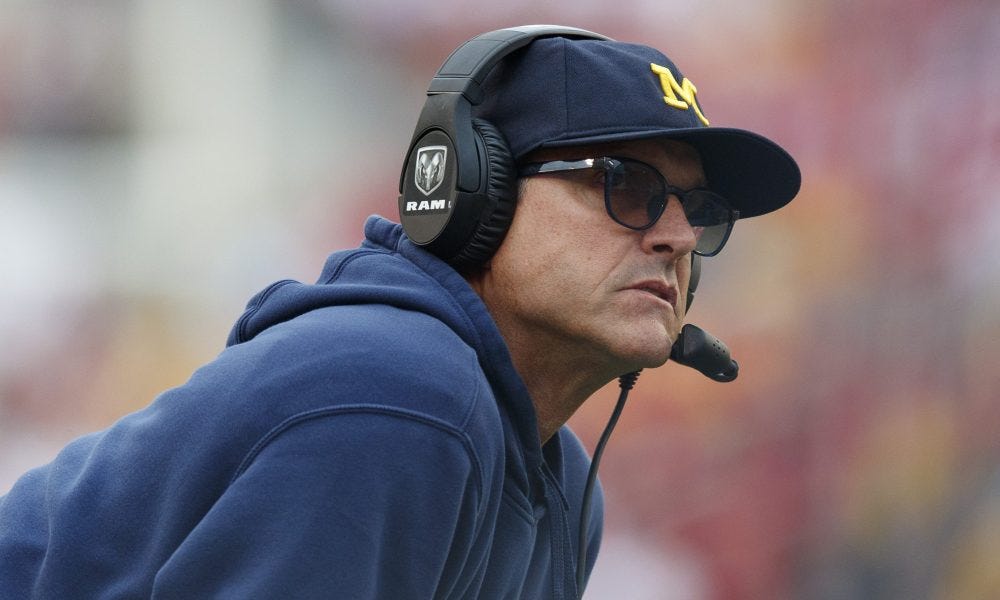 ---
What magnificent timing this is, that we have a new podcast available… about Michigan football misery! WELCOME TO ANN ARBOR is now live; Ace Anbender of MGoBlog joins us to wallow in the Blues.
Enjoy your week.