Discover more from The Action Cookbook Newsletter
A cookout in your inbox. Come for the food, stay for the stories, three times a week.
I was just shy of 21 years old when I saw the news flash on a television in my gym's locker room. The team I grew up rooting for, a perpetual mediocrity with bad uniforms and no national appeal whatsoever, had won the first pick in the NBA's draft lottery in a year when that meant more than ever. I hooted in delight. This guy could be good.
I was celebrating my 25th birthday at a bar in New York City, downing pitchers of beer after an office softball game, and watched in awe as one player singlehandedly dominated the end of a playoff game in a way virtually no one else had done before, scoring the last 25 of his team's points in a double-overtime thriller of a victory.
I was out to dinner with the woman I would one day marry when my team's best player announced he was leaving in free agency, a public rebuke to a city and region that I would later acknowledge I was hypocritical to have felt, considering that I had also left that region in pursuit of better opportunities and fun with my friends. I cursed at the TV in the bar, and stuffed my replica jersey in a donation bin.
I was 32 years old, considering a move away from the big city that I'd swore I'd never leave the day I moved there, a move back home to be closer to family as we planned to start a family of our own, when the biggest free agent imaginable decided to come back home himself. I cried at my desk.
I was a first-time parent, sleep-deprived and completely unsure of what I was doing, trying not to wake the baby as I witnessed something I'd long considered impossible happening. My hometown would see a championship parade. I sobbed on the floor.
I am 38 years old now, a father of two with a mortgage and a bad back and opinions on lawn care and property taxes, and that same player is back in the NBA Finals for the 10th time, the ninth in the last ten seasons. One might wonder if the rare injury-stunted season that kept him away last year was simply the universe's way of proving that it was technically possible to hold an NBA Finals without him, something that somehow felt stranger than holding it without fans will feel this year.
There may have been more written on the career of LeBron James than almost any other athlete in history, so there's little I can say here that's new. The statistics are staggering, the body of work incomparable. In a career that has spawned its own cottage industry of hot-take artists earning paychecks through finding the most convoluted ways to denigrate his achievements, James has soared by, undaunted, unslowed, and completely unbothered. One of the first basketball writers to cover James in detail, my friend Ryan Jones, once noted that LeBron entered the league with the highest expectations ever put on a player and still exceeded all of them.
I could argue on statistics, argue that a single player challenging records held by both Michael Jordan and Magic Johnson is ludicrous, that he's been the two best players on every team he's been on, but I prefer the impressionistic. He's a T-1000, a player who would send my heart through the bottom of my stomach in the middle of a playoff game by bending an ankle in a way that would have any other human on Earth using crutches for a month, only to tighten his shoelaces and return to score 12 unanswered points. I believe you could run him over with a car and the driver of the car would be more likely to miss the fourth quarter of the game. He is on the wrong side of 35 for a professional athlete and yet it's possible to feel like he's having an off game only to realize he's in the midst of a 30-point triple-double.
Of course, to praise LeBron James unreservedly as I'm doing here is to invite the scorn of partisans of Michael Jordan or Kobe Bryant, fans whose entire worldview seems to be built around denying James's claim to on-court superiority. There are reasonable cases to be made on that front, though rarely by reasonable people, so let's then discuss the larger picture instead. An athlete who had every opportunity to be selfish, self-aggrandizing or self-serving has not been. An athlete who could've behaved badly and still had plenty of people willing to excuse it as part of a "complicated figure" narrative has instead been the consummate good citizen, a family man who married his high-school sweetheart, cheers his children on at every turn, and eschews nightlife in favor of Taco Tuesday at home. He's an active philanthropist and outspoken advocate for social justice, a person who has been everything he has been asked to be and a dozen things he has not. Michael Jordan could never. If you refuse to accept that LeBron James is the greatest basketball player of all time, then at least admit he has lived a greater life in basketball than anyone who came before him.
Nothing has been the same in 2020. We have witnessed a Kentucky Derby in September without fans, a Summer Olympics cancelled and sports schedules scrambled and unscrambled in every way possible. We have held happy hours and kindergarten classes and weddings and funerals over video-chat. We have reconsidered every aspect of our daily lives, from where we work to how we shop for groceries to how thoughtful of a gift a Peloton bike might be. Things that would have been absolutely inconceivable to see changed or cancelled a year ago are below-the-fold headlines on a Tuesday this year.
A season of professional basketball will come to its much-delayed conclusion in October in a dressed-up ballroom in Orlando. There will be no fans, save for a vaguely dystopian wall of jittery livestream images. There will be no parade for the winning team, no jubilant crowd to celebrate in person.
LeBron James will be there, and it will be the most normal anything has felt this entire year.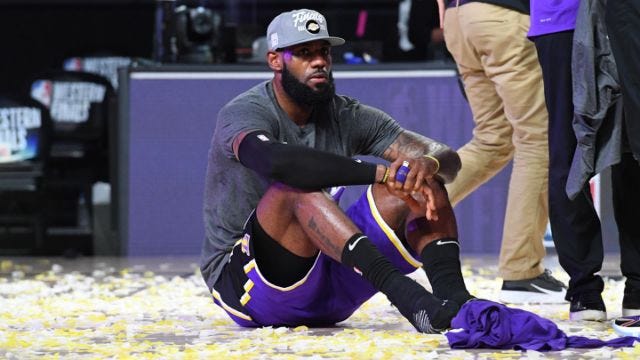 —Scott Hines (@actioncookbook)