This Christmas, sing your own carol.
A holiday playlist version of the Friday digest. Plus: LOTS OF DOGS.
Christmas, huh? Time to take some time off work, relax, and bask in the quiet leisure of the holiday, right?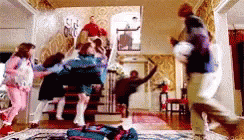 Yeah, no, it can be a lot. End-of-year work stresses, family and financial obligations, arduous travel, all happening at the gloomiest time of year. Even if you love the holiday, it can wear you down, especially after you've heard "Santa Baby" or "Rudolph The Red-Nosed Reindeer" for the thousandth time. (If you work retail, dining, or any other scenario where you are not in control of the music, please know that my deepest sympathies are with you at this time of year.)
It's helpful, should you get the chance, to step back, take a breath, and realize that you can forge your own path. Make your own holiday traditions. Have the holiday you want — solemn or tacky, religious or secular, home-spun or commercialized or all of the above. Sing your own songs.
Today, as always, we're going to go through seven ACBN-approved good things, but in addition, we're going to soundtrack it with something other than songs about sexy Santa or mistreated work animals.
Let's hit play on a new holiday list.
7) First, let's mull our beverage options over.
There are two main schools of thought when it comes to Christmastime alcohol, and they basically come down to "seasoned cream" or "hot wine".
Listen — I'll drink a small cup of eggnog or mulled wine if it's offered to me, but I'm not especially fond of either. One's too rich, the other's too sweet. I like the idea of seasonal flavors in my drink, but I want something that's not going to make me sick after half a serving.
Enter the Holiday Negroni.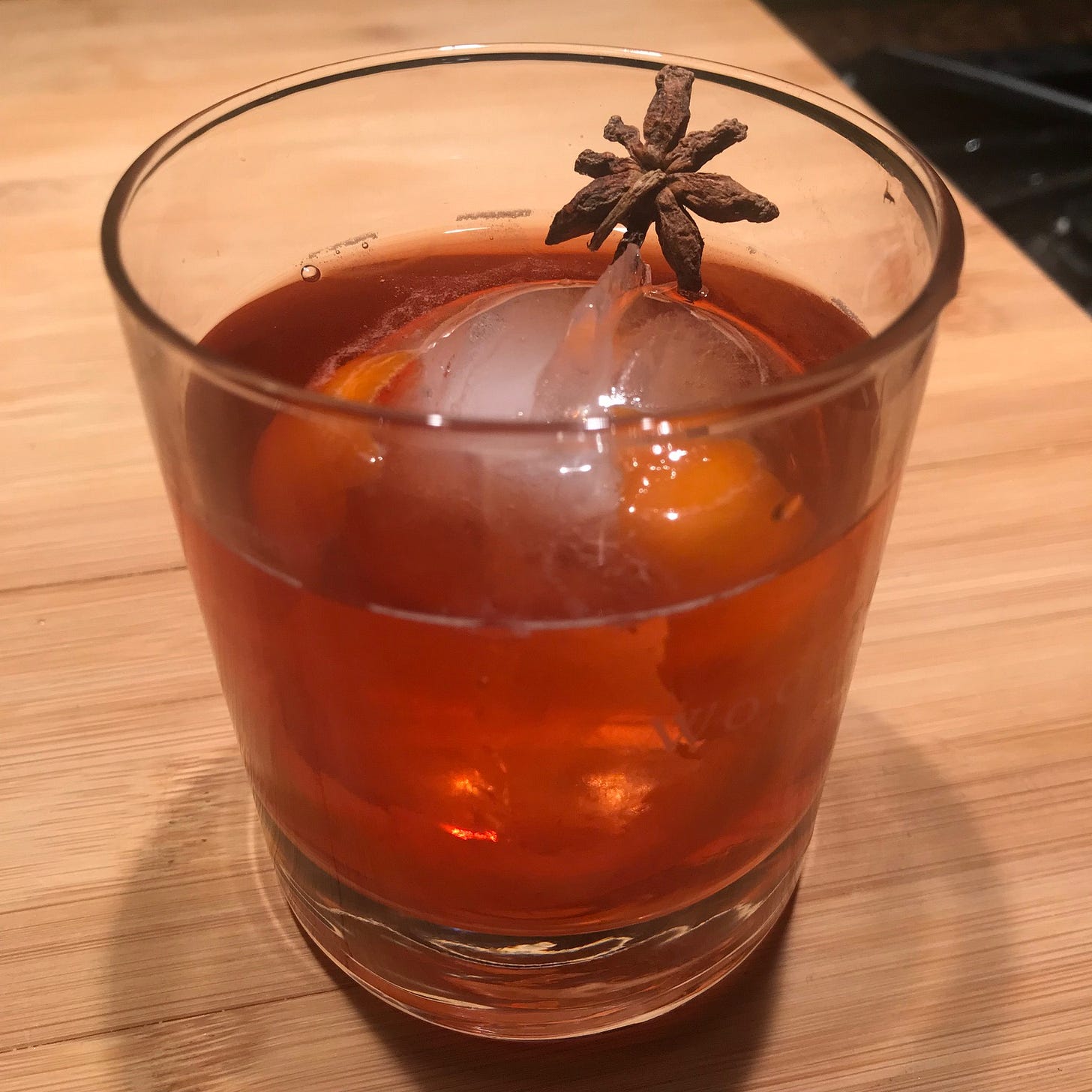 This yuletide spin on a cocktail usually associated with summertime takes the spices from mulled wine — cinnamon, cloves, star anise, orange zest — and pairs them with the clean bitterness of Campari. All you have to do is steep the ingredients overnight in the Campari, strain, and mix it with equal parts gin and sweet vermouth.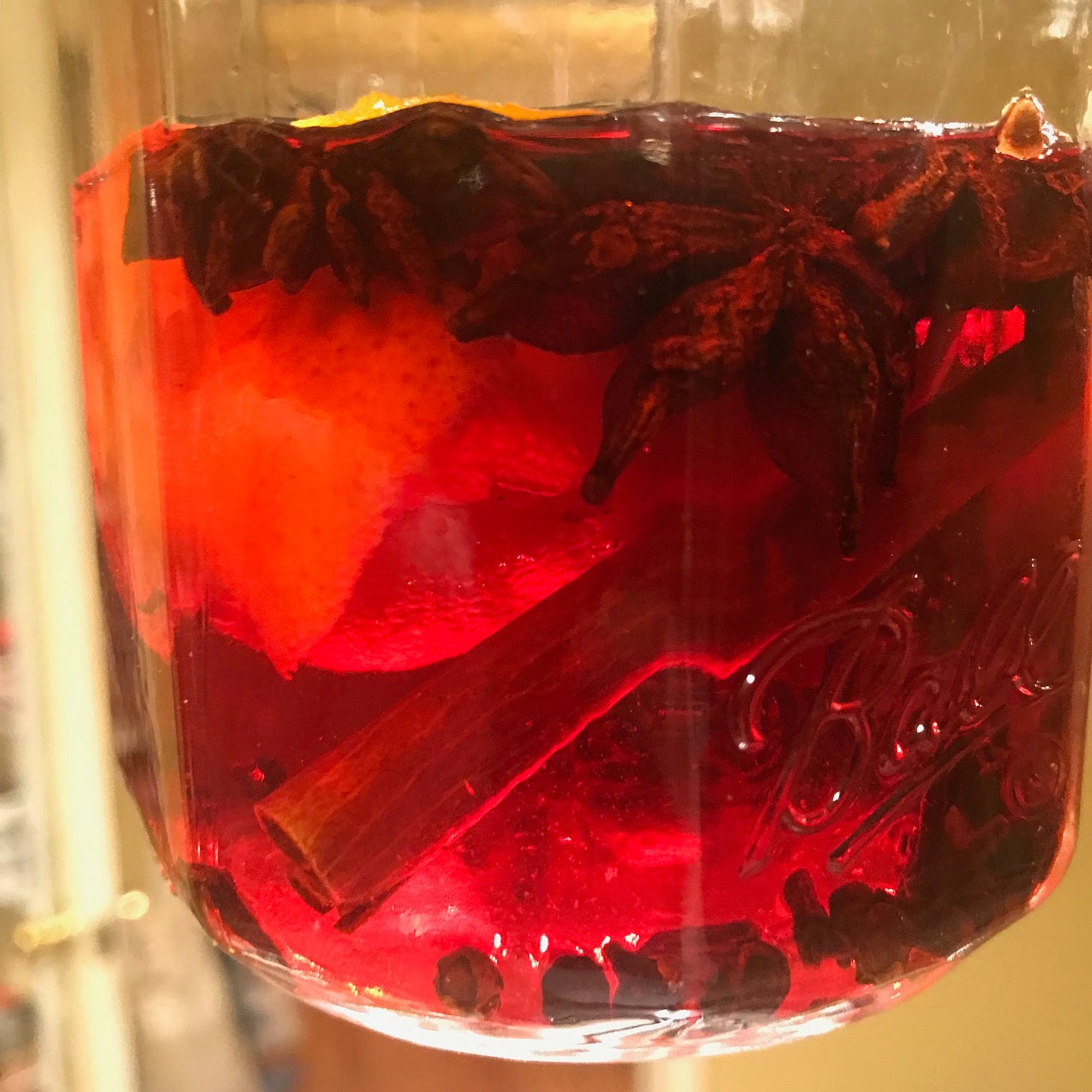 It's clean, it's crisp, and it still tastes like the holidays without also feeling like you've swallowed a brick.
7B) Speaking of clean, crisp, and not-overly-sweet…
I've raved about Over The Rhine in these pages before; the Ohio-based duo is one of my all-time favorite musical acts. We had one of their songs performed during our wedding ceremony, and a different one as our first dance. They're great. They also have a strong tradition of making what singer Karin Berquist has termed "reality Christmas music" — in three holiday albums over the last two decades, they've made music that sounds like the season actually feels.
6) Consider then, the holiday breakfast.
You didn't think this was all going to be classy, did you? No, I'm gonna get my ridiculous food licks in, that's how things work around here. What's Christmas morning without a robust breakfast, the kind of thing you can come and go from as you dole out gifts or help assemble toys or search for the right batteries [squinting] how does this toy take a "B" battery?
You're also likely to have different people with differing tastes in your house, so you can offer a range of options. Keeping that in mind, we've got two approaches — and one presentation.
First, Bagel Bombs.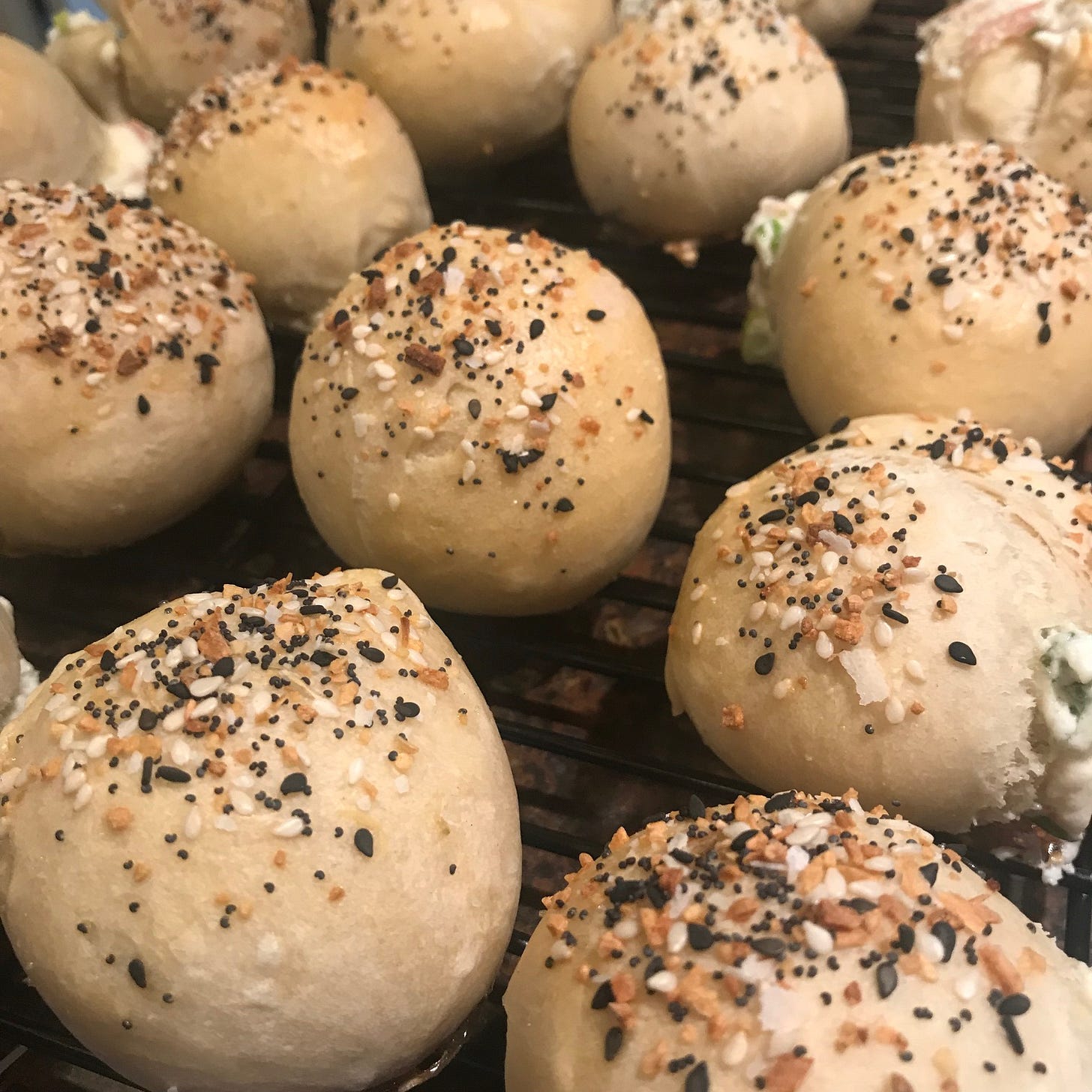 This is simple enough, and will produce something that, if made in significant enough quantities, can be reheated for days after. First, make a simple dough — I prefer Michael Ruhlman's basic ratio of 500 grams bread flour to 300 grams cold water, with a pinch of yeast and salt, but any basic dough recipe will work.
Separately, mix an 8-ounce package of cream cheese with your preferred fillings — there's plenty of options, but I went with a simple mix of chopped scallions and cooked, crumbled bacon. Portion out roughly-tablespoon-sized portions, rolled into spheres. Keeping them separate, place them in the freezer for at least four hours — you'll want them rock-hard.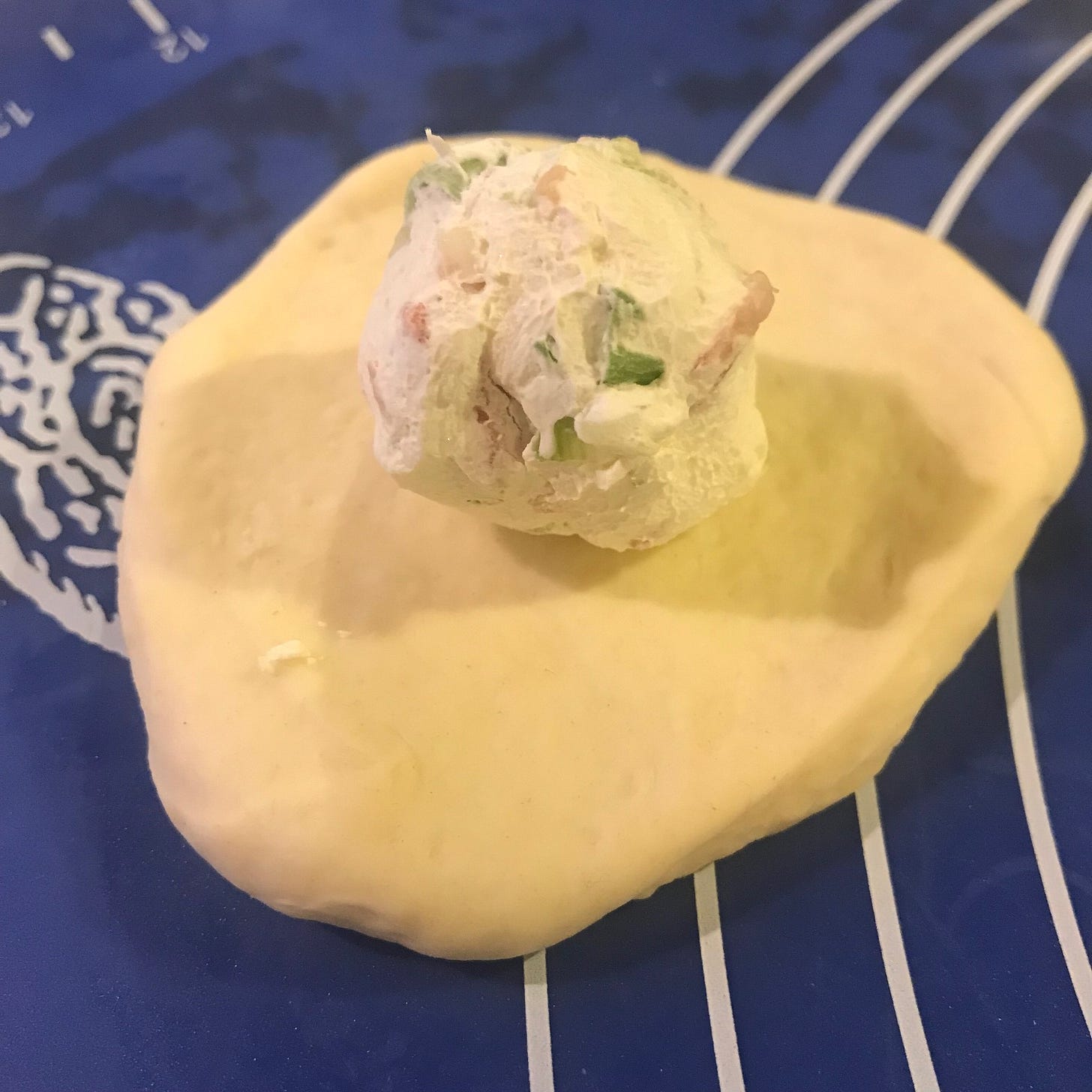 Once your dough is fully risen, roll out portions into 4-inch circles. Place a frozen ball inside each, wrap the dough around it securely, and roll in your hands until no seams are visible. Brush with an egg wash, and top with a mixture of salt, onion, garlic and poppyseeds (note: if you live near a Trader Joe's, you should absolutely not buy the spices separately, they sell an excellent Everything Bagel seasoning), and bake at 425 degrees for 20-25 minutes. (Some will inevitably leak. They'll still be delicious.)
Refrigerated, they'll keep 4-5 days and reheat well in the oven. (If they last that long.)
Next, the Breakfast Pizza Conundrum.
I love breakfast foods, and I love pizza. They seem meant to be together, but scientists have long been plagued by a fundamental issue: pizzas do not behave well when the toppings give off a lot of moisture, and eggs give off a lot of moisture. How to resolve this?
We have to rethink it structurally.
For this experiment, I took a fully-thawed bag of shredded hash browns, mixed it with a little beaten egg and a cup of shredded cheddar cheese. This mixture gets pressed onto a greased pan (if you have a springform, even better) and baked at 400 degrees for 20 minutes or until it starts to brown. Top this with cheese and breakfast meats (I used cooked crumbled sausage and diced ham).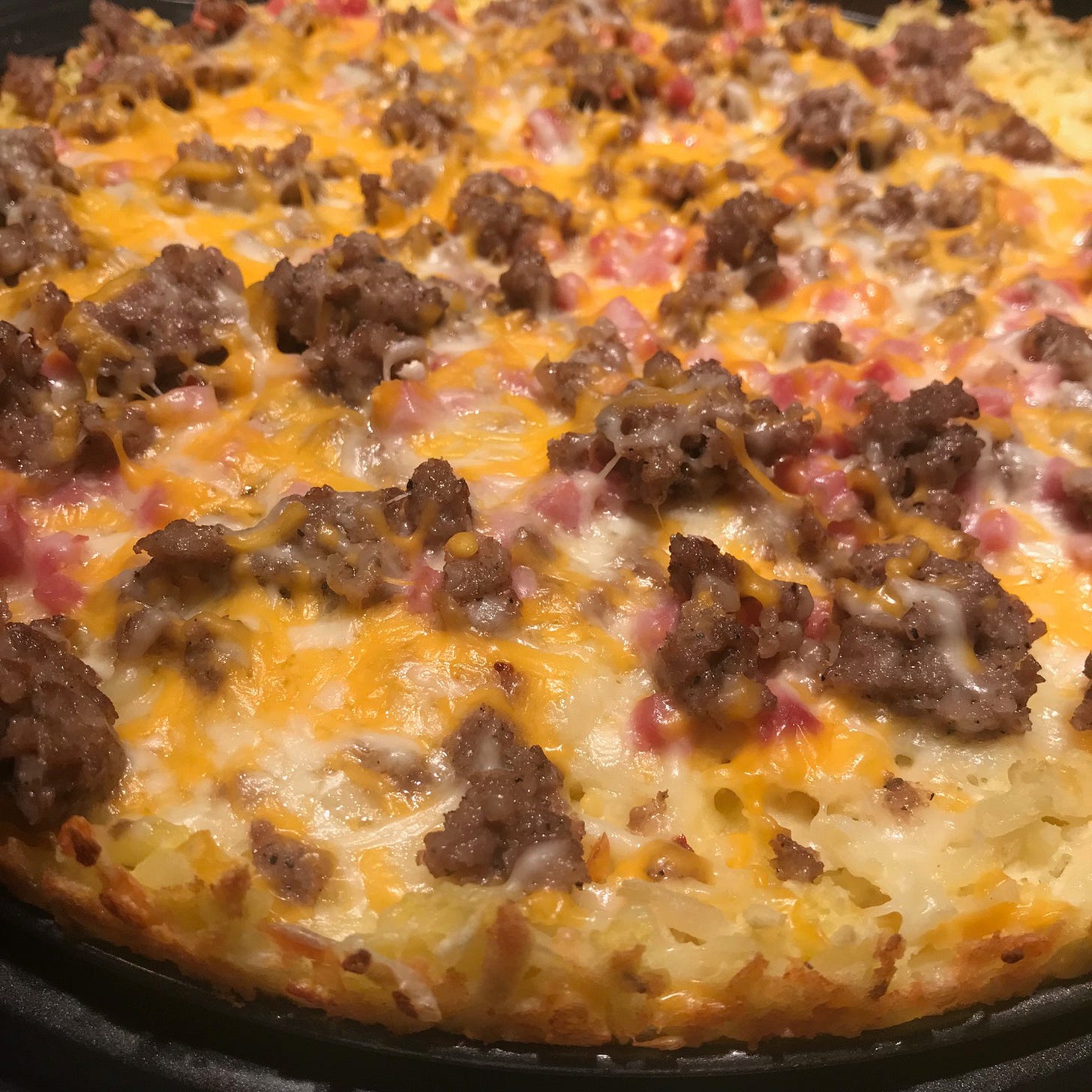 Now, none of this is unusual or innovative. Also, where's the real egg action?
That's where we're getting out the sous vide circulator. (Sorry, yeah, I'm that guy. When I turned 35 I was offered a choice of being Sous Vide Guy or Home Brew Guy, and we don't have room in the garage for the latter.) Separate the yolks from 8 eggs (note: I did this at the same time as the Bagel Bombs, and just used the whites as my egg wash), and beat until smooth. Pour this yolk mixture into a ziplock bag, squeezing as much air out as possible, and cook in a hot water bath at 149 degrees for 32 minutes. You'll have a sauce that's fully pasteurized but still as runny as an expertly-done poached egg, and perfect for topping that pizza.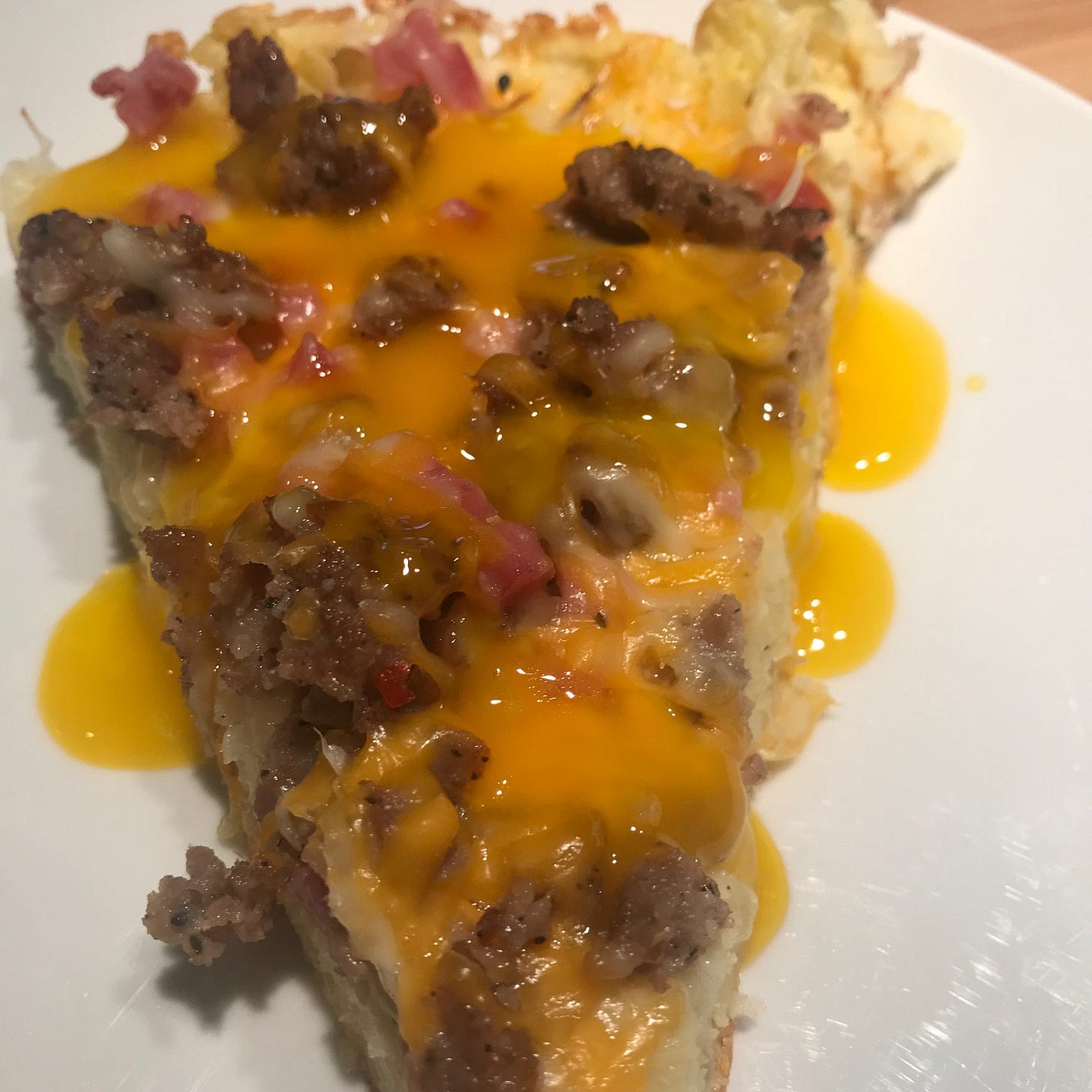 "Wow, that is clever," you say. "But now, how to present all of this together, in one cohesive yet also kind of stupid way?"
Of course, make a Breakfast Wreath.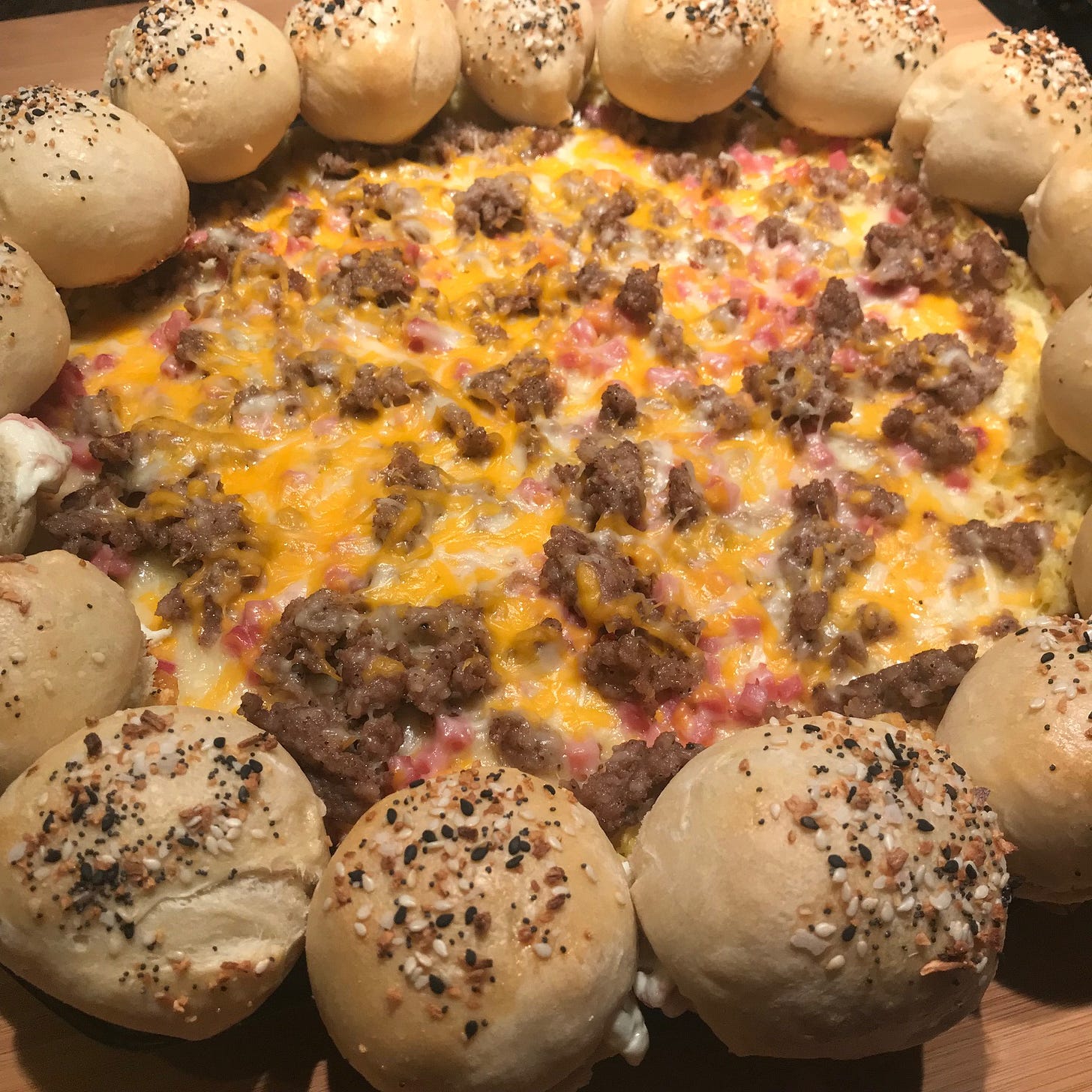 I apologize for nothing that I do here.
6B) JD McPherson, "All The Gifts I Need"
5) Rum the dang balls
You know what we're really missing so far here? We need some mid-century dirtbag desserts, some real "Grandma said these were just for the grownups, but give the kids one, it'll shut 'em up" kind of desserts.
Let's make rum balls.
Here's what we'll need:
A entire 11-ounce box of Nilla Wafers

1 cup powdered sugar

1 tablespoon cocoa powder

2 tablespoons light corn syrup

1/3 to 1/2 cup of rum
Pulse the Nilla Wafers in a food processor until ground into a fine meal. Add the sugar, cocoa powder, and corn syrup, and pulse a few more times to incorporate. Start adding the rum, a little at a time, and pulsing until the dough is fully saturated and able to be shaped but not overly wet. (I ruined an entire batch the other night by being too hasty.)
Form into tablespoon-sized balls, pressing tightly, and roll in powdered sugar.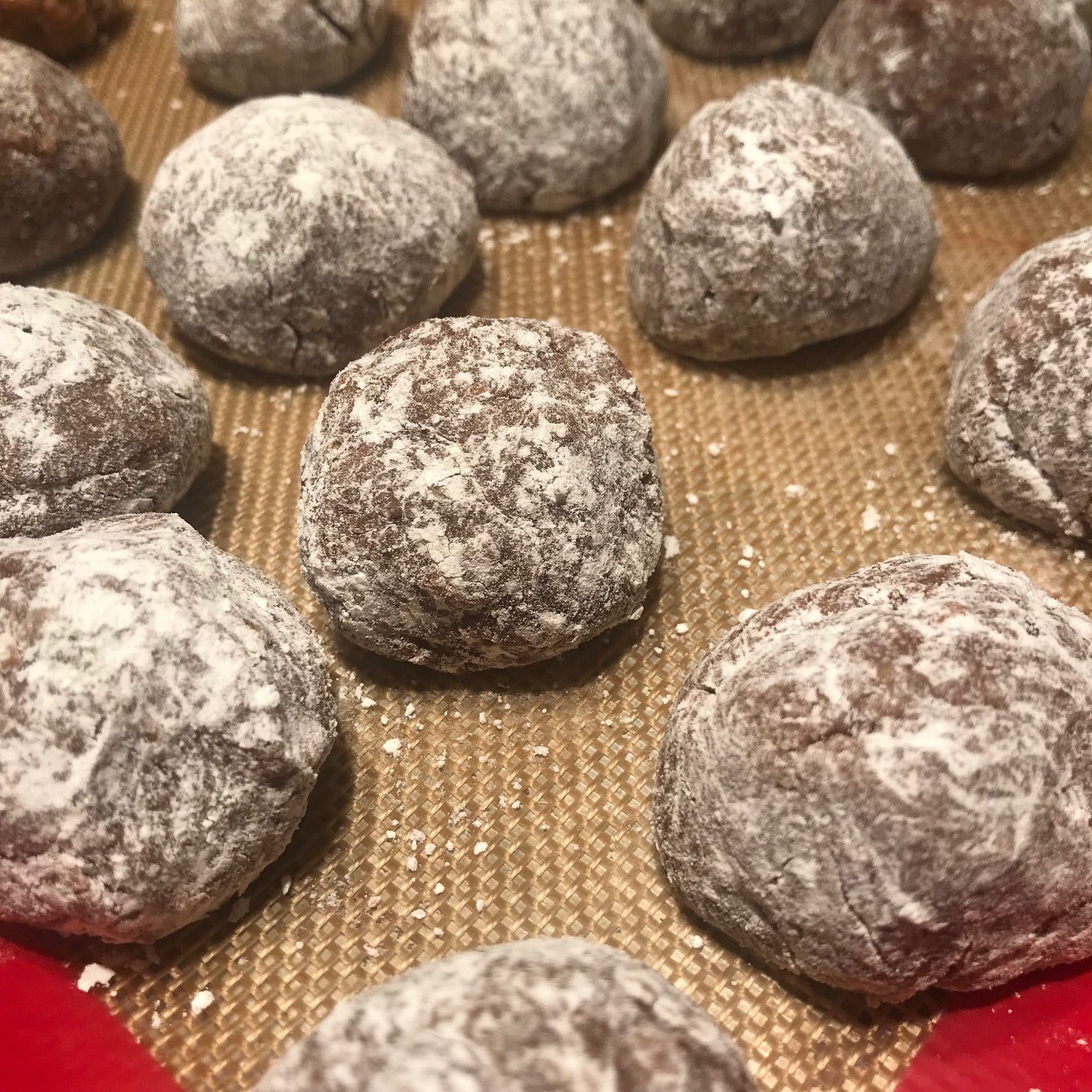 Now, you wanna get wacky with this? You wanna do some silly Action Cookbook stuff? Swap out 1/3 of the Nilla Wafers for Cinnamon Toast Crunch and the rum for Fireball, and roll in cinnamon sugar. They're sneaky good.
Store in the fridge and keep 'em out of the reach of the kids. Unless they're getting a little too wild. Winter break is long.
5B) Heidecker & Wood - "Christmas Suite"
That's Tim Heidecker, of Tim & Eric fame!
4) Something to watch with the whole family! And confuse them!
It's always tough to find something for everyone to watch at a family gathering — some might want A Christmas Story, some might want an NBA game — but why not indulge the kids with a family-friendly variety program? One that's sure to be weird!
Christmas Eve on Netflix, comedian John Mulaney will release The Sack Lunch Bunch, billed as "a children's musical comedy by a man with no children or musical ability".
It's a kids' special with David Byrne in it. I can't wait.
4B) Sharon Jones & The Dap-Kings "Ain't No Chimneys In The Projects"
3) Let's take a moment to do some good, if we're able.
Hey! Here's a cause I'm fond of, which you may already be aware of if you've followed my work for long enough. For the last few years, I've been involved with Personal Counseling Services of Southern Indiana, a small non-profit here in the Louisville area that provides mental health services to under-served populations. Our clients include abused women and children, veterans, families, couples, individuals that have been diagnosed with: depression, anxiety, bi-polar disorder, autism, developmental disorders and behavioral issues. 67% of our clients are children and youth and 57% are at or below the federal poverty guideline.
Here's a fundraising link to commemorate the organization's 60th year of operation.
It's a small organization with a big mission, and donations go a long way. I know that money is tight this time of year, and I don't want anyone to feel pressured. But if you're in a charitable mode right now, there are much worse things to believe in.
(That's a segue.)
3B) Elvis Costello & Burt Bacharach, "There Are Much Worse Things To Believe In"
2) Got time for some reading over the holidays?
If you're lucky — luckier than me, I'll be holed up for two weeks with two children who have not been silent for longer than 30 seconds in six months — maybe you'll get a nice chunk of time to read over the holidays.
One semi-hefty tome that I enjoyed in recent years was Kate Atkinson's experimental novel Life After Life, which follows the life — and many deaths — of a character starting in 1910 England and working through the World Wars.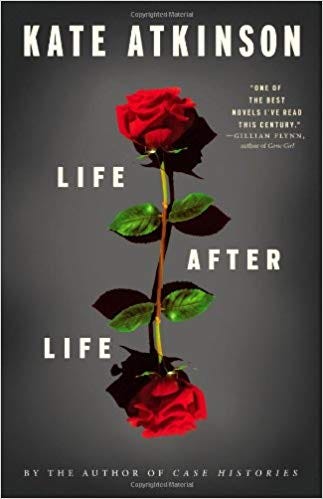 Over and over, the main character dies, and then a new chapter resets the timeline, taking a different fork in a sprawling web of possibilities. It's a literary Groundhog Day, and while it takes a few chapters to get your bearings in, it's a rewarding venture worth curling up with this season.
2B) Sia, "Ho Ho Ho"
1) And now let's do some dogs. Like, a whole BUNCH of dogs.
I solicited Christmas dogs this week. You all delivered.
Good dog!
Good dog!
Good dog!
Good dog!
This one's from Kate on Twitter but she's locked: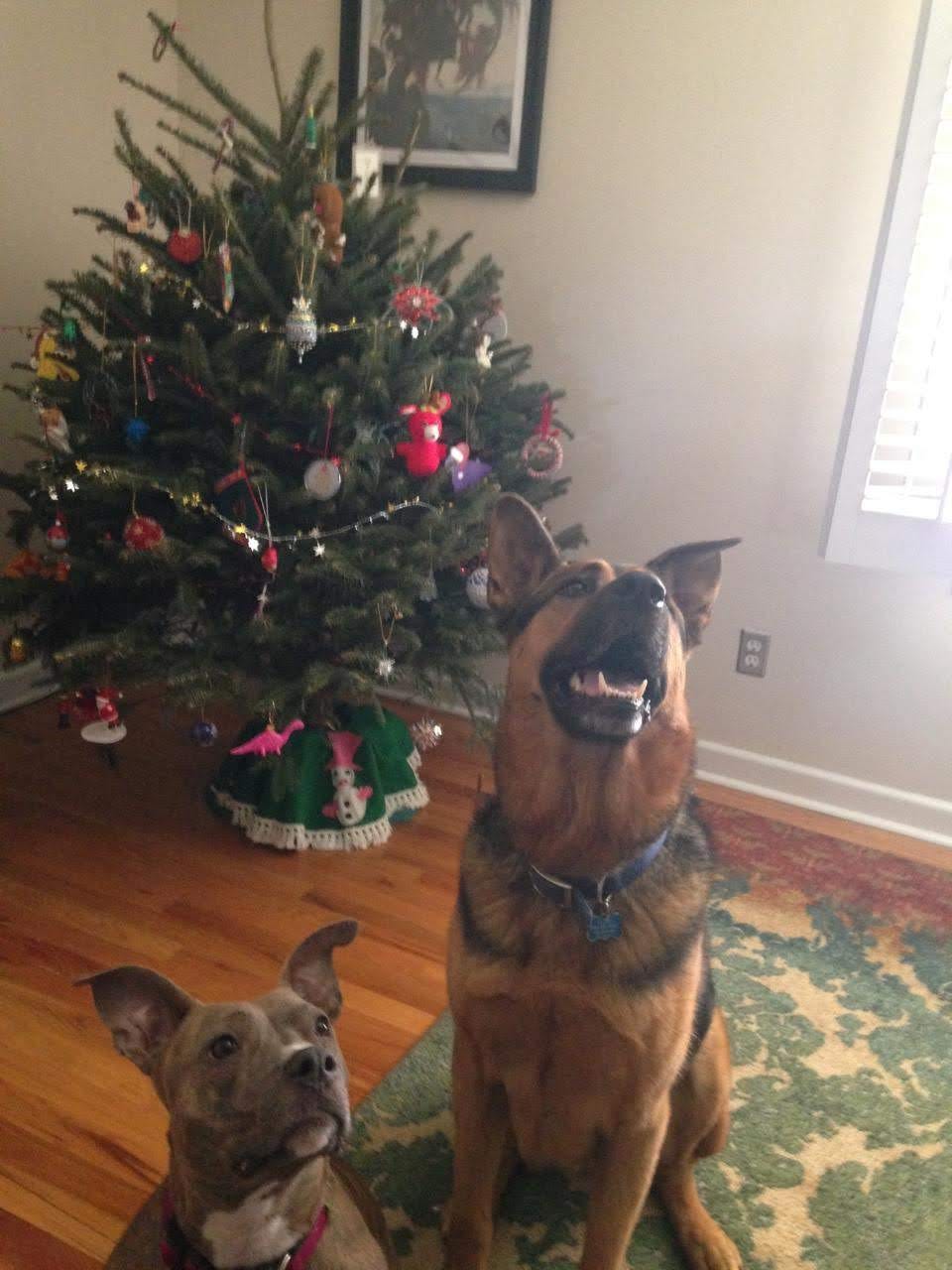 Good dogs!
Gus! (Good dog.)
THICC GOOD DOG.
Not entirely sure if dog? But good!
Good dog!
Good dog!
Good dog!
Good dogs!
Good dog! (Very serious.)
Festive good dog!
Good dog!
(They're all good dogs. Even the cat.)
For good measure, here's an old picture of my dog Holly anticipating her first Christmas with us.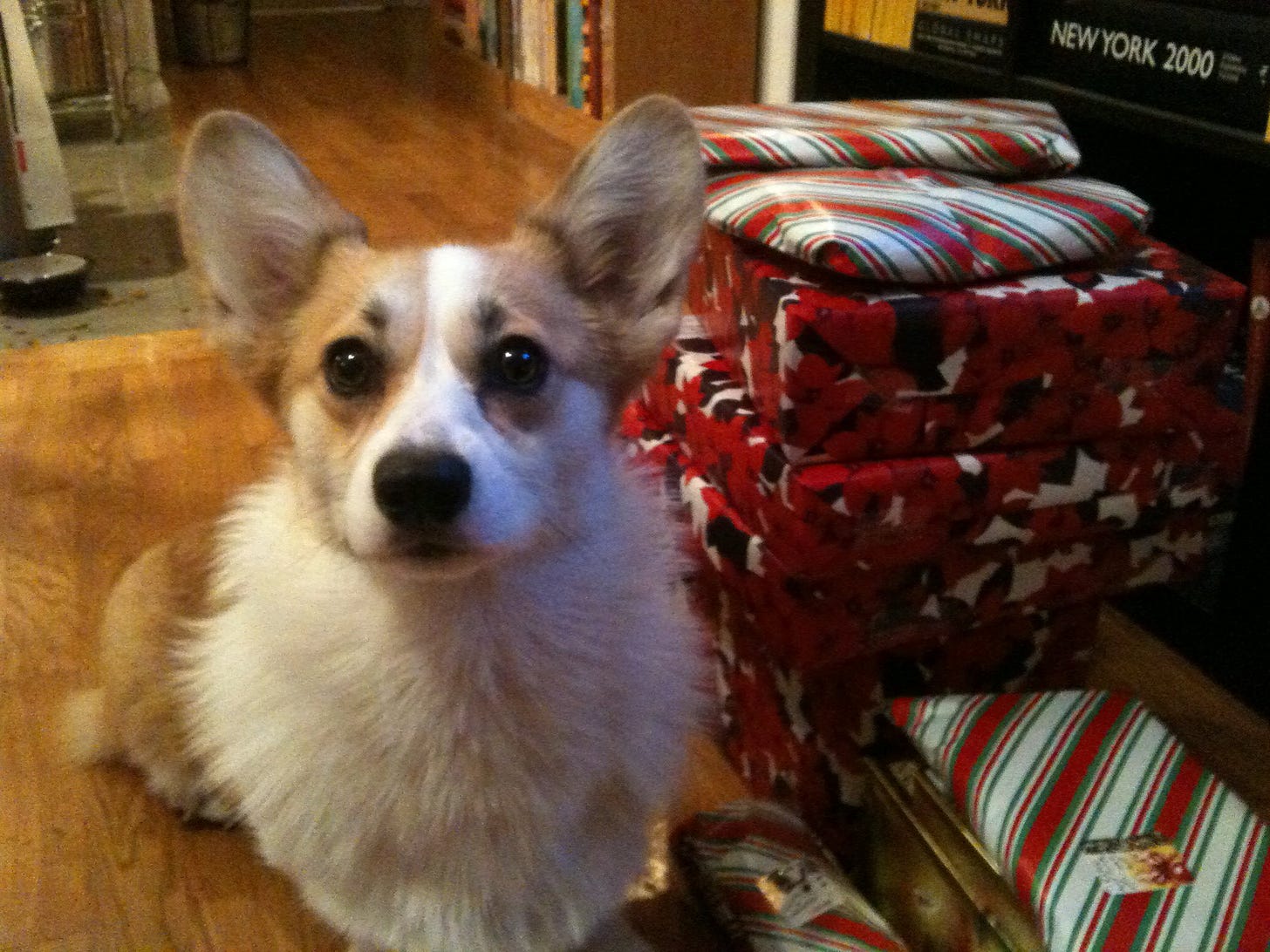 Thanks for reading and supporting The Action Cookbook Newsletter. I'm very appreciative of all of you sharing your time, your email inboxes, and your dogs with me, and I plan to keep growing this project into the new year. I'll still be hanging around next week, and I hope you do too.
If you enjoyed this post, please share!
If you're not subscribed, please subscribe!
If you have a dog to share? Respond to this email or tweet me at @actioncookbook.
Have a safe, wonderful holiday, however you choose to celebrate.
— Scott Hines (@actioncookbook)