This is the remix
The Friday email has bold ideas in food, drink, and more, along with an announcement!
Hello, dear readers! Welcome back to another Friday edition of The Action Cookbook Newsletter. This is the 50th edition of this week-ending lifestyle digest, and it's going out to the full email list today, because I've got some big stuff I want to share with you. (For paying subscribers, this is why I added an extra email yesterday. Sorry if it made you question what day it was.)
There's been a lot of great things for you to consume in these emails over the last seven weeks, and if you're not yet a paid subscriber, I encourage you to become one. Here's just a teaser of the things you might have missed:
Free signups receive one weekly email (occasionally more), while paying subscribers will receive at least two more, including this Friday digest, with all the useful recommendations of recipes, cocktails, books, music, media and more, along with a weekly collection of Very Good Dogs submitted by Readers Like You.
I've also got a much bigger project I'll be rolling out very shortly, and I'd love if you're here for it. More on that in a moment.
Enough preamble — the weekend approaches, and you need entertainment. You need excitement. You need the kind of bold lifestyle advice that The Action Cookbook Newsletter is custom-engineered to provide.
Let's hit it.
7) Deconstructivism in Pizza Cookery
Moments of true inspiration can come unexpectedly.
You see, my five-year-old son can be picky about his eating, as five-year-olds are apt to do, and he can be blunt about that pickiness. My feelings are rarely considered when rating a meal that I've made, and he's not nearly as kind about my cooking as you are.
I make pizza a lot — the crafting of pizza from scratch gives me pleasure, as it's just enough work to feel like a project without being a real project, and the payoff is worth the work. Through trial and error, I have discovered that my son does not like sauce on his pizza, but he does like sauce with his pizza. I oblige this oddity, because household peace is precious and I am not above making concessions to achieve it. But, like a scientist making a game-changing breakthrough while fiddling with a child's toy, I realized there was a bigger idea to be had here.
We should deconstruct the pizza, and allow it to be rebuilt to one's exact preferences.
And should can do it all on the grill.
I love the idea of grilling anything I can in the summer. I can be outside while I cook, enjoying the sunshine, yelling at my kids and dog and backyard squirrels. But pizza on the grill is a dicey concept — others have pulled it off, surely, and there are products you can buy to make it easier — and I'd rather take it piece by piece. Consider it a remix. I come from an era where the greatest honor that one could pay was to remix something already popular. Think "It's All About The Benjamins (Rock Remix)", but for pizza.
For this endeavor, we're going to grill skewers of familiar pizza toppings, pair them will grilled flatbread, and dress it all with a delightful pair of sauces.
First, the skewers.
Pizza Topping Skewers
There are as many routes as you could go here as there are choices of toppings on regular pizzas, but I played it as straightforward as I could. Pepperoni, cheese, mushroom.
"But Scott, how am I going to grill pepperoni and cheese?"
Well, first of all, I've already done exactly that, with my smash-hit Super Bowl snack Blanks In A Piglet, a far simpler approach that involved grilling cheesesticks wrapped in pepperoni. This newsletter has been delivering straight bangers for over a year. Try to keep up.
But we're making it a whole project here today, and that's the easy way out. Instead, I diced large chunks of pepperoni. You could do this from a stick; I had the deli counter cut me a solid one-pound chunk of pepperoni, the kind of request that feels like it might be foreshadowing for my own death, but what isn't these days? I paired this with cubes of "bread cheese", which is another name for Juustoleipa, a firm, squeaky Finnish cheese that comes pre-baked and holds its shape even when grilled. Chunks of Portobello mushrooms round out the assemblage. I threaded these "toppings" onto metal skewers, brushed them with oil, and grilled over medium-high heat until the pepperoni was sizzling, the cheesy bubbly-soft, and the mushroom fully cooked.
I also tried skewers with balls of Italian sausage, onions and peppers, but those did not hold up well enough to photograph proudly. If I had that to do over again, I would form the sausage into kebabs using the same method I used for Kofta Kebabs back in March. Rest assured they were delicious, even if I'm not showing proof of it here.
Next, the crust. I'm not a bread scientist, so I'm not inventing something here: I'm trusting the experts. Mark Bittman's recipe for Grilled Lebanese Flatbread is exceptionally good and surprisingly easy. I was 100% convinced this was the part of the idea I was going to botch and it was not. (See above, regarding the sausage skewers).
It's a simple dough, using 3 cups bread flour, 1 cup water, 2 teaspoons salt, 1 teaspoon sugar and 1 tablespoon instant or active dry yeast. Mix the salt, sugar and yeast; whisk with the water, then add the flour to form a loose dough. Let it rise, covered, for an hour or so, then knead thoroughly. I found this part was really important — I've used a lot of no-knead recipes or ones that use a mixer instead recently, but giving this a really good 5-6 minutes of elbow grease gave it a great structure and chew.
Once the dough is ready, simply divide, roll out, brush with olive oil, and grill. When it begins to bubble, brush the top and flip. It's insanely good and honestly, even if you don't want to go down this ludicrous pizza road, you should at least make this bread.
Let's get sauced. I made two sauces to go with this. First, a Roasted Garlic and Tomato Vinaigrette. I used this as a base for pasta salad last month, but I'll repeat myself here because it bears repeating.
Roasted Tomato and Garlic Vinaigrette
2-3 large beefsteak tomatoes or 6 roma tomatoes, sliced, salted, and drained on paper towels for 20-30 minutes

1 head of garlic, outer skins peeled and top sliced off

olive oil
Preheat oven to 425F. Once the tomatoes have had a chance to sweat under the salt, blot them dry and toss with oil, then spread slices on a parchment- or foil-lined baking sheet. Drizzle oil over the garlic bulb and wrap tightly in foil.
Bake each — check on the tomatoes after 20-30 minutes; you'll want to remove them once they've begun to caramelize. The garlic will take longer, 45-60 minutes; remove once the cloves have softened, and squeeze them out of their skins.
From there, puree together:
Roasted tomatoes from above

Roasted garlic from above

1/3 cup red wine vinegar

1/3 cup olive oil

a handful fresh herbs (basil, thyme, oregano)

salt and fresh black pepper to taste
This stuff is so good I was eating it out of the jar with a spoon. It would certainly be enough to top the pizza, but I was feeling extra saucy. Also, I have a bumper crop of peppers coming in from my garden that I need something to do with. I'm a bad planner; I planted five hot pepper plants and I'm the only one in my family who eats hot peppers. Get ready for a lot of pepper content this summer. I used this recipe from Serious Eats for a Roasted Jalapeno Chimichurri, with the only modification being that I didn't have red wine on hand so I replaced it with more red wine vinegar.
And now, scattered in pieces and parts, I have all the makings of a pizza: crispy, savory toppings; a light, chewy, delicious crust, and two extremely flavorful sauces.
You don't have to go whole maniac like I did; grilling chunks of pepperoni is admittedly not for everyone, even if it was extremely delicious. This could easily be done in a vegetarian (or vegan) fashion simply by changing up the skewers. I also suspect that a pineapple-and-ham Hawaiian pizza variation would be terrific.
Once you've deconstructed the pizza, anything is possible.
It's going to take a hell of a cocktail to stand up to this, and I've got just the thing.
6) Intense Summer Vibes Ahead
I love summer for cocktails. My favorite drinks all rely on seasonal summer ingredients; they lend a vibrancy you just can't achieve in the cooler months.
This one came recommended to me, as some of the best cocktails shared here have been, by my dear friends Bill and Kaylyn, who first encounter a version of it at One Lake Brewing in Oak Park, IL.
Please appreciate the Star Wars birthday banner that is still up two weeks after my son's fifth birthday and will likely stay up until Labor Day. It has a nice message, and it really ties the room together.
2 ounces brown liquor (note on that below)

1/2 to 3/4 oz fresh lemon juice (depending on whether you like it more sweet or tart)

3/4 oz blackberry syrup (also below)

ginger ale or ginger beer
I vaguely specify brown liquor, because the bar's original version uses beer barrel-aged bourbon, something I did not have on hand and did not feel like buying, even though it sounds delightful. (I have a half-dozen bourbons open right now, I'm good.) Per my friends' suggestion, I first tried it with Oakheart Spiced Rum, and then later again with regular bourbon. Both were excellent, and had their own advantages: the rum makes for a smoother, more unified drink, where the bourbon stands out nicely.
For the blackberry syrup, I cooked down:
6 ounces fresh blackberries

1 cup sugar

1 cup water
Stir to combine, and occasionally press the berries against the side of the pot; they'll soften and pop as they heat. Cook over medium-low heat for 20 minutes or so, until it's close to smooth; remove from heat, let cool, and run through a fine-mesh strainer to remove the seeds. This will make enough for about four drinks, I found, although that depends how much you cook it down.
Fill a Collins glass 1/3 of the way with crushed ice. Shake the liquor, lemon juice and blackberry syrup vigorously with ice for a full 30 seconds — you really want it combined — and strain over the ice. Top with ginger ale.
The bar had a different name for the drink that I don't especially care for but also was a pun on the beer-barrel bourbon that I did not use, so instead, I'll call this what it is: The Summer Jam.
"This cocktail's really got a future around here," I said to my wife, partly because I'm a corny weirdo who's insufferable at times, but also because it's a terrific and refreshing drink that is definitely going to make more appearances this summer.
5) Backyard BBQ vibes, even if it's just you and a dog
My friend Joe Kelly, who you might be familiar with if you followed me on The Seventh Circle Podcast last year, recently sent me a very welcome musical recommendation in Khruangbin, a three-piece band from Houston that pulls from a diverse collection of international music influences.
Their 2015 album The Universe Smiles Upon You is a wonderfully atmospheric instrumental jam session. As Joe said to me in making the recommendation, "It's the perfect background music. They just throw down. Makes me miss backyard parties."
I feel that comment intensely, as we'd taken in recent years to hosting a large Fourth of July cookout/party in our backyard that, as responsible citizens of the world and the Commonwealth of Kentucky, we did not hold in 2020. The only backyard parties happening at Cookbook Estates this year are in my mind, but this album helps get me there.
4) Let's talk about fiction.
Okay, my plan is progressing nicely here. You're stuffed full of pizza, perhaps you've had a cocktail or two — those Summer Jams go down real smooth, you know — and we've cranked some chill backyard vibes.
It's time to make a pitch to you.
This is the part of the newsletter where I normally make a book recommendation. I've offered a long list of reading over the last year, and I've gotten some great suggestions back from readers.
This week, I'm going to tell you about something different. There's a project that I've been working on in various forms for the last couple years, a work of longform fiction. The story that I want to tell feels as timely as ever, and I've decided to unleash it on you now rather than wait any longer.
THE RED ZONE: A FOOTBALL STORY FROM A HOT PLANET follows the Lake Providence Saints, a semi-professional football team in a climate change-ravaged version of the year 2070. The United States, wracked by years of worsening natural disasters and impoverished by a series of ill-considered wars, made the shocking decision several decades ago to effectively pull back its borders, declaring a large swath of the most vulnerable portions of the Gulf South off-limits to human habitation. When it decided that it could no longer effectively govern the area, the government simply walked away.

People still live there, though, outside of the supposed protection or control of the government, and they find ways to survive; one of those ways is through football. The game 'Up North' has changed dramatically to reflect safety concerns and liability issues in light of major lawsuits that nearly bankrupted the sport. The game they play now is still popular, but vastly different from the one we know — lighter, faster, with smaller players and far less contact.

A hardcore vein of traditionalists decry this changed game as "chickenshit football", and long for a return to the days of hard-hitting, bell-ringing, trench warfare play. Seeing opportunity this desire, teams in those areas now outside the borders — a place that has come to be known as "The Red Zone" — have survived and thrived, broadcasting rogue games of "traditional football", sponsored by northern viewers.

Some of the teams in The Red Zone are established, well-heeled, with real home fields, training and equipment. The Saints are not. They're a poorly trained, underfunded and undermanned team struggling just to stay on the field as they undertake another season barnstorming through the areas the nation left behind.
I will be releasing this book-length story in serial form over the next few months; the first chapter will drop next week and will be free for all to read. Future chapters will be for paying subscribers only, and will be in addition to the regular content you've come to expect, not in place of.
I'd be thrilled if you support me in this endeavor; I think I've got a good story to tell and I hope you'll join me in it. The best way is to subscribe now.
I mean, who can refuse the offer of thousands of more words stuffed into your inbox? It's just too compelling, if you ask me.
3) But Scott I just want to watch TV, don't make me read.
You're already reading. Right now.
You know what I mean.
Okay, fair enough.
Let's talk about one of the most important genres of television there is right now: half-commitment television. By this, I mean, nice programming that you can put on and pay exactly 50% of your attention to, while the rest goes toward doomscrolling on social media or writing newsletters or whatever.
I don't want just anything on, I want something interesting, but something that doesn't require me to hold a narrative thread. An excellent new entry in this oeuvre is Down To Earth With Zac Efron, a Netflix show that finds the affable movie star traveling around the world to find "healthy, sustainable ways to live". Efron and his co-host, wellness expert Darin Olien, visit places like Iceland, France and Costa Rica, focusing on a new vaguely eco-friendly topic each episode.
Efron is hugely likable in the show, filling the perfect role as an often-pleasantly-surprised bro who seems to give a damn about the Earth.
Honestly, I just want to do what they do in the France episode, where Efron and fellow movie star Anna Kendrick meet with a 'water sommelier' and try a bunch of fancy mineral waters. It looks fun. I was going to do that this year, except for the pandemic. Alas, Efron and Kendrick never returned my calls.
Also this isn't an official recommendation but if you haven't seen Neighbors that movie is legitimately hilarious.
2) And Almost Starring…
With nothing but time on our hands in high school, my friends and I would spend hours driving aimlessly around suburban Columbus, Ohio, taking advantage of our newfound freedom and $1.19/gallon gas. On these drives, a game we would frequently play was theoretically casting (or re-casting) movies with actors of our choosing. It was a time-waster, and a very effective one.
I'm reminded of this game listening to And Almost Starring…, a delightful podcast hosted by my dear friends Amy Jo Jackson and Jeff Ronan.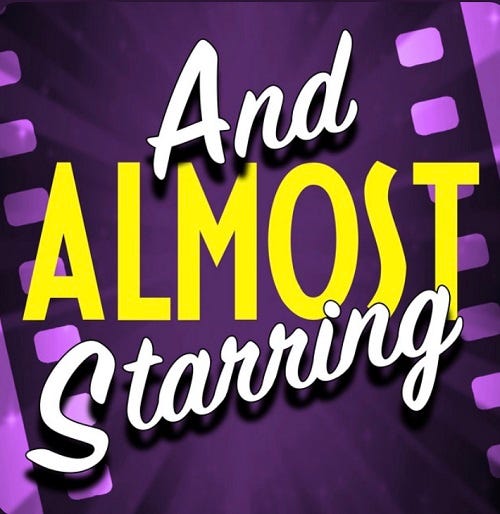 In each episode, Jackson and Ronan dissect a beloved film, reviewing the casting decisions and discussing the many real might-have-been scenarios you might not have known about. The hosts are both accomplished stage actors themselves, and they offer great insight into what went in to creating these iconic roles.
Their first episode analyzes The Princess Bride, a movie they both clearly adore, and they nail it when they note "everyone in this movie knows exactly what movie they're in."
1) Our dogs runneth over
Last week, I expressed mild concern. Every week, I share dogs — your dogs — to conclude this email. But I was close to running out. I keep a queue of dog submitted to me by readers, but it had dwindled down to almost zero. I implored you to send me more of your furry friends, and my, did you deliver. It will take me weeks to get through the bounty of submissions. Thank you to everyone who submitted, and don't let this discourage you from submitting your own — they're always welcome.
The dog queue will never run dry.
First up, Cincinnati Bearcat Of Some Note Cyrus N. shares a very good boy:
That's Winston. He's a 6 month old Coton de Tuléar who enjoys sleeping and getting his 2 sisters and brother to chase him around the house and in the backyard. He also loves to swim.
Look at this wonderful boy. He pines for the ocean, and for vengeance on the whale who stole his squeaky toy.
Next up, Hunter S. shares a dog with a sense of duty:
Hi Scott,

I really enjoy the newsletter, and saw you were needing more dog photos, so here's Gus. He's a Brittany-Lab mix, seen below protecting our daughter's collection of stuffed animals, because he is a Very Good Boy.
I love dogs who adopt a newfound sense of duty when children are introduced to their household. I don't think we saw Holly for the first six months after our oldest was born.
Next up, Caroline M. shares a dog who is having fun, we swear:
The little brown dog is Hallie (short for Jalapeño). I swear she is a happy, well cared for, precious 4 year old rescue who is the light of our lives. However...she has perpetual resting bitch face and always looks so mad about literally everything. Even when she is having fun with all of her friends at the park. She cannot bring herself to smile. But again, I promise she is happy.
I laughed for a solid five minutes after I first opened Caroline's email, and I'm laughing again as I look at this picture now. Terrific dog, and huge mood.
Finally this week, Ryan K. shares a dog who is cooler than I have ever been:
Here is a classic of our dog Lyla on a hot day at the dog park for the queue.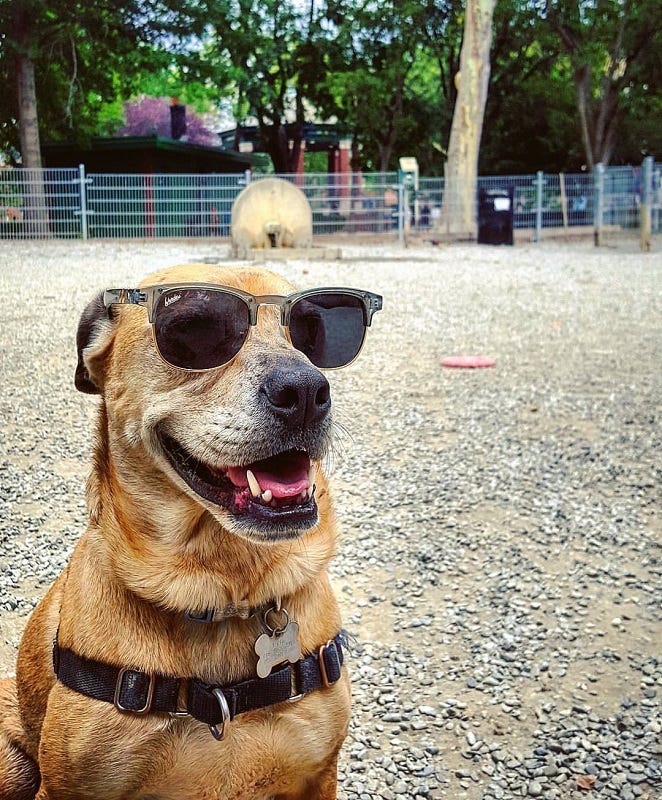 I mean, all dogs are cooler than me, but Lyla especially so.
Thanks to everyone for submitting, and thank you to you, tireless reader, if you've made it to the end of this epic saga of an email. I hope you've found something you enjoy, and I hope you have a terrific weekend.
Thank you for your continued support of The Action Cookbook Newsletter; stay safe.
— Scott Hines (@actioncookbook)