Discover more from The Action Cookbook Newsletter
A cookout in your inbox. Come for the food, stay for the stories, three times a week.
We make some predictions!
A future-history of 39 bowl games and maybe one robot war
Bowl season is nearly upon us, and the excitement is building! Now, lots of outlets are going to offer you previews of the games, and some will even venture to make predictions in key matchups. We don't do half-measures here at The Action Cookbook Newsletter, though. We've looked into the future, and we're providing a comprehensive prediction — a start-to-finish prediction of what will happen this bowl season!
"Surely this will be normal," you think!
Let's begin.
December 20, 2019
Makers Wanted Bahamas Bowl — Buffalo vs. Charlotte (Nassau, Bahamas)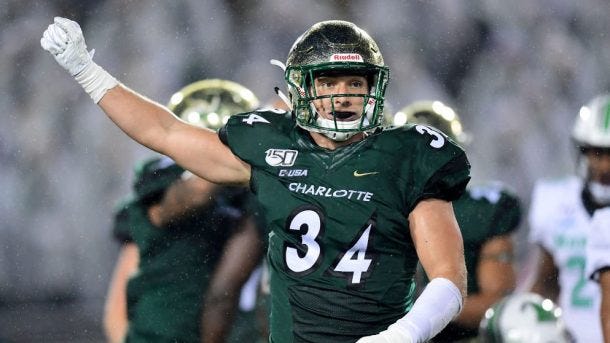 A peppy affair featuring two teams that flew under the radar for many people, one program was guaranteed to secure their school's first-ever bowl game victory. It promised to be fought in the trenches, with Buffalo's highly-ranked run defense pairing with a stout ground game. Charlotte fought valiantly, but the Bulls pulled out a late victory. Buffalo 28, Charlotte 23
Tropical Smoothie Cafe Frisco Bowl — Utah State vs. Kent State (Frisco, Texas)
Much of the pregame discussion focused on the Aggies' junior quarterback Jordan Love, who surprised many with his decision to enter the upcoming NFL draft. It had been a tough year for Love after a stellar 2018, but he showed the big arm that's left many pro scouts salivating, throwing for 300+ yards and 4 TDs in a rout of the overmatched Golden Flashes. Utah State 42, Kent State 6
December 21, 2019
Celebration Bowl — Alcorn State vs. North Carolina A&T (Atlanta, Georgia)
The yearly contest between top HBCU teams is always cause for celebration, and this one — a rematch of last year's thriller — was no exception, with Alcorn State pulling out victory in a triple-overtime shootout. Alcorn State 51, NC A&T 47 (3OT)
There would be little cause for celebration ever again.
New Mexico Bowl — Central Michigan vs. San Diego State (Albuquerque, New Mexico)
It's believed that the robots escaped from a previously-undisclosed military research facility. The desert holds many secrets, and when there's no one left to hear them, they stay that way. The cities were overrun within hours; civilian weapons were of no use against them. They were methodical, merciless, and they were everywhere. 
FBC Mortgage Cure Bowl — Liberty vs. Georgia Southern (Orlando, Florida)
Communications failed quickly; they'd infiltrated systems with ease, cutting us off from the technology we'd come to rely on. The same technology that now promised to destroy us.
Cheribundi Boca Raton Bowl — SMU vs. Florida Atlantic (Boca Raton, Florida)
Confusion reigned about what was happening. The internet was down, and something was going on out west. That's all we knew. North Korea, we thought? We would long for the days when missiles were our biggest concern. 
Camellia Bowl — Florida International vs. Arkansas State (Montgomery, Alabama)
Ham radio operators were the first to re-establish a rudimentary system of communication, but the situation was changing so rapidly that any word they could get out would soon be obsolete. As would we. 
Mitsubishi Motors Las Vegas Bowl — Boise State vs. Washington (Las Vegas)
For those on the ground out West, there was no decision but to fight. The enemy had darkened the skies before sunset on the winter solstice; the fires of the burning cities would light the horizon throughout the night. Those who survived came to refer to it as The Longest Night. 
R+L Carriers New Orleans Bowl — Appalachian State vs. UAB (New Orleans)
A radio operator in Santa Fe said that they were heading for the mountains. That was the last that was heard from the West. 
December 23, 2019
Bad Boy Mowers Gasparilla Bowl — UCF vs. Marshall (Tampa, Florida)
The first assaults in the East began before dawn on Monday, with the robots launching aerial attacks. Until this point, the gravity of the situation was still unknown to much of the American public. All public events were canceled, and people were advised to shelter in place. UCF's athletic department publicly decried the conspiracy to prevent them from achieving yet another 10-win season.
December 24, 2019
SoFi Hawai'i Bowl — Hawai'i vs. BYU (Honolulu)
Logically, the robots had directed much of their initial assault against military installations. They planned to cut off humans' ability to fight back before they even knew what was happening. A commander at Pearl Harbor understood this quickly, and was able to send two nuclear subs into hiding on the seabed before the island was overcome. The robots would find them within hours, and the seafloor would be their grave.
December 25, 2019
There were no bowl games on Christmas Day; there was no Christmas. Humanity was in retreat, and every major city was abandoned or in ashes.
December 26, 2019
Walk-On's Independence Bowl — Louisiana Tech vs. Miami (Shreveport)
Louisiana Tech defeated the Hurricanes, 33-17. "You see this shit on the news?" one fan asked. "I ain't care about none of that. Both parties are corrupt, if you ask me," another responded. 
Quick Lane Bowl — Pittsburgh vs. Eastern Michigan (Detroit)
It looked like another other shuttered factory of the once-proud industrial Midwest; broken windows, dormant smokestacks. What lay buried underneath might contain humanity's last hope, if only its existence could be known before it was too late.
December 27, 2019
Northrop Grumman Military Bowl — North Carolina vs. Temple (Annapolis)
He had anticipated this moment; a deep-rooted fear of technology had always guided him, even as one of the military's top scientists. He knew what they were doing had the potential to go wrong. There was little he could do to stop it; the thirst for ever-increasing weapons capabilities couldn't be talked down by one lone pollyanna. That was the only reason he had stayed in the program — so that he might make preparations should the worst ever come to bear.
New Era Pinstripe Bowl — Michigan State vs. Wake Forest (New York)
A lone buoy bobbed in the oil-streaked waters a mile off shore. An analog radio transmitter beamed a weak signal. No one would notice it, in the shadows of the burned-out supercity that once lay ashore.
Academy Sports + Outdoors Texas Bowl — Oklahoma State vs. Texas A&M (Houston)
"Does anyone think it's funny that the bowl with "outdoors" in the name is played indoors?" I wondered aloud to no one. There was no one left. Still, kinda funny.
San Diego County Credit Union Holiday Bowl — USC vs. Iowa (San Diego)
The war was already over in the West.
Cheez-It Bowl — Air Force vs. Washington State (Phoenix)
The robots patrolled the streets and the skies, in cities devoid of human life. The few that escaped the assault hid in the mountains, too afraid to even light fires to warm them in the frigid desert nights. 
December 28, 2019
Camping World Bowl — Notre Dame vs. Iowa State (Orlando)
The few days' delay in the war spreading East had allowed the barest of a resistance to form, but the ragtag coalition was suffering grave losses. They'd discovered a scant few weaknesses, flaws in the robots' design, things that could be exploited if they had enough time. But time was running out. 
Goodyear Cotton Bowl Classic — Penn State vs. Memphis (Arlington, Texas)
There was something that could disable the robots, surely — their power source was unknown, but it couldn't be endless. If it could be cut off, humanity might have a chance.
PlayStation Fiesta Bowl (semifinal) — Ohio State vs. Clemson (Glendale, Arizona)
Ryan Day had always suspected something during his time as an assistant, but he knew better than to ask. It was clear that something had worn heavy on Urban Meyer — a horrible truth that to keep hidden would destroy one's soul from the inside.
Day felt he had to know, and when it was revealed to him upon his ascension to the program's helm, it was much worse than he had thought. Day had not arrived in Arizona when the uprising began; his whereabouts remain unknown to this day. 
Chick-fil-A Peach Bowl (semifinal) — LSU vs. Oklahoma (Atlanta)
What he had seen, in a secure, technology-proof room deep underneath Ohio State's athletic facilities, was deeply troubling. It was long known that Woody Hayes was a history buff and amateur military historian; what wasn't known was his Cold War-era involvement with Project Sigma. 
December 30, 2019
SERVPRO First Responder Bowl — Western Kentucky vs. Western Michigan (Dallas)
Two years in a row this bowl gets cancelled! Of all the luck, amiright?
Music City Bowl — Mississippi State vs. Louisville (Nashville)
During the Vietnam War, Hayes had been dispirited by what he saw as the American public's wavering resolve in the face of a global conflict. If young people could protest, he'd argued, how could they be trusted to fight the wars of the future? He railed in private about the lack of a true fighting spirit.
Redbox Bowl — California vs. Illinois (Santa Clara, California)
One student of Hayes's had had an idea.
Capital One Orange Bowl — Florida vs. Virginia (Miami Gardens, Florida)
Artificial intelligence was in its earliest days at the time, but the student — a bright young scientist who took Hayes's history lectures out of respect for his on-field credentials — saw the potential in a football coach's mind. AI had trouble with normal human minds. They were conflicted, emotional, unpredictable. Weak. A football coach thought differently. Cold, analytical, relentless; it could bridge the gap between the human world and the robot world. 
December 31, 2019
Belk Bowl — Virginia Tech vs. Kentucky (Charlotte)
The few who remained wondered if they'd live to see the new year.
Tony the Tiger Sun Bowl — Florida State vs. Arizona State (El Paso, Texas)
The resistance was failing. Time was almost up.
AutoZone Liberty Bowl — Navy vs. Kansas State (Memphis, Tennessee)
When the student explained his plan to Hayes, the old coach jumped at the possibility. His mind, downloaded into computers. When the technology caught up, we wouldn't ever have to fight a war with recalcitrant long-haired hippies again. An army of robots who thought like he thought and fought like he fought would spread American values over the globe in the future. He underwent months of interviews, tests.
They seemed to be nearing completion when the program was abruptly scuttled. The scientist blamed government funding. That damned Carter, Hayes thought. He was so furious that he could barely focus on preparations for that night's Gator Bowl game.
NOVA Home Loans Arizona Bowl — Wyoming vs. Georgia State (Tucson, Arizona)
Funding hadn't been pulled, of course. The upper echelons of the government, the ones with say over those sorts of things, they'd never known about the program in the first place. The scientist had gotten cold feet. He'd seen inside a football coach's mind. He knew it was too much, even for a weapon of war. There was no glimmer of humanity. He told his superiors that the experiments had failed. He'd stayed on, worried that they hadn't. 
Valero Alamo Bowl — Utah vs. Texas (San Antonio)
The beacon's message was received. The last hope lie under the frozen ground in Michigan. Travel was out of the question; the roads belonged to the machines. Hopefully, they could reach someone nearby. Hopefully, there was someone nearby.
Humanity's last stand was beginning.
January 1, Year Zero 
Citrus Bowl — Michigan vs. Alabama (Orlando, the Florida Free State) 
At nearly the stroke of midnight, the lone traveler had reached the bowels of the factory. Behind the false wall, down the tunnel and through the code-secured doorways, it lay, just as the beacon had told; a simple switch, a powerful device. An electromagnetic burst more powerful than any released in the history of mankind. It would render electronics useless around the world. It would turn back the clock to the Year 1900. 
Outback Bowl — Minnesota vs. Auburn (Tampa, Florida)
Robots falling from the skies is hardly the strangest thing to happen during an Auburn game in recent years, if we're being completely honest.
Rose Bowl Games presented by the Northwestern Mutual Alliance of Militias — Oregon vs. Wisconsin (Pasadena, California)
As dawn light streamed over the San Gabriel Mountains, it was quiet. The shooting had stopped. It would be weeks before the survivors felt safe enough to send scouts down from their hiding places.
Sugar Bowl Georgia vs. Baylor (New Orleans)
The device had rendered even their radios inoperable. Lines of communication would take months to be re-established.
January 2, Year Zero
Birmingham Bowl — Boston College vs. Cincinnati (Birmingham, Alabama)
I still think there were some really bullshit penalties in the Memphis vs. Cincinnati games, and it should've been us in the Cotton Bowl, I explained to my bunker-mates for the fiftieth time. They'd considered killing me, but they'd figured I'd make a good advance scout, just in case.
BotSlayer Gator Bowl — Indiana vs. Tennessee (Jacksonville, Florida)
In the years to come, new cities would be built. The old ones were too ruined to even consider rebuilding. Honestly, the robots hadn't even done that much to Jacksonville, but it was as good a time as any to reconsider that place, too.
January 3, Year Zero
Famous Idaho Refuge Bowl — Ohio vs. Nevada (Boise, Idaho)
There would be attempts to write the history of what had happened during the dark season when humanity nearly failed, but so much was lost. In many places, no one survived to tell the story. 
No one would ever know the name of that scientist, or why he'd chosen to place that device in such an unexpected place. Only he would know that he'd placed it somewhere Coach Hayes would never find it, under the soil of the state he'd reviled so. 
January 4, Year Zero
Armed Forces Bowl — Southern Mississippi vs. Tulane (Fort Worth, Texas)
"Today would've been the Armed Forces Bowl", I said, and that's when they sent me to see how things were doing out there. 
January 6, Year Zero
LendingTree Bowl — Louisiana vs. Miami (of Ohio, which no longer exists) (Mobile, Alabama)
The robots had devastated humanity, but they hadn't been able to erase it entirely. In time, we would repopulate the earth. We would reconsider the things that had led us to this point; the decision of the 20th and 21st centuries to hand so much over to technology, to put such faith in artificial intelligence and so little in the human spirit. The device had turned the clock back to 1900. 
Michigan would later claim a national championship for this season. 
---
If you made it this far, thank you for indulging me.
I appreciate you, dear reader, and I hope you appreciate what I'm doing here. If you do, please subscribe and share!
— Scott Hines (@actioncookbook)