Welcome to Buffalo.
Wait, where are you going?
When they were at their absolute peak, they became synonymous with losing. Then things got ugly.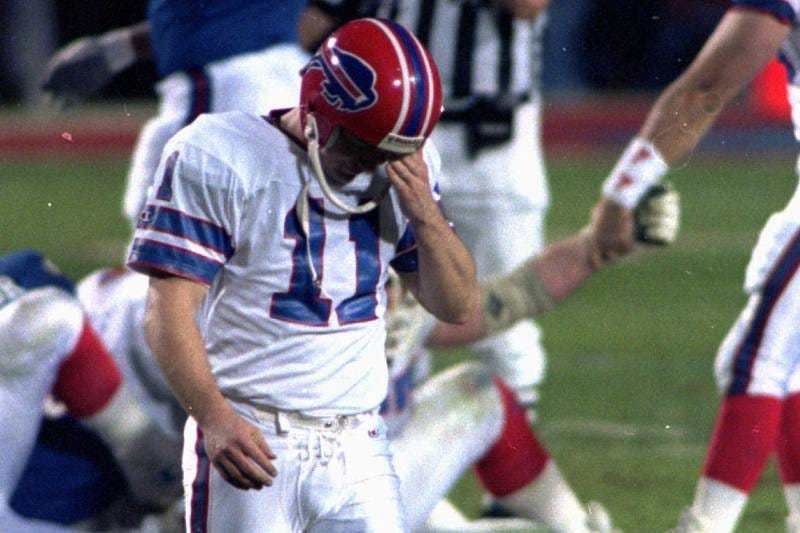 The Buffalo Bills play in one the smallest, hardiest, and most dedicated markets in North American professional sports, and they've done little to reward the devotion of their fans over the years. Sure, they had a superstar running back from USC in the 1970s (that's all we're saying on that), and they had those four straight AFC Championships from 1990-93. Aside from that, though? There's been a lot of pain, a lot of frustration, and a whole lot of losing.
A Super Bowl loss so dramatic it inspired major plot points in at least two major motion pictures (Ace Ventura and Buffalo '66):
One of the most dramatic (and egregious, if you care about correct officiating) playoff losses of all time, the Music City Miracle:
Countless atrocities against unsuspecting furniture:
It's been bleak, and not even a big platter of wings can offset this pain.
Of course, they broke the NFL's longest playoff drought in 2017, behind the steady hand of QB Tyrod Taylor — then promptly lost, traded Taylor to Cleveland, and drafted Josh Allen (no, not the good Josh Allen!) to be tall and not throw much. It might be another eighteen years before they're back.
The players know, too:
That's right, this week the Seventh Circle Podcast takes on the muddy snowdrift of the Buffalo Bills. Joining Joe and Scott on this episode is Bills fan, internet gentleman and friend of the pod Peter Berkes. Does Peter feel good about his team?
It's a good one, folks.
If you're enjoying the Seventh Circle Pod, please tell all your friends, rate & review on your favorite podcast app, and let us know what's on your mind at (502) 509-4745.
— Scott Hines (@actioncookbook)