When it all goes wrong again.
The utterly spiteful and mostly realistic Seventh Circle College Football Preview is live.
Here at The Seventh Circle, we've dedicated ourselves to reliving the bad things that happen in sports. With a fresh college football season dawning this week, though, there's a lot of people chock full of optimism. And why shouldn't you be optimistic? Your upperclassmen are returning and look great. The young kids have had a full offseason in the training room and are poised to make a leap. The coaches are getting their system in place, and this is going to be the year that everything clicks.
Or.
Sometimes, you go into a season full of optimism, and everything goes to hell.
Let's look at a few instances of this happening.
2007 Notre Dame
Coming off the forgettable Tyrone Willingham era in South Bend, former Patriots assistant Charlie Weis promised to bring the Irish a "decided schematic advantage" and elevate them to new heights. At first? It seemed like there was a chance that might happen. Notre Dame made BCS bowls in his first two seasons — a Fiesta Bowl in 2005 and a Sugar Bowl in 2006. In 2007, they were expected to backslide a bit, with a number of starters (including quarterback Brady Quinn) departing for the NFL. But no one could have predicted the carnage that came.
Five straight losses to open the season (a school record). Nine losses overall (a school record). A loss to traditional rival Navy, their first since 1963.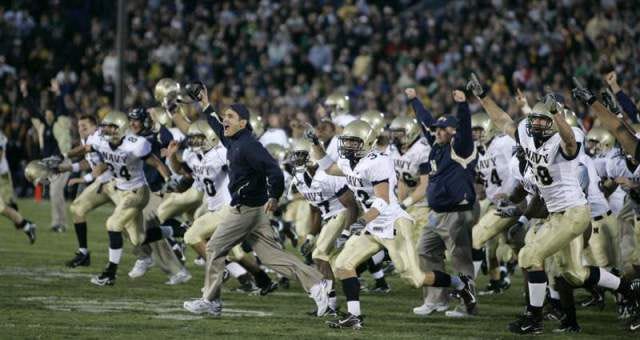 2008 Michigan
One of the many teams that took advantage of Notre Dame in 2007 was Michigan, who righted their ship with a win against the Irish after embarrassing home losses to then-FCS Appalachian State and Oregon. They rolled to a 9-4 record, quelling fears of a collapse in longtime head coach Lloyd Carr's 13th and final season in Ann Arbor.
The next year, they'd try something different. Spread-option innovator Rich Rodriguez came in fresh off a 32-5 record in his final three seasons coaching the West Virginia Mountaineers. It was sure to be an adjustment — the hire and the offensive philosophy certainly out of character for the Wolverines — but how much of an adjustment?
First, a loss to Utah in the season opener. Then blowout loss to Illinois.
A loss to *Toledo*. And then things got ugly.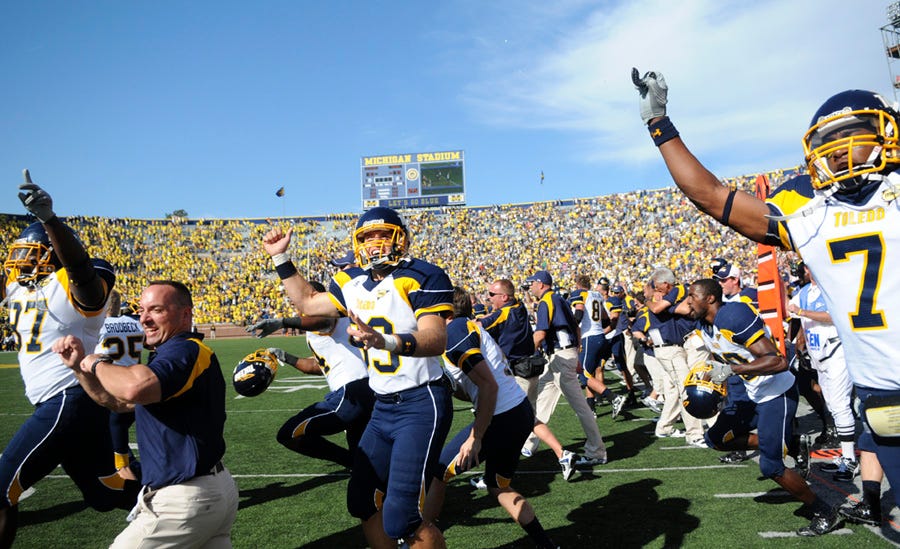 They capped off their own 3-9 disaster season by losing seven of their last eight games, completed with the indignity of a 42-7 steamrolling at the hands of archrival Ohio State.
Rodriguez's records would improve in his two subsequent seasons in Ann Arbor, but he'd never recover from the horror of this season.
2012 Auburn
In 2010, Auburn won a national title.
In 2012, they went 3-9, including an 0-8 record in SEC play, with their wins coming against titans Louisiana-Monroe, New Mexico State and FCS Alabama A&M. They lost the Iron Bowl to Alabama 49-0. (They'd get them back the next year.)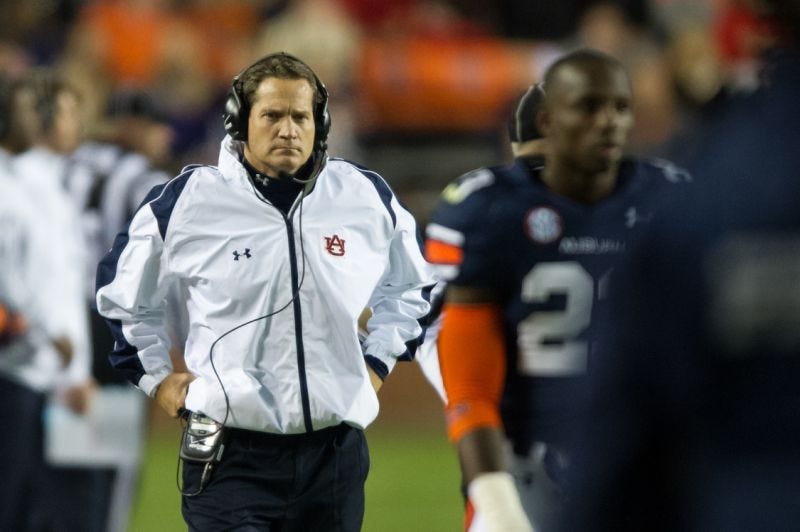 (Gene Chizik would not be there.)
2018 Louisville
Coming off the Lamar Jackson Era, the Cardinals were sure to take a step back on offense, but there were measured hopes for sophomore starter Jawon Pass. Also, new defensive coordinator Brian VanGorder couldn't be any worse than Peter Sirmon was in 2017, could he?
(He could.)
(They went 2-10.)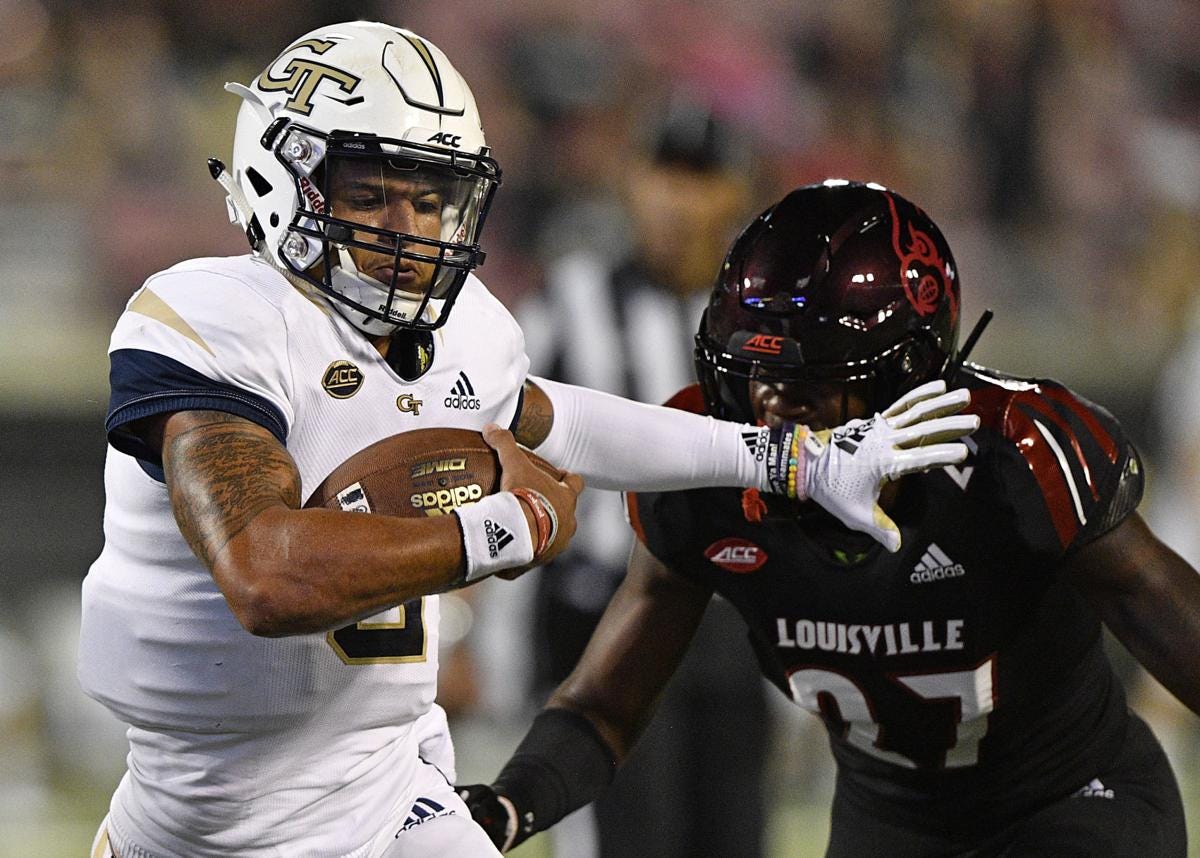 (Also, we found out what happens when you hitch your hopes to the cursed monkey paw that is Bobby Petrino.)
2012 USC
After a tremendous run of success through the aughts, Pete Carroll fled for the NFL before NCAA investigators could catch up with his program. Rather than clean up their act, the Trojans doubled down, hiring problem child coach Lane Kiffin away from Tennessee after just one season with the Vols. It was a gamble, but after two seasons, it looked like it might be working. In 2011, Kiffin's USC team went 10-2, finishing the season with a #6 ranking, one that might've gone even higher had they not been banned from the postseason. They seemed poised to build on that in 2012, starting the season as the preseason #1 team.
They finished the season with five losses in six games, including a 21-7 loss to Georgia Tech in the Sun Bowl that featured Kiffin mysteriously wearing sunglasses on the sideline (leading to rumors of a black eye) and reports of a postgame locker-room brawl that the university denied.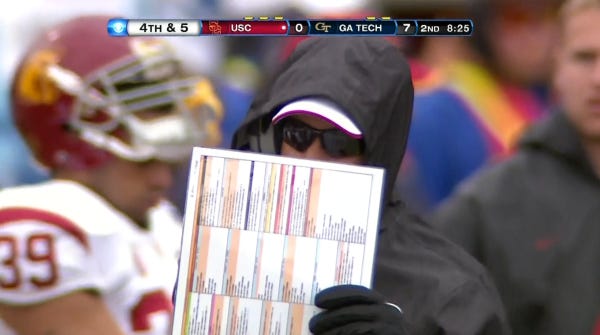 Kiffin would be fired on a tarmac the next season.
ANYWAYS,
At least some of those teams that are ranked in the Top 25 this year aren't going to live up to their expectations. Some of them might even experience one of these worst-case, hell scenarios.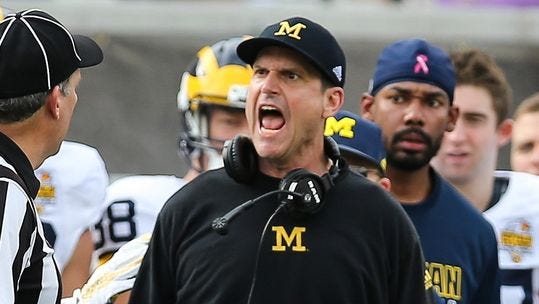 We wanted an expert's opinion, though.
Veteran college football reporter Pat Forde of Yahoo Sports joined us in the studio for a pair of podcasts that dropped this weekend. In the first part, we discuss the pain of his own University of Missouri Tigers. In the second part, available now, we run through the Top 25 with Pat, and he predicts for us how each team could see one of these hell scenarios play out.
If you're enjoying the newsletter, please forward it to someone! If you're enjoying the podcast, rate and review! We're excited to keep building on what we're doing here at The Seventh Circle and we're thrilled you're a part of it.
— Scott Hines (@actioncookbook)