Yucky Delicious
Television's most challenging new culinary competition.
[VOICEOVER]
You've seen other food competitions before, but none are as challenging as this. This is harder than your Iron, chef. It makes Hell's Kitchen look like heaven on Earth. Chopped? More like chopped *to pieces*. You think this grocery is a game, Guy? You haven't seen anything yet.
[SHOT OF A CLEAVER HITTING A BUTCHER BLOCK]
We've gathered some of the world's finest chefs—
[QUICK MONTAGE OF FOUR CHEFS, EACH OF WHOM HAS A DIFFERENT TATTOO OF A RADISH ON THEIR FOREARM]
to face off in our culinary thunderdome —
[IT'S JUST A SUBURBAN KITCHEN]
— to see if they can handle the world's toughest food critics —
[TWO SMALL CHILDREN WHO LOOK CRANKY]
— and get crowned ULTIMATE MASTER OF LUNCHTIME.
[ROCK MUSIC BECAUSE COOKING IS TOTALLY ROCK MUSIC, YOU GUYS]
This… is YUCKY DELICIOUS.
HOST: Today, chefs, we've got a real challenge for you. You run some of the finest restaurants in the world. You're acclaimed on the internet. Feted by the masses. Each of your establishments has drawn hours-long lines or months-long waiting lists. But today? You'll be preparing lunch for Mason, age five, and Avery, three-and-a-half.
MASON: I'M HUNGRY.
HOST: I know, that's — I'm working on it. That's why I brought all these chefs in.
AVERY: Can we watch another show?
HOST: Technically this is a show. We're filming this right now for Netflix.
AVERY: NO, A GOOD SHOW.
MASON: I WANT A SNACK.
HOST: Guys, could you just… hold on, okay?
CHEF DAVID: Wait, are these your kids?
HOST: What? No. Absolutely not. This is definitely a real Netflix show.
CHEF SUZANNE: It seems like you're just filming this with an iPhone.
HOST: That's how all Netflix shows are filmed.
CHEF DAVID: I have been on a few that were, actually.
HOST: Right, see? Totally legit. Now, I've asked each of you to prepare a— [trips over Avery] honey, can you just go sit over there? Daddy's trying to get the show filmed.
CHEF FILIPPO: Okay, you definitely just referred to yourself as Daddy. These are your kids.
HOST: That is a professional television persona I have adopted.
CHEF FILIPPO: This is your house.
HOST: It's a set meant to look like a house.
CHEF FILIPPO: There are pictures of you on the walls.
HOST: I'm a very popular television persona.
AVERY: WHEN IS IT GOING TO BE LUNCHTIME
HOST: If the chefs would stop questioning whether or not this is a legitimate Netflix production — and not an elaborate plan I concocted to get out of making lunch for just a single day — we could get on with lunchtime. Can we do that, chefs? Can we!?
CHEFS: [nodding] Sure. Okay. Yeah.
HOST: Terrific. Okay, first—
MASON: I WANT PEANUT BUTTER AND JELLY.
HOST [rubbing temples]: First up, chef Akiyo. You run Ferment, one of Portland's hottest restaurants. I haven't been but I follow you guys on Instagram. Stuff looks great. What have you prepared today?
CHEF AKIYO: I've prepared a bright risotto —
HOST: [to children] do you hear that, guys? Yummy creamy rice!
CHEF AYIKO: — with foraged matsutake mushrooms, tamanishiki rice, pine broth, lactose fermented wild porcini mushrooms, house-made shoyu-koji, butter sauce and shiso.
HOST: Rice with lots of butter. That sounds great, right, guys? You like butter!
CHEF AKIYO: It's much more nuanced than—
HOST: [quickly shaking head]
CHEF AKIYO: Right. Okay. Uh, butter rice.
MASON: [staring at bowl] I want. Peanut butter. AND JELLY.
AVERY: [just starts crying]
HOST: [through mouthfuls of their risotto, which he's already taken for himself] alright well I guess you lose?
CHEF AKIYO: They didn't even try it.
HOST: [shrugging] What can you do?
CHEF AKIYO: This is ridiculous.
HOST: Let's move on. Chef Filippo? You run V'NETO, one of Brooklyn's most exciting sandwich shops, specializing in Venetian-style "tramezzini", what have you prepared for us today?
CHEF FILIPPO: Today, I have made a sandwich on our traditional fluffy sandwich bread, imported daily direct from Italy, topped with 24-month aged imported Prosciutto di Parma, locally-sourced organic baby arugula, farm fresh tomatoes, fresh mozzarella di bufala, aged balsamic glaze, and house-made mayonnaise.
HOST: [sweating] You guys like bologna, right? It's like bologna. You know, in Lunchables?
CHEF FILIPPO: This is an insult to my years of kitchen training, my dedication and hard work, and my very culinary heritage.
HOST: Yeah, dude, this place will break you quick.
AVERY: [has picked off the bread and thrown the other seventeen dollars of ingredients on the floor] I want another sandwich.
HOST: [peering under table] Dog seems to like it.
CHEF FILIPPO: I flew in special for this.
HOST: Well that's on you. Next up, we've got Chef David. David, you run one of Charleston's most beloved farm-to-table eateries, The Cleaver And The Damage Done, specializing in modernized New Southern cuisine. I've been dying to go to your place for years and I'm sorry that my kids are about to yell at you.
CHEF SUZANNE: HE ADMITTED IT. THIS IS HIS HOUSE.
HOST: YOU ALL KNEW WHAT THIS WAS
MASON: Can you inflate the pool now?
HOST: Only if you take a nap first.
MASON: I'M NOT TAKING A NAP.
HOST: [struggling to maintain composure] Chef David, what do you have for us today?
CHEF DAVID: I've prepared our single-source heritage pork and butterbeans — these are a special variant of butterbean that had been missing for 250 years before we uncovered a secret seed cache whose location was hidden in invisible ink on the back of the Declaration of Independence — 36-hour ham hock broth, heirloom sweet pepper, fresh cabbage from a farm out on St. John's Island, and it's topped with pickled Chow Chow from my great-great-grandmother's own handwritten recipe.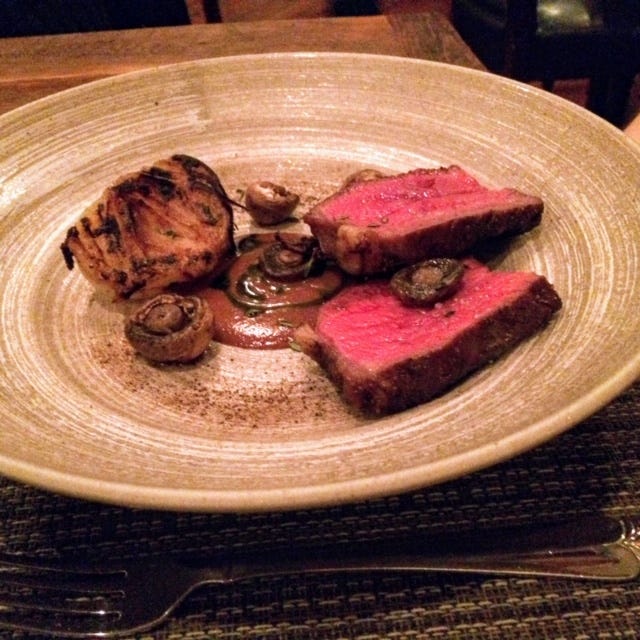 HOST: [mouth full] This is freakin' great, man.
CHEF DAVID: I thought the kids were supposed to be eating it.
HOST: I'm not wasting this shit on them. Here, watch. HEY KIDS, DO YOU WANT TO TRY SOME OF UNCLE DAVID'S PORK AND BEANS?
KIDS: [have already left and turned on the TV in the next room] NO
HOST: [still stuffing mouth full] See? Anyways did you bring any of that brown butter cornbread I saw on Instagram last week? I bet the kids would eat that and if not I could totally finish it for them.
CHEF DAVID: My agent needs to screen these things better.
MASON: [has stormed back into room] I'M STILL HUNGRY
HOST: THAT'S BECAUSE YOU HAVEN'T EATEN ANY OF THE FOOD WE'VE OFFERED YOU.
AVERY: Can we have a little snaaaaaaaaaaaaaaaaaaaaaaaack
HOST: [clearly doing some kind of practiced meditation to tune them out] Serenity, Serenity. Serenity. [exhales] Okay, our final contestant today is Chef Suzanne. Now, Suzanne, you founded No Bones, one of the most exciting vegan barbecue joints in all of Austin, and—
MASON: What's vegan mean?
HOST: [not even looking in his direction] — it's, uh, a kind of ninja — and let's see what you've prepared today.
CHEF SUZANNE: Yes, of course. First, I've baked a dairy-free artisanal take on the soft French pan au lait, trimmed into a perfect square. Next, I've taken locally-harvested legumes, roasted them with Maldon salt, and pureed them with honey harvested from bees in our on-site apiary. Finally, I've topped this with a house-made Concord grape coulis. It's the perfect balance of savory and sweet, 100% vegan, and—
HOST: Hold up did you just make peanut butter and jelly
MASON: PEANUT BUTTER AND JELLY YAY
HOST: The important part is that I didn't have to make lunch today. With that, Chef Suzanne, we're crowning you the Ultimate Champion of Yucky Delicious. Congratulations, chef. Here's, uh [looking around for a prize] a drawing that Avery made of me getting pooped on by a bird.
CHEF SUZANNE: Is there, like… money?
HOST: [nodding toward children] lol no I haven't had money in years
AVERY: Can I have more [surprisingly pronounces it exactly correct despite being three] Prosciutto di Parma?
HOST: YOU HAD SOME. YOU FED IT TO THE DOG.
AVERY: I want more.
HOST: I'm going to go cry in the garage for a while.
— Scott Hines (@actioncookbook)
---
Thanks for making it this far! Here's some other things you might have missed!
In Friday's subscribers-only breakdown of good things for your weekend, I prepared a hot-or-not version of jerk chicken, a frosty and delicious summer drink, offered new music, book, longread and television recommendations, and as always: dogs.
If you want access to wonderful things like that each Friday, as well as other subscribers-only posts, you should consider becoming one yourself!
Additionally, I've created indexes for all the content I've featured in these Friday breakdowns over the last year, including food, drink, books, music and miscellanea. Subscribers can access those indexes here.
A big thanks to everyone who's chosen to make the leap to full subscriptions. As promised, all subscription proceeds from last week were donated to the Louisville Community Bail Fund, which I encourage you to support as well.
I hope your week starts off safe, healthy and well.