Discover more from The Action Cookbook Newsletter
A cookout in your inbox. Come for the food, stay for the stories, three times a week.
It's time to start planning a vacation... OF THE MIND.
For this week's Friday things, let's go to our happy place.
Hello! Happy Friday! Perhaps you've already seen, but I've started taking paid subscriptions to The Action Cookbook Newsletter! Starting a week from Monday, two of the three weekly emails — including these Friday digests — will go to paying subscribers, while one each week will remain free to all. Additional standalone content will also go to subscribers; I describe things in more detail here.
I'm very grateful to the well over 200 of you who've already made the leap, and if you're not one of them, I hope you'll consider it!
Your support makes this newsletter possible, and I appreciate you for it.
Now, on with the show.
---
It's been a few years since I've taken a real, honest-to-goodness vacation. Work schedules, budget concerns, and the just absolutely incredible hassle of traveling anywhere too far with small children has meant that my family's travels the last few years have been limited to modest, achievable trips like a long weekend in Chicago or a few days in a rented cabin in Gatlinburg, Tennessee.
This year, we were just starting to think about changing that. Maybe this would be the year we got out to Southern California again, or got a beach house somewhere, or even thought about a trip to Europe.
ME: maybe 2020 will be the year we take a real vacation.
2020: lol guess what
Yeah. I haven't left Jefferson County, Kentucky since February and it sure doesn't look like I'll be doing so again any time soon. I'd be jealous of other people's travels, but you're not going anywhere either. There's no Instagrams from Tulum or Iceland or SXSW or Pisa to make me feel like I'm missing out; we're all missing out. We're marooned in this homebound reality, and that means any vacation we take this year is going to be a vacation of the mind.
[extremely 1980s educational television programming theme song voice]
VACATION. OF THE MIND! / LOOK AND. YOU WILL FIND! / A PLACE THAT. YOU CAN GO! / THAT ONLY. YOU WILL KNOW! / VACAAAAAATION OF. THE. MIIIIIIND.
There's a few small steps you're going to have to take to prepare for this, but fortunately, as the Internet's premier lifestyle publication [citation needed], I'm well-suited to be your staycation travel guide.
7) Think tropical, grill local.
The first step to getting away is to step outside. Are you somewhere where you can grill? That's a great start. You're out of the house, which means you're out of the office, because your house is your office and your office is your house.
Wait, go back inside. Set an out-of-office email reminder. Something like "I will be traveling without limited access to email starting May 15th, 2020; I will return if I feel like coming back. If I am not heard from by 2022 my death may be presumed and my assets bequeathed to Guy Fieri International Fan Club."
Set it? Good. Now, let's cook.
I like a nice, elaborate marinade for meat as much as anyone, but who needs to be fussing around with a ton of ingredients on vacation? Not you. You want to crack open a cold one and relax. We're going to do just that.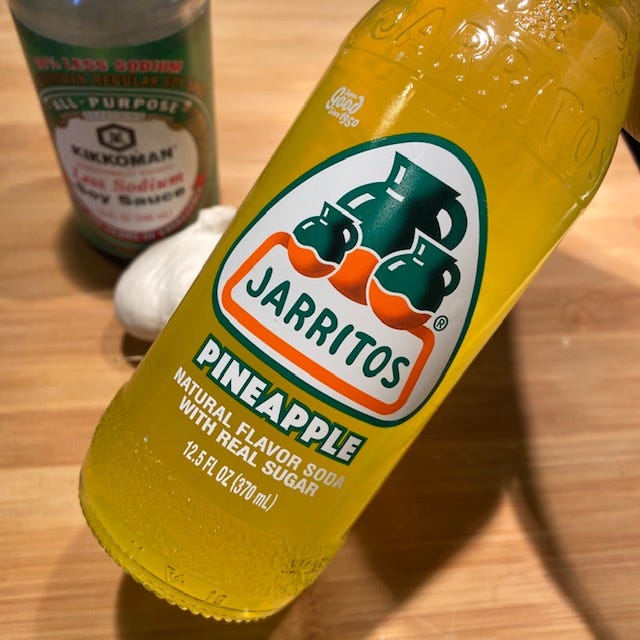 YOU: okay well that's not exactly what I pictured when you said "a cold one"
Listen, we'll get to the hard drinks in a second. We've got to get some meat going for the weekend, and I've recently become enamored with this handy quick shortcut to tropical flavors. I've got a pack of center-cut pork chops, though this'd work great with a pork loin or chicken thighs as well.
The marinade:
1 bottle Pineapple Jarritos or other cane sugar-based soda (the real sugar is important; don't do this with corn syrup-based soda)

1/2 cup soy sauce

6 cloves garlic, peeled and minced
That's all you need. Whisk it together, dump it over the meat, leave it for 24 hours. This is great for grilling, though I wouldn't recommend it for smoking — the smoke can react in unpleasant ways with the sugar in the marinade. Remove from the marinade, blot the surface dry, and season with cracked pepper.
Grill over high heat; you should get a nice caramel sear pretty quickly.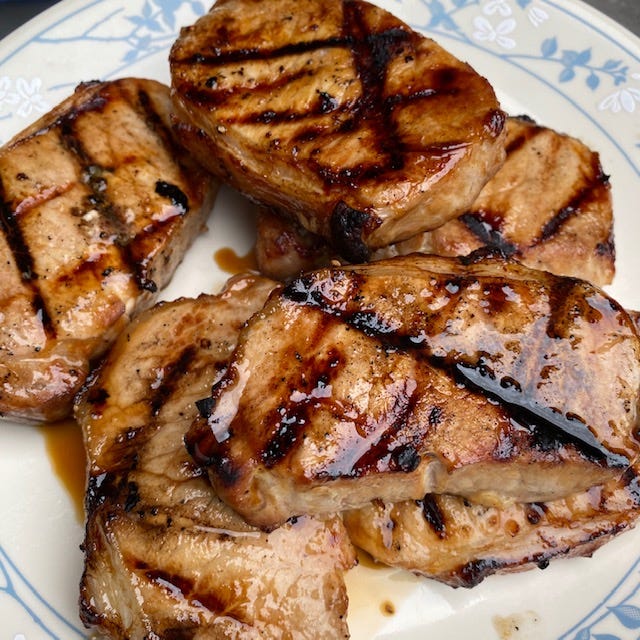 Delicious. But why can't we double down on these flavors? I've got just the solution.
Have you ever heard of Jezebel Sauce? I was only recently introduced to it by a friend, but it's a familiar recipe in Southern cookbooks dating back to the 1950s. I surveyed my most food-dedicated circle of friends, and found that I wasn't the only one who hadn't heard of it until now. It's wildly easy to make and totally delicious.
Jezebel Sauce:
10 oz pineapple preserves

10 oz apple jelly

4-6 oz prepared horseradish

2 tablespoons dry mustard (the powder)

cracked black pepper
Mix all the ingredients together; store in the fridge for a day. Hey, that's the same amount of time your meat is marinating. Saturday's gonna be great! This works as an excellent topping for pork or chicken, or served on crackers with cream cheese; it's fruity with a not-too-subtle bite.
Or, heck, throw the pork, cream cheese, and Jezebel sauce all together on some crusty bread for one incredible sandwich.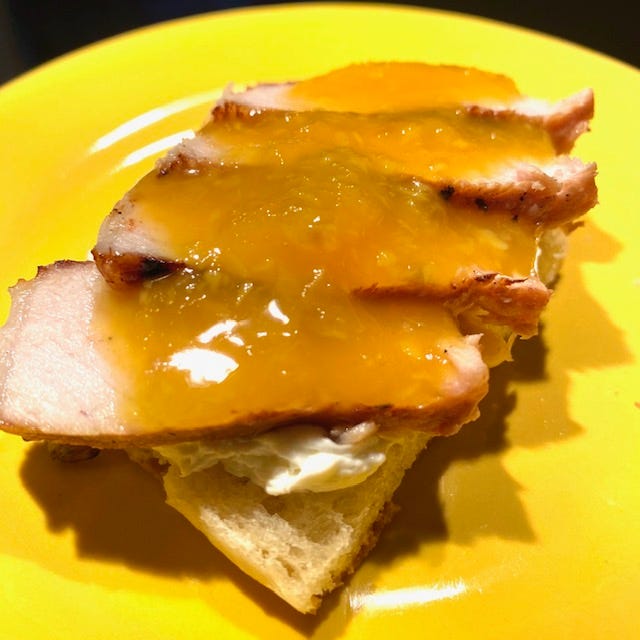 It's vacation. Let loose. (This combo was really good. You should try it.)
6) I believe you had something about cold ones.
Oh, my. Where are my manners? I'm trying to run the internet's best virtual all-inclusive resort right now and I haven't even offered you a drink yet. As I so often do, I started from my cocktail bible, Maggie Hoffman's The One-Bottle Cocktail, but I'm riffing a bit on one of her recipes today.
There's a cocktail in that book called The Offseason, which is apropos considering we are currently in The Forever Offseason, and also because it's got rum in it and that just feels right for our pretend-beachy vibes right now.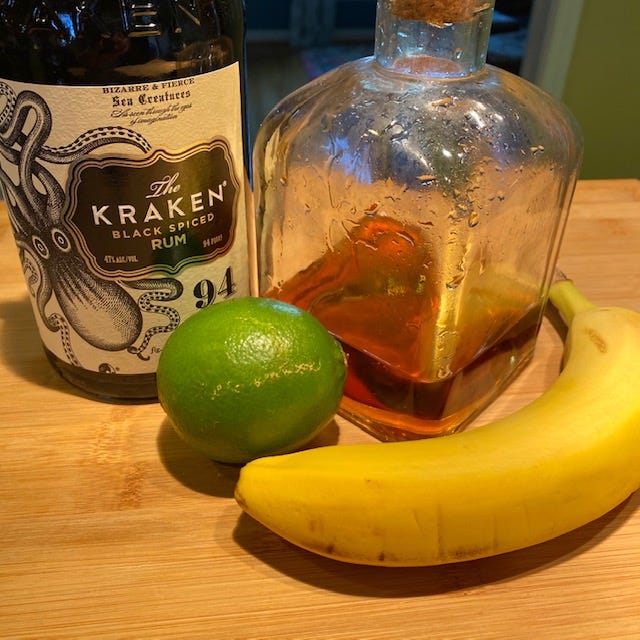 Her version:
1-1/2 oz dark rum

1 ounce banana puree (see below)

1 ounce fresh lime juice

1/2 ounce simple syrup
Banana puree:
Take one whole banana, slice into about 20 pieces, and pan-fry in 1/4 cup of neutral oil until browned, flipping to get both sides. Drain and let cool on paper towels, and blend with 1-1/2 ounces simple syrup.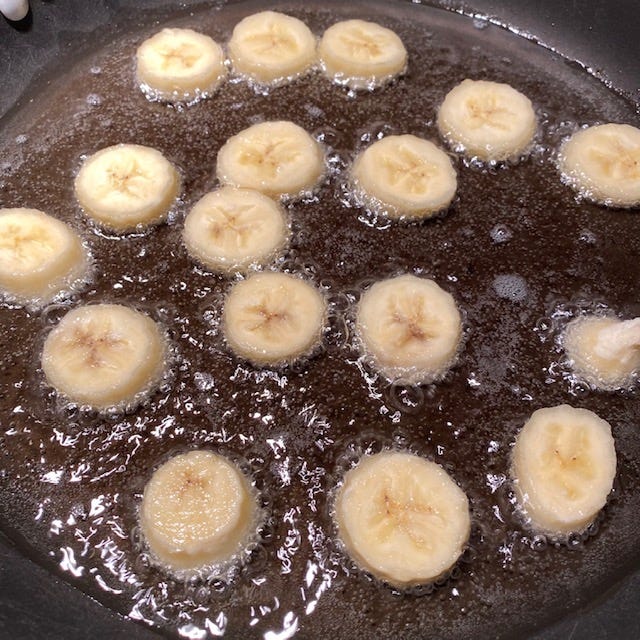 (I swear I've seen an image just like this in one of those chumbox ads that's like "DOCTORS WANT YOU TO THROW THIS FOOD IN THE TRASH NOW". I digress.)
Now, I'm going to make a few modifications from her recipe.
First? If you happened to make a Mint Julep along with me a couple weeks ago, there's a chance you've got some toasted simple syrup still in the fridge. Let's use that, both for the puree and the cocktail. It's strong, so I'm going to up the rum to at least 2 ounces to stand up to the sweetness. And? It's vacation. This is a nice cocktail, but I'm here for sloppy blended drinks served poolside. So let's try this The Cookbook Way:
My version:
2 oz dark rum

1 ounce banana puree

1 ounce fresh lime juice

1/2 ounce toasted simple syrup

1 cup ice
Run it all through a blender; pour into a chilled coupe glass.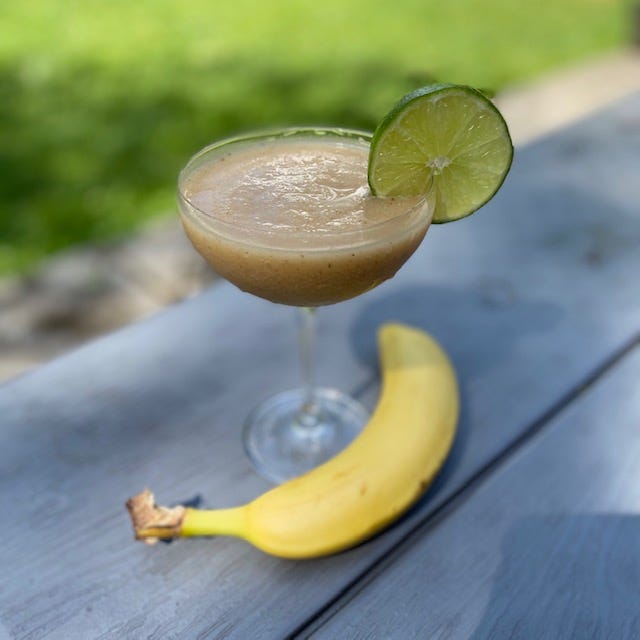 The color isn't the most photogenic, but the flavor is toasty, caramel-sweet and tropical fresh. Just like you. You're already getting some sun. I can feel it. Let's crank some tunes. Oh, but first — perhaps you'd consider sharing this with someone you think might enjoy it?
Okay, now the tunes.
5) Beach House, "Lazuli"
I'll fully concede that I'm more than a few years behind on the chillwave/dream pop moment, but the last couple weeks I've caught up and been very effectively zoning out to Beach House. The Baltimore-based duo of Victoria Legrand and Alex Scally has put out seven studio albums of gauzy, relaxed psychedelic indie music; music that would be perfect for basking in a hot tub on a cloudy summer day, drifting off and thinking about absolutely nothing.
Or for sitting at home pretending you're doing that, y'know. Practical realities.
4) A literary spin on Vacation Brain
One of the most essential feelings of travel to me is getting into Vacation Brain, a wonderfully low-stakes disassociative state where you're not quite yourself for a while. You can imagine being a different kind of person — the kind of person who eats vegan food and does sunrise yoga on the lanai every morning, or the kind of person who journals and meditates each day. Yes, you think, I will keep doing this when I get home.
And then you don't.
Another aspect of Vacation Brain is that it can allow you to be more open with other people — to almost disappear yourself from the situation, and let people you might otherwise never interact with tell you about themselves.
I say this as a preface to introducing Rachel Cusk's somewhat baffling but absolutely fascinating novel Outline, where her barely-described narrator — a novelist teaching a summer course in Greece — serves as the happenstance interlocutor for a series of characters to tell her about their lives. It's a lightly-framed concept that thrives through incredibly sharp prose and utter conviction to what it's doing.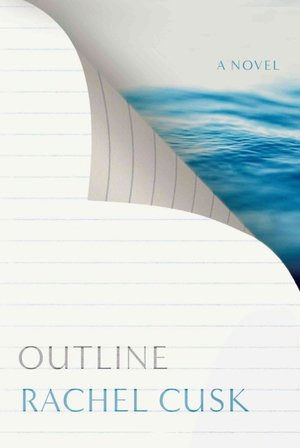 It's a fairly slim tome, around 250 pages, so it won't take up too much of your vacation. On the other hand, it's the first in a trilogy, so you'll have something to read when you get back!
3) Or we could just watch someone else traveling?
I recently fell down a rabbit hole on the lower reaches of YouTubeTV and stumbled upon a delightful culinary travel show I hadn't seen anywhere else before — Luke Nguyen's Railway Vietnam. Nguyen, an Australian-Vietnamese restaurateur, experiences the cuisine of Vietnam framed around a journey on the Reunification Express, the rail line that connects the country North to South, from Hanoi to Ho Chi Minh City.
Southeast Asia has long been a dream trip for me, and I believe in food as probably the main way to experience a place, so this show was right up my alley. I also often harp on the fact that American reality/travel/food shows are often overproduced and obnoxious (not you, Guy, we forever stan), and this Australian-made show doesn't fall into that trap. It's modest and calm, letting Nguyen present the food and locations without a bunch of unnecessary bells and whistles.
The whole series can be streamed through Tastemade's streaming service, which you can get a free one-week trial of. I wish there were a simpler way to watch it, but it's a quick series that you can blast through in the length of that free trial, and maybe start dreaming about a real vacation once These Uncertain Times are someday over.
2) Screw it, let's just pitch a damn tent in the yard.
We're not going anywhere any time soon, though, and certainly not on a culinary railway journey across Vietnam. We're not even getting a weekend trip to Chicago.
So let's make the best of it. Let's dust off the old camping tent and pitch it in the backyard.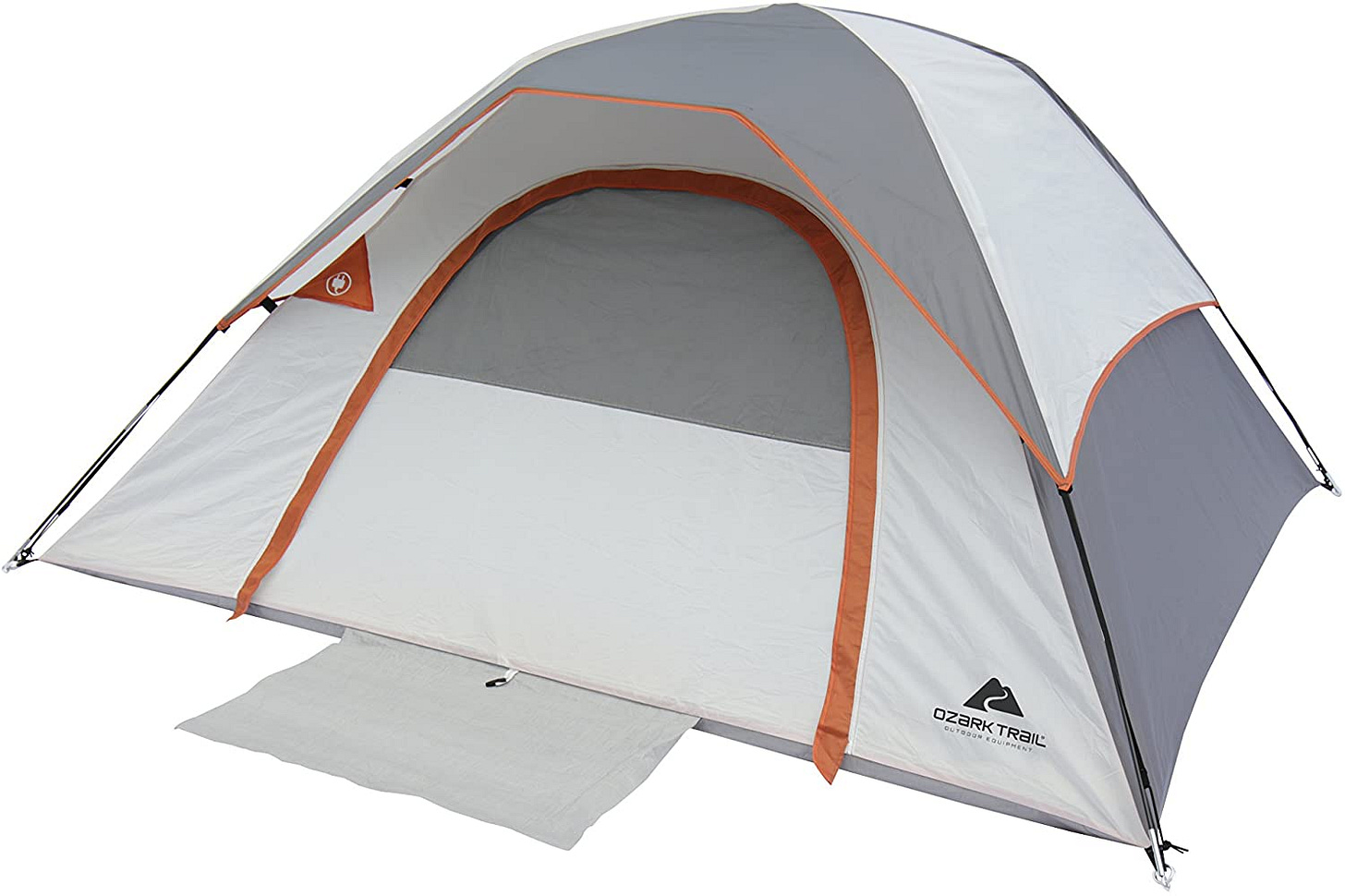 Pack some snacks and beverages. Listen to the crickets and owls. Peer out the window at the stars.
And maybe curl up with a story of real wildnerness, like Primo Levi's Bear Meat.
I was introduced to this story by reading Chuck McKeever's Tabs Open, and I'm grateful for the introduction. The short story, originally published in 1961 and reprinted by The New Yorker in 2007 in the link above, shares the tale of a mountain climb gone wrong:
"That was bear meat. Now, you must believe me, gentlemen, many years have passed, and I regret having eaten so little of it. I think and hope that each of you has gleaned from life what I have—a certain measure of ease, respect, love, and success. Well, I'll tell you the truth, none of these things, not even remotely, has the taste of bear meat: the taste of being strong and free, which means free to make mistakes; the taste of feeling young in the mountains, of being your own master, which means master of the world.
I long for that kind of freedom right now; perhaps you do too. Someday — hopefully soon — we'll be able to recapture that feeling. In the meantime, we'll make do where we are.
1) There's something good about staying home, though.
Why leave the house, when that's where the dogs are? Let's get to this week's very good dogs.
First up, Friend Of The Letter Eleanor T. shares a couple of very convincing beggars:
You want dogs, you get dogs. Tanner and Harvey , one a rescue with a sad history, the other an inherited granddog-in-law. This is the pair of them double-teaming me in the kitchen.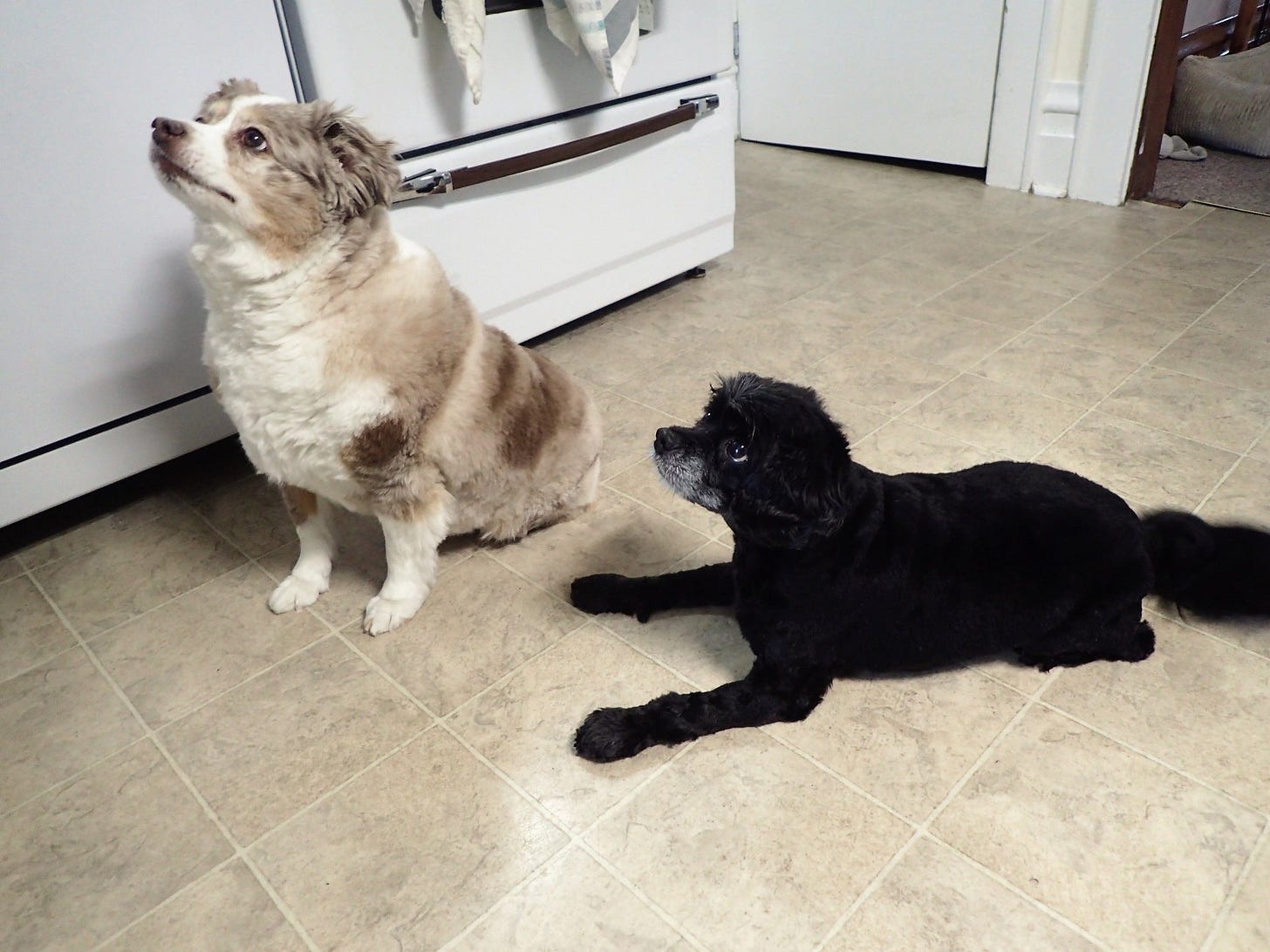 GOOD DOGS. As an unbiased third-party observer, I think you should give them whatever they're asking for here.
Next up, @ChipSwelly shares someone who's got the vacation mindset down pat:
This is Maggie. She enjoys sunbathing and barking at the wind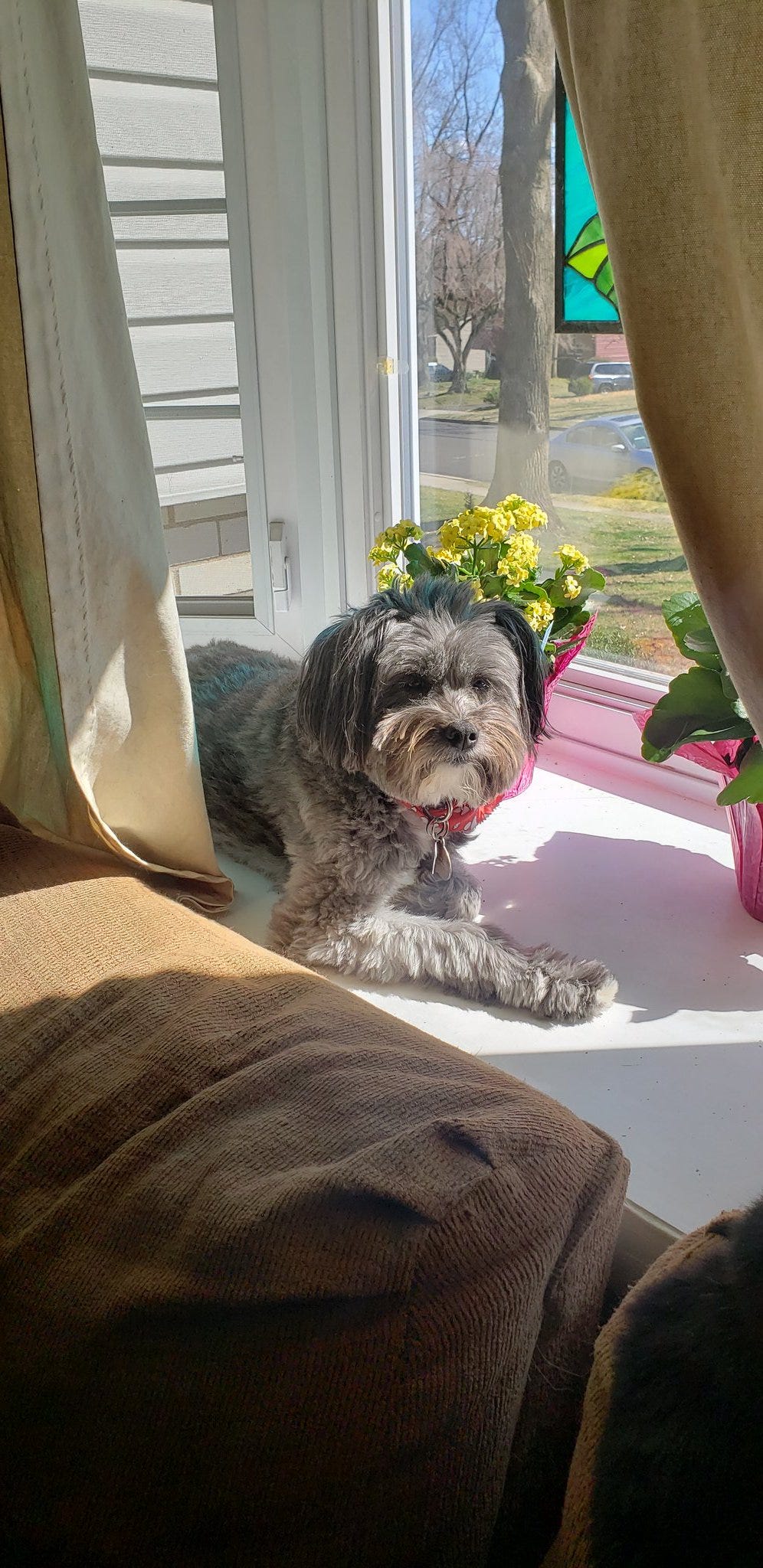 GOOD DOG. I also enjoy these things.
Finally this week, @willreiners shares a dapper dude:
Buffalo recently celebrated his eighth birthday by catching a squirrel. When he's not terrorizing local rodents, he can be found sleeping under my desk.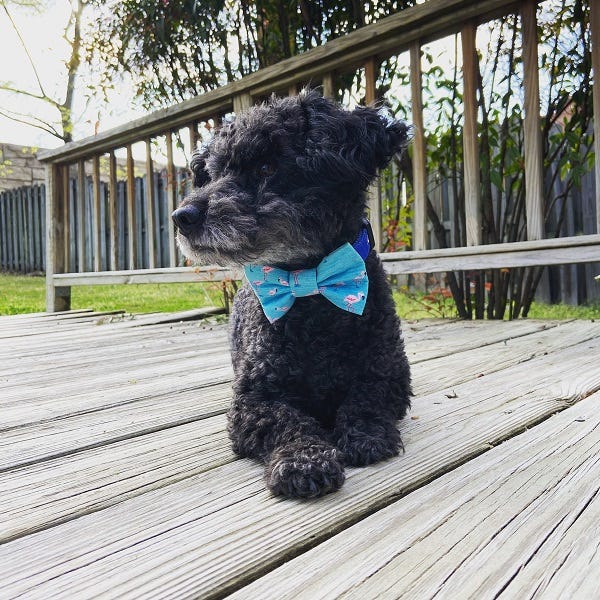 GOOD DOG. And in the end, who needs a vacation when you can just take a nap under your desk?
I hope you've enjoyed this week's selections; I appreciate you taking time out of your day and spending it with me here. Have a terrific weekend, and thank you for supporting The Action Cookbook Newsletter.
— Scott Hines (@actioncookbook)