The monsters under Friday's bed
We're starting fires, mixing up evil potions, and much more.
You might think that there are no sports happening at the moment, but you'd be wrong.
If you had a live camera into my house — first of all, weird? don't do that! — you'd be witnessing a nightly struggle of epic proportions, as I try to convince my three-year-old daughter to stay in bed. Imploring her to understand that the reason she isn't comfortable in her bed is that she is, in fact, no longer in her bed. Begging her to stay in bed. Threatening her with the loss of privileges, only to see her call my empty bluffs.
It's really quite competitive, if you look past the fact that I have never once won. I'm the Washington Generals to her Harlem Globetrotters.
What is it that keeps a three-year-old from wanting to sleep in their very comfortable bed? Is it a desire to torment their parents, who now spend at least 24 hours a day with them? (Possibly more.) Is it the belief that something good is going to happen at 9pm, and not just their parents falling asleep watching Netflix?
Or is it the fear of the unknown? A worry about the monsters that lurk in the shadows?
It's irrational and as adults we know it, but at some point in our lives we all likely feared an unseen beast. Given the current state of the world, perhaps focusing one's anxieties on a specific mythical creature just simplifies the process? Regardless, today, in honor of an esoteric holiday, we're going to be slaying a few of those beasts.
7) Dragons, and then fire-breathing.
This coming Thursday, April 23rd, is Diada de Sant Jordi, or St. George's Day, a holiday celebrated in several regions of Spain. In theory, it commemorates the titular patron saint of the Crown of Aragon.
The legend, which has pre-Christian origins and countless historical variations, goes somewhat like this: a dragon once terrorized a town, and the town kept it at bay by offering a daily sacrifice of livestock. When the livestock ran out, they began selecting the children of the town by random lot to be sacrificed, until one day the king's daughter was selected. The princess was sent to be consumed by the dragon, until George/Jordi, a stranger, arrived on horseback, slayed the dragon, freed her and the town, and in some variations converted the townspeople to Christianity.
In Catalonia, the holiday that commemorates Sant Jordi has evolved into a romantic celebration, once that eclipses Valentine's Day in prominence, and one of the central features of the holiday is the giving of books. I find this quite novel and delightful as a lover of books, and I think it's a much better tradition than giving candy or sacrificing maidens.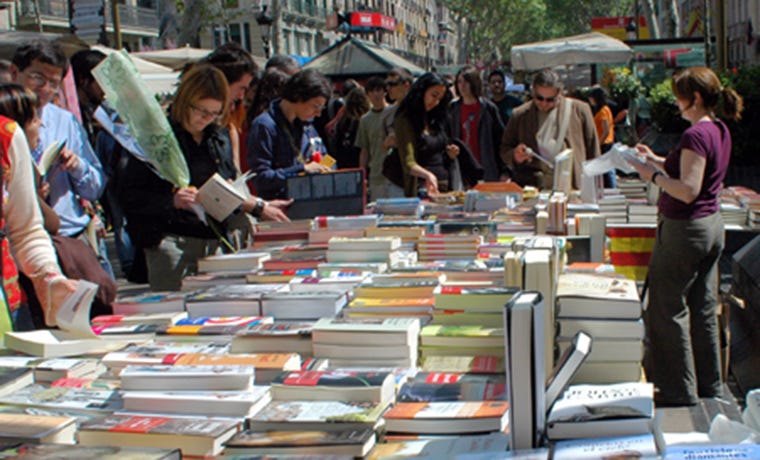 I lived and worked in Barcelona for an internship during graduate school, and my time there happened to coincide with Sant Jordi. Booksellers lined the streets and plazas — it's reported that half the annual book sales in Barcelona take place on this day. At one of those tables, I picked up a cookbook written by a famous chef in the nearby Boqueria market, Juanito Bayen of Bar Pinotxo, and that's where I found this recipe.
I've made and mistranslated it a number of times in the fifteen years hence, and it's always been delicious, even if I egregiously missed a few steps the first couple of times. (Google Translate did not exist at the time.)
The most important part, and the part I've never missed: you get to light stuff on fire.
This is Catalan Chicken.
1 whole chicken, cut into eighths

2 cups chicken broth (optional, see below)

2 medium onions, very finely chopped

1 head of garlic
Let me editorialize mid-ingredient-list here and say that I respect any recipe that does not fuss around with "1 clove of garlic" and realizes you should just use a whole head. You play to win the game.
2 tomatoes, grated

1 bundle of aromatic herbs (thyme, rosemary, tarragon, oregano, whatever you can get)

2 cups dried stone fruit (apricots, dates, cherries)

1/4 lb pancetta or bacon, diced

1 cup pine nuts

1 cup brandy

1 cup white wine
Soak the dried fruit in the brandy for at least 2 hours prior to cooking.
In a Dutch oven or deep pan, fry the chicken pieces until the skin takes color, then remove and set aside. Add the chopped pancetta or bacon to brown, then the onions, tomatoes, garlic and herbs. Once the onions have softened, add the chicken back in.
In a separate pan, add the soaked fruit and the brandy it's been soaking it. Warm the mixture over medium heat, and then carefully light with a long match.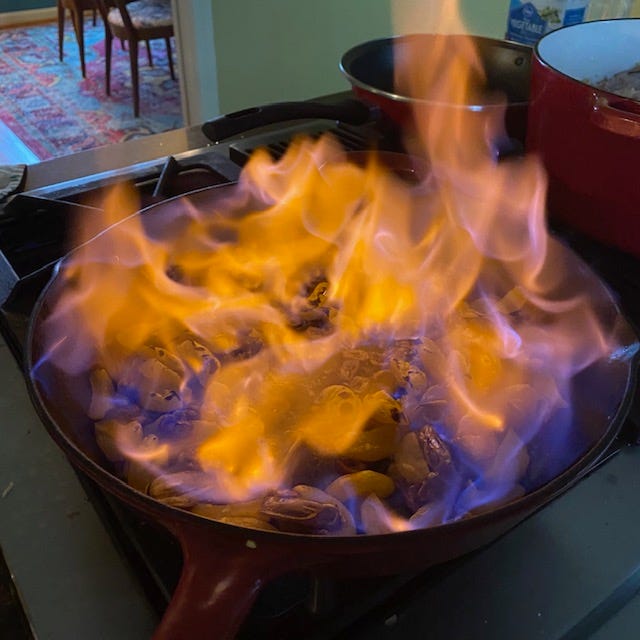 Making an 18" high column of blue flame on your stove top is fun if you do it on purpose. It should burn for a solid minute or so before exhausting itself, and then you'll be left with some lovely flambeed fruit. Add this to the pot with the chicken, then add the wine.
Let this simmer over low heat until it thickens somewhat, at least 30 minutes. Add chicken broth if it starts to dry out, but as noted, you may not need it.
Toast pine nuts in a dry pan until just browned, and add at the end.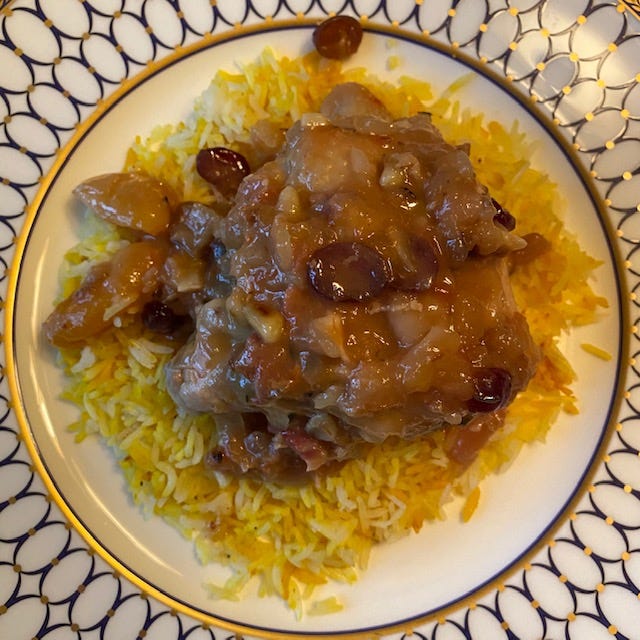 I served over saffron rice. It's not crazy photogenic, but it is deeply delicious. Seriously, there's a whole head of garlic and you light stuff on fire. How can you go wrong?
6) The Elephant In The Room
It's tough keeping the cocktail content fresh, especially when I can just default to drinking bourbon. That's not to mention that I'm not swinging by the liquor store on the way home from work these days, since I don't go to work anymore.
Where's someone to find new ideas? Well, I'll tell you.
I was rooting around in the hall closet the other day, the one I hide things from my children in, and I found a box from when we moved into this house several years ago. "Other liquor", it was labeled. I'd forgotten about this box.
Some of it was just old whiskey I'd rescued from my parents' unused stash years ago, but then, there it was. My nemesis. A product of pure evil, something I'd bought out of sheer morbid curiosity a few years ago and found to be even worse than I expected.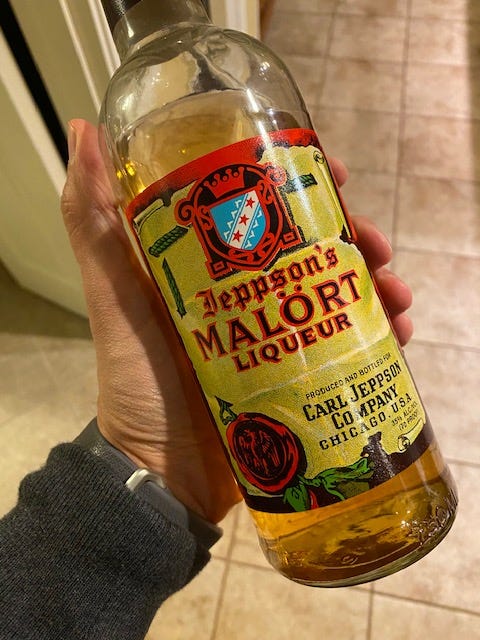 If you're not familiar with Jeppson's Malört, it's a product popular in Chicago, a city with nothing better to do than prank each other. Legend holds that it was created by Jeppson, a man whose wife left him for an herb farmer. Filled with rage, he dedicated his life to ruining the reputation of herbs with this foul-tasting potion. (Okay, I made that up. It's just an old Swedish thing.)
The name comes from "mal", the Latin root for "bad", and "ört", the sound you make after you taste it. It's horrible. I cannot stress this enough.
So I had to make a tasty cocktail out of it.
It took a lot of brainstorming, but I hit on something that, I am shocked to admit… actually tastes good? Here's what I used.
1 ounce Jeppson's Malört

1 ounce gin

I bottle of a cane sugar-based cream soda (I used Jones Soda)

1 ounce fresh-squeezed lemon juice

a strip of lemon peel
In a small pan, boil the cream soda for 20-30 minutes, until it's reduced to just about two ounces. This is method I picked up a while back with the Amigo Viejo, which you should probably make instead of this cocktail, because it doesn't have evil in it.
Shake the Malört, gin, syrup, and lemon juice with ice — shake it vigorously and for at least 30 seconds. You want this cold and icy. Strain, then singe the lemon peel with a match while holding over the drink.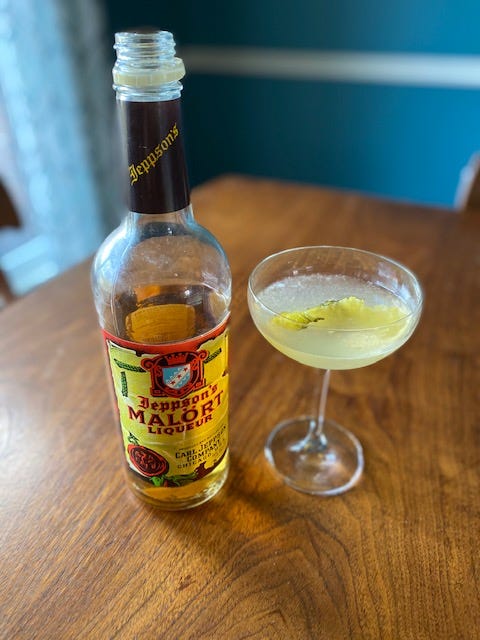 It's… it's actually kind of delicious? The cream soda syrup and lemon provide a strong sweet and sour profile up front, but there's a complexity happening behind it. There's something… something vaguely wrong. It's like baking a beautiful loaf of bread while knowing that there's a horrible global pandemic going on.
I'm calling this the Elephant In The Room.
You should not buy Malört to make this. I'm telling you this in the same way that people warn you not to watch a video of a gruesome sports injury. I always end up watching those videos, because once I've been told something is too horrible to experience, I can't rest until I have.
If you're like me in that sense, well, then you should make this drink.
Tell all your friends?
(I'm going to mostly abandon the monster theme now. It's hard to keep it going.)
5) Waxahatchee, "Fire"
Since 2010, Katie Crutchfield has performed as the musical act Waxahatchee, named after the Waxahatchee Creek in her native Alabama. Her fifth album, Saint Cloud, released several weeks ago and has been on heavy rotation in my home office.
She's singing about struggles with addiction and codependency, but it's beautifully soothing in a way I really need these days. It feels like a reminder that things will be okay one day.
4) Naomi Alderman, "The Power"
This novel, a bestseller when it was released in 2016, is a thoroughly engrossing page-turner, one I blew through in just a couple of days when I read it.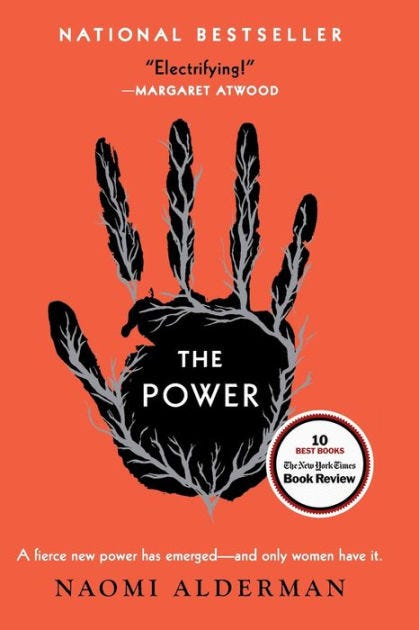 The story has an intriguing sci-fi premise: one day, women all over the world suddenly develop the ability to deliver electric shocks from their bodies, reordering gender roles and upending global politics. It doesn't read as sci-fi specifically, but more a historical epic of a different world. It's a wide-ranging and deeply-realized premise, and it stays sharp and brisk throughout.
3) Perhaps The World Ends Here, by Joy Marjo
I have no background in poetry, and I'm sure I've noted that here before; I often feel like a dummy for not totally getting it. That said, a good friend recently shared a reading of this poem, which struck me as quite relevant in These Uncertain Times:
The world begins at a kitchen table. No matter what, we must eat to live.
The gifts of earth are brought and prepared, set on the table. So it has been since creation, and it will go on.
We chase chickens or dogs away from it. Babies teethe at the corners. They scrape their knees under it.
It is here that children are given instructions on what it means to be human. We make men at it, we make women.
At this table we gossip, recall enemies and the ghosts of lovers.
2) Poetry, huh? That was too high-minded. I have to correct that immediately.
This week marked the 155th anniversary of Abraham Lincoln's assassination by John Wilkes Booth at Ford's Theater. I take this moment to revisit one of the dumbest piece of sketch comedy I've ever seen, one that has brought me to tears for roughly a decade.
CONTENT WARNING: LANGUAGE. (I mean, you're probably not in an office but you might have kids around? Just FYI)
This is What Really Happened To Abe Lincoln:
My wife and I have been saying CALM DOWN, JUST CALM DOWN to each other for most of our relationship. It's good to have shared interests.
Alright, on to the dogs and other animals. Other animals? Yes.
1) Friday morning furry friends.
First up today, Aimee G. shares some good advice and a very good dog:
I did a "Dog Check" yesterday on my team's group text. I just wanted to check in on everyone's mental health, and let me tell you, seeing 15ish pictures of dogs (and a couple cats) come through was amazing. Anyway, here's Nina. She's 8, perpetually grumpy at taking pictures but loves ruining my couch cushions with her lazy butt.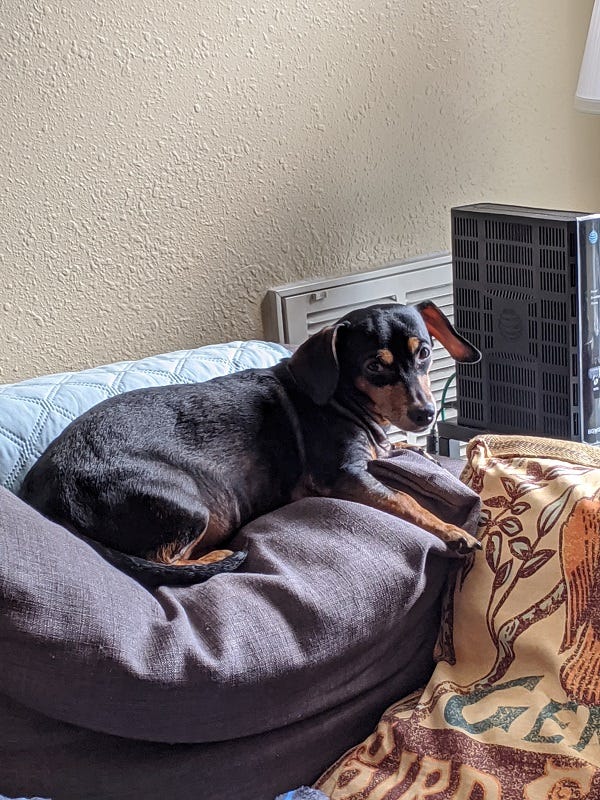 GOOD DOG. And I can attest to the restorative power of having people send you a bunch of animal pictures: it's one of my favorite things about writing this newsletter. Please, continue to send me your animals.
Next up, Kristen M. shares:
Billy and Finnegan, who look kind of intense and serious here (because they are staring into the sun), but are two truly sweet old beagle goobers who wake us up way too early and then fall asleep 15 minutes after eating breakfast.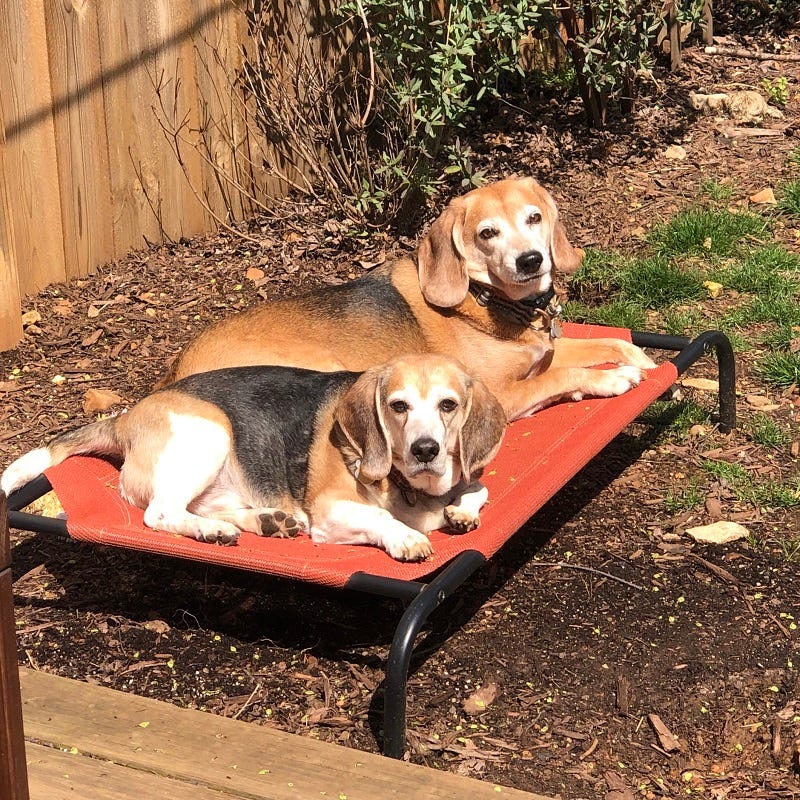 REGAL BEAGLES. I respect the falling asleep right after breakfast move. That's my Saturday morning go-to. Great dogs. They know what's up.
Finally this week, longtime Friend of the Program @GovWLePetomane shares the memory of a beloved non-canine companion:
Here's Lil Hedge, who passed away last week after an extraordinary life. When his human (my sister) moved from Alabama to Portland, he stayed with me for awhile and then we went on a road trip where I handed him off to @OllieMcClellan in Minneapolis who drove him the rest of the way to Oregon. He visited 16 states and got fun touristy pics. He was the world's best spiky puppy!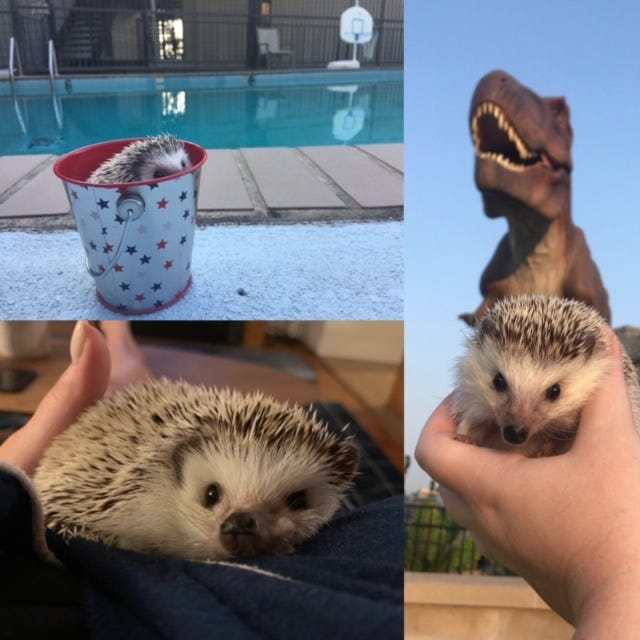 LIL' HEDGE. What a magnificent friend; I'm sorry for your loss, but grateful that you got to share in his wonderful life.
That's all for me this week. I hope you've enjoyed the ride, as always, and I hope I've improved your weekend outlook in some small way. I appreciate everyone who reads, shares, and contributes to making this newsletter what it is. Thank you.
— Scott Hines (@actioncookbook)