The Mother of Invention
Welcome back to another edition of the ACBN's Friday newsletter
Hello! As you may have seen on Wednesday, I announced this week that the Action Cookbook Newsletter will be transitioning to a paid subscriber model soon! There will be still be three newsletters a week, just as there have been for the last ten months, but starting May 25th two of those — including these much-loved Friday emails — will go to paid subscribers. One email each week will remain free for all.
Hopefully you'll consider becoming a paid subscriber; your support makes this newsletter possible, and I greatly appreciate you for it!
Now, on to the real business.
---
[gesturing at the guy who wrote the text above the break line]
Geez, get a load of that guy, amiright?
I mean, he's got a point, though. Sounds like a smart guy. You should listen to him.
Anyhow, welcome back to another edition of The Action Cookbook Newsletter's Friday Things.
[extremely Steve Winwood voice] The Friday Things come shinin' through / the way my emails go to you—
It's Mothers' Day weekend, and while I won't be entirely on theme — no mother would endorse the food idea I'm about to drop here, not my own mother nor the mother of my children — I do want to express my eternal appreciation for the mothers in my life; you've made a huge impact on me and my life is what it is today because of you.
That's going to sound like a handy shifting of the blame after this next thing, though.
On to it!
7) Necessity is the mother of invention
Hangover food might truly be our boldest frontier. When you've had a rough night and are having an even rougher day after, you're unbound by the strictures of cuisine, freed from concerns of logic, decorum or shame. You need certain things: salt, fat, carbs. What you're eating doesn't have to make sense to those by-the-book fatcats at Le Cordon Bleu; it just needs to taste good and make you feel better.
This is my way of telling you I had a culinary breakthrough last weekend.
As I covered in last Friday's email, this past weekend was Kentucky Derby weekend here in Louisville. The race didn't happen, but it was still the first Saturday in May, so I put on a straw boater and a cloth mask, planted myself a CDC-approved distance away from my roughly-similarly-clad neighbors, and made my own Run for the Roses.
And I felt like death on Sunday. What was I thinking? I'm almost 38 years old, and despite delivering a weekly cocktail in my newsletter for the last nine months, I rarely have more than one drink at a time. I can't handle this sort of thing anymore.
I needed a solution. I needed a cure. I needed… the perfect meal.
And, friends?
I think I might've found it.
Now, I'm going to start by telling you that, earlier in the week, I had cooked a big batch of chicken thighs in Mole Poblano. If you've never had it, you should — it's a thick, rich, incredibly complex sauce featuring literally dozens of ingredients. Here's a Serious Eats recipe that lists the active cooking time — that is, the time you'll actually be in the kitchen working, not just simmering something unattended — at 6 hours. If you need to kill a weekend — and, admittedly, many of us do these days — cooking it from scratch is a great way to do so.
(I did not cook it from scratch.)
Early on in my pandemic prepping, I had gone to my local Mexican grocery to stock up on a few things, and while I was there I purchased a pre-made mole paste that could be reconstituted with stock, so that's what I used for this chicken.
As I was reconstituting the sauce, a revelation hit me: it was thick, dark and rich. It featured a number of spices, including prominent notes of cinnamon and chocolate. It reminded me of another distinctive culinary sauce.
YOU: oh no

ME: oh yes
What, really, is the gap between Mole Poblano and Cincinnati chili after all? I had joked about it, but now I had a raging hangover and a container full of leftover mole chicken. The time had come to marry the two concepts.
A full Cincinnati five-way has all the elements you might need to bring a battered brain back from the brink: carbs (spaghetti), fatty meat (chili), fiber (beans), medicinal herbs (onions), and rich dairy (shredded cheese).
I boiled some spaghetti. I tossed some mole chicken on top of it. I added beans and diced onions, and a mountain of finely shredded pepper jack. My god. I was almost there. I just needed one more thing: spice. You see, I believe in the restorative power of spicy foods. I put hot sauce on practically everything. When I planted a garden last week, my kids knew intuitively that the hot pepper section was "daddy's peppers".
I added some pickled jalapenos, and ascended to culinary heaven. Behold:
The Cincinnati Six-Way Mole.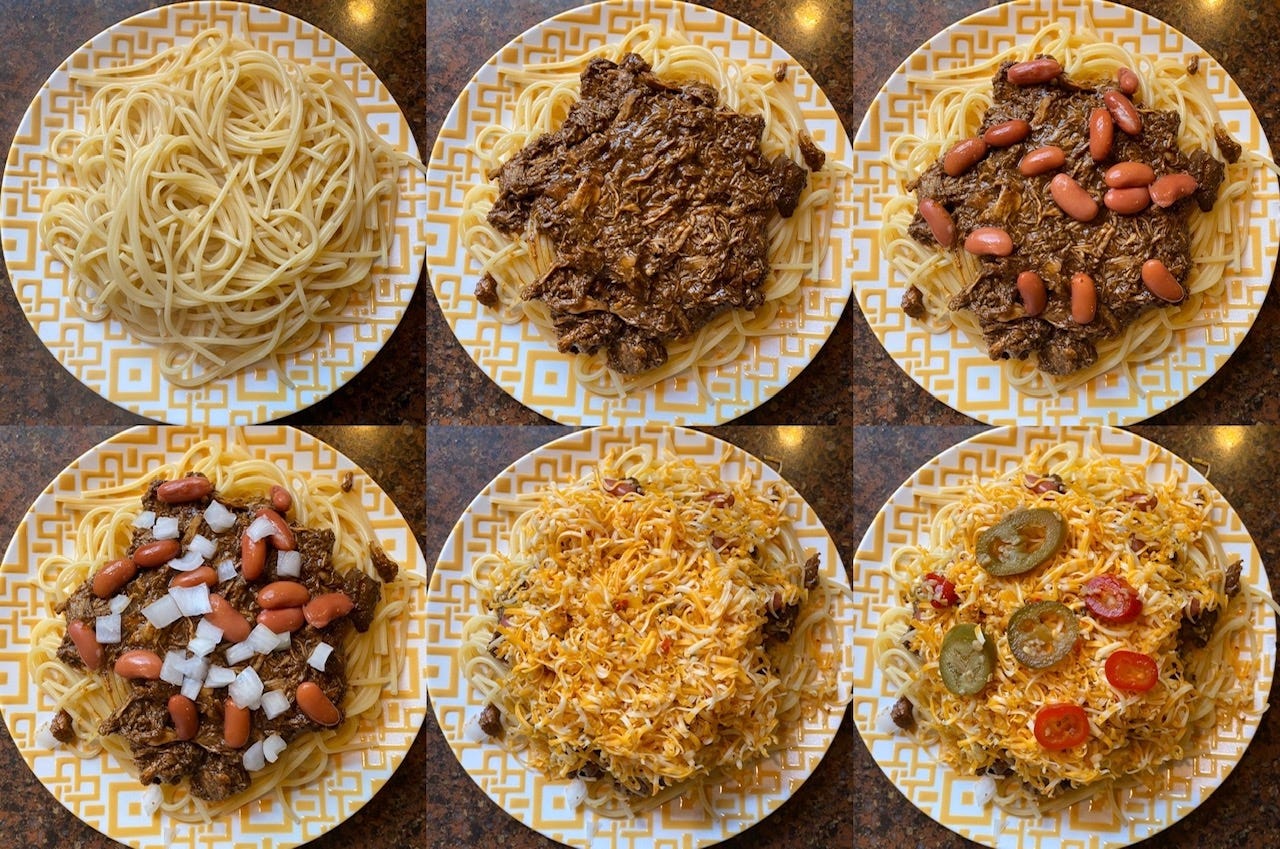 I would not lie to you: this was actually fantastic.
This may have started out as a bit, once again trolling with the knowledge that any mention of Cincinnati-style chili is bound to get a rise out of people on the internet, but it turned into a legitimately fantastic meal. Rich sauced meat with sharp cheese and pasta is an excellent combination, especially when you've swapped out the fast-food chili parlor's low-grade beef for slow-simmered chicken. I added a dollop of sour cream after taking the picture, and it was like pasta nachos.
It cured* my hangover and restored order to the kingdom**.
*it did not
**kingdom's a dang mess
Do you dare make it? Here's what I'd suggest:
1 batch mole poblano, either prepared from a mix or from the recipe above

2-3 pounds boneless chicken thighs
Simmer on low in a crockpot for 6-8 hours. Remove and shred the chicken, dressing with the sauce as you shred. Reserve the remaining sauce.
1 lb spaghetti, cooked

1 cup cooked chicken from above

1/2 cup reserved mole sauce

1/4 cup red kidney beans

1/4 cup diced white onion

1 cup shredded pepper jack or cheddar cheese

pickled jalapeno peppers

sour cream
Assemble. Enjoy.
History will judge me right. This is a good time to put in another subscribe button.
[whispering to self] now they can't say no!
6) [interstitial card] TWELVE HOURS EARLIER…
Let's talk about that hangover I had.
You might assume, given the context, that I had been drinking Mint Juleps. I featured a recipe for one in last week's Derby-themed newsletter. I was not, because I drank that Julep and fulfilled my quota for the year. Also, I'm always working ahead, and I had been introduced to a drink that I wanted to try out for you, my dear readers.
I wanted to imbibe like royalty.
Rumor has it that the preferred drink of Britain's Queen Elizabeth II — and more especially of her mother, the late Queen Elizabeth the Queen Mother — is a mixture of London dry gin and a wine-based herbal aperitif called Dubonnet. (Ironically, despite being a French product by origin, most Dubonnet is now made about an hour from my house in Bardstown, Kentucky.)
The two royals each had their own spin on the cocktail, but it's Mothers' Day weekend, so we'll do the Queen Mother:
3 parts gin

7 parts Dubonnet

a slice of lemon

ice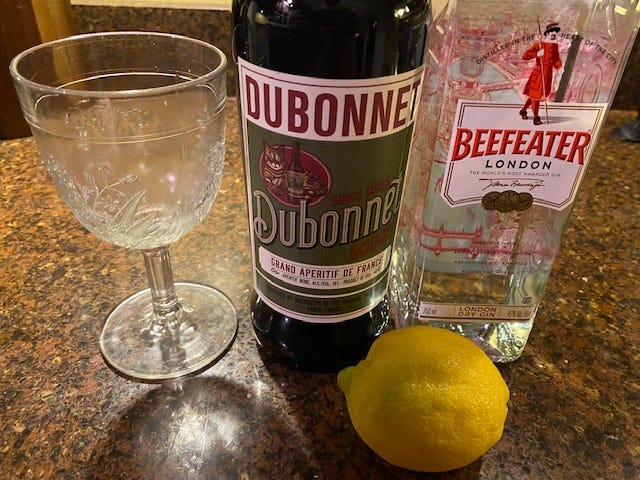 Place the lemon slice in a glass; add ice. In a separate mixing glass, stir the Dubonnet and gin, and pour over the ice.
Now, you might find yourself saying, as I found myself saying: "wait, is this just wine and gin?" Yes. It is just wine and gin. The Queen Mother lived to 101 and her daughter's still going at 94, and their preferred drink was wine and gin.
(You might also note that a similar construction of spirit-plus-fortified wine underpins classic cocktails like the Martini or Manhattan, and that's true, but this drinks much more like wine and thus is far more dangerous. See recipe above for confirmation.)
It's delightful, herbal, and much stronger than you realize until the next morning. I don't know if I'm going to live to 101, but until then, I'm going to live the royals do: entirely unaccountable to the public and accompanied by a surly corgi.
Hey, are you enjoying the newsletter? Have you already signed up? Why not tell a friend, then?
5) Linqua Franqa, "Eight Weeks"
Mariah Parker is far more than a musician — she's an activist, educator, and currently serves as a commissioner for the Athens-Clarke County Unified Government in Athens, Georgia.
She's a damn fine musician, though. Performing under the name Linqua Franqa, she brings an eclectic and electric sound that blends classic indie hip-hop and soul sounds, reminiscent of Erykah Badu and Lauryn Hill but with a fresh, modern edge.
I had the distinct pleasure of seeing her play a set opening for the Drive-By Truckers at their 2019 "Homecoming" series of shows in Athens. I rarely find myself enjoying musical acts that aren't the one I'm there to see, but she was terrific and held the room in the palm of her hand.
4) A sharply hilarious look at motherhood
I often write about parenthood here; it's obviously a bit of a preoccupation for me. Depictions of what it's like in media are rarely wholly accurate — and that's especially for working mothers, who face a nearly-impossible set of expectations. It's even rarer to find an accurate depiction that's also wildly funny.
Workin' Moms manages both.
The show, a Canadian sitcom whose fourth season has just been added to Netflix, stars (and was created by) Catherine Reitman as Kate Foster, an advertising executive who returns to work after maternity leave in the show's first season. Centered on a mommy-and-me group, she shares experiences with her fellow moms: struggles with postpartum depression, unsupportive husbands, workplace competition and difficult older children.
That may not sound like a comedy, but the show is hilarious in a refreshing unsentimental way. I wrote about the first season for Decider last year; my review of that is here.
3) The untold history of America is also a family story
One subject that I don't feel as though I learned nearly enough about in my education was The Great Migration — the movement of more than 6 million African Americans from the rural South to cities in the North and West between 1916 and 1970, a shift that occurred as a response to economic conditions and Jim Crow laws in the South.
It's hard to imagine a better resource for learning all about it than Isabel Wilkerson's weighty, gripping 2010 book The Warmth of Other Suns.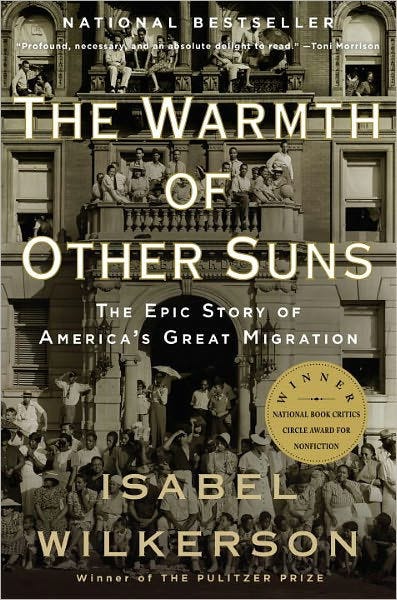 I rarely suggest non-fiction in my recommendations here; the honest truth about it is that I don't have a terrific attention span when it comes to non-fiction — I need a compelling narrative. This book provides that, telling this important American story through three intertwined biographies of real people leaving the South for Chicago, New York City and California. It reads like a novel, but tells you the real story of an under-examined part of American history.
2) Queen bees? This one's a bit of a stretch but I have to include it.
There's been a lot of talk of buzzing insects lately, what with the ever-so-2020 revelation that something called a "Murder Hornet" has arrived in the United States. Now, experts tell us that this problem likely won't spread in the North America beyond the Pacific Northwest. I can't think of any other time that we've heard a reassurance like that, so we're probably fine.
[is stung to death by Murder Hornets in June]
ah, well. Nevertheless.
Still, this brought to mind one of the most fascinating true-crime stories of recent memory, where a Brooklyn maraschino cherry magnate's secret marijuana-growing operation was inadvertently revealed to police by neighborhood beekeepers' bees, a wild and tragic saga memorably recapped in a 2018 New Yorker piece titled "The Maraschino Mogul's Secret Life".
It's a great read. Also? BEES!!!
1) And now, for the finest part of Friday.
As always, I'll release you into your weekend with the best thing I can offer you: your own dogs. Readers have been very generous in sharing their dogs with me, and it's my privilege to share them back with you. I thank you all for this; it's a genuine treat getting dogs in my inbox.
Let's begin!
First up this week, Jason / @jormundgandr620 shares:
This is Sherlock doing his part to social distance by never coming back inside.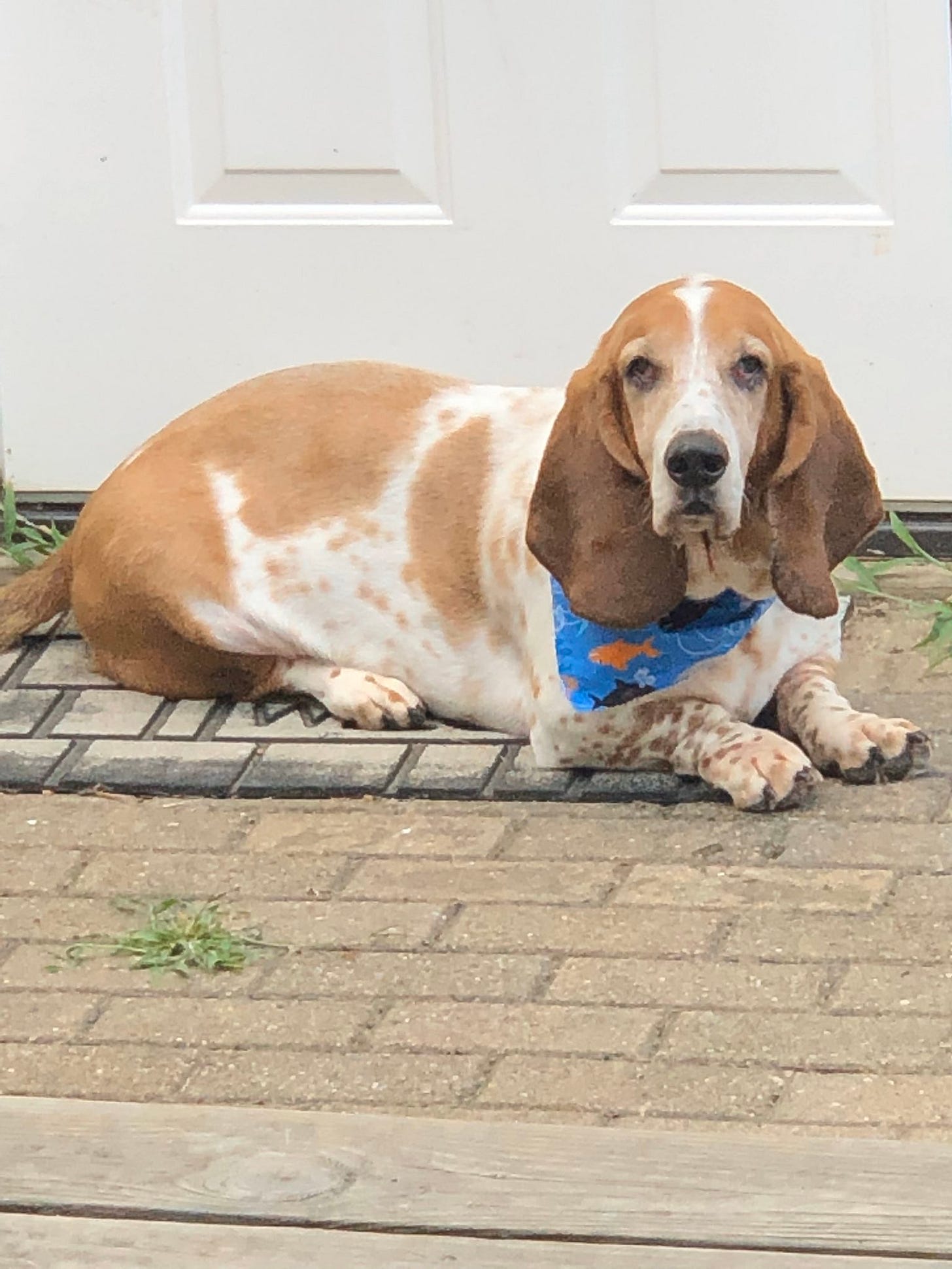 Now that is a dog you're not moving unless he wants to be moved. Great dog.
Next up, Jack / @jfmclooney shares:
DJ is fancy old lady trapped inside a 5-year old mutt body. Her two hobbies are 1) lounging around the house and 2) being afraid of most things.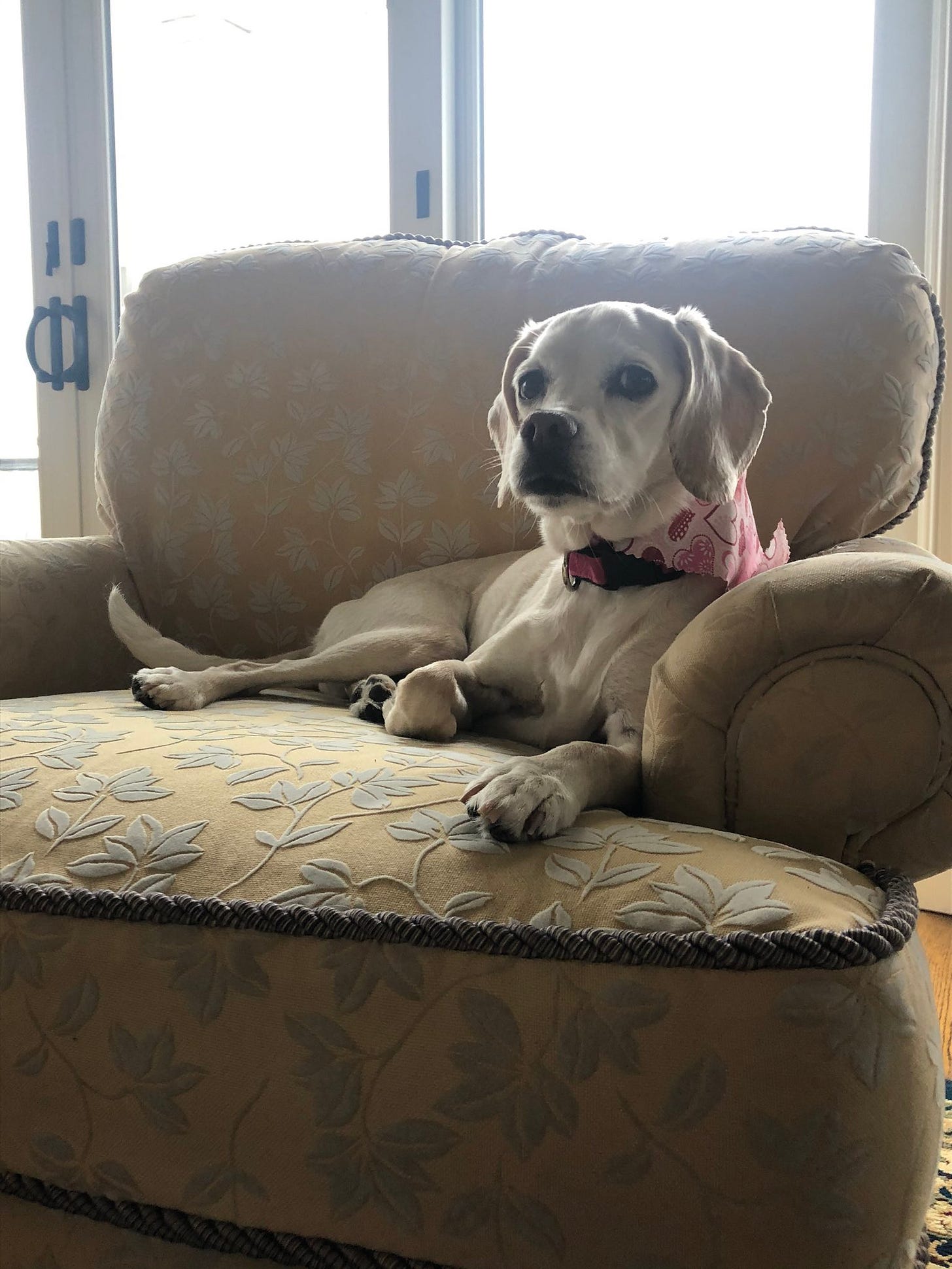 True story: lounging around the house and being afraid are the only two viable hobbies in 2020. Props to DJ for having her paw on the pulse. Great dog.
Next up, Andrew / @a_trout shares:
Moxley is an extremely good dog, and loves his friends Gator and Reindeer.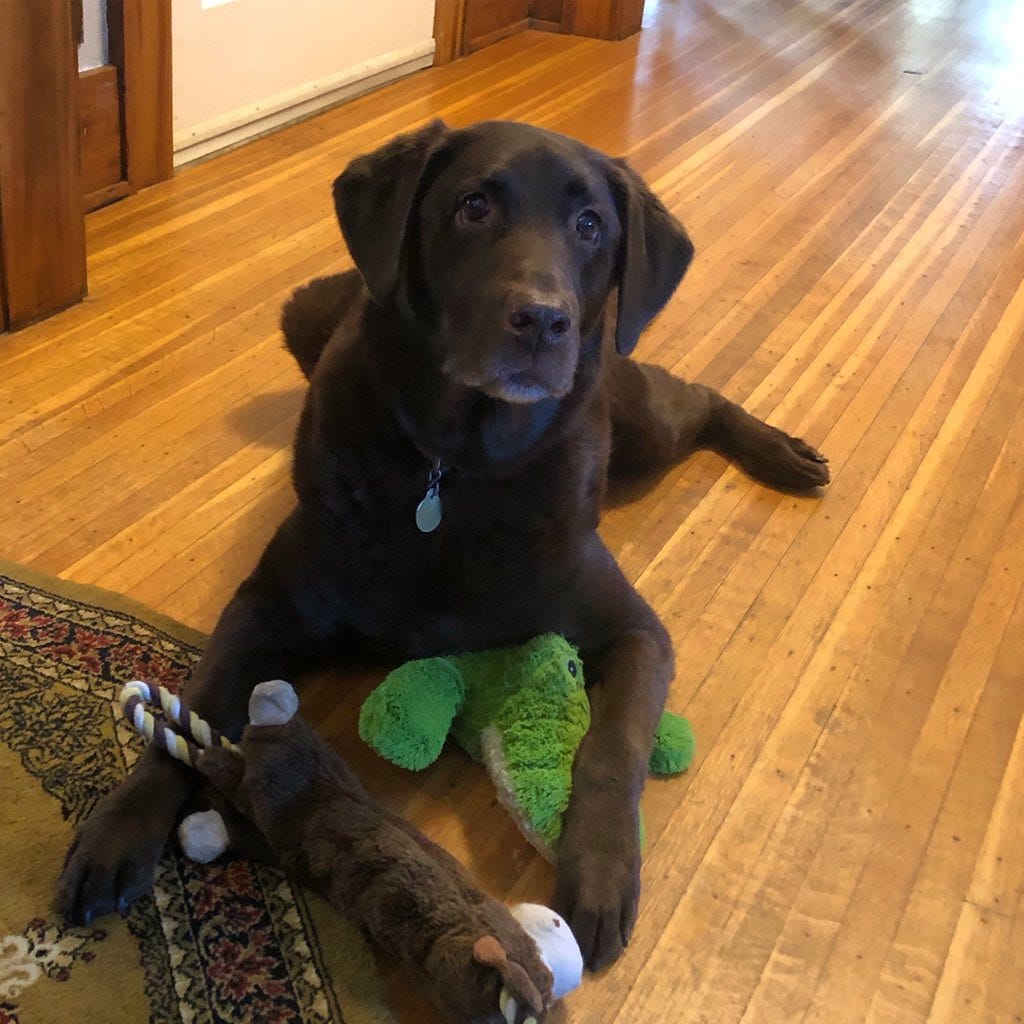 Reindeer and Gator are lucky to have such a loyal friend. Great dog.
Thanks to everyone for sharing, and thanks to you for reading. I've been overwhelmed by the initial response to the new subscription model this week, and I'm hugely appreciative of everyone's who's signed up so far. Here's that button again.
I'm delighted that you've chosen to make The Action Cookbook Newsletter a part of your week. I hope you've enjoyed it, and I hope you have a terrific weekend.
— Scott Hines (@actioncookbook)