What does it taste like to go back home?
Food, drink, media and more comforts in this week's Friday digest.
I've been thinking a lot lately about the notion of "home". I've moved around a lot over the years, through multiple states and too many addresses to count. Now that I've got a family of my own, my notion of home has shifted — is it the place where I grew up, or the place where my children are growing up? Or is home a more malleable concept, less rooted in place than in emotion? I delved into this a few months ago as it relates to sports and tradition, but there's another way it manifests strongly, and that's food.
Food is a deeply personal thing — what we eat helps define who we are and how we connect to others. At best, it can be a powerful encapsulation of sense, memory, and place. A familiar recipe can deliver us back home.
Perhaps you have a recipe like this — something that's carried down from your parents, grandparents, old friends or distant places, something that immediately takes you to another place and time. If you're lucky, it can conjure up feelings of comfort and stability, of a time when you didn't have to have all the answers because someone else had them.
It doesn't have to be anyone else's definitive notion of a dish. Speaking about pizza, the food writer and editor Sam Sifton once described his personal theory of cognition:
"The first slice of pizza a child sees and tastes (and somehow appreciates on something more than a childlike, mmm-goood, thanks-mom level), becomes, for him, pizza… He will defend this interpretation to the end of his life."
My beloved family dish, the food that delivers me home every time I have it, is my mother's pastitsio — a lasagna-like Greek casserole featuring tubular pasta and spiced ground beef baked with cheese and a rich, nutmeg-scented bechamel. We have no Greek heritage whatsoever — Mom picked it up from a cookbook decades ago and it's been grafted onto our family heritage simply by merit of being delicious.
I've ordered it from Greek restaurants in my adult life, and it's never been what I wanted it to be. Something's different.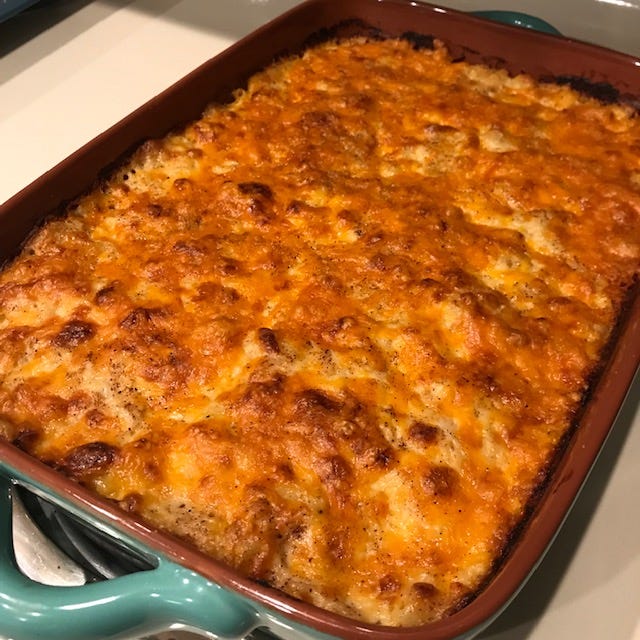 I've established quite a habit around here of messing with food concepts — combining Nashville Hot Chicken flavors with Indiana-style pork tenderloin, or rolling halal cart-style chicken and rice into arancini-like balls. It's fun to experiment, and I'm never going to stop getting silly with things in the kitchen. When it comes to a family recipe, though? There's love and care and tradition rooted in making it exactly the same way as it's always been made, recreating that experience of home, sharing it with my children in the same way I hope to share my values.
I wouldn't think of changing a thing.
7) Now, here's that recipe, completely unedited.
I found this in a 12-year-old email, which likely marks the first time after college that I requested it because I missed home and wanted to make it myself.
1 medium onion, chopped

1 clove garlic, minced

2 tablespoons olive oil

1 1/2 lbs. ground beef

2 dashes cinnamon

1 eight-ounce can tomato sauce

Margarine

1/4 cup flour

2 cups skim milk

dash pepper

nutmeg

1/3 cup grated parmesan cheese

8 ounces ( or more) small elbow macaroni

2 eggs

8 ounces coarsely shredded cheddar cheese

Saute onion and garlic until soft.
Crumble in beef and cook until brown.
Pour off fat, stir in cinnamon and tomato sauce, and set aside

Melt 3 tablespoons margarine in saucepan and stir in flour.
Add milk and cook, stirring until thick.
Add pepper and a pinch of nutmeg and the parmesan cheese.

Cook macaroni in boiling water until tender.
Drain well and put back in pot.
Break in eggs and add 2 tablespoons margarine.
Beat briskly with wooden spoon until well mixed.

Butter a shallow 2 1/2 quart baking dish and layer ingredients as follows:
Put half the macaroni in dish, all the meat, half the cheddar cheese,
remaining macaroni, then the white sauce.  Sprinkle on remaining cheddar
cheese, dot with margarine and sprinkle with nutmeg. 

Bake in preheated 375-degree oven for one hour.
My brother would be upset that I shared this, as he considers it a family secret. He does not subscribe to this newsletter.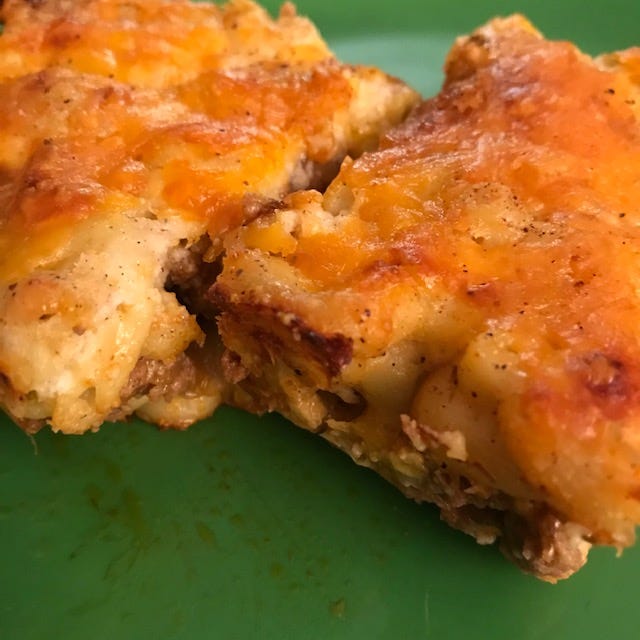 This dish might be even better the next day, as everything's set up and it slices more cleanly. Perfect for grabbing a midnight snack when back home or just pretending to be.
6) Continuing the theme, but with cocktails.
There are other tastes that elicit a strong memory of a specific time in your life. Five years ago, after a decade of living in New York City and convincing myself — as people who move to cities like New York often do — that I was never going to leave there, I left there. My wife was offered a job in Louisville, Kentucky, and we came to town for a visit. I'd only passed through town briefly before, and didn't know how it could compare to The Big City.
Our first meal fresh off the plane was at MilkWood, chef Edward Lee's southern-tinged fusion restaurant located in the basement the renowned Actors Theatre of Louisville. The food was terrific (try the smoked wings), and it played a small but significant part in my larger acceptance of the fact that there are interesting things going on in places far from the coasts.
They have a cocktail there that I love called Smoke & Pickle (also the name of one of Lee's books). To my knowledge, they have not published the recipe anywhere, but through experimentation of my own, I've come up with a reasonable homage to it.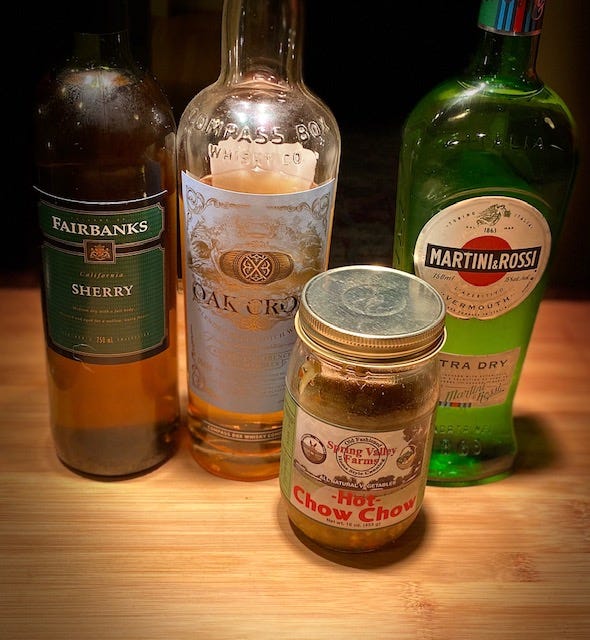 3 oz scotch

1 oz pickle brine (more on this in a moment)

1/2 ounce sherry

1/2 ounce dry vermouth
Shake with ice, strain, and garnish with a pickle.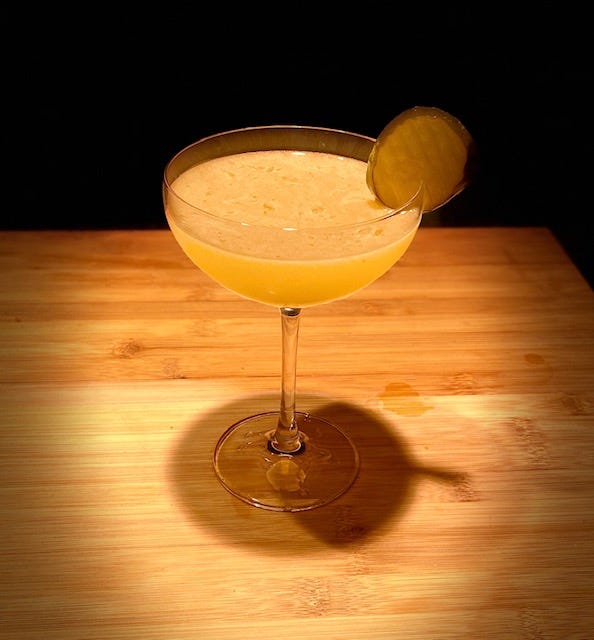 It's a terrific balance of smokiness, sweetness, and briny savoriness — much more nuanced than a Dirty Martini or the like. I'd strongly recommend using sweet pickles for the brine — I tried it with dill pickles and it did not turn out well. For this version, I actually used Chow Chow, a pickled vegetable relish.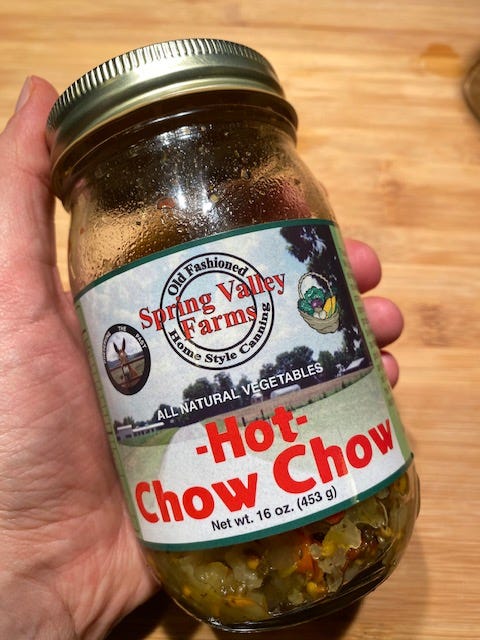 I doubt you could get this particular variety very far from Kentucky, but I think regionally-specific foods are an art form we should embrace. Things should taste like a place, and you could quite easily craft this cocktail around a local pickle of your own.
5) A musical interlude, with a nod to today's theme.
Angela Perley is from Columbus, Ohio. My family has lived in Columbus for the last 23 years. Noting this coincidence is merely pretense to share her music, which bangs:
Somewhere between the rusty Americana of Lucinda Williams, the power-pop of Aimee Mann, and the winsome warbling of Lisa Loeb, she's got a ton to offer.
4) Traveling away from home and bringing something back, in context.
Object Lessons is a series of short books put out by Bloomsbury publishing, each focusing on "the hidden lives of ordinary things". Both essay and history, they're a fascinating dive into things we might interact with every day but rarely examine critically. Each book covers a single subject, whether it be remote controls, blankets, passwords, shopping malls, burgers, or luggage.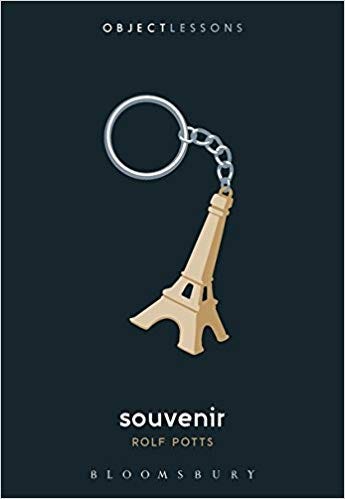 I recently blew through Rolf Potts' entry, Souvenir, which contextualizes travel souvenirs with a wide-ranging history that ends up defending the derided, mass-produced souvenir as valuable not for its authenticity, but rather its place within a personal narrative.
It made me feel much better about the sword I purchased in Toledo, Spain on a high school trip, a machine-made object that was probably manufactured somewhere else but is still deeply meaningful to me as a reminder of the youthful enthusiasm of my first time abroad.
3) Home can also be about heartbreak.
Hey, you know I like sports, right? And that almost all of the teams I grew up supporting are endlessly deep pits of suffering and despair? Well, then you can imagine how well I identified with Sunderland 'Til I Die.
This documentary miniseries, available on Netflix, follows the English soccer team Sunderland AFC during the 2017-18 season, their first after being relegated from the top-flight Premier League to the second-tier Football League Championship. Framed as a comeback story, the documentary bears witness to fans' horror as their hopes of winning their way back into the Premier League fade into fears of an unheard-of, catastrophic second straight relegation.
As the team falters, we see how much a hometown sports team can mean to fans who've wrapped up large parts of their identity and sense of home in it.
I wrote about the series for Decider last year.
2) Ah c'mon man, why'd you have to do the bleak thing
Sorry, sorry. Hey, let's bring it back up.
Surely you're familiar with This American Life, the powerhouse radio show/podcast. It's been running forever to wide acclaim. This week's episode stood out to me, though. It centers on delight.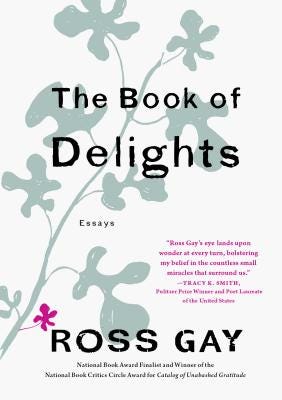 Building around the work of poet Ross Gay, whose 2019 book The Book of Delights chronicled his effort to recognize the things that brought him joy in his daily life, the episode profiles a collection of stories of genuine delight — I was grinning ear-to-ear listening to the segment where a small child excitedly waits to ride the school bus for the first time.
It brought a smile to my face, and perhaps you could use the same this week.
1) Hey, you know what else brings us delight, and helps a house feel like a home?
It's time for the dogs!
First, @danetz13 shares:
Here's the very good dog Winnie: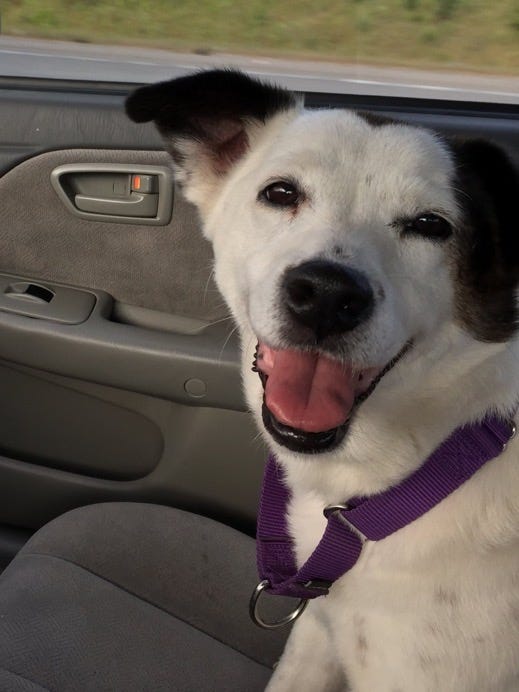 WINNIE. A great dog who could ride shotgun with me anytime.
Next, @bwilgus writes in with praise AND dogs, both of which I love:
great recipes this week. Here's a pup named Parker. He often likes to sleep like this.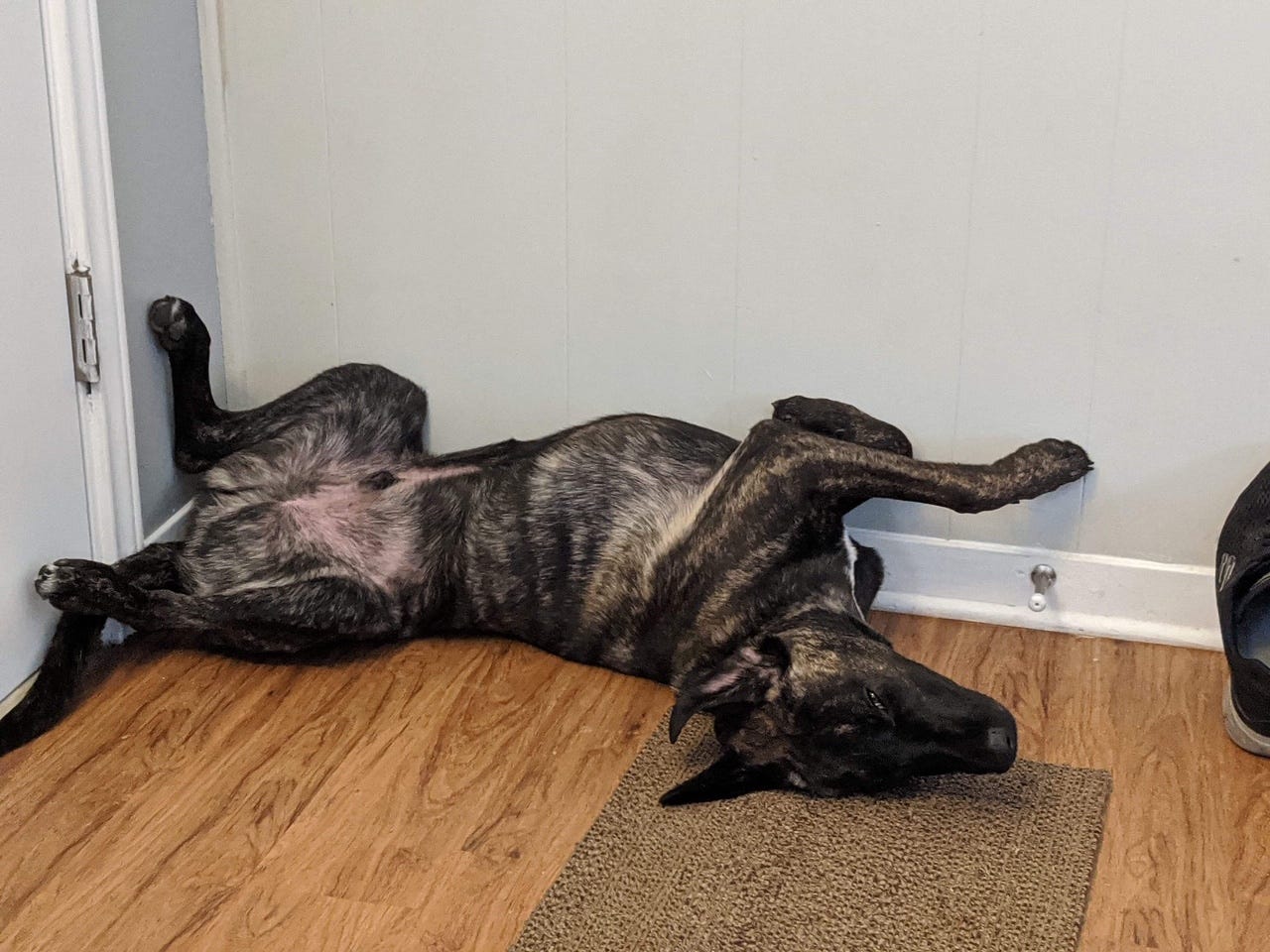 PARKER. There are many aspects of the lives of dogs that I'm jealous of, but one of the biggest is just how comfortable they look all the time. Look at this dude. He's living his life. I have never been this comfortable. Great dog.
Finally, @michaelddavid writes in, also bolstering my ego, which again, I like:
Petey would love to be featured in the newsletter. Here you can see him asking us to make one of your Friday recipes. Love the newsletter. I subscribe to several and this is the one I'm happiest to see arrive. Keep it up.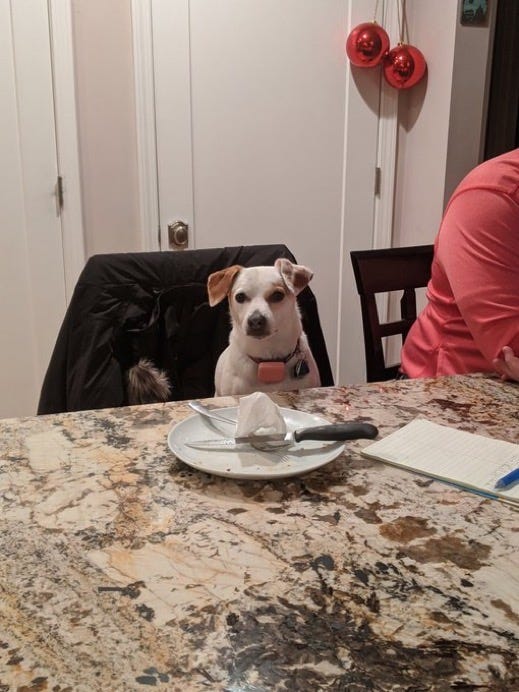 PETEY. Give that good dog some Blanks In A Piglet!
Thank you to everyone who sent me dogs this week (I've got a slight backlog now, so if you've sent me pictures that I haven't shared yet, rest assured that I will soon). If you'd like to see your own dog in a future Friday newsletter, please DM me on Twitter or respond to this email. Keep 'em coming! If this newsletter has achieved nothing else, I get dog pictures sent to me, and that's a terrific place to be.
I hope you have a great weekend, and I hope this newsletter has helped in some small way. Thanks for reading and supporting — I'll see you Monday.
— Scott Hines (@actioncookbook)