What We're Waiting For
A different kind of Friday email for a different kind of week.
I relish putting together this email for you every Friday. It's been a fun excuse for me to try out new recipes or dust off old favorites, and to share things I love with you. I've always figured that Friday morning is the perfect time for the kind of suggestions I provide here, because it gives you a chance to plan out your weekend while at work and pick up the ingredients on the way home that evening.
For the moment, that's a little hard.
Since last Friday, schools all over the country (including my childrens') have closed for weeks, if not months. Offices have emptied as the workers lucky enough to do so shift to a VPN-based existence. Store shelves are being stripped in a bit of self-perpetuating panic, and while it seems like they're doing their best to restock, I can't advocate for anyone making an extra grocery trip this weekend. It sucks. My children miss their school and I (ed note: Disney+) am not a great substitute teacher. I miss the exactly three minutes of socialization I have in the office each day. I actually miss going to the gym.
We all have a duty to each other right now, though. If we're able to do so, we should be staying away from public places, keeping a safe distance from people outside our households, and doing everything we can to avoid becoming victims or vectors of a problem we still don't fully understand. It doesn't matter if you're healthy, or if you feel well. It might not be yourself that you're hurting. If we all act now, hopefully the healthcare workers gamely struggling to stay ahead of this can do their job, and we'll all soon be able to congregate together.
Next week, I'll bring you something much closer to normal, even if it's assembled from an incomplete pantry. Today, I just want to talk about some of the best moments I've had in public, and I'd love if you share your own below.
7) The best meals are the ones we share.
I've had some wonderful meals in my life. Fancy tasting menus at well-regarded restaurants. Novel creations at hip upstart joints. Delicious diamond-in-the-rough delights. So, of course, what jumped to mind when thinking about the most memorable things I've eaten?
A plate of beans.
In grad school, I did an internship with an architecture firm in Barcelona. To my delight, a week after the placement started, the firm closed for eight days for Holy Week observances. I took the opportunity to buy a cheap train ticket and travel, and I ended up in the southern city of Alicante. At the hostel I was staying in, I learned that a great place to watch the Easter week processions — you know, the things that look really uncomfortable if you're an American who associates other things with their traditional costumes, go ahead and Google it if you don't know what I mean — was a stair-step, car-free street in one of the old neighborhoods that climb up the hills to the old castle.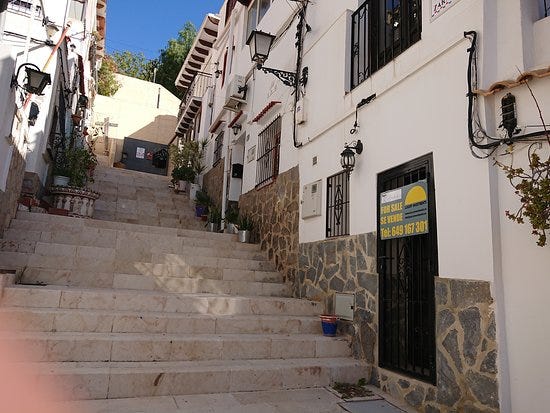 I staked out a spot in the late afternoon, and parked my clueless American butt. Soon, the street was filled with families celebrating, eating, passing dishes around to share with everyone. Even as a random stranger, I was offered to join, and the dish that's stuck with me was a simple pot of stewed butter beans in tomatoes and onions.
Here's a recipe that strongly resembles what I remember.
It's just beans, right? But it's a dish that's forever imbued with joy for me, as it recalls sharing a moment with strangers and being welcomed in.
Here in Louisville, Chef Edward Lee's LEE Initiative is providing relief to restaurant industry workers currently out of work.
6) All you can do is the best you have today.
In 2009, I trained for a marathon, and I did a lousy job of it. It wasn't my first, or my last, but it was easily my hardest. My months-earlier hopes of setting a new personal best ran headfirst into the reality of substandard training and the sneaky-difficult hills of Burlington, Vermont. I struggled, and by the lonely late miles of the race, I wasn't enjoying myself at all.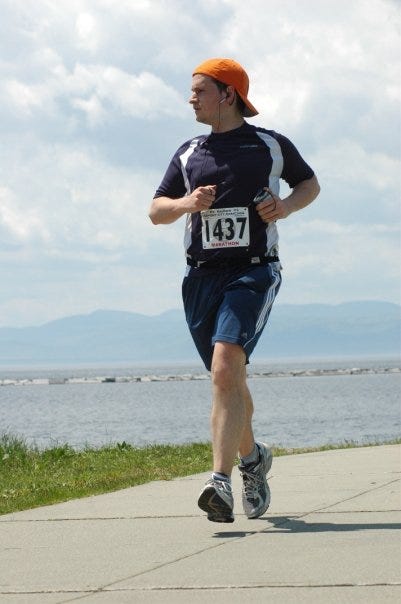 Me, quietly miserable
I ran for a few miles alongside an older gentleman, a particular kind of character you're guaranteed to run into if you do enough running events. He told me about how he'd overcome heart-health scares to take up running, then became the kind of person who runs dozens of marathons a year. He didn't care about his pace. There were races before this, and there would be races after this. He was enjoying a beautiful morning in May in one of the most picturesque settings this country has to offer, and he was enjoying chatting with a stranger.
We passed through a residential neighborhood, and a group was tailgating the race, cooking out and drinking in their yard while cheering the runners on. One of the spectators popped open a cooler as we approached, and offered us each a beer. My new friend and I each gladly took one — we still had a couple miles left, but it was getting hot and we were thirsty.
"I figure if I'm not gonna run a good time, I'm gonna have a good time," he said. I bet he uses that catchphrase a lot, but it stuck with me at that moment.
I don't think I've ever enjoyed any cocktail as much as that beer, a crappy light beer on a sunny Sunday morning when I still had a ways to go. (Oh, and if you really want a cocktail this week, make The Golden Lion Tamarin from this email.)
5) We put to death the ones we need the most.
I've talked here before about one of my favorite bands, the Ohio-based duo Over The Rhine, comprised of Karin Bergquist and Linford Detweiler, a married couple of singer-songwriters who've been consistently putting out beautiful music for thirty years. I've seen them a bunch of times over the years — in clubs, theaters, even a winery.
One show that sticks with me was at New York's Mercury Ballroom. It was less than a week after Hurricane Katrina, and the depth of the government's failure to protect American citizens was becoming fully evident. One of America's greatest cities was underwater. Bodies were floating down the street. We each have our moments when we realize that institutions we've placed our trust in have failed us, and this was a big one for me.
Karin sang "Jesus In New Orleans" that night, and I don't think there was a person in that room who didn't tear up.
Music binds us together in difficult times, and it's never more powerful than when we get to share it in the same room. As a few good friends of mine often say: "always go to the show".
The 40 Watt Club in Athens, Georgia is one of the most essential live music venues in America. Like most other such venues, it's closed right now, and their employees could use your help.
4) Come, you giants.
I've had the good fortune to see a great deal of live theater in my life, and if you're not a theatergoer yourself, I suggest you change that as soon as this is all over. It's not just Cats or touring productions of Disney movies. (Nothing against those. I'm sure I've got some Frozen tickets in my post-pandemic future). Live theaters in all sorts of places are offering thrilling, innovative, thought-provoking work.
Few plays have ever floored me quite the way Jez Butterworth's Jerusalem did. The sprawling tale of Johnny "Rooster" Byron, a local nuisance about to be evicted by the local authorities, it evolves over three acts to a mythical, stirring climax. I saw it in a theater with 1,000 other people, and you could've heard a single person cough. (Back before that would've terrified you. Y'know, different times.)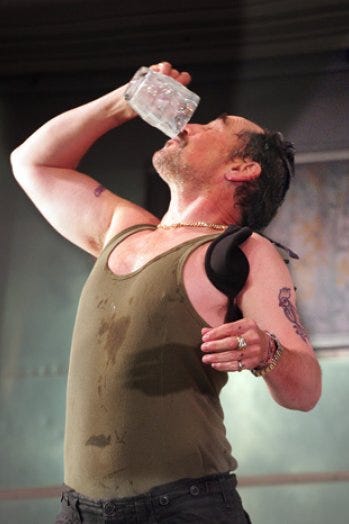 It reads great on the page, so consider that link above to be this week's book recommendation, but experiencing a work like this in person is something I cherish, and I look forward to the day soon when theaters re-open. Consider buying a ticket or making a donation to your local theater now — they'll be eternally grateful for the support.
Actors Theatre of Louisville is a shining gem of regional theater in my adopted hometown. Every spring, they put on the Humana Festival of New American Plays, a month-long celebration and incubator for never-before-seen works that often go on to life on Broadway or elsewhere. Come visit some time.
3) Hold all tickets.
I miss sports. I miss sports a lot. Even if I don't get to watch as many games as I once did, I rely on the daily drumbeat of sports news to give rhythm to my day. There are much bigger problems in the world right now, but one of the things that makes this current moment feel so damn weird is the lack of sports, unprecedented since at least World War II.
Last spring, I had the privilege of covering the Kentucky Derby for SBNation, a once-in-a-lifetime experience getting behind the scenes at an event I've loved for years. The energy in Churchill Downs moments before the start of the marquee race was incomparable — 170,000 people buzzing in anticipation of a scant two minutes of racing. (The fact that the race featured a controversial finish and unheard-of disqualification of an apparent winner only added to the thrill.)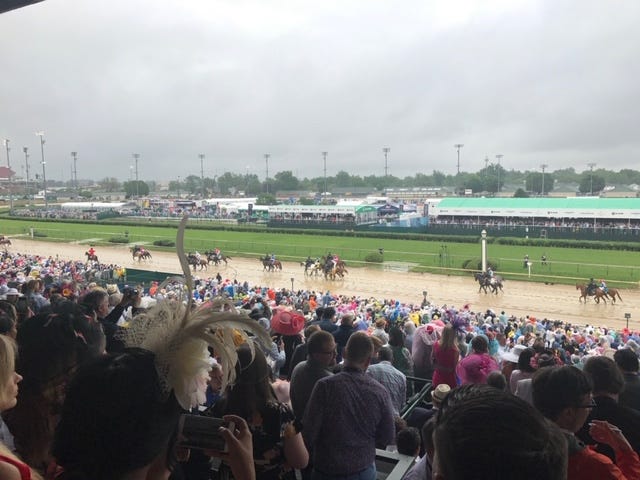 This year's Derby has been tentatively rescheduled for September 5th, the first time since 1945 that the race will not be run on the first Saturday in May. I hope that the actions we're all taking now means that by September, the stands can again be filled.
The Backside Learning Center at Churchill Downs provides support to equine workers and their families, including GED prep, English tutoring, and counseling toward obtaining US citizenship.
2) Physical distance doesn't have to mean social distance.
It's hard keeping our distance.
Even as someone who's often labeled as "quiet" by coworkers who don't know any better, I find myself struggling to maintain the social distance the CDC and WHO are currently, correctly recommending we all keep. We thrive on contact, on conversation, on camaraderie.
This interruption is more dire for people in need. For four years, I've been a board member of Personal Counseling Services of Clarksville, Indiana, a small non-profit that provides therapy to a clientele of primarily low-income and youth populations. Many of our in-person therapy sessions have had to be suspended in the last week due to the risk posed to our hard-working therapists and their clients. Tele-therapy solutions are being developed as a stand-in, but the byzantine realities of Medicare/Medicaid billing make it highly likely that insurance companies will deny payment for these services later on.
If you're able, consider making a donation to a small non-profit with a big mission.
I've shared a lot of links today for charities supporting the many people in sudden need this week, but your financial realities may not permit you to contribute to any of them. That doesn't mean you can't help. Reach out to loved ones, now more than ever. Support each other, because none of us have ever been through anything like this before.
As I've repeated to my children every day this week, a mantra meant for myself as much as for them: be kind, be patient, and be positive.
Now, let's get on to the one thing that'll really help this week.
1) Our best friends are here for us.
First up, reader Kari G. writes in:
I love this newsletter more than I can tell you. Thank you so much. And here's Milo. He's 11 months old. It's 16 degrees out. He loves his ball.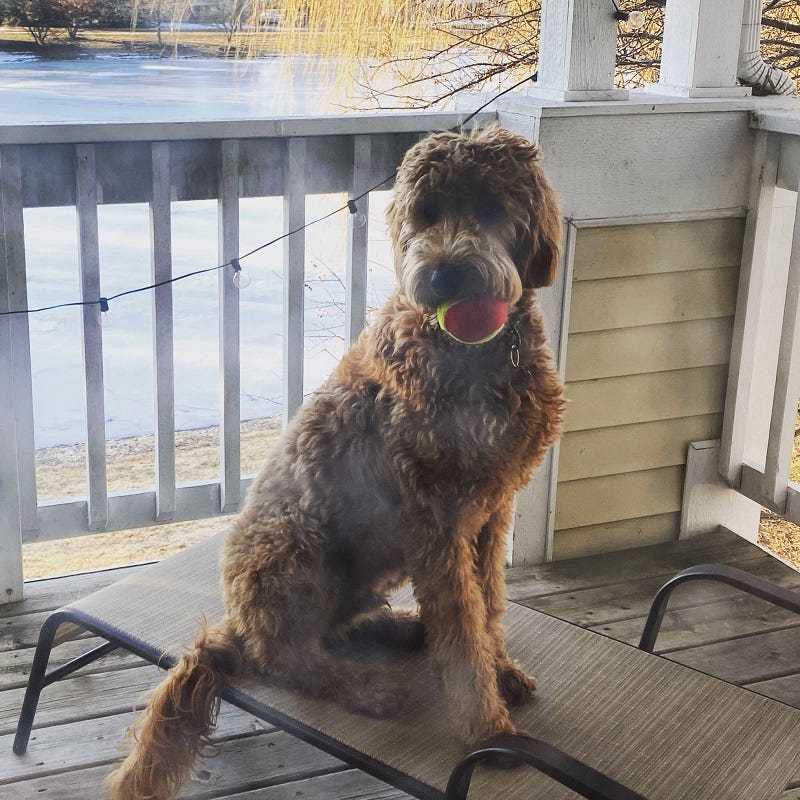 MILO. WHAT A GOOD COLD BOY.
Next up, Nick S. shares:
Meet Sophie. She was unfortunately raised a Browns fan, likes people food, fetch, and sleeping on the furniture. Hates squirrels, rabbits, delivery people, etc. She is a Good Dog.

I always pick up something new in these newsletters, so thank you for doing them!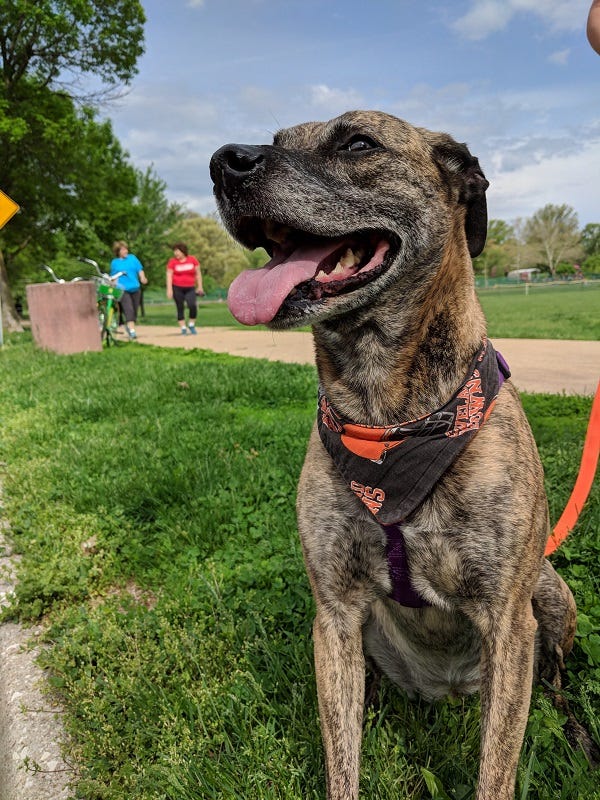 SOPHIE. I am also a Browns fan who likes people food and sleeping on furniture, so I relate very much to this dog.
Finally this week, reader @Deengoh1 shares:
As a soon-to-be new dad, I really appreciate reading your adventures in fathering. I'm constantly excited and nervous and worried and... oh right, dog. This is my 6 year old boy Rowlf. All he wants out of life is to be chased with his toys and get his butt scratched. He's excited about being a big brother (I think)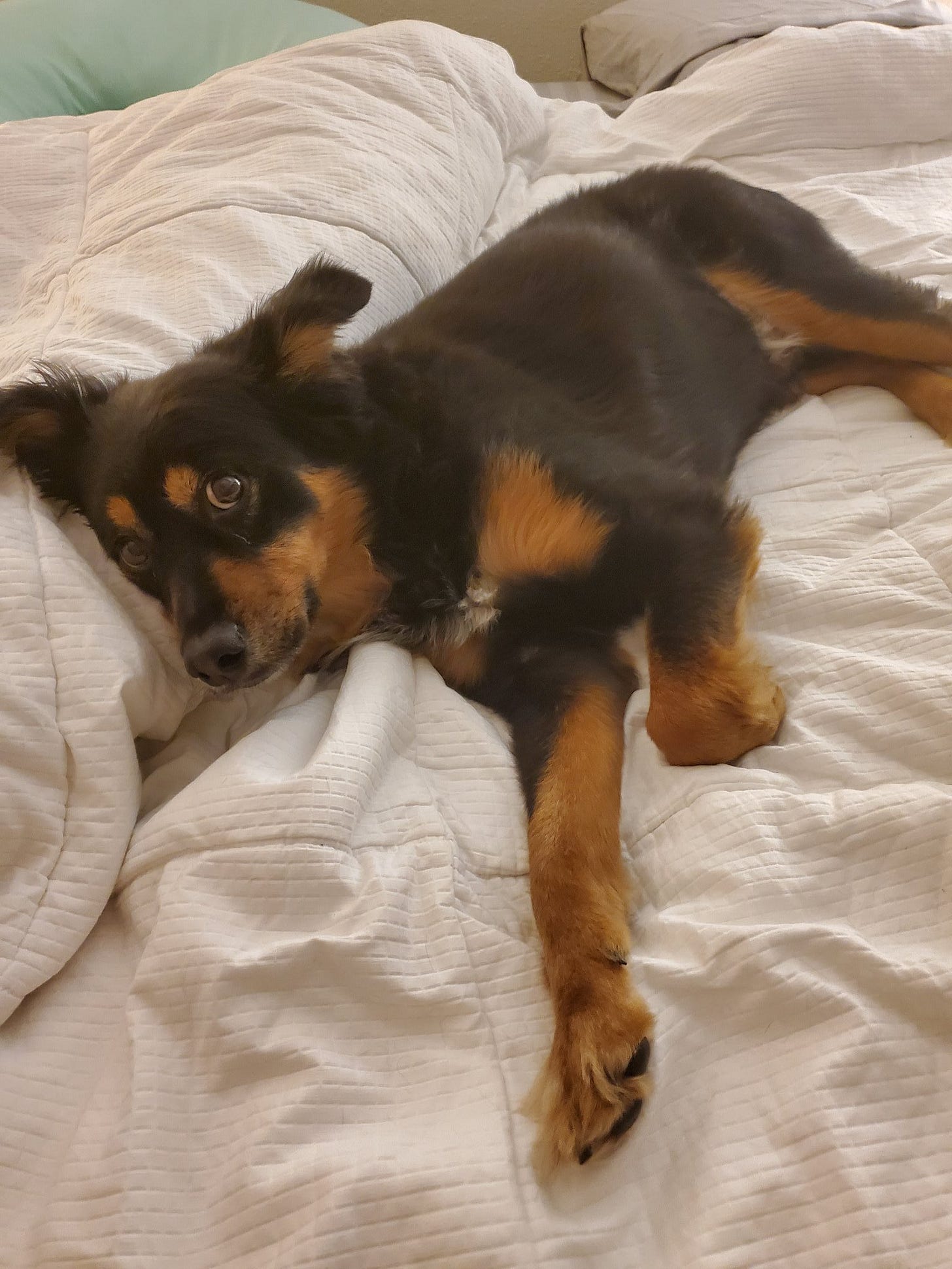 ROWLF. What a good boy and congratulation to your person but on behalf of Holly I'm sorry to you about the new small loud person that's coming.
Thank you to everyone who shared. I am genuinely touched any time people reach out to tell me that you appreciate this newsletter. It means the world to me, and I appreciate you all. Please, take a moment if you're so inclined to share memories of the best moments you've had in public — food, drink, live performance, whatever — in the comments below. Remind us what we're waiting for.
Thanks for sharing this space and this moment with me today. We'll get through this. Take care of yourselves, and each other.
— Scott Hines (@actioncookbook)