Discover more from The Action Cookbook Newsletter
A cookout in your inbox. Come for the food, stay for the stories, three times a week.
Who needs the outside world anyway?
[Ramones voice] Nothin' to do, nowhere to go-ooo, I want a Friday newsletter
Is it Friday? I think it's Friday. I'm gonna send this newsletter in the hopes that it is, but there's really no way to be sure anymore.
In my household, we're wrapping up our third full week of work-from-home and home "school" (pause for laugh track) social isolation, and we're all going just a little bit mad. Hopefully these drastic and difficult measures we're all taking begin to show up in the public health numbers, and a light will slowly form at the end of the tunnel.
In the meantime, we're just going to have to find ways to entertain ourselves.
A few weeks ago, I was added to a Facebook group highlighting the local restaurants that have converted their operations to curbside/take-out. I exited it a few days later, because I was tired of seeing questions so vague ("where can I get comfort food in Louisville tonight?") that they'd result in completely mismatched suggestions across a 50-mile radius, but before I did, I realized something: there are some really basic food and drink items that people are relying on restaurants for.
Now, if your goal in doing so is to support your local restaurant industry, that's terrific. Do so, and tip well. But if you just need a good meal, you have to believe in yourself and know that you can pull together some darn fine comfort food in the safety of your own kitchen. So this week, we're not taking on a complex culinary endeavor like Halal Balls. We're just going to make some good old-fashioned barbecue.
7) Let's talk about butts, baby.
At my last in-person grocery shopping trip three weeks ago (real feel: 1987), I noticed that all of the ground beef and chicken breasts were cleared out, but there was a full case of pork butts. This tells me that people are missing the best and most delicious value proposition ($1.99 a pound! Or less!) in their grocery store's case, and something that can make meals for a whole week if you're crafty. That reduces your need to go to the grocery store, thus increasing your social distance.
In short, the CDC recommends you smoke a pork butt.
Do you have a fancy smoker? Great. If you don't, but you do have a simple charcoal grill, you're in luck. In my very first edition of the Friday newsletter last August, I profiled a method where you can stack a "wick" of charcoal briquettes that'll burn consistent and slow for 8-10 hours with no intervention needed. I believe in this method and I've used it literally dozens of times.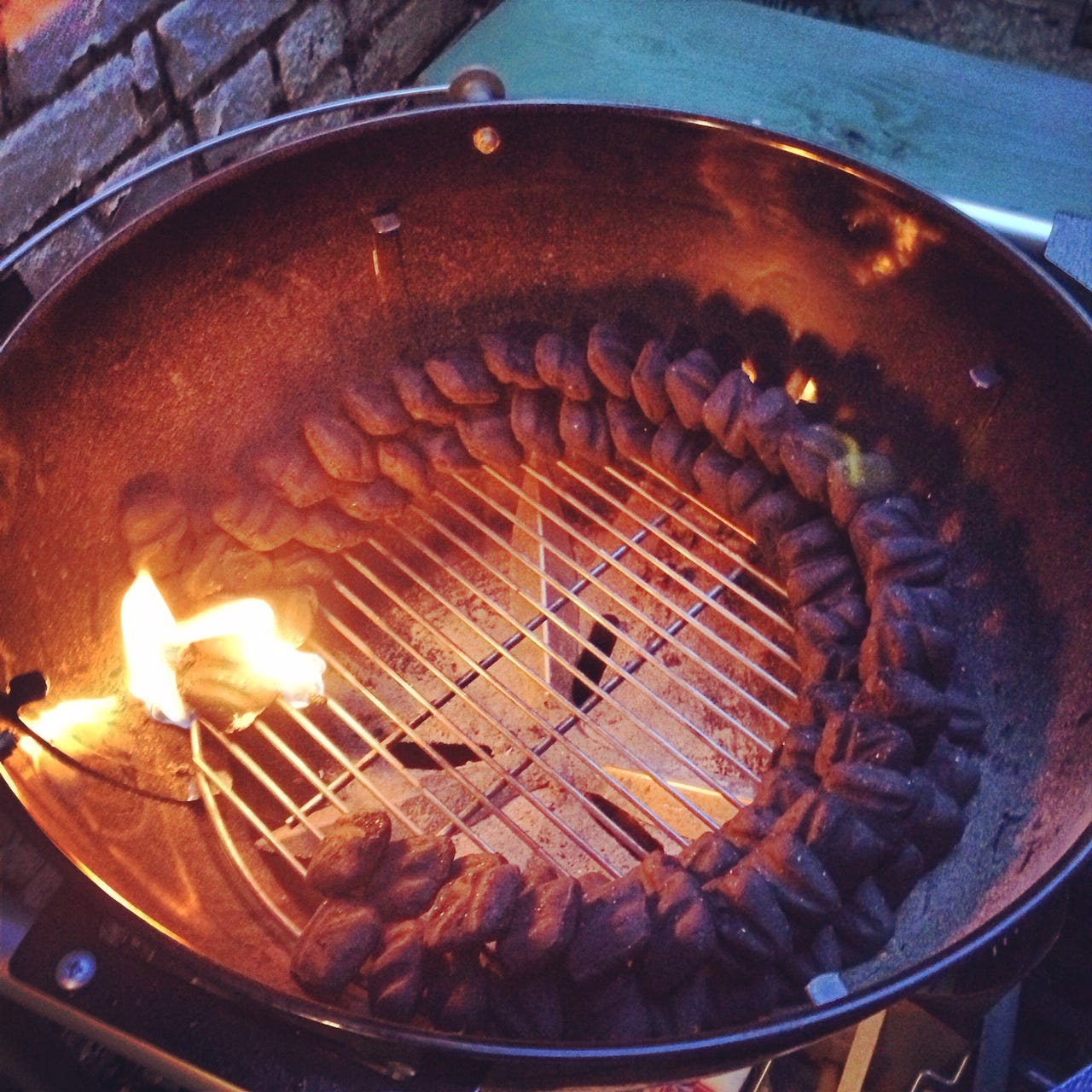 But you'll need a rub, too. I'm pulling another one out of the archives — my all-purpose rub, which I make a big batch of and store in the freezer. I use it on chicken and pork, and it's got everything you need: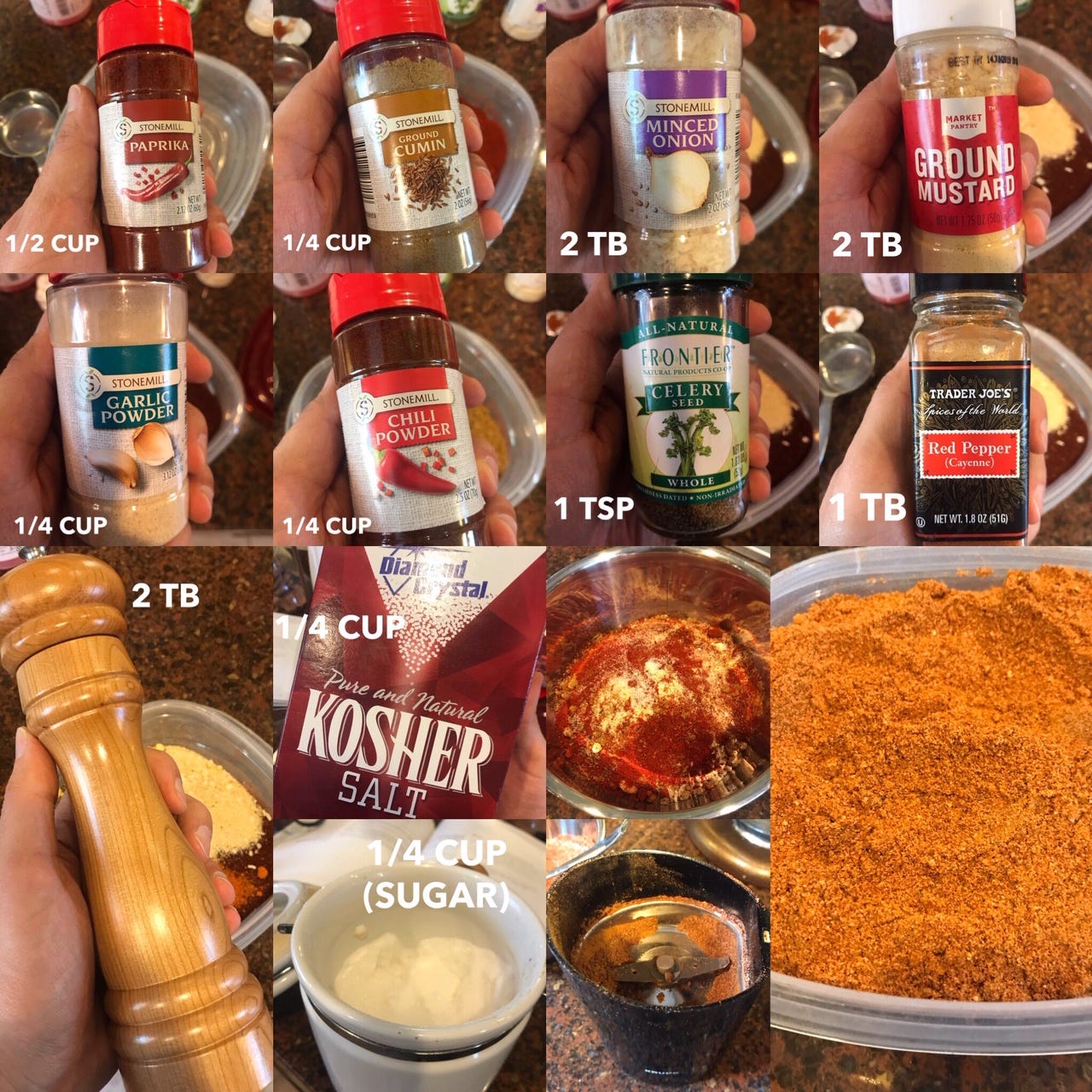 You can just mix it all together, but if you have a spice grinder, run the whole mix through it to get an even, fine dust; it'll hold onto the meat even better.
(I almost said "a spice grinder or coffee grinder", but I got in trouble once for making our coffee taste like dry rub, so I eventually bought a dedicated spice grinder.)
Rub the butt heavily — and I mean heavily, cover every surface like you're doing sand art — and let it sit overnight. Early in the morning, start it out on the smoker (or, barring that, a crock pot with a dash of liquid smoke, this is quarantine, no one will know) and cook 8-10 hours, until it hits an internal temp of 203 degrees.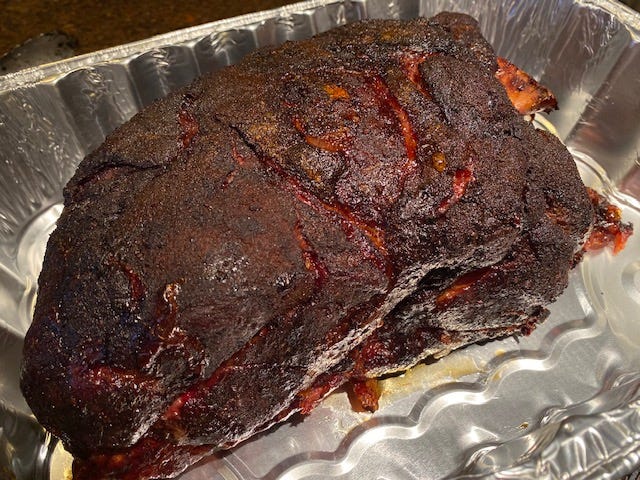 Oh now we're cooking. Hey, here's a button.
Another recommendation I think I've probably made somewhere along the line here, but if I can't remember when then you can't call me out for being repetitive, is my favorite meat-shredding tool, Bear Paws: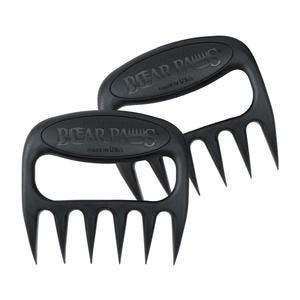 You get to pretend you're Wolverine while you're making pulled pork, and anyone who lives with you just has to deal with it because where are they going to go right now? Nowhere. They're going nowhere. They've just gotta put up with you. Ask my family.
Anyways, I made a lot of stuff with this this week. Pulled pork grilled cheese? You bet. Pulled pork pizza? Darn right. Messed up a salad with some pulled pork? Yessir. Do I feel like hell? Absolutely.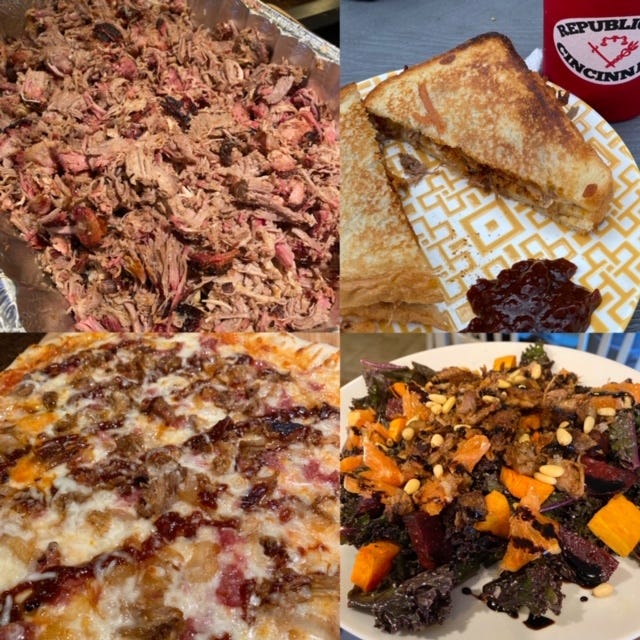 Hey, you wanna throw this in some quick-but-quality mac & cheese? You should. Here's a quick recipe:
5 T butter

1/4 cup all-purpose flour

2 cups milk

8-12 oz shredded cheese, whatever you got, live your dreams

1 lb cooked elbows

ground mustard, salt, pepper, cayenne
Melt the butter and whisk in the flour, stirring for 1-2 minutes until a blonde roux forms. Whisk in the milk until it thickens. Stir in the cheese until smooth, and the spices to taste. Then the elbows.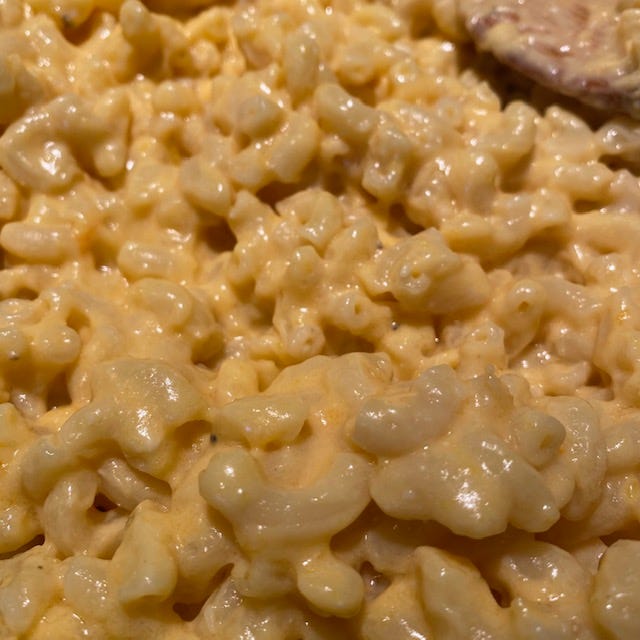 I forgot to take a picture after I put the pork in, but yes, I put pork in this. Trust me. I put pork in everything this week.
Here's another button.
6) Hey it's 5pm let's all get out of the house and walk around at a safe distance from our neighbors
I just summed up every evening for the last three weeks, and judging by the foot traffic in our neighborhood, we're not alone in this. There's nowhere to go and nothing to do, so we're all just walking the dog and/or kids, and, uh, we seem to have suspended our concern about open-container laws by mutual decree.
You know that Facebook group I mentioned? There were a lot of people looking for to-go margaritas on there. It's almost like people don't realize that margaritas are incredibly easy to make and will probably taste better than 90% of the premade-mix-based ones at restaurants. You can whip some up in no time, perfect for toting around the neighborhood and pretending it's not an open-air prison.
2 ounces blanco tequila

1 ounce fresh lime juice

1 ounce simple syrup or agave nectar

1/2 ounce tripl—
No. I won't do it. I won't advocate for triple sec, a weird-tasting orange liqueur that only goes in one thing and costs too much for what amounts to a lifetime supply. Just throw a little fruit in there. Whatever you got. I had some pineapple chunks. All you want is a balancing fruit flavor, you don't need to spend $30 on a bottle to do so.
Add a cup of ice and blend. Now go wave at your neighbors while avoiding them like the plague. Hey, that phrase makes sense now!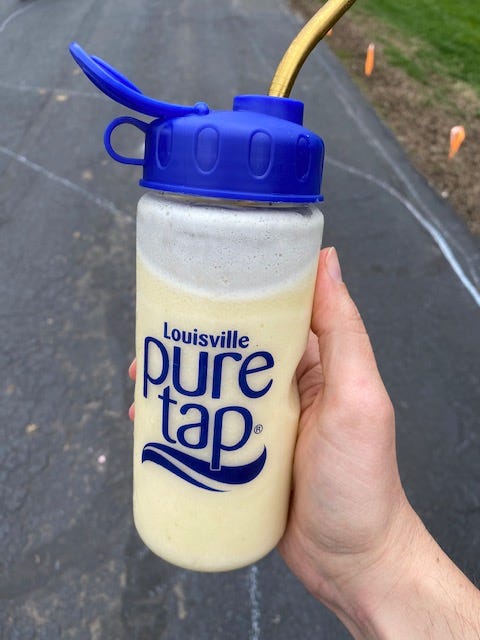 Bask in the glory of my local-water-company swag.
5) Caroline Rose, "Feel The Way I Want"
This album is a lot of fun. That's it, that's the whole review. It's fun.
4) A timely dose of nostalgia
I couldn't have told you how much I was going to miss baseball until the would-be Opening Day came and went last week. It's just weird: it's springtime, it feels like baseball weather, but we don't know when — or really, if — we're going to get some actual games this year.
That's why this week I've really enjoyed reading the just-released book The Wax Pack by Brad Balukjian.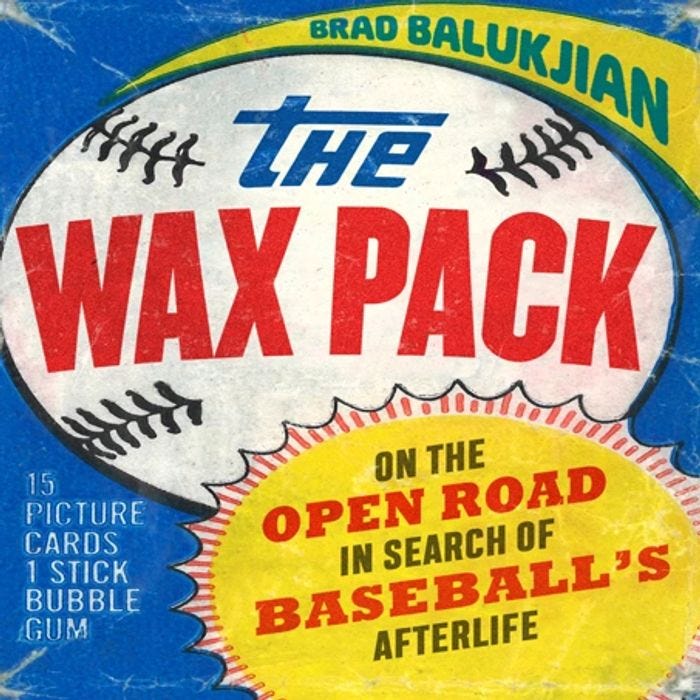 The author starts with a great concept — he buys a single, unopened pack of baseball cards from 1986 on eBay, then sets to tracking down and interviewing all the players featured in the pack. I'll confess that I'm only partway through the book — it turns out that working from home and having my kids around the entire time has melted my brain into a thin soup — but I'm really enjoying it so far.
3) Speaking of live events that should be happening right now
Every spring here in Louisville, our acclaimed regional theater Actors Theatre of Louisville puts on the Humana Festival of New American Plays, where an array of never-before-seen stage plays are debuted. Many shows have found their way to critical acclaim and subsequent Broadway productions from a start here, and theater industry professionals from all over come to town to witness their launch.
This year's festival had just launched when the scope of the current crisis became clear and the plug had to be pulled. Luckily, the theater had already filmed several of the productions, and they've quickly developed a brand-new streaming service so you can watch them from the comfort of your own quarantine. This includes the absolutely stunning Where The Mountain Meets The Sea:
Setting off from Miami, a Haitian immigrant named Jean takes a once-in-a-lifetime road trip out west. Decades later, his son Jonah heads east, following Jean's route in reverse—and discovering he's inherited his father's love of Appalachian folk music. Separated by time, yet side by side, the two men trace their journeys and the complicated bond they share. With lyrical storytelling and live music, this play vividly imagines how a father and son who longed to connect might come to see each other at last.
The streaming service works on a pay-what-you-can model ranging from $15 to $100, and is a wonderful way to provide some much-needed revenue to help a vital and beloved arts organization weather this difficult time while experiencing some fresh and important new art. There are worse ways you could spend your Friday night.
2) Some good weird laughs
One of the funniest comedians working today is Iliza Shlesinger, and her hilarious new sketch-comedy special, The Iliza Shlesinger Sketch Show, has just been released on Netflix. It's got the same level of madcap-weird energy that made I Think You Should Leave such a big hit for the streaming service last year, and it's been exactly what I needed this week.
1) You know what else I need, though.
Send in the dogs.
First up, reader Rip H. shares:
I'm inspired to share this picture of our 12-year-old Chesapeake Bay Retriever, Pike. He is an excellent swimmer, but requires a life jacket because it has handles for when (not if) he jumps off the boat while going after a wave.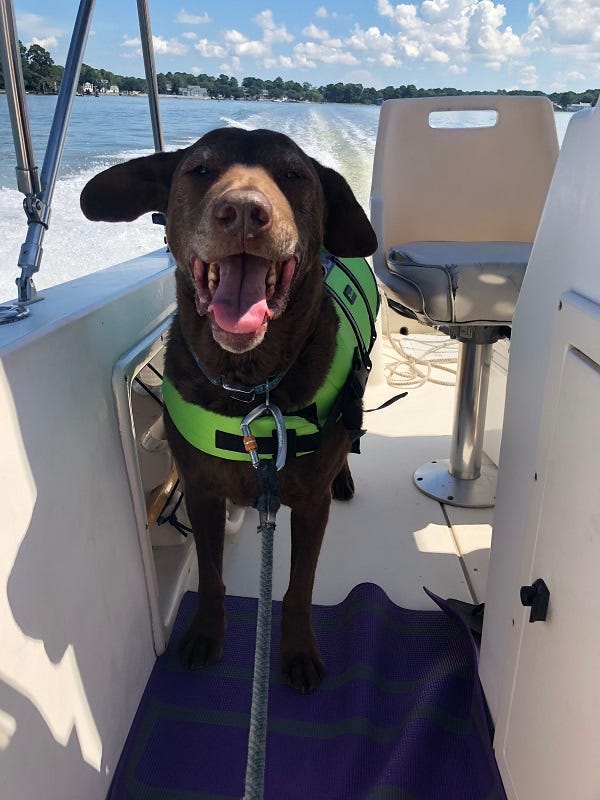 GOOD DOG, SAFETY FIRST.
Next up, reader Scott L. shares:
Best dog Bernice has a perpetually worried look on her face, but she's really content, particularly when contemplating Saint Clare.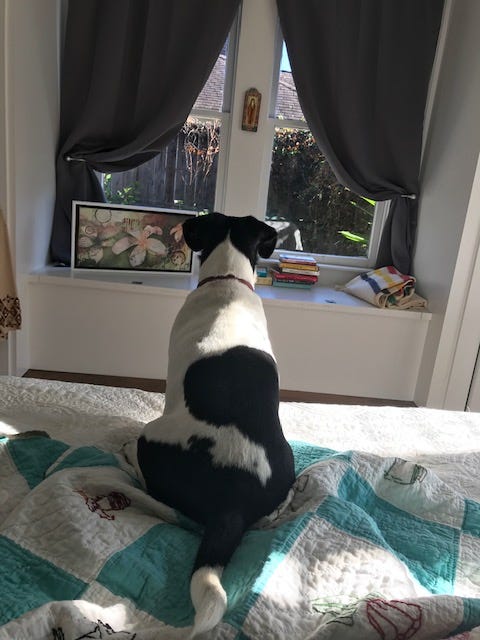 GOOD DOG and who among us doesn't have a perpetually worried look these days I mean for real
Finally, Josh F. shares:
This is our very good dog Maxwell, watching over his favorite human. Max will be turning 15 on Cinco de Mayo and just keeps going!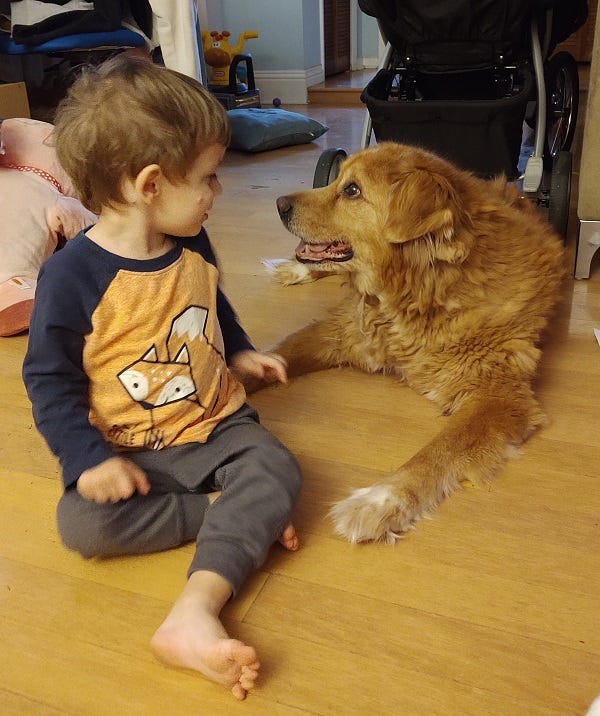 MAXWELL WHAT A GOOD OLD GUY also it never occurred to me to have a dog that could help look after my children, and it certainly never occurred to my dog Holly. She's no help at all, but that's not what she was hired for. Props to Maxwell for stepping up.
Thanks to everyone who shared, and everyone who's made it this far in the email! I appreciate you taking the time out of your day to read these, and I hope you have a great weekend. Stay safe out there.
— Scott Hines (@actioncookbook)