Discover more from The Action Cookbook Newsletter
A cookout in your inbox. Come for the food, stay for the stories, three times a week.
It's A Spooky Good Day In Hell
The ACB Newsletter's Friday digest: Halloween Edition!
New subscribers: welcome! Old subscribers: welcome back! Let's take a moment explain what we're doing here.
In this newsletter, I try to present a wide range of things: serious and/or sentimental sportswriting, surrealist comedy, occasional architectural criticism — all the things you've come to know me for if you've followed my online presence for a while.
On Fridays, though, we do A Good Day In Hell.
Pulling from the theme of The Seventh Circle Podcast, where my co-host Joe Kelly and I reviewed all the worst things that have happened to various sports fanbases, we're recognizing that many of us spend all week in the seventh circle of hell. On Friday? It's time for good things. It's time to climb back out of the inferno and into the light. Seven circles down, seven good things up.
This week, in honor of Halloween, everything's just going to be a little bit haunted. Call this my Treehouse of Horror edition. (Oh, and did I promise something would be in here? It's in here.)
7) A Haunting In Chilitown: A Short Story
Most weeks I present a recipe or cooking tip — but this week, something… something went wrong.
[clears throat]
[extremely Edgar Allan Poe voice]
Once upon a chili cook-off; the afternoon from work, I'd took off, 

Reading many a quaint and curious collected recipes for—

While I pondered types of chili, I sensed a something rather silly

As of a head gently bobbling, wobbling outside my kitchen door.

"One of the kids' toys," I muttered, "bobbling outside my kitchen door--

Only this and nothing more."
Back to the pot my thoughts refocused, unease now swarmed me as if locusts,

Soon again I sensed a bobbling somewhat stronger than before.

"Surely," said I, "surely it's just something other;

A squirrel running 'cross my gutters, and this mystery explore—

Let my heart be still a moment and fling open the door—

'Tis a squirrel and nothing more!"
Open here I flung the shutter, when, with many a flirt and flutter,

Right there bobbled a basketball coach of the Cincy days of yore;

Not the least obeisance made he; not a minute stopped or stayed he;

But, this bust of Bobby Huggins, perched outside my patio door—

Perched upon a Kroger logo, where I'd bought him in '02 or so—

            Bobbled, and back, and nothing more.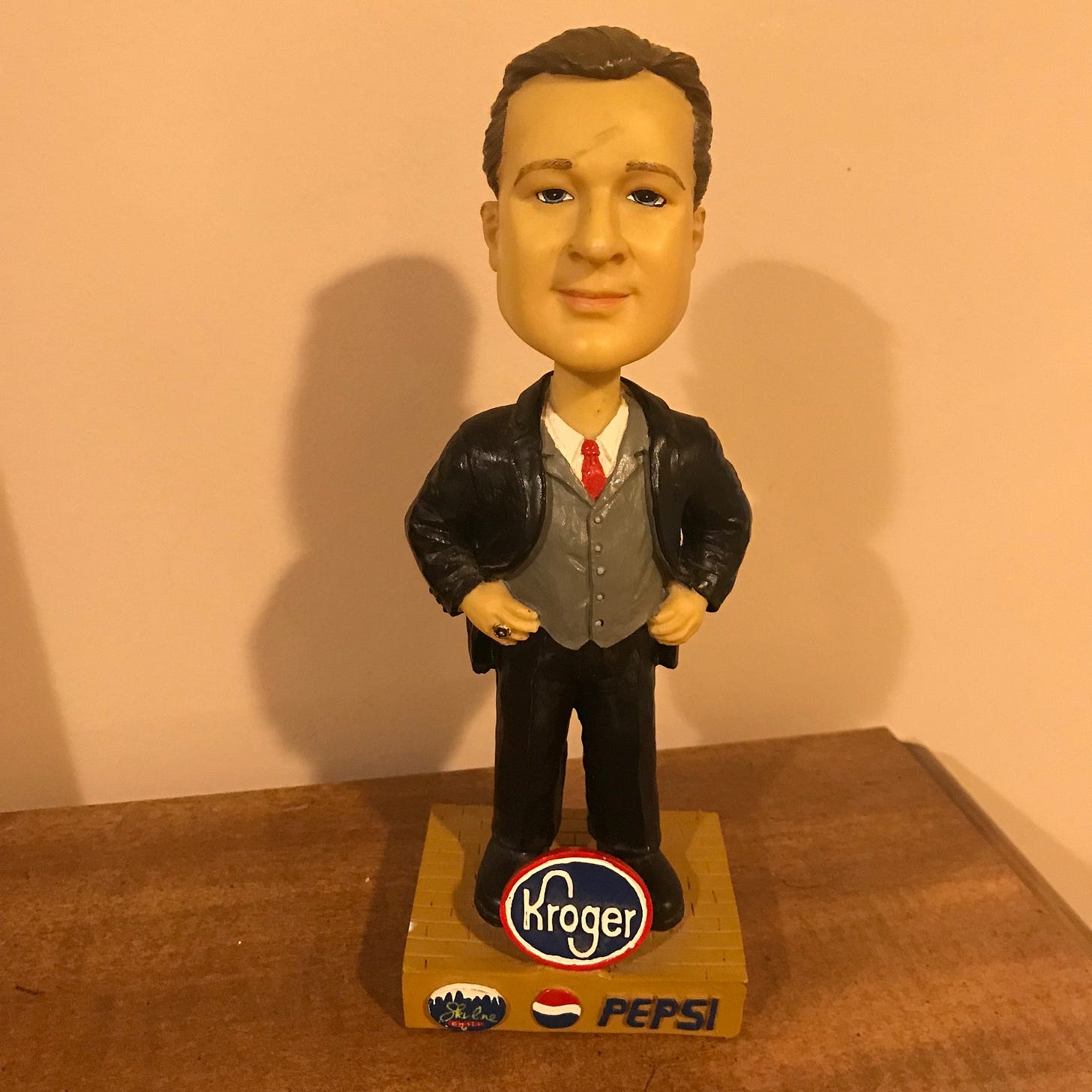 Then this Huggy-Bear toy beguiling my sad fancy into smiling,

By the grave and stern decorum of the countenance it wore,

"Though you now coach at West Virginia, now," I said, "you're a robust man,"

Ghastly grim and ancient Huggins wandering from the Nightly shore—

Tell me how to face my cookoff and prepare a winning chili bowl!"

            Bobbled Huggins "Water it down."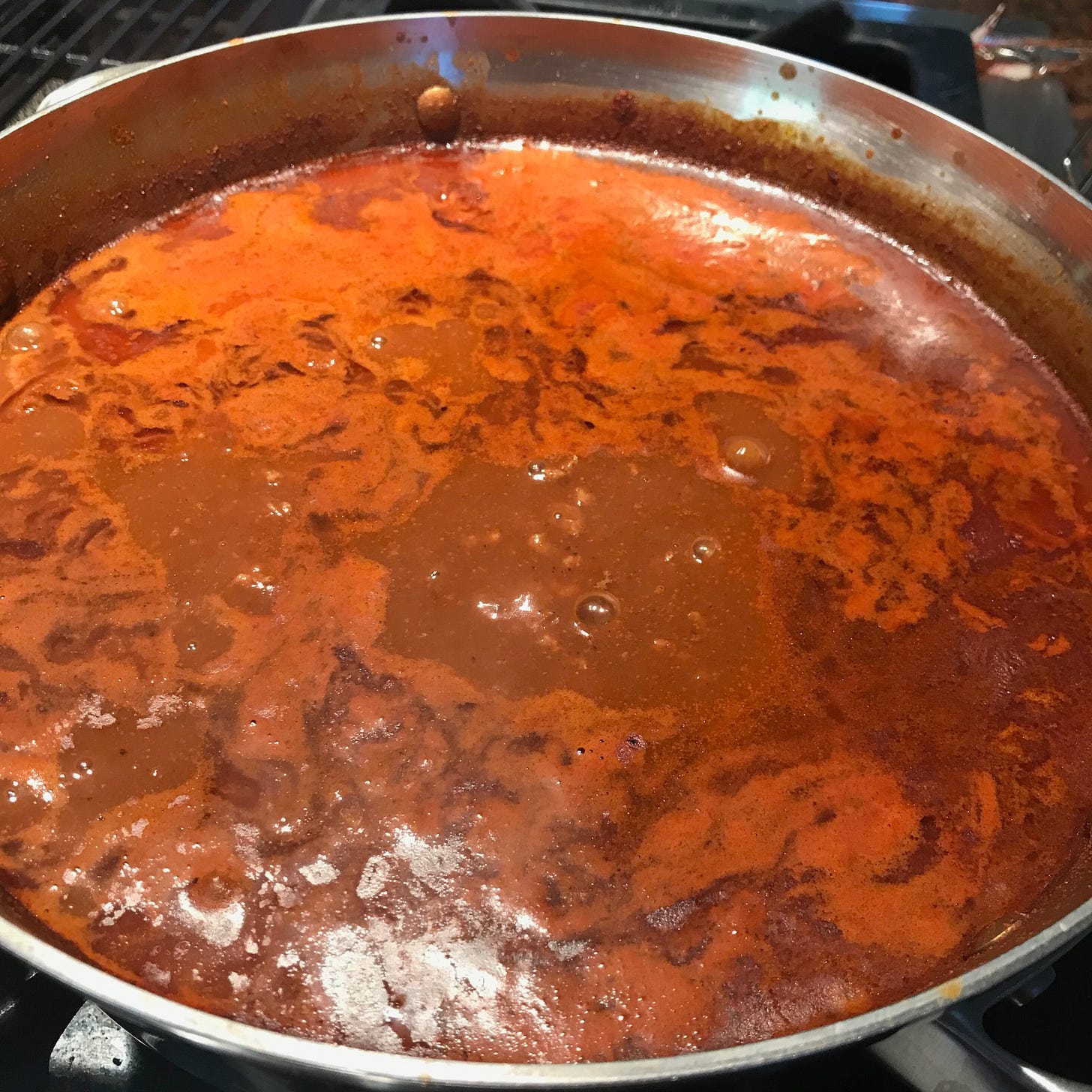 Thenceforth this face from UC's nineties did instruct my chili fineries,

Straight I listened with intent as it listed each odd ingredient, 

Allspice, cloves and chili powder, my quiet doubts were growing louder,

But as he called for chocolate I questioned, this plastic coach's chili lesson,

What this grim, ungainly, ghastly, gaunt and arrogant hillbilly

Thought I'd meant when I said "chili"—

Bobbled Huggins, "it's regional"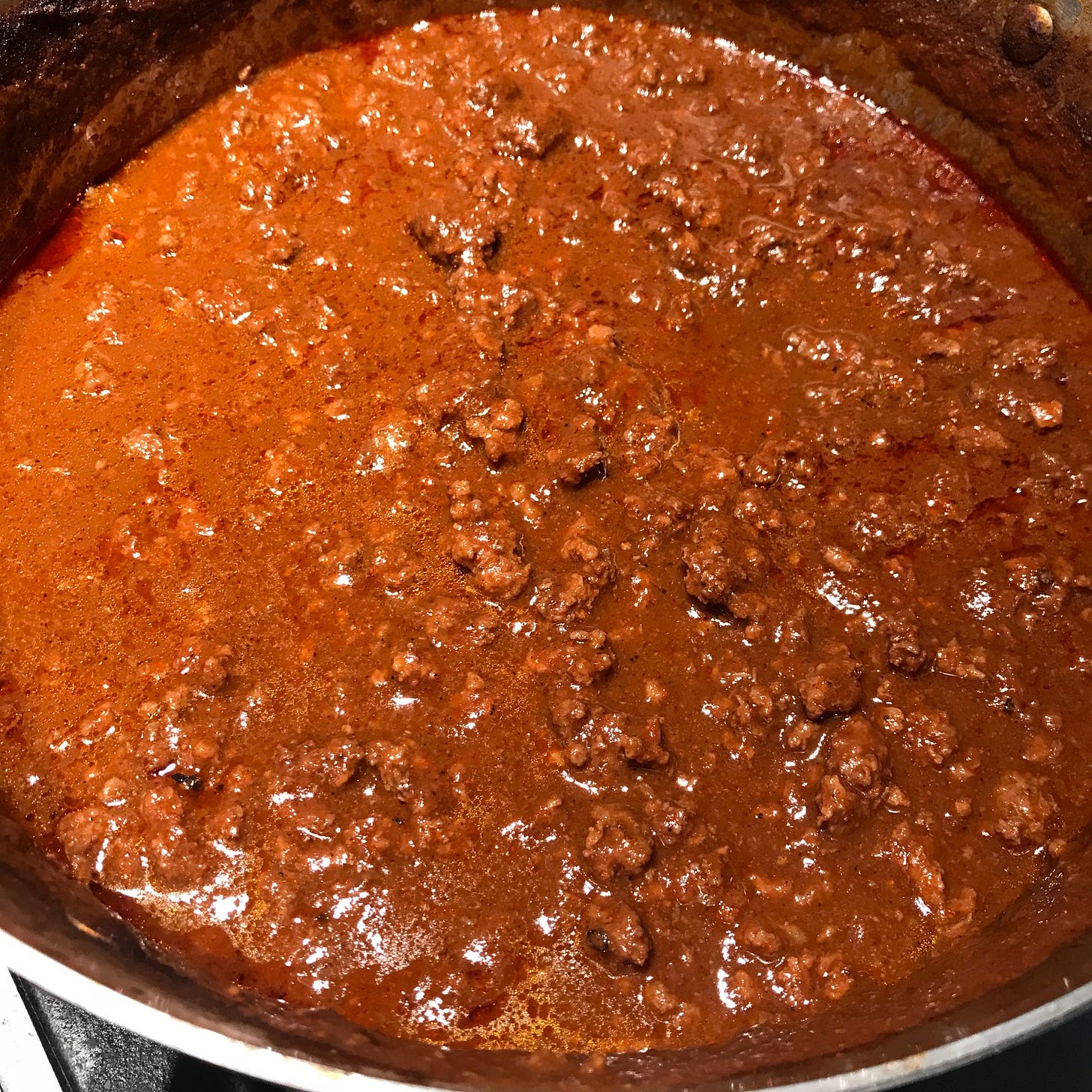 My faith in him had been too trusting, this pot of what?, it looked disgusting

Bubbling like a cursed and fetid swamp, a brown and oily bog

"Wretch," I cried, "you have fooled me — I wished for chili, not this pooled meat!"

Curse, oh curse this foul stew, this runny sauce, this witches' brew — 

To serve it to the people, what can I do??

Bobbled Huggins, "on hot dogs."
Bobby Huggins, never stopping, head still wobbling, head still bobbling

On the pallid plaster plinth purchased at the Kroger store;

And his look, it surely knows; his teams' histories of off-court woes, 

And the video that got him fired, puking outside his auto's door,

This chili's the worst thing he's done, five ways and back with cinnamon,

But it shall be eaten — Coney style!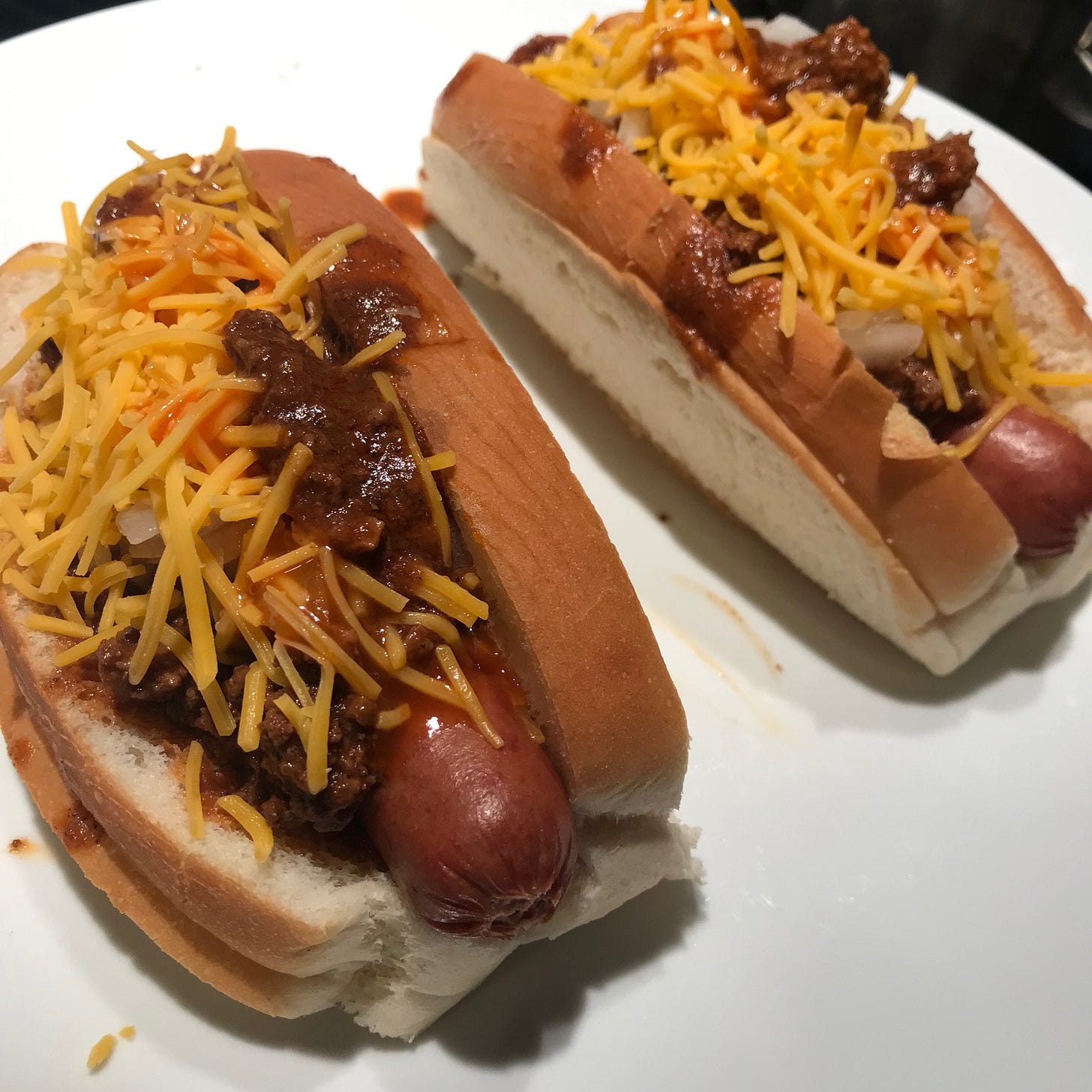 Okay, so, for real: I figured there's no more haunted food that I could make for the Halloween newsletter than Cincinnati chili, but this was in fact actually pretty good and here's the recipe I used.
The thing about esoteric regional foods: once you get past the nomenclature (this is not chili! It's just a weird sauce!) they're usually often quite tasty.
6) Ghosts of Ourselves: Discovering Red City Radio
I considered trying to make a "spooky" music recommendation this week, but I'm not sure what that would be: it's been 57 years and no one's improved on "Monster Mash". Jay-Z tried and he hasn't been seen since.
That said, I got to thinking about how many of the bands I love are getting older, and there's a powerful sense of weariness, determination and loss in their music. A haunted sound, if you will. If I listen to The Hold Steady or Drive-By Truckers, I feel like I'm hearing ghosts of my own past, singing back to me from a different time.
One band that I'm newer to appreciating, but that immediately gave me that same feeling, is the Oklahoma City-based punk band Red City Radio:
Pulling from their song "I'll Still Be Around":
If you wanna see me, I'm easily found
At the darkest bar in the corner of a shit-hole town
And tomorrow morning, I'll be nowhere bound
But tonight, by last call, I'll still be around
5) Driving A Stake Through Pumpkin Spice's Heart
Halloween's a time for trying new things. For instance, one year in college I tried carrying a flask of absinthe to a party! Later that night, my friends had to tackle me before I walked into traffic. Or so I'm told.
Anyways, at least once every year, I'm going to embrace that same "what could possibly go wrong?" attitude and fall for the annual siren song of overly-pumpkin-themed things. Pumpkin muffins. Pumpkin lattes. Ever go into Trader Joe's in October? They'll sell you a pumpkin casket.
One thing I've tried to believe in before — with limited success — is pumpkin-themed drinks. Usually the first pumpkin beer out of the six-pack is tasty, the second one I wish were a regular beer, and the other four are thrown out in March.
So we're going to try a bold experiment in mixology today. We're going to carve this pumpkin right.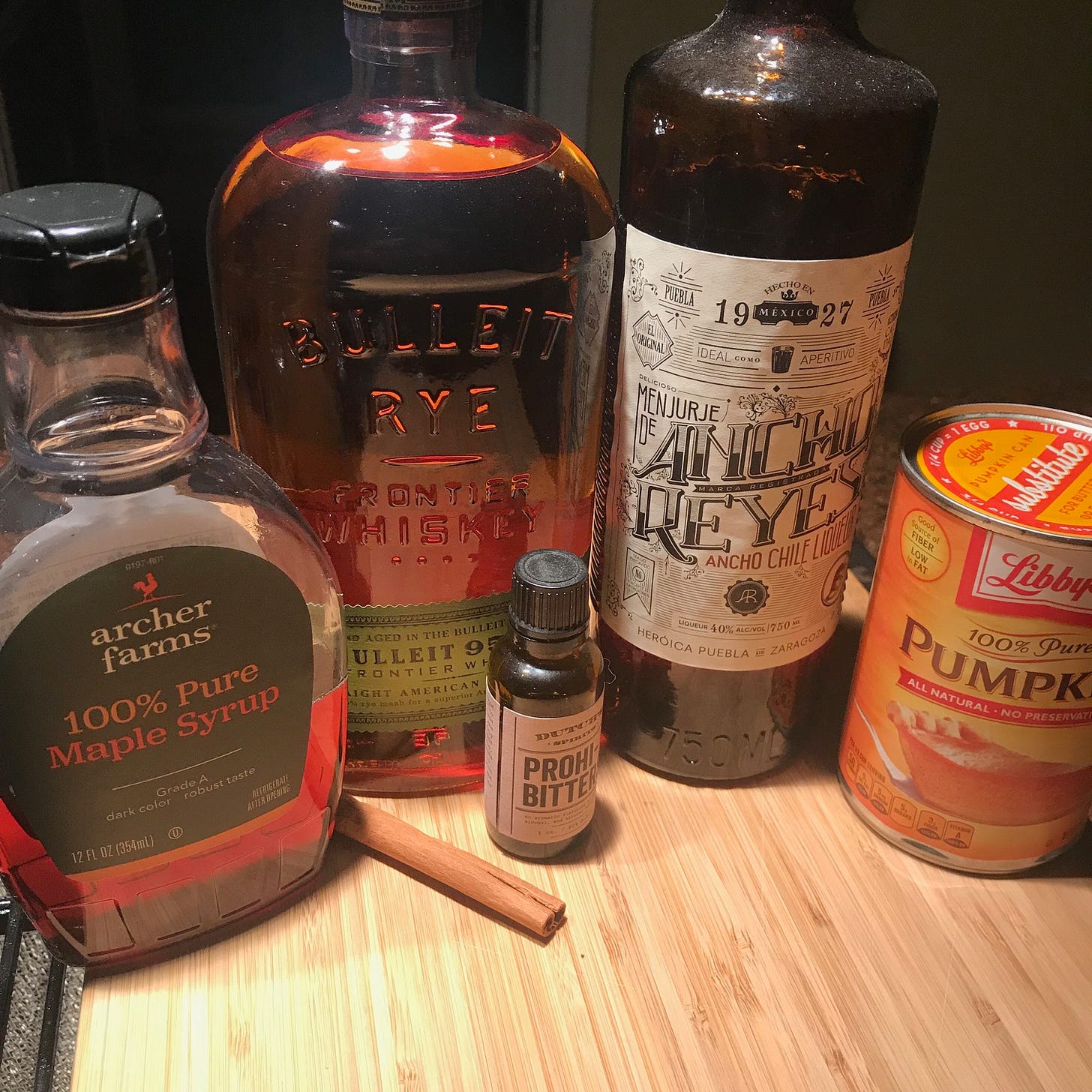 I found a recipe for a "Pumpkin Old Fashioned" online that combines bourbon, Grand Marnier, maple syrup, pumpkin puree and bitters. I'm modifying a few things. First, I don't like Grand Marnier and I don't keep it on hand, but I did have an impulse-bought-awhile-ago bottle of ancho chile liqueur sitting around. Second, I want something that's going to stand up to the pumpkin flavor better, so I'm using rye whiskey instead of bourbon.
I ended up with:
2 oz rye whiskey

1/2 oz ancho chile liqueur

1/2 oz maple syrup

2 T canned pumpkin puree

dash aromatic bitters
This all gets vigorously shaken with ice and double-strained to remove the pumpkin solids. But it still needs… something else. What could that be? Well, I abide by one hard and fast rule in both cocktail mixing and in insurance fraud: when in doubt, start a fire.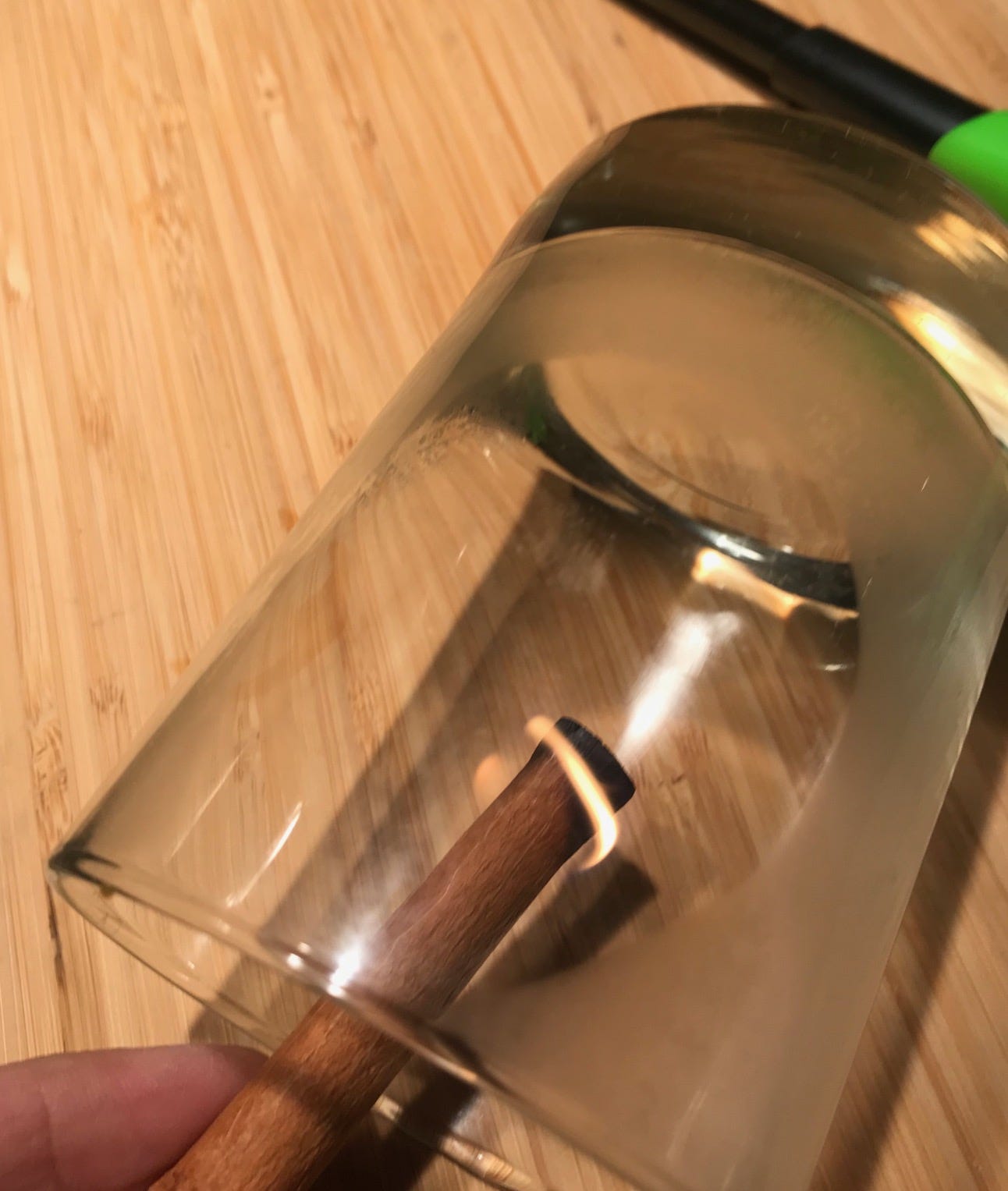 Copping a trick I've clapped like a seal for at cocktail bars, I took a cinnamon stick — you know, from the chili! [crowd boos, trash thrown at me] — lit it on fire, and captured the smoke under an inverted glass before quickly pouring the drink in and adding ice.
It's still very pumpkin-y, but the background bite of the chile liqueur and the smoke essence take it to the next level. It's a Jack-O-Lantern in a glass.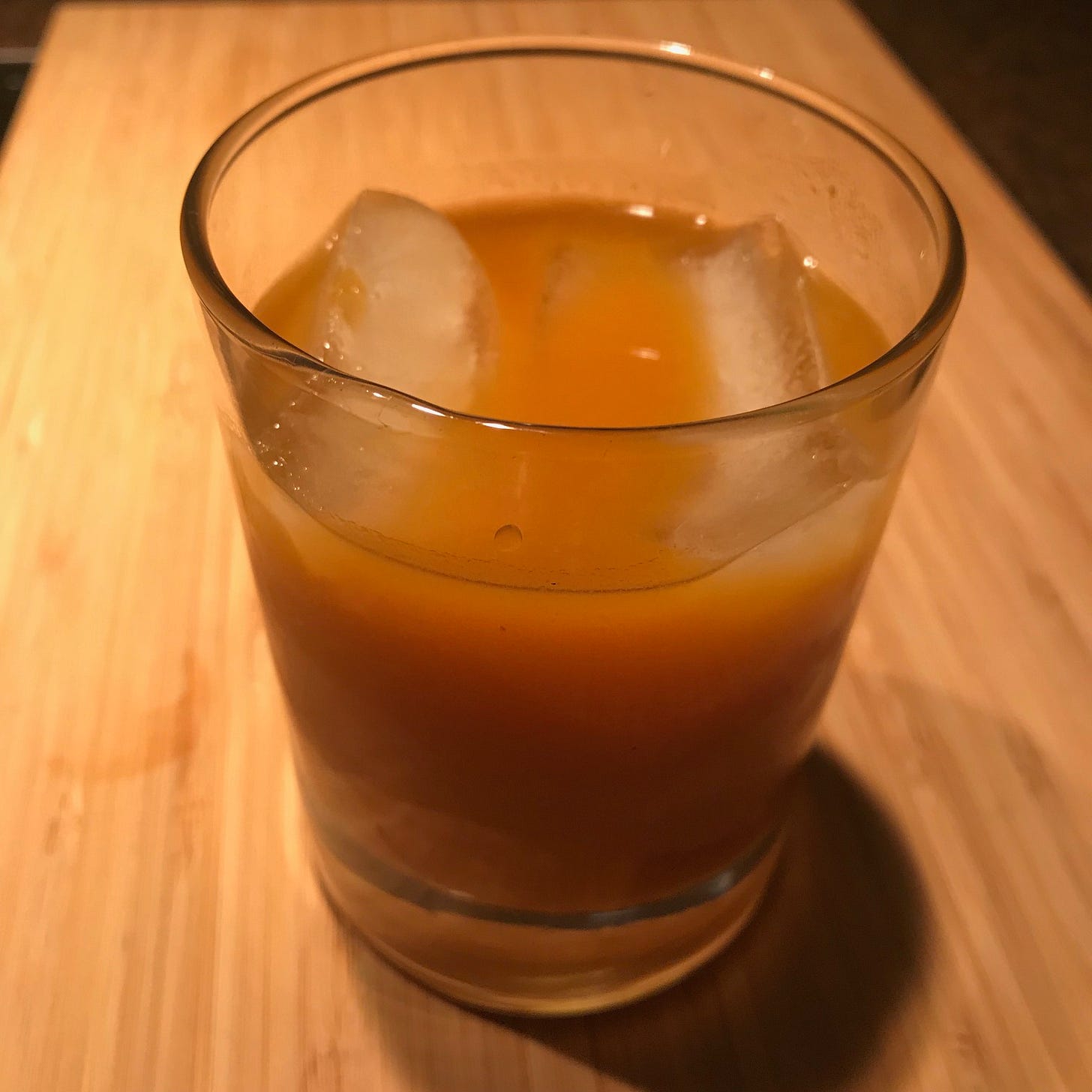 Can I recommend this as a cocktail you'd want to do often? No, probably not. But if you've got to scratch the pumpkin-drink itch once this year? You could do worse.
4) A Dark — And Deeply Entertaining — History Podcast
It can be hard to find time to listen to podcasts — there's such a glut of options out there, and you may not have a free hour of headphone-time in your day very often. If you're a rare podcast listener, I think your best bet is picking up a tightly-produced, well-scripted pod — and almost no one does that better than Karina Longworth.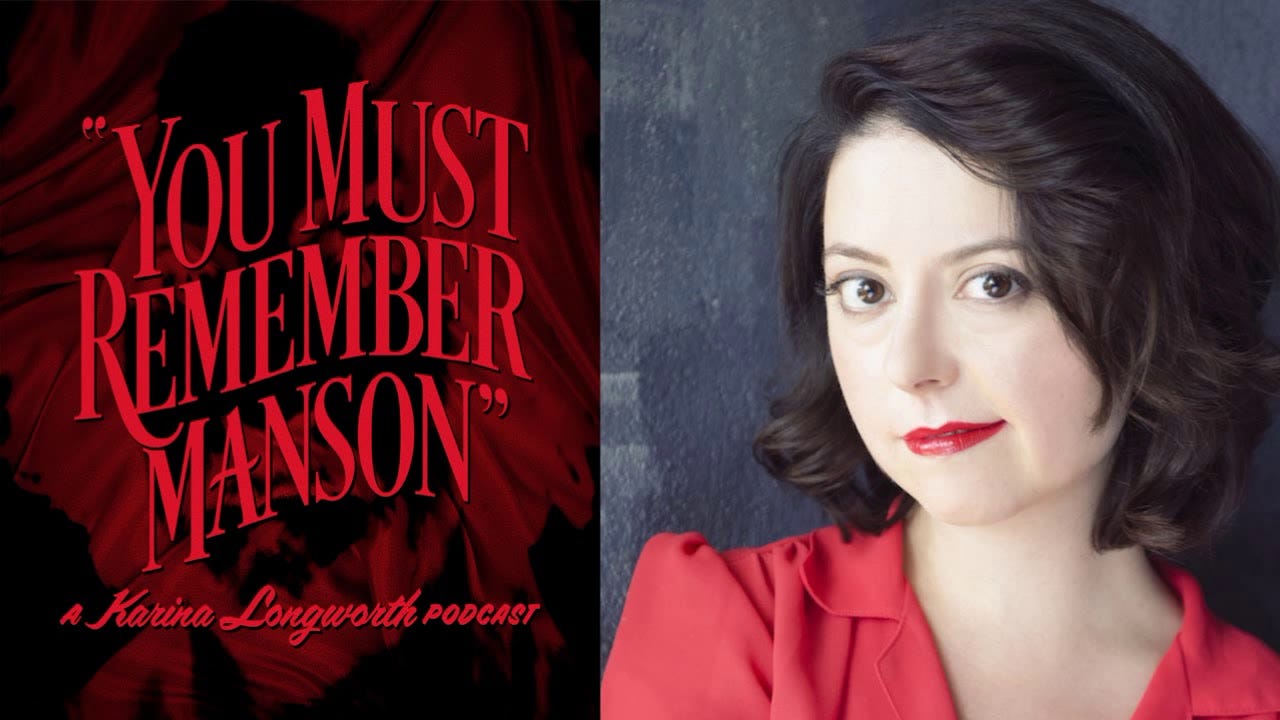 Longworth, a film critic and writer, has carried on the You Must Remember This podcast series for a few years new, each season exploring a new (and usually rather dark) topic in Old Hollywood history. For Halloween? Consider catching up on the full season she did on Charles Manson and the Manson Family murders, titled You Must Remember Manson. It's deeply researched, richly detailed and a great listen.
3) Tricks and Treats: The Best Halloween Game Ever
Technically, this game was on November 1st, but I distinctly remember being in a crowded apartment getting ready to go out Saturday night in our costumes when it was on. Everyone stopped to see if the mighty Longhorns could actually be knocked off by Mike Leach's upstart Red Raiders.
Besides, what's more haunted than Saturday night in Lubbock?
2) Two Deeply Haunted Books
I don't much go for horror, per se — it's just not my preference — but in making book recommendations this week I can offer up two of the most unsettling (in a good way) books I've read in the last few years.
John Darnielle, lead singer (and often sole member) of the much-loved indie folk band The Mountain Goats, made his novel-writing debut in 2014 with the intricate, spellbinding and deeply disquieting Wolf In White Van, which, in non-linear fashion, tells the story of a man disfigured in an unexplained incident who manages a play-by-mail role-playing game set in a post-apocalyptic America. Sound like a lot? It is, but it's very, very good.
Pairing with that today is Her Body And Other Parties, a collection of surreal short stories by the writer Carmen Maria Machado. When I say surreal, I mean it — Machado goes to some very dark, weird and outlandish places in these stories. It's not for everyone and it's definitely not intended to be — what it is is a singular, bold and unique voice coming through in tales of everyday myth and horror.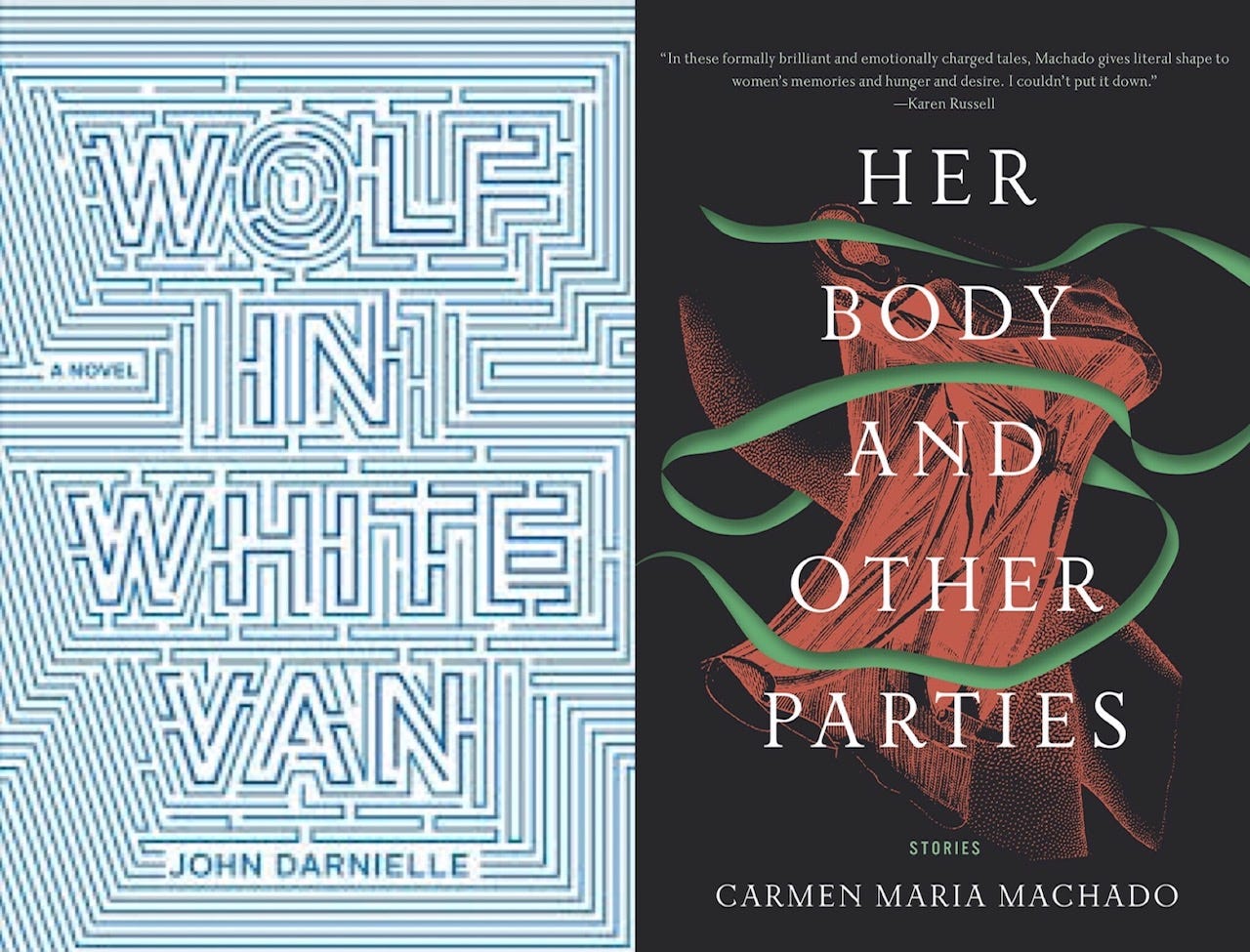 1) Okay Here's What You've Come For
I did promise after last Friday's email that, if we broke a certain subscriber threshold, I'd put Holly, my gruff-but-lovable Pembroke Welsh Corgi, in a Halloween costume. We broke that threshold in about 10 minutes from me tweeting that. Turns out I can use my dog for social media gain? This is certainly news to me, and not a bedrock strategy of my internet life over the last nine years.
Anyways, I'm a man of my word. Since my four-year-old son is going to be a pirate for Halloween, I decided to have Holly set sail with him. (Child not pictured.)
Introducing The Holly Roger: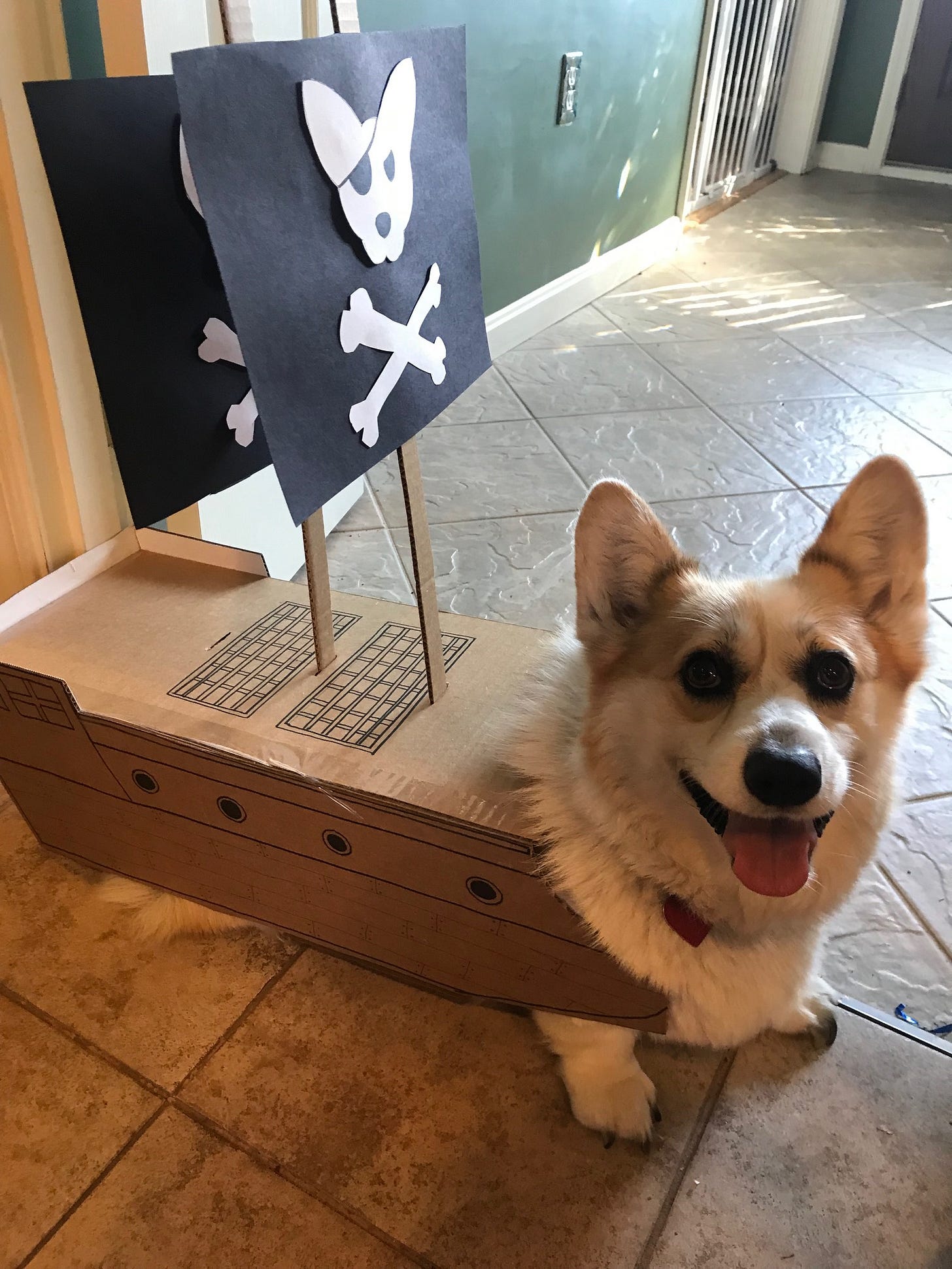 I AM SMILING BECAUSE HE'S HOLDING CHEESE BUT REST ASSURED I AM FURIOUS.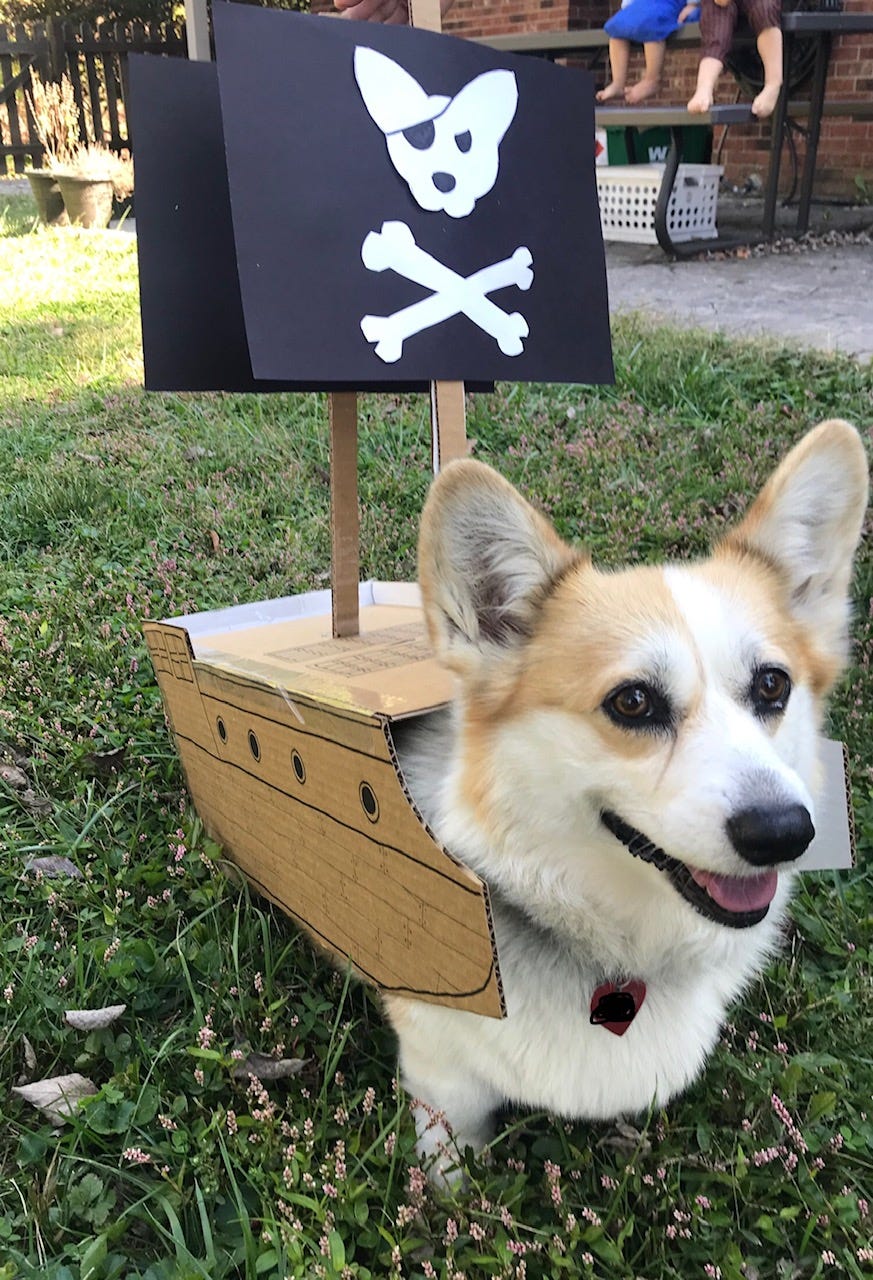 YOU SON OF A BITCH JUST GIVE ME THE CHEESE.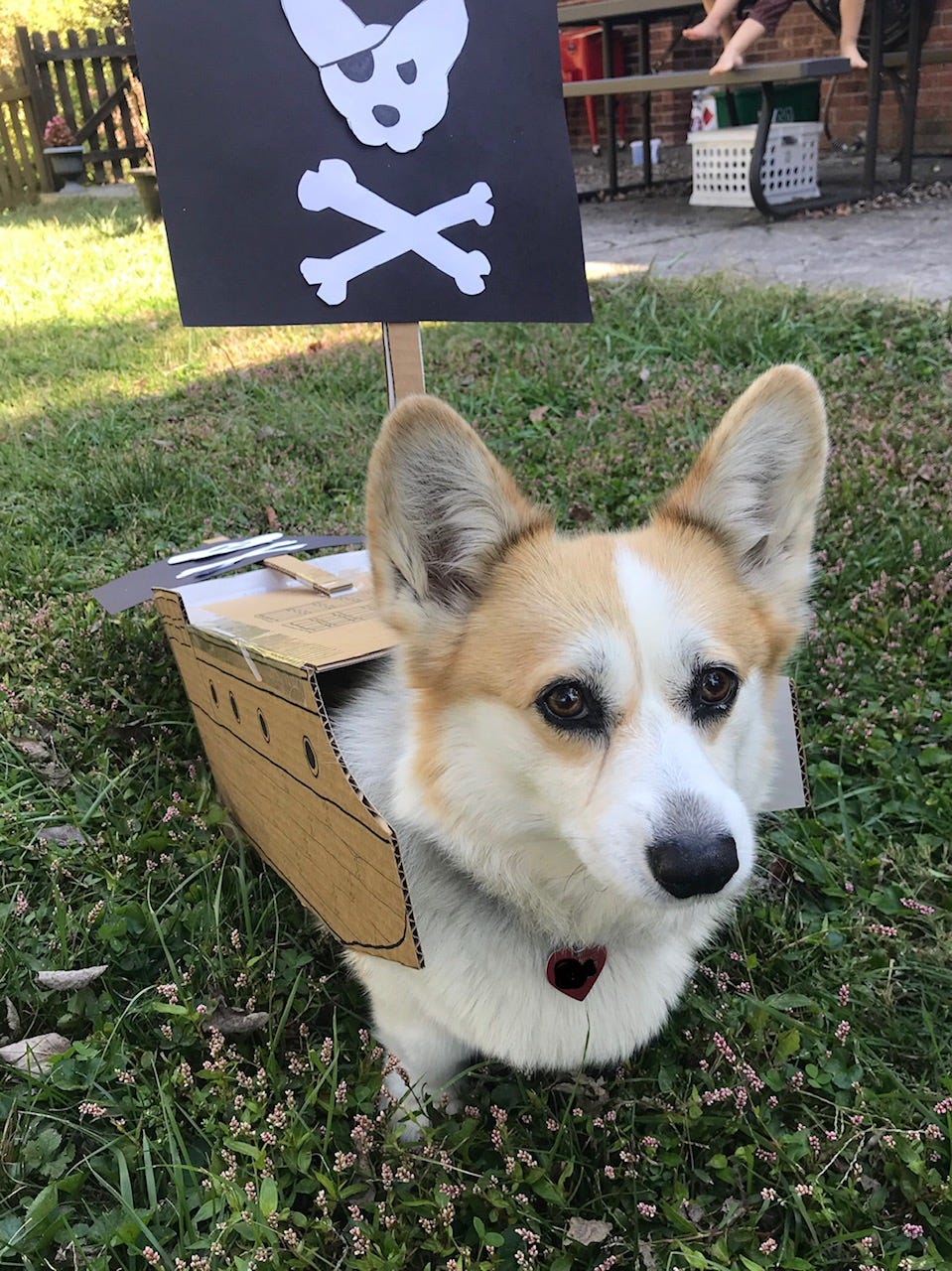 LOOK THE MASTS ARE ALREADY COLLAPSING, THIS THING IS AS WELL-CONSTRUCTED AS THIS NEWSLETTER.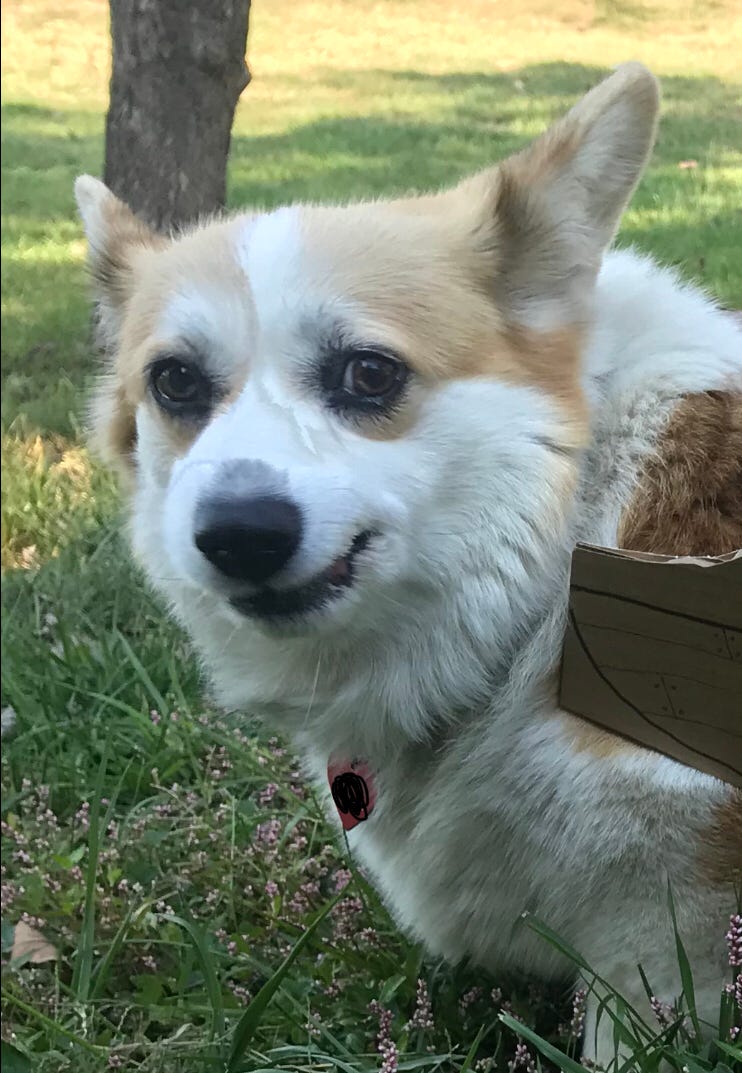 I AM GOING TO KILL YOU IN YOUR SLEEP. IS THAT SPOOKY ENOUGH FOR YOU, JERK?
Happy Halloween week, everyone. Thanks for subscribing and reading, and I'll see you again soon.
— Scott Hines (@actioncookbook)