This fool's grilling soup?
Friday's Magnificent Seven tries to summon cozier weather in the dumbest way possible.
It's Friday, my friends. We've made it through the first full workweek of the new decade, and are we still standing?
Don't answer that.
The weekend looms, and as always here at The Action Cookbook Newsletter, that means it's time for a magnificent septet of lifestyle recommendations to launch you into the best time of the week on a good note. 
7) A classic, afflicted by my inevitable need to tinker.
It's been very mild around here so far this winter, the weather not quite matching the otherwise-seasonal early sunsets and grey skies. I feel as though we've been denied a true entry into one of the finest culinary times of year: soup season. I'm not one to look an unseasonably warm afternoon gift horse in the mouth, though, so instead I'm going to take advantage of winter's tardiness and summon soup season by taunting its very nature. I'm going to laugh at the seasons themselves.
I'm going to grill soup.
[everyone sighs, realizing ol' Cookbook's off on one of his big dumb ideas again]
No, no, hear me out. 
[murmurs subside as everyone collectively realizes it's quicker to just let me wear myself out]
One of my absolute favorite soups — nay, favorite foods — is french onion soup. Deceptively simple, the bulk of the work is simply cooking a large amount of onions, slowly, for a long period of time. You can't rush it, and there aren't any shortcuts — an internet recipe from a site I respect and link to frequently once suggested that a pressure cooker could be used to accelerate the process, and all that got me was a gooey onion slurry and a pressure cooker I had to wash five times before it stopped smelling like onions. I strongly discourage you from trying that.
No, you can't trick it. But can you add something, perhaps? 
Like, perhaps, fire?
Taking a page from this barbecue appetizer recipe, I cored a half-dozen sweet onions, filled their cores with butters and herbs, and tossed them (along with a few peeled heads of garlic) onto my charcoal grill, set up to smoke using the Wick Method I laid out here (back when this newsletter was under a different name and referenced a now-tabled podcast).
Before: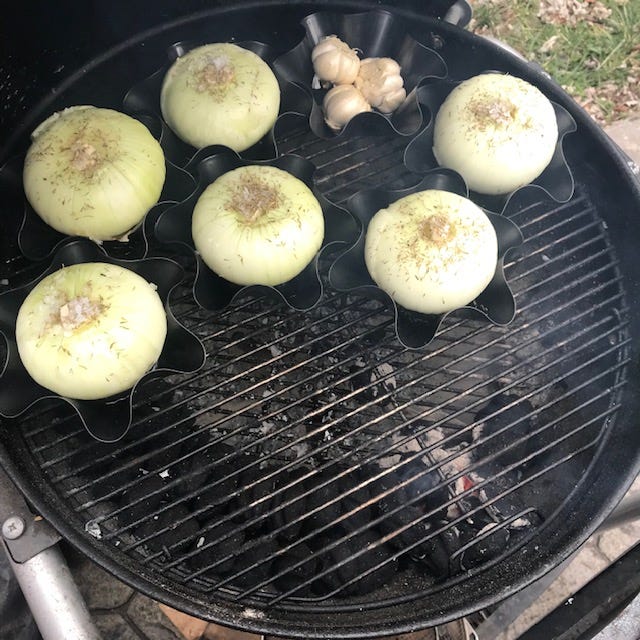 A low, 250ish-degree smoke, with a mild wood (I used applewood), allowed the onions to soften nicely and take on a pleasant golden smokiness. It's not overpowering.
After: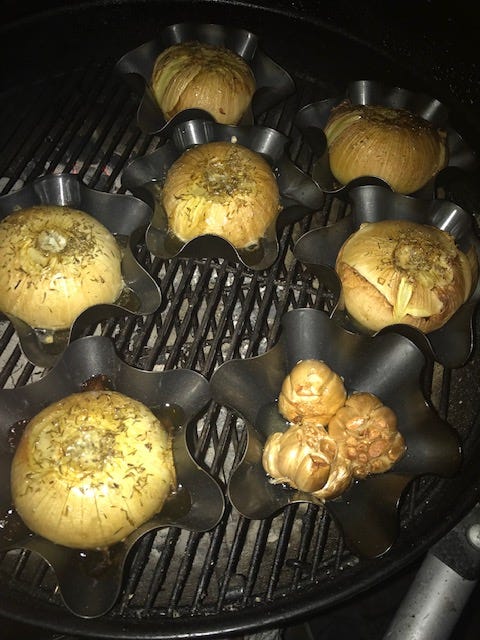 They're not fully cooked down when they come off the grill, but they've got a great head-start to caramelization — sliced thin vertically, given another 30-40 minutes of stirring in a dutch oven over low heat, and they pull together as the perfect foundation for french onion soup.
Getting there.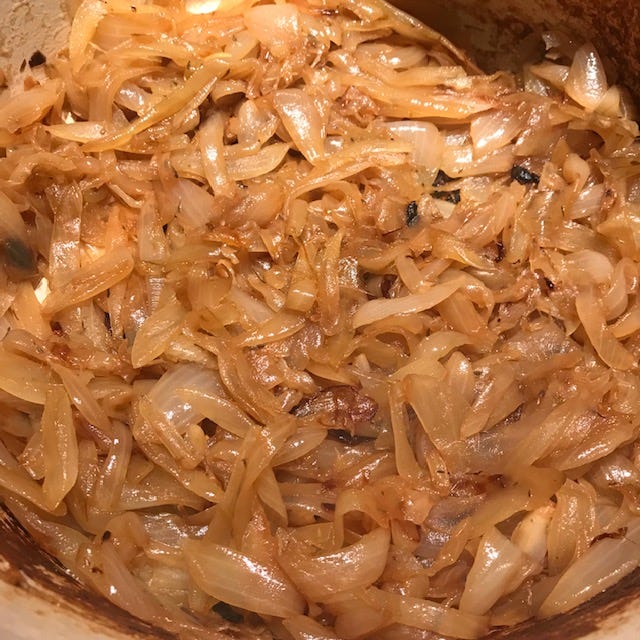 Once they were fully caramelized, I deglazed the pan with ½ cup of red wine, and added 6 cups of beef broth and two bay leaves, and simmered another 30 minutes or so. 
Oh yeah.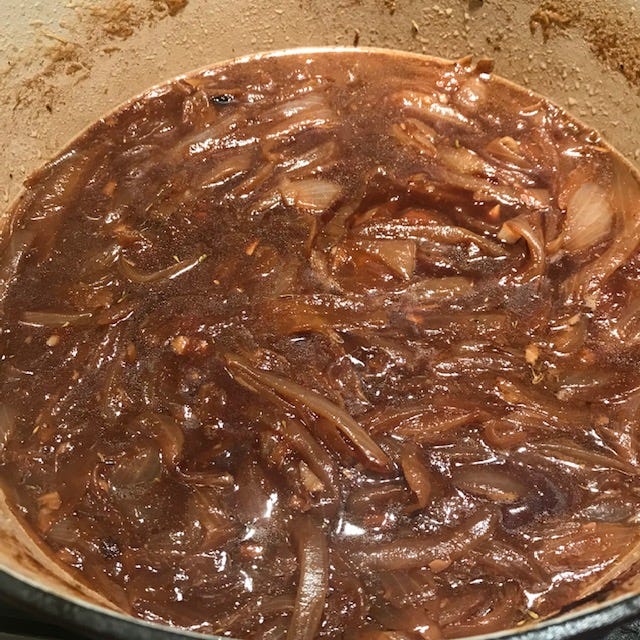 Of course, the final step in any french onion soup is tossing a thick slice of crusty bread over it, topping that with gruyere, and broiling until bubbling and brown.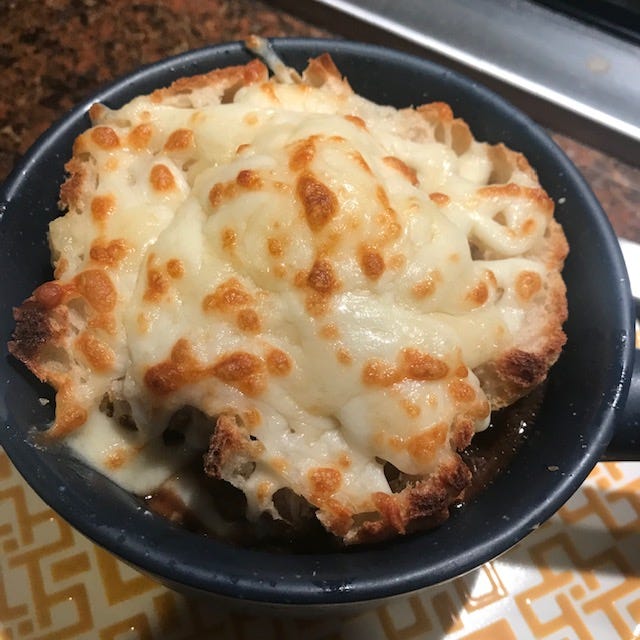 Did it fundamentally change the nature of the soup? No. The smokiness presented as a background flavor, the same way you might sense that note it in some whiskies or teas. This is good, in my book — a bowl of pure smoke probably would've been unpleasant, and this was delicious. As a bonus, the onions came off the grill sweaty enough that I was able to achieve the entire recipe with only two tablespoons of butter, instead of the 6-8 that might normally be required to prevent burning and sticking early on. 
It may not be soup weather yet, but it's still early January, and that's not the worst time to be cutting back the butter.
6) Speaking of cutting back, let's consider for a moment the mocktail.
Every week for months now, I've presented a cocktail in these pages. That won't stop any time soon, and I've already got a good one planned for next week. I did get to thinking, though, (thanks to our next item below) about whether I truly care about the booze, or if it's more the ritual of assembling the varied parts into a cohesive drink and serving it that attracts me.
Plus, I stepped on a scale on New Year's Day and uhh I'm cutting back a lot of things right now.
Anyways, January's a great time to consider health, so this week's drink is an alcohol-free affair, still rich in flavor and complexity but more suited for the gym lifestyle many of us are rediscovering at the moment.
Son, that's a salad, that ain't no cocktail.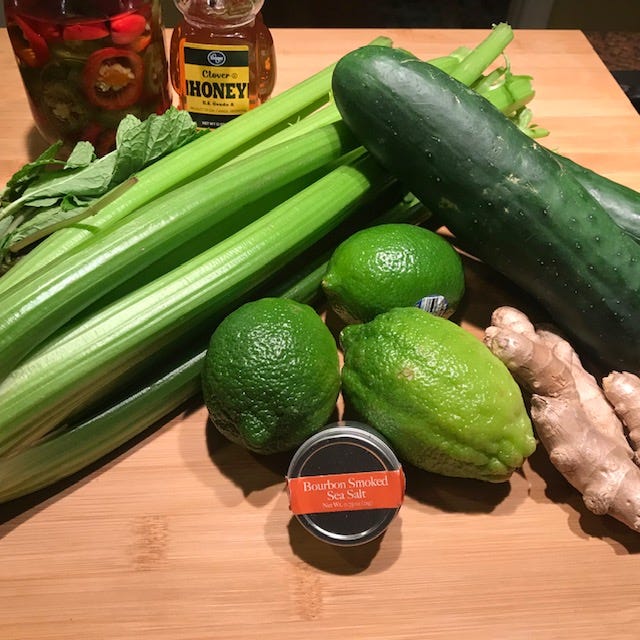 Bear with me, okay.
I don't own a juicer — that's a staircase to a higher level of yuppiedom that I've still yet to climb — but as demonstrated several months ago with one of the best cocktails we've tried, Maggie Hoffman's superb, summery Garden Collins, only-slightly-less-efficient juicing results can be achieved with a food processor, a strainer, and some elbow grease. 
Here's what's going in there this week:
2 cucumbers, peeled

One whole bunch celery, washed and trimmed
Pulse the cucumbers and celery separately in a food processor until finely chopped, a relish consistency, and press into a strainer over a bowl. You should get about 4 ounces of each, give or take. It's not a science.
You can just juice those normally. I trust you.
Okay it's starting to look more like a drink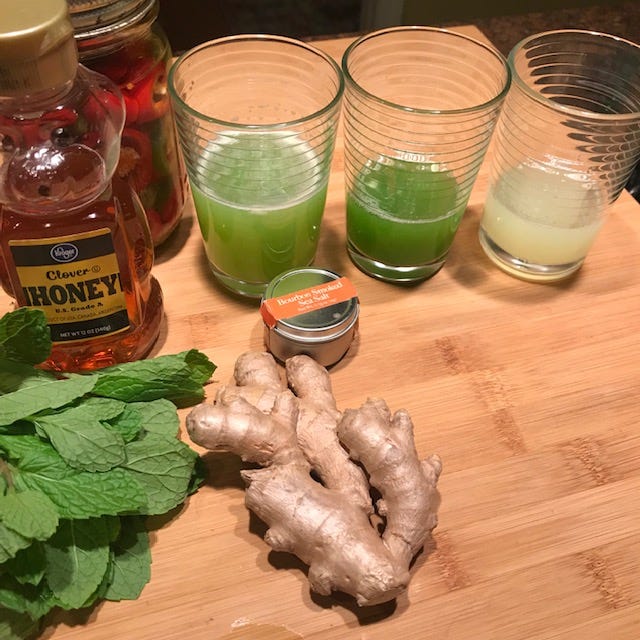 Separately:
2" knob of ginger, peeled into strips

1 T honey

Several springs mint

Smoked sea salt

Pickled jalapenos (optional)

Club soda
Muddle the ginger and mint at the bottom of a cocktail shaker, and add ice, the honey, and our secret weapon — a hearty pinch of smoked sea salt. This'll give the drink complexity and nuance, and make it taste less like a juice-bar concoction. (Even if that's what it is.) Pour in 2 oz each of the celery and cucumber juices, and 1 ounce of the lime juice.
Shake well, double-strain into a glass, top with a splash of club soda, and garnish with a spring of mint and (if desired), a pickled jalapeno and a dash of the pickling liquid.
Ohhh it's a drink, I see it now.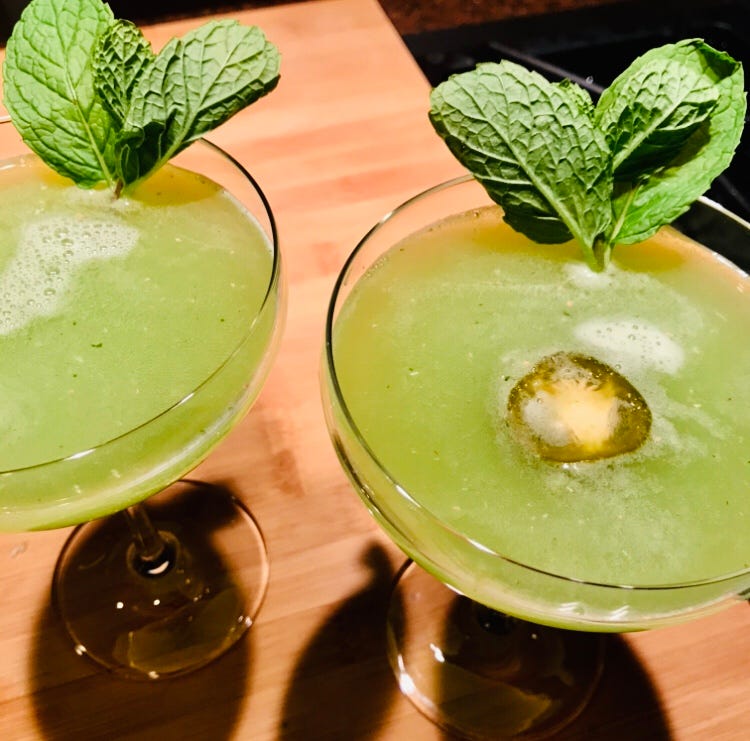 It's vibrant, tasty, and refreshing, all things I ask of any cocktail. 
(It'd also probably be really good with gin.)
5) Now, here's a better writer talking about what spurred this line of thinking.
One of my absolute favorite writers on the internet or anywhere else is Helena Fitzgerald, who seems to absolutely devastate me with at least three separate lines in each thing she writes. Earlier this week, she published this wonderful piece at Good Beer Hunting on retaining an appreciation for bars, and the ritual of being in them, after choosing to give up drinking.
The thing is, I just love bars. I love the permissive relief of a bar, the just-perceptible sense of entering another world where the rules are ever so slightly different. I love how so many of them feel like caves. I love the small unspoken camaraderie, and the particular conversations one can have with a friend sitting in a tall chair at the end of the bar that one can't have anywhere else, and I love the relaxingly transactional half-friendships that one establishes with bartenders if one goes back to the same bar even a few times—the sense of being very gently known.
The whole piece (here's that link again) is worth your time. 
4) The dream of the '90s is alive 
You know what I miss sometimes? A big rock sound. Overall, I think music's probably gotten a lot less dumb than what I appreciated two decades ago, but there are times I just want big guitars, big angry voices, a big sound. That's where I turn to Meg Myers, who's released two albums of dark, moody, powerful music in the last five years, records that remind me of the best of the '90s revived.
Proof you can keep that thundering '90s sound without being, y'know, dumb.
3) Get a head start on 2020's reading list
Did you promise yourself that you'd read more in 2020, but you haven't gotten going yet? You know, just like I'm not starting my way back to moderate athleticism with a marathon tomorrow, there's no reason you have to start with some weighty tome. Save Infinite Jest for February. Or never. How about a quick read instead?
A slim novella that packs a lasting punch, surrealist George Saunders' 2005 work The Brief and Frightening Reign of Phil is one I've revisited multiple times over the years.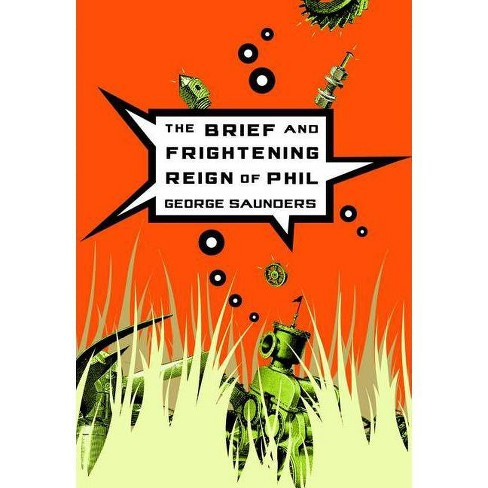 In his signature spare, absurdist prose, Saunders tells the story of the country of Inner Horner, a country "so small that only one Inner Hornerite at a time could fit inside, and the other six Inner Hornerites had to wait their turns to live in their own country while standing very timidly in the surrounding country of outer Horner." When the country unexpectedly shrinks overnight, the Outer Hornerites view their counterparts' deepening inability to fit into their borders as an act of war. 
It's ludicrous, but also a wonderful and timely parable, and it can easily be finished in a single sitting. Check it out!
2) But Scott I just want to watch Netflix. What's on Netflix.
Okay, fine. But I'm still going to make you read.
Hey, uh, remember the news? There's that whole [waves hands vaguely] thing with that [more waving] guy in the White House, and the Ukrainian president, Volodymyr Zelensky, became suddenly thrust into the collective American consciousness?
Perhaps you knew that Zelensky, not wholly unlike his American counterpart, was a television personality before he entered the political arena.
Perhaps you even knew that his rise to the presidency of Ukraine was spurred by a sitcom wherein he played an everyman teacher surprisingly elected to that very office.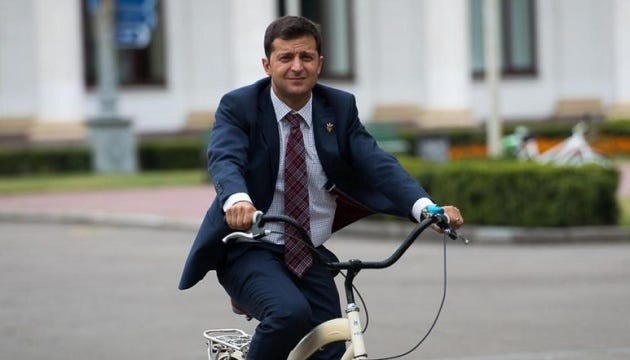 Did you know the show's on Netflix? And it's actually pretty darn funny?
I wrote about Servant of the People for Decider recently, and you can read my fuller review there. If you can abide subtitles, the show's farcical humor actually translates quite well, and Zelensky's quite charming in his fish-out-of-water role. 
1) As always, we finish with the dogs. 
Every Friday, we end our journey with dogs — your dogs. Let's see what good dogs we have joining us this week, and as always, you can send me yours via Twitter DM or by responding to this email.
First up, reader Andrew S. writes in:
This is Margot. She's a good girl who enjoys Central Park in fall. She loves picking up sticks even though she knows she's not supposed to. She makes up for it by rooting for her dad's LSU Tigers.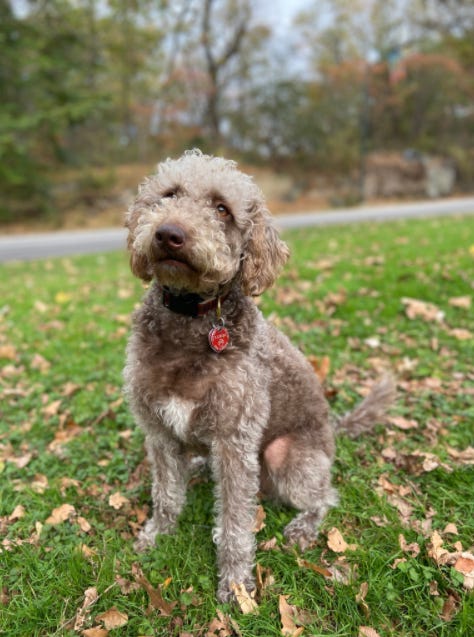 [Ed Orgeron voice] GOODDOG.
Next up, reader @jordraph sends in two dogs.
This is Yuki. She's a 5-year-old Siberian husky that is every bit the passive aggressive drama queen she looks. We love her to death.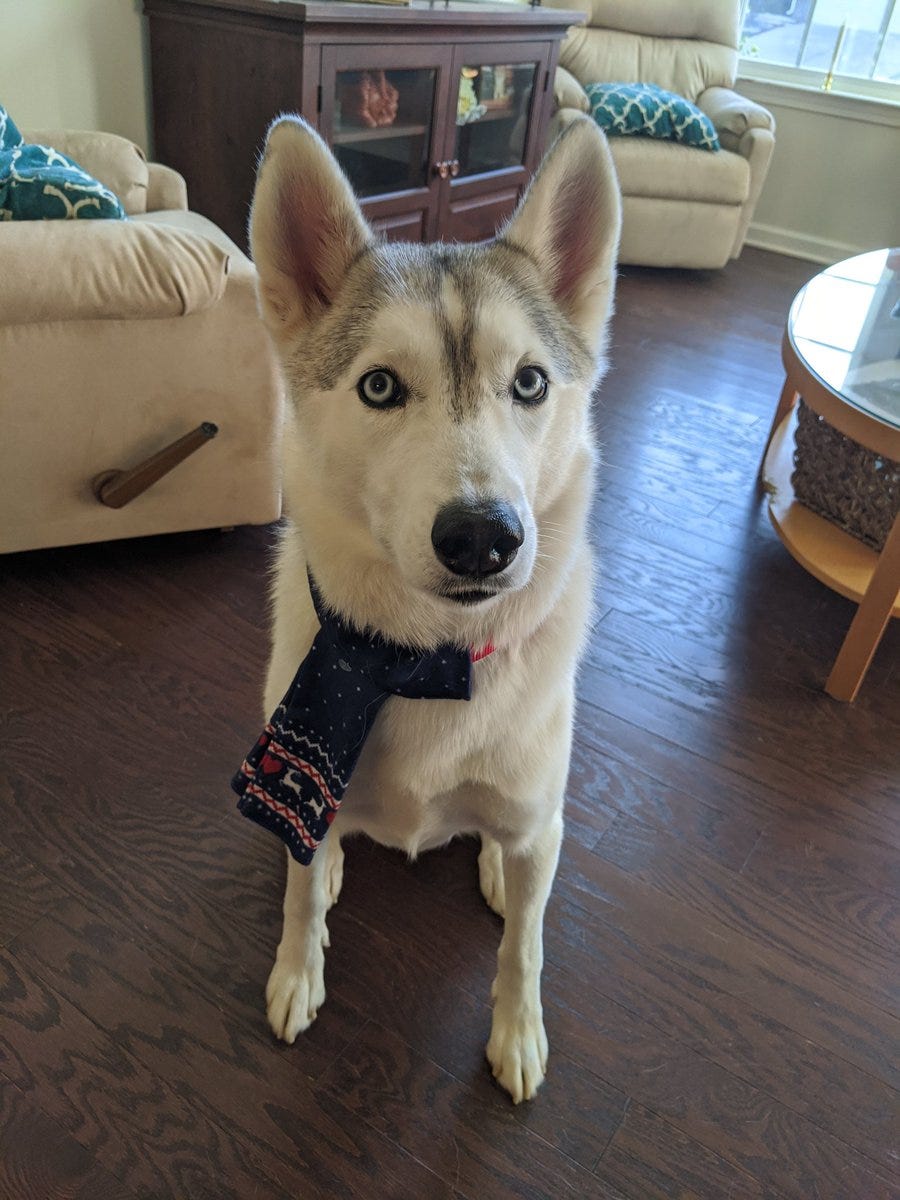 GOOD DOG. If you know anything about me or my internet presence, I cannot possibly relate to a passive-aggressive drama queen dog. [looks at Holly] [Holly glares back]
This is Pochi. He's a 2-year-old hyper mutt of some sorts who is just the sweetest boy. He loves everyone and everything, and he is constantly played for a sucker by his sister.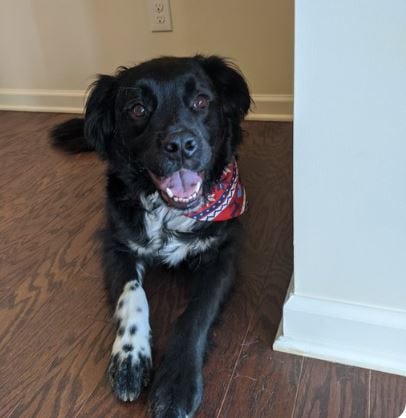 LISTEN HE'S NOT BEING PLAYED HE'S JUST BEING A GOOD BOY.
Thanks to both of you for sharing (and to the handful of people whose dogs I have not gotten to yet but will, I just don't want to overload the email). I appreciate you and your dogs.
And I appreciate you, the readers. It's been a labor of love so far to turn The Action Cookbook Newsletter into something worth reading, and I hope I'm getting there. Thanks for joining me on this trip, and I hope you'll stay around to see where we go with this.
If you're enjoying this, why not share it with a friend?
If you're not yet subscribed yourself, now's a great time!
I hope you have a great weekend, and I hope I've been able to improve on it in some way.
— Scott Hines (@actioncookbook)